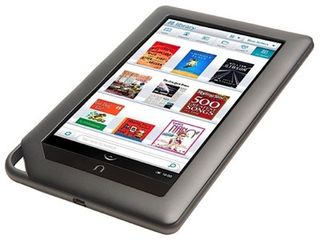 Tuesday Barnes & Noble Inc said that it already began shipping the new $249 NookColor e-reader ahead of schedule. This first batch will be for consumers who pre-ordered the device at local retail Barnes & Noble shops as well as the company's online store.
The company revealed the Android-based e-reader at the end of October, offering more than the typical monochrome setup. Unlike the two original Nook models, the latest version sports a 7-inch VividView Color Touchscreen Display, 16 million colors, 8 GB of internal storage, and a microSD slot supporting up to 32 GB (16 GB on the older two). It also supports Word, Excel and PowerPoint documents, full-color magazines and newspapers, Facebook, Twitter and more.
Compared to the original Nook and Amazon's Kindle, the new e-reader looks and sounds hot. Unfortunately, consumers wanting to purchase one for the holidays may come up empty-handed, as Barnes & Noble expects a limited inventory once the first shipment arrives to local B&N stores, Walmart, Best Buy and other retailers.
"We're encouraged by the consumer response thus far, and the organization is committed to doing everything we can to meet demand," Chief Executive William Lynch said in a statement.
Barnes & Noble also indicated that consumers who order the NookColor this week may not qualify for the November 26 ship date, as the company reserves the right to change the date in order to meet previous orders.