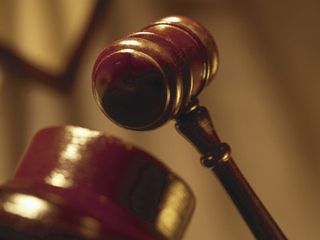 Today is Cyber Monday and though this is a relatively new tradition compared to Black Friday, it's more favorable for those of us who don't like braving the horrible Black Friday crowds. At least the only crazy people you're forced to deal with on Cyber Monday are the people in your own house or office, right?
I thought getting hip-checked into the sharp corner of a display set-up by a tiny, middle-aged lady hell-bent on getting to the back of the store before me was pretty bad. Still at least she didn't start yelling about shooting the place up. Miles away, at a Toys 'R' Us in Wisconsin, things were a little more heated.
The Wisconsin State Journal reports that a 21-year-old Middleton woman was arrested on Thanksgiving night for threatening fellow shoppers with a gun. The woman was waiting in line at the West Towne Way Toys 'R' Us, which was opening for Black Friday shoppers at 10 p.m. on Thursday night. The Journal cites police in reporting that the woman tried to skip several hundred people to get to the front of the queue. When other shoppers protested, the woman threatened to get a gun and shoot people in line.
Police say the unnamed bargain hunter was taken to Dane County Jail on a tentative charge of disorderly conduct.
If you stayed at home on Friday to avoid such incidences, there's still time to take advantage of Cyber Monday deals. Check out our round-up here!
Source: Wisconsin State Journal via Gawker