The best headphones are exactly what they sound like. Of all the over-ear and compact earbuds you could buy, these will give you the most for your money — though that doesn't mean they need to be cheap. While we have included a few of our favorite cost-cutters, sometimes the best headphones have the most features, the most effectiveness active noise cancellation or the most exquisite and comfortable design.
With that in mind, you can read on below to find out the headphones and earbuds that proved superlative in our testing. If you want a specific style, you can check out our best over-ear headphones, best wireless earbuds and best cheap earbuds rankings, but for your finest options across the whole category, look no further.
The best headphones: News and recent releases (updated October 18)
What are the best headphones?
Sitting in the No. 1 spot on our best headphones list is the Sony WH-1000XM4, the latest model in the Sony Mark series. These headphones blend champion sound and elite active noise cancellation into a luxe, comfy design. Sony's companion app opens the door for plenty of customization (e.g. ,ambient listening, controls, sound) and the headphones are compatible with hi-res streaming services to enjoy the highest level of sound quality possible.
Coming in a close second is the Bose 700, which have unrivalled ANC performance and intuitive tech features. Sound is crystal clear when listening to music and taking calls. We also love the svelte, contemporary design with comforting ear pads and touch controls.
The Apple AirPods Max come in third – they're pricey, but stellar sound quality and features mean they're worth the investment, especially if you're an iPhone user. The Jabra Elite 75t Active currently stand as our favorite wireless earbuds, thanks to their durable aesthetic, long battery life and energetic sound.
The best headphones you can buy today
If you're really set on owning the absolute best headphones that money can buy, we advise spending your Christmas cash on the WH-1000XM4. Not only are Sony's flagship headphones the top noise-cancelling model at the moment, but they outperform every competitor in numerous categories, including sound and special features. The company's loud and dynamic soundstage delivers plenty of boom and detail to give songs full-bodied presence. Listeners can also play around with the Sony Headphones Connect app to personalize audio by selecting from several well-engineered presets or by manually adjusting the EQ to their liking.
The WH-1000XM4's active noise cancellation is right up there with the Bose 700's, and the touch controls and battery life (30 hours with ANC on) are superior. Not much has changed in terms of design, though the premium craftsmanship certainly gives these cans a luxe look that match their high price.
Read our full Sony WH-1000XM4 review.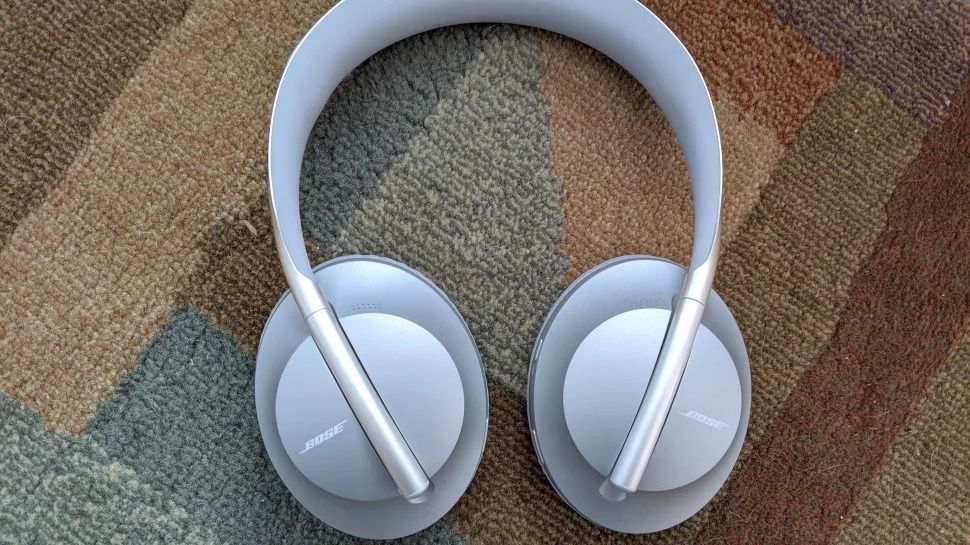 The Bose 700 are the runner-up for best headphones and have a sexy new design and cool features that come with its high price tag. They're equipped with a whopping eight microphones, six of which are employed to deliver Bose's champion noise cancelation when listening to music or talking on the phone. It offers up to 11 levels of adjustable ANC that work equally well to neutralize noise across different frequencies. Bose even made improvements to sound quality, as the 700s produce clean, balanced audio for crisp highs and solid bass; lows are felt more when at max ANC level.
Despite sharing the same battery life as its predecessor, the QC35 II, it still holds up strong at 20 hours with ANC on. Smart assistant integration, touch controls, and improved multipoint technology also make these some of the most intuitive noise-cancellers for commuters and music lovers alike.
Read our full Bose 700 review.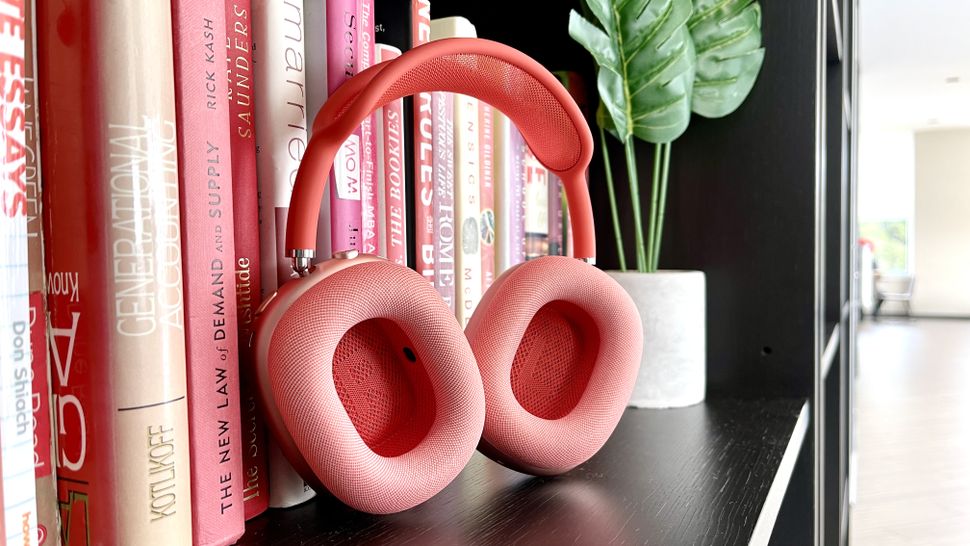 It's a shame the AirPods Max are so much more expensive than their noise-cancelling rivals, but once you try them it's hard to take them off. The plush design and comfortable fit present an immediate feeling of luxury, and this only grows once you start playing music.
The active noise cancelling works brilliantly, general sound quality is crisp and impactful, and the 3D Spatial Audio feature is a game-changer if you've never used it. This uses head-tracking tech to create a surround sound effect, which can give movie playback a definite edge compared to other headphones. Battery life is respectable too, with Apple's 20-hour estimate tracking well with our own testing.
Read our full Apple AirPods Max review.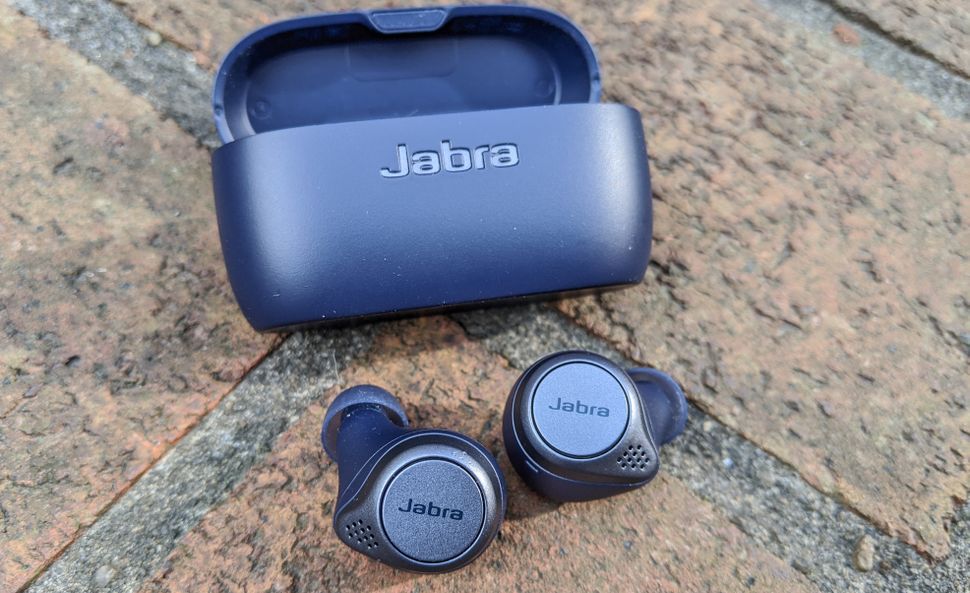 Jabra found a way to improve our favorite wireless earbuds, packing a hell of a lot of performance into a tinier waterproof design. The Elite Active 75t boasts better battery life and sound than the AirPods Pro, plus its charging case holds more portable power and feels sturdier. Fitness fanatics will love the reliable comfort and fit they provide; sweat absorption is one of many unsung features on here.
Any areas where the Elite 75t fell short like call quality and digital assistant support have been improved as well. The buds produce consistently clean detail and warm, lively instrumentals and vocals that can also be tweaked through special features (e.g. built-in EQ, music presets) in the companion app for personalized sound. Best of all, the new over-the-air ANC update brings active noise cancellation to the earbuds and does a surprisingly good job of blocking out ambient sound. Keep in mind that even with ANC turned off, the Elite Active 75t offers amazing passive noise cancellation. If you wanted grander noise-cancelling results, we do recommend the all-new Elite 85t, which boasts its own ANC chip and delivers great noise neutralization and sound.
Read our full Jabra Elite Active 75t review.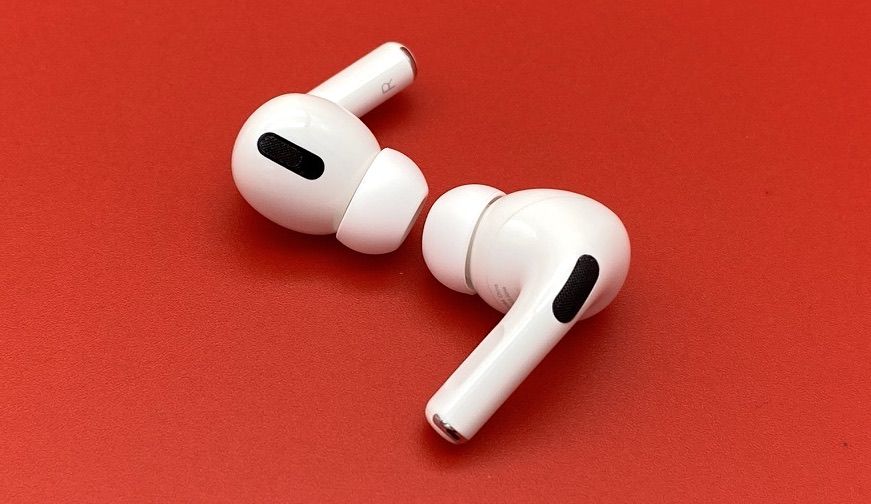 A year on store shelves and Apple's noise-cancelling earbuds are still arguably the top model in their class. The level of engineering demonstrated on the AirPods Pro cannot be overstated. Underneath the smaller, redesigned casing are six sensors, a powerful three-mic array, and Apple's renowned H1 chip that boosts performance on all fronts. Audio is significantly improved from the AirPods 2, with the buds producing clean, balanced sound to enjoy music, podcasts, and movies peacefully. Adding to its sonic capabilities are new features like spatial audio that were introduced with iOS 14 and create a theater-like soundscape that makes watching movies even more immersive.
ANC is also surprisingly effective, as the outward- and inward-facing mics manage to neutralize a large amount of ambient sound; low-humming noises and neighborly chatter will go completely silent. The inclusion of ear tips makes a world of difference, insulating sound, while providing a comfy and customized fit, which can also be optimized for better audio output through the all-new Ear Tip Fit Test. Hands-free Siri just keeps getting better and better, while cool features like Announce Messages, Audio Sharing, and auto switching showcase the AirPods Pro's multifunctional talents.
The new $179 AirPods 3 also gets some of these features, including spatial audio, Announce Messages and Adaptive EQ, plus MagSafe charging, a water- and sweat-resistant design and 6-hour battery life. But the AirPods Pro still has ANC in its favor. Look out for a review of the AirPods 3 soon.
Read our full Apple AirPods Pro review.
Master & Dynamic's MW08 joins the AirPods Pro among the best headphones with a true wireless earbud form factor. The MW08 is more expensive than Apple's pair of buds, which is saying something, but you won't be worrying about the price too much when you're enjoying deep, impactful sound with adjustable active noise cancellation.
The MW08 scores high on battery life and comfort, too, though it's the design sensibility that really stands out. The D-shaped outer panels look great, all polished ceramic and precisely machined stainless steel, while IPX5 water resistance keeps rain and sweat at bay. You even get real buttons as the onboard controls, instead of unreliable touch sensors.
Read our full Master & Dynamic MW08 review.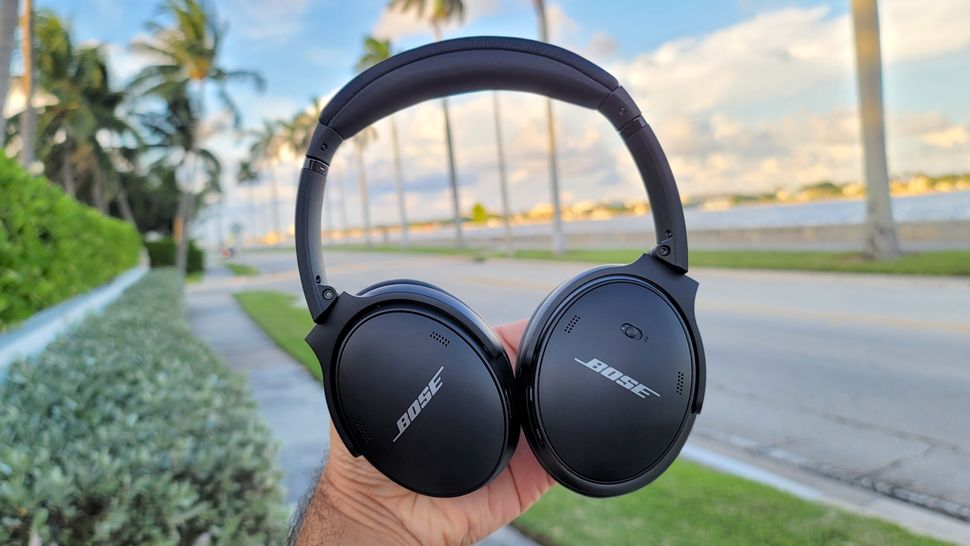 The leaks left much to be desired, but the final product proves that Bose has another ANC monster on their hands. Noise cancellation on the QuietComfort 45 is just as good as the 700, eliminating a significant amount of ambient noise across the frequency spectrum. Proprietary TriPort acoustic architecture and a volume-optimized Active EQ gives these cans solid audio performance with well-rounded frequency range for a nice mix of lows, mids, and highs. Bose Music app support is beneficial for personalization and interconnectivity with other Bose devices (check out SimpleSync). Most importantly, battery life has been increased from 20 to 24 hours, making these the brand's longest-lasting ANC model to date.
It's hard not to mention certain flaws such as the inability to turn off ANC and missing features that are available on other Bose headphones, but the overall performance more than makes up for these drawbacks.
Read our full Bose QuietComfort 45 review.
The Cambridge Audio Melomania 1 Plus has a long name and an even longer list of reasons to buy it. This pair of true wireless earbuds is cheaper than Apple's AirPods, but sounds better, lasts longer and offers better water-resistance.
There's no ANC, but the Melomania 1 Plus is armed with more than enough extras to make up for it. Take the unique High Performance mode, which activates the same hi-fi-grade amplification that Cambridge Audio uses in its CX range of stereo amplifiers. Or the mobile app, which delivers a range of well-judged sound profiles as well as the ability to tweak the EQ yourself.
Read our full Cambridge Audio Melomania 1 Plus review.
The Cleer Enduro ANC isn't the most immaculate-sounding pair of headphones, and both Sony and Bose have better noise cancellation tech. But what's remarkable about this particular pair is how it still manages to be pretty good at both, while throwing in plenty of extra features and qualities, for what is relatively a very low price.
In addition to affordable noise cancellation, the Enduro ANC also offers a fully foldable design, Hi-Res Audio support when using the detachable 3.5mm cable and even NFC pairing. Battery life, however, is the star of the show: no other pair of headphones we've tested has beaten its 50+ hours of ANC playback.
Read our full Cleer Enduro ANC review.
What's immediately striking about the Bowers & Wilkins PX7 Carbon Edition is just how well-made they are. This is a pair of headphones you'll want to show off, and even if the all-black coloring of the Carbon Edition isn't to everyone's taste, you can get the standard PX7 in silver as well.
They're expensive, but as with the Apple AirPods Max you're paying for quality. Bowers & Wilkins has made sure the PX7 sound even better than the look and feel, with a dramatically wide soundstage and intricate detailing. We also love the Soundscapes feature, which can help you relax by mixing in gentle nature sounds to your music playback.
Read our full Bowers & Wilkins PX7 Carbon Edition review.
The Sennheiser CX True Wireless improves on its predecessor, the CX 400BT, in almost every way possible. It's cheaper, undercutting the standard Apple AirPods, while massively upgrading battery life and adding IPX4 water resistance. With a strong, secure fit, this could even pull duties as a pair of workout earbuds.
By default the CX True Wireless doesn't have the ultra-balanced sound signature of other recent Sennheiser buds, but it still sounds great, with an extra bass kick that wasn't present before. You can always adjust the EQ in the app anyway, and this grants access to other cool tricks as well. Sidetone, for instance, is a handy microphone monitoring mode that lets you hear how you sound in phone calls.
Read our full Sennheiser CX True Wireless review.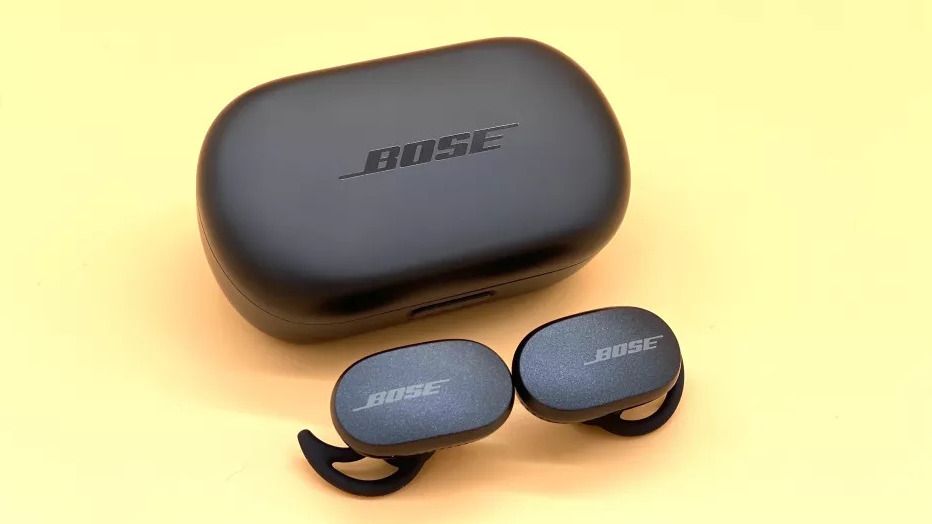 No pair of wireless earbuds can match the QuietComfort Earbuds' ANC performance and call quality. None. How Bose managed to engineer these buds with the same functionality and technology as the Bose 700 is unbelievable, giving listeners elite noise cancellation that blocks out nearly 90 percent of external sounds, and that's with half the mics of its over-ear counterpart. Bose even got experimental with its ANC technology, blending the feature with its Transparency mode to produce more accurate ambient listening. A new update just introduced several ANC modes profiles designed for specific activities and places. Aware Mode also comes part of the update, automatically reducing "loud distractions as they happen," returning to full transparency mode when they pass.
Where the QC Earbuds are lacking is in both design (these are some bulky, heavy buds) and battery life; 6 hours with ANC on looks good on paper, but it's really 30 to 45 minutes shorter than what the spec sheet reads.
Read our full Bose QuietComfort Earbuds review.
How to choose the best headphones for you
Many factors come into play when shopping for the best headphones, but your decision should always come down to intended use. That being said, you'll want to take the following categories into account before settling on any pair.
Design
Design usually takes precedence over everything. Are you looking for in-ear, on-ear or over-ear headphones? Wired or wireless? Luxury or sporty? Since these are headphones that will be used for multiple occasions, you want something that suits your lifestyle. Whatever type you choose, make sure the headphones are well built, easy to carry, and comfy to wear for about 1 to 2 hours daily.
Audio quality
Sound is the second box to check off. Different models offer different sound, and since you're buying a pair to enjoy music individually, it's important to find headphones that match your sound preference, be it heavy bass or distinctively clear to where you can hear the littlest nuances in recordings. Some models offer personalized sound via companion app, which allows the user to create their own profiles and tweak EQ levels to their hearing.
Battery life
Most premium wireless headphones are rated at 15 hours and higher. Wireless earbuds can last about 5 to 10 hours and offer extended playtime with their bundled charging cases – always make sure one is included.
Accessories
Accessories are just as important, especially for wired models (the manufacturer must include the aux cable). Any headphones that come with a carrying case, charging cable, user guide, and extra ear cups or tips are solid purchases.
How we test the best headphones
THE BEST HEADPHONES AND EARBUDS
From the design and comfort to the sound quality and overall value, we evaluate several areas when picking the best headphones. In addition, Tom's Guide employs a rigorous review process that compares products with similar fit, features, and pricing.
Each pair of headphones and earbuds is worn over the course of a week for 2 hours at a time. During this time, the staff evaluates comfort and fit, ease of use, and audio. We test sound by listening to predetermined sample tracks across different music genres, including hip-hop, rock, jazz, classical, and pop. Volume, clarity, and fullness is evaluated too. Movies, podcasts, and video games are considered, when necessary.
Regarding features, we test the effectiveness of active noise cancelling, Bluetooth range, and battery life for wireless and wired headphones. Additional features are also tested for app-enabled headphones, along with ease of setup. Build quality, controls, and fit are taken into serious consideration for wired headphones. Fitness-focused headphones go through vigorous workouts, as we analyze fit while exercising and how well they handle ambient sound in loud environments.
Once testing is complete, we rate headphones based on our five-point system (1 = worst, 5 = best). If a product is truly exemplary, it's awarded an Editors' Choice.