Best mattress: Quick menu
The best mattress for you is one that supports your body type, relieves pressure on your hips, back and shoulders, and keeps you comfy through the night. There are several different types of mattresses, including memory foam, hybrid, cooling and organic, and we've spend thousands of hours testing a wide range of them to compile our guide to the year's top-rated mattresses.
When reviewing each mattress, we test all key areas including pressure relief, support, comfort, temperature regulation, edge support, motion isolation and build quality (durability). We also enlist a testing panel made up of people with different body types and sleep styles to help us create a balanced overview of each mattress.
We then use that data-backed research, plus extensive user review research, to inform our best mattress rankings. In this guide, you will find an in-depth review underneath each mattress. We've also included buying advice from our certified sleep coaches to ensure you're choosing the right mattress for your sleep.
Buying a mattress online without lying on it first sounds risky, but as the bed in a box market continues to expand, more brands are offering generous at-home trial periods so you can test your new mattress for longer and return it if it's not right for you. And thanks to regular mattress sales, you can usually find very good savings to lower the final price you pay, especially with a good Cyber Monday mattress deal.
Here are our top-rated picks for this year's best mattresses...
Best mattress overall for 2023
The climate neutral DreamCloud Luxury Hybrid is the best mattress in the UK right now. Although the name is probably better known in States, we were extremely impressed with the UK version: this medium-firm hybrid mattress delivers a luxurious sleep feel for an upper-mid price, and should suit a wide range of sleepers.
There's a thick tier of foam at the top of the mattress, which offers a hugging, body contouring feel and excellent pressure relief. The lower level of pocket coils ensure you don't sink in too far, and a plush, quilted cover amps up the feeling of luxury. The medium-firm sleep feel (6.5 out of 10), will suit most sleep styles and body types, although it is on the softer side, so some back and stomach sleepers, as well as anyone over 16 stone, should consider something firmer.
This mattress performed well in all of our tests. Excellent motion isolation makes it suitable for light sleepers and anyone who shares a bed with a wriggler. Reinforced springs around the perimeter ensure the edges are nice and sturdy, and you can spread out and sleep right up to the edge without any dipping or fear or falling out of bed. Both our hot sleeper and our cold sleeper found the DreamCloud kept them at a comfortable temperature throughout our 5-week test period.
Factoring in a permanent DreamCloud mattress sale that knocks around 50% off RRP, this is an upper mid-range model, and it more than justifies that price tag. As well as high build quality and a luxurious feel, the extras help this mattress stand out from competitors. A 365-night sleep trial matches the longest you'll find anywhere and there's a forever warranty for extra peace of mind. Production is certified carbon-neutral and DreamCloud works with the British Heart Foundation to recycle old and returned mattresses.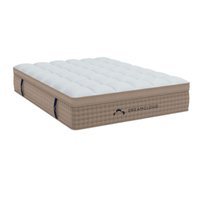 DreamCloud Luxury Hybrid mattress: from £949 £408 at DreamCloud
The DreamCloud Black Friday mattress sale is now live with up to 57% off DreamCloud mattresses and you'll get a free bedding set worth up to £150. The free bedding bundle comprises a fitted sheet, duvet cover and two pillows, boosting your value for money. A double size DreamCloud costs £709 this Black Friday, which is excellent value for money for a hybrid mattress of this quality. Plus, you get a year's sleep trial and a forever warranty.
Best mattress for sheer value
If you're on a tighter budget, the Emma Original is our best value mattress pick. Regular discounts take the popular mattress in a box down into the the lower-mid range price bracket, it's almost always the cheapest mattress on our list, and excellent value for money.
After testing it for an extended period of time, we can easily recommend this as an excellent choice for side sleepers. It has a slightly softer sleep feel, with thick layers of memory foam that hug the joints and prevent pressure build-up in this position. While it's suitable for back and stomach sleepers, you might want to consider something firmer such as the Nectar (#3), for extra support.
During our testing process we also found this ample cushioning means the Emma Original is great at absorbing motion, so if you share a bed with a restless partner, or someone on a different sleep schedule to you, their movements shouldn't disturb your slumber. One potential downside to be aware of is that Emma beds can trap body heat. While it was absolutely fine for the majority of our testing period, we did note that on hot nights it did start to feel uncomfortably warm. If you sleep very hot, consider a hybrid like the DreamCloud #1 or the Emma Premium mattress, which adds tall springs. These almost always sleep cooler than all-foam models, as the springs create space for air to circulate within the mattress, although they do generally cost more.
Offers vary depending on when you buy, but the best Emma mattress deals knock around 50% off, and take the price of a double down to around £380 (lower mid-range), which is excellent value for such a high-quality all-foam model.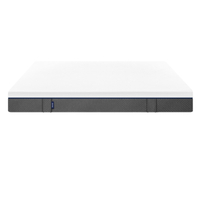 Emma Original mattress: from £311 £248.80 at Emma
This Black Friday you can save 20% on the Emma Original, reducing the price of a double to just £379.20. Compared to previous months, the RRP has dropped and so has the discount, but the upshot is the price matches the lowest price we've see on this comfy memory foam mattress. It's a brilliant price for a top-rated bed, so don't hesitate to buy this one if you're looking for an excellent value boxed mattress in the Black Friday sales.
Best memory foam mattress
The Nectar Memory Foam Mattress is the best option for anyone wanting a firmer all-foam mattress than the Emma (#2). As a medium firm mattress, during mattress testing we found that it supports most sleeping positions (though it's especially comfy for side sleepers) and hits that sweet spot between all-body comfort and proper spine alignment.
Don't expect the full memory foam 'hug' feel, but there is a light contouring effect that relieves pressure around the back, hips and shoulders, and is very comfortable for back and stomach sleepers. It'll also suit some side sleepers, though those of lighter weight might get on better with the Emma.
Unusually for an all-foam mattress, the Nectar doesn't overheat – our lead tester is a hot sleeper yet she didn't end up a sweltering mess after nights on the Nectar. It's a good choice for couples, too especially if you or your partner toss and turn a lot in bed. Why? Because it absorbs motion well, so you won't feel the other person moving so much. There's also decent edge support, so you can both spread out and enjoy your wider mattress space.
Regular Nectar mattress deals mean you'll never need to pay RRP, and should be able to pick up a double for under £500 pretty much year-round. The extras are excellent too: Nectar also runs a 365-night mattress trial and comes backed by a forever warranty.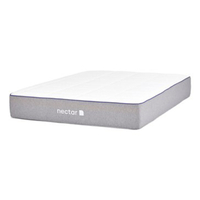 Nectar Memory Foam Mattress: from £749 £379 at Nectar Sleep
While the Emma Original is £100 cheaper in a double size compared to the Nectar Memory Foam Mattress (£479 for a double), the Nectar has a longer sleep trial at 365 nights compared to Emma Sleep's 200-night trial. The warranty is also forever, further boosting your value for money. This is a good discount from Nectar Sleep and we don't expect it to drop much lower this Black Friday.
Best mattress for back sleepers
Another excellent hybrid that's worthy of your consideration is the Simba. It's similarly priced to the DreamCloud (#1), with less of a sink-in feel. By design, hybrid mattresses are more breathable than all-foam models – because they use coils or springs, air moves more freely within the mattress – so the Simba is a great choice for people who sleep warm. We have many hot sleepers on our mattress testing panel and none of them overheated on this mattress.
The Simba Hybrid uses a combination of 2,500 Aerocoil springs and premium foam to deliver a consistent level of support, and overall the feel is medium-firm. This is a mattress you sleep on top of rather than sinking in too far. That's ideal if you prefer a more responsive surface, but if you prefer the contouring of memory foam, you'd be better with the DreamCloud. We found the Simba delivered excellent pressure relief for back and side sleepers, as well as boasting strong edge support and minimal motion transfer. The cover is also removable for washing
This mattress brand also stands out compared to the likes of Otty (#3) for having a focus on sustainability. It's made in a zero-waste factory, from entirely recyclable materials. A Simba mattress sale that knocks around 40% off RRP runs all the time, placing this in the upper mid-range price bracket. For the full Simba experience, pair this mattress with Simba's own top-rated base; see our Simba Sirius bed base review for all the facts.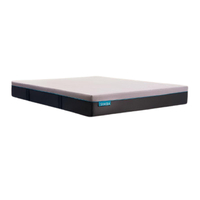 Simba Hybrid mattress: from £749 £449.40 at Simba
Most months there's a Simba mattress sale offering 40% off the Hybrid Original mattress, but for Black Friday 2023 you can save 45% on this comfy and cool foam and coil mattress. A double size has now dropped to £598.95 (was £1,098), with the largest saving of £774.95 on the super king size. This is a good price for a cooling hybrid mattress with oodles of pressure relief and strong edge support.
Best mattress for back pain
If you suffer from back pain, check out the REM-Fit 500 Ortho Hybrid. This specialist orthopedic mattress combines tall, motion-absorbing springs with lightly cushioning memory foam. The brand rates it a 9 out of 10 in terms of firmness, and although we think it's more like an 8, it still delivers brilliant edge-to-edge support, zoned to provide softness and firmness exactly where it's needed. All of that makes it a good bet for anyone struggling with a sore spine, based on the general rules for back pain sufferers (although it's worth making clear that exact needs may vary from person to person).
It follows that there's not a ton of body contouring from the memory foam layers here, which might cause pressure build-up in the shoulders when lying on your side. If you don't have a bad back and would prefer more of a hugging feel, check out the Emma (#2).
Despite the firmer, more responsive sleep surface, this mattress delivers excellent motion isolation – good news if you have a wriggly bed-mate. During our review period we were also impressed with the temperature regulation, meaning it's also suitable for hot sleepers. At RRP it's a premium mattress, but like most of the models on this list, it's never sold at that price. You can usually pick it up for a mid-range price, and it's excellent value.
The REM-Fit comes with a 100-night trial, which is on the shorter side, but should still be long enough for you to give it a proper try-out. If you want a longer trial, check out our Eve Premium Hybrid review for a look at a comparable model – this mattress has a similar sleep feel and despite not being a specialist orthopedic model, should work for those who suffer back pain. The trial is much longer at 365 nights, and when on sale it's a similar price to the REM-Fit (beware motion isolation is not as good, though).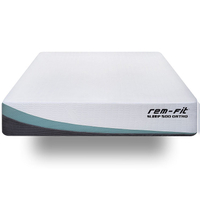 REM-Fit Ortho 500 Hybrid Mattress: from £879 £439.50 at REM-Fit
The REM-Fit Black Friday mattress sale is now live and with it you can save 50% of the REM-Fit Ortho 500 Hybrid Mattress., plus you'll get two free naturally cooling bamboo pillows worth up to £138. That 50% discount reduces the cost of a double size to £544.50 (was £1,089), which is the best price we've seen in months on this orthopaedic firm mattress.
Best mattress for motion isolation
We've included the Otty Original as our best mattress for motion isolation, making it an excellent choice for couples and restless sleepers. The Otty is a fair bit cheaper than most of the hybrid mattresses in this guide and delivers a lot for the mid-range price.
This medium-firm mattress includes pocket springs as well as different foams. It took our testers a few night's to get used to the firmness of this mattress, but once they had they appreciated the gently contouring surface, and found it delivered a good balance of support and cushioning. Although there is memory foam here, you won't sink too far into the surface – this mattress is responsive and easy to change position on. However, if your preference is for a sink-in sleep feel, you might prefer the DreamCloud (#1) or all-foam Emma (#2).
While this mattress doesn't include Otty's most advanced memory foam (pricier models add charcoal and bamboo), we found it still performed well in terms of temperature regulation, keeping our testers comfortably cool throughout the review period. We were also pleased to see that the cover could be removed and machine-washed. In fact, the only area where this mattress underperformed a bit was in terms of edge support – the edges were slightly softer than we'd like.
The trial period is 100 nights, which is shorter than many of the options on our list, but should still be long enough to get a good feel for the mattress. On balance of price, performance, support and comfort, we'd certainly recommend this mattress. We were pleased at how well rested we felt after a night sleeping on the Original Hybrid and would be happy to make it our main port of call come bedtime.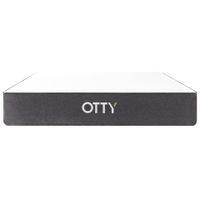 Otty Original Mattress: from £799 £399 at Otty
The Otty Black Friday mattress sale is offering 55% off this top-rated mattress, reducing the cost of a double to £569.99 (was £1,049.99). That's a very competitive price compared to some of the other hybrid mattresses in our guide, making it a good choice for people who want a cooler mattress with a machine washable cover.
Best luxury mattress
The Tempur Hybrid excels when it comes to full body contouring comfort and is the best choice for people with sore joints who need pressure relief in multiple sleeping positions. This Tempur comes in two versions: the 21cm tall Supreme and 25cm Elite (there was also originally a 30cm Luxe option). Each uses Advanced Tempur material – the brand's famous pressure-relieving foam, originally developed by NASA to boost in-flight comfort. It also uses sci-fi-sounding visco-elastic cells that adapt to your posture during sleep, as well as a layer of pocketed micro coil springs .
Never mind the buzzwords though – what's really important is what it's like to sleep on. Our testers found this bed dreamily comfortable. The feel of the Tempur material is quite unique; you sink in slowly, with the material cradling you to give a kind of floating sensation, and it's not super easy to change position. Most people either love it or hate it, but our testers were firmly in the former camp. Even our lightest weight tester, at 50kg and 5"2, felt incredibly supported and enjoyed the excellent pressure relief that this mattress provided.
Back sleepers will love this mattress, we could feel each pressure point being cushioned and our spine being held evenly as we slept on our backs. It's the same story for side sleeping, and those of average or heavier weights in particular will benefit from the firmness and cradling on offer. Front sleeping is always going to be tricky to get right, and while our lighter weight combination sleeper occasionally struggled, they were still able to eventually find a comfortable front-sleeping position.
Memory foam beds can sleep hot, but here we were impressed again. Our testers slept on this bed during a 35C heatwave, and we managed to keep our cool even during those incredibly warm nights. There is a lot of skin-to-mattress contact, though, so if you know you're a hot sleeper, you might prefer a bed you sleep on top of rather than sinking into.
The removable mattress cover can be machine washed at temperatures of up to 60°C to kill dust mites and other allergens. One final perk to note is that you can choose from 10 different sizes, including longer models, making it an excellent choice if you're tall.
There's no avoiding the fact that, even if you manage to snag a deal, a Tempur-Pedic mattress is an investment. You'll sometimes be able to find a discount, but they're by no means regular. If you can't stretch to a full Tempur mattress, a good way to get a bit of that distinctive sleep feel at a lower price is to go for a Tempur topper – the brand sits at the top of our best mattress topper guide.
Best organic mattress
The Simba GO Hybrid Mattress emphasizes sustainable sleep. It's crafted from organic, natural materials, including (uniquely on our best mattress list) latex foam instead of synthetic memory foam. Latex foam beds are more popular in the US, but fairly rare in the UK. This material has the benefit of being super-durable, as well as delivering a buoyant, weightless feel that makes it very easy to change position on.
While combi-sleepers will enjoy this responsiveness, we think front sleepers and heavier sleepers may find themselves sinking too far into the GO mattress and eventually lying on the coils, so should consider something firmer such as the OTTY (#4).
The Simba GO also does an exceptional job of keeping sleepers cool at night. Whether we used a summer duvet (4.5 tog) or a thick fleece blanket, our hottest sleepers remained comfortable. Latex is naturally cooling, and the breathable organic cotton cover helps wick away moisture when working in tandem with a Simba Renew layer directly underneath. (It's made from 75% recycled fibres.)
Organic mattresses tend to be pricier than most other types of mattresses due to the high quality of their ethically-sourced materials. The GO is one of the priciest models on our list, and it's rare to see it discounted. You'll get 200 nights to trial it at home, and a 10-year guarantee to back your purchase.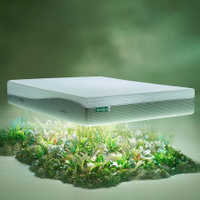 Simba GO Hybrid Mattress: from £2,399 £1,079 (king size up) at Simba Sleep
You can save 55% on this Simba organic mattress during the current Black Friday sale. However, both the single and double sizes have now sold out, so only the king and super king mattress sizes remain. In addition to the 55% discount you'll get a free Simba mattress protector, plus free delivery and a 200-night risk-free trial.
How we test mattresses
Our mattress testing process is editorially independent – we decide which mattresses to test and when, and only we decide which of those mattresses are good enough to feature in this guide. We test a wide range of beds including hybrid mattresses, memory foam mattresses, cooling and organic mattresses, and at a range of budgets too from affordable to luxury.
We sleep on each mattress for three consecutive weeks and test it across a range of key areas including comfort, pressure relief, motion isolation, temperature regulation, support and edge support. We score each section out of 5 and then compile all of that testing data to create an overall rating for the mattress.
Our ratings are used to inform the rankings in this guide, and only the best mattresses are featured. Read our methodology for more info.
Expert advice: What is the best type of mattress?
There is no one mattress type to rule them all. Instead, the best type of mattress for you depends upon a few key factors including your body weight and whether you have any specific health or posture needs. When buying a new mattress, you'll come across these four main types:
Memory foam mattresses
A fantastic choice for anyone who likes to feel hugged during sleep. All-foam mattresses are cosy, but basic foams can sleep warm (they retain heat). The exceptions are breathable or open-pored foam materials as used on the Nectar Memory Foam Mattress and the Emma Original. Read our dedicated guide to the best memory foam mattresses to discover this year's top-rated options.
We also answer some common questions about all-foam beds in our article answering what is a memory foam mattress.
Hybrid mattresses
You'll find the most innovative mattress materials within hybrid mattresses, which is one reason why they are more expensive than all-foam models. They are more breathable by design (they use coils, around which air moves more freely), making them a good mattress type for warm sleepers.
You may be surprised at how firm they feel compared to a foam mattress though, so keep this in mind if you enjoy soft beds.
Innerspring mattresseses
These use coils (interconnected or pocket spring) to offer more bounce than foam models, and aren't quite as firm as hybrids. The more springs your mattress has the more support it gives.
Innerspring mattresses are also a good choice for hot sleepers as, again, air moves freely through them. They can feel a little firm to begin with, so consider adding one of the best mattress toppers to increase your comfort.
Latex mattresses
A good choice for people who want a more natural mattress with lower levels of toxins. Latex is cooling, durable and long-lasting, giving you good sleep comfort and value for money over the long-term. That also means latex mattresses are usually more expensive than mattresses made using synthetic materials.
Boxed mattresses
This is a little different, as the bed-in-a-box market spans all the different kinds of mattress listed above. What is a mattress in a box? It's any mattress that is compressed, rolled and put into a box for delivery. When considering a boxed mattress vs traditional mattress, the main benefits of the former are convenience – especially if you live somewhere where maneuvering room is tight.
Are bed in a box mattresses any good? Originally, this category was most associated with cheap mattresses that weren't always high quality, but nowadays the market spans all kinds of beds, and many of our best mattress picks are delivered this way.
How to choose the best mattress for you
Choosing a good mattress for you begins with thinking about your current sleep challenges. Do you often wake up because you feel too hot? Does your restless partner wake you up with their tossing and turning? These are all legitimate criteria to keep in mind when picking a new mattress.
Here's our handy checklist to help you find the best mattress for your sleep:
1. What is your dominant sleeping position?
Most mattresses are supportive for all positions, but you'll find that they normally excel at one or two. For example, memory foam offers extra cushioning during side sleeping, while hybrids offer better support for back sleepers.
2. Are you sharing with a restless sleeper?
Motion isolation is what you need to look for. Your sleep will be less disturbed if you pick a mattress with ample foam and springs to isolate motion and evenly distribute weight from you and your partner across the entire mattress.
3. Do you sleep hot?
Choose a breathable mattress. Look for materials such as open cell or perforated foam, or gel-infused foam, or the inclusion of cooling materials such as copper and graphite. Generally speaking, hybrids are more breathable than foam as air flows better in and around their coils or springs. Make sure you have a cooling duvet too.
4. What is your budget?
The likes of Emma Sleep and Nectar Sleep prove that a good mattress needn't cost the earth, so you have more options available to you than you first thought. Usually, mattress prices are at their lowest late November, making Black Friday mattress deals the best way to upgrade for less.
How to choose the right mattress firmness
How soft or firm a mattress feels is rated from 1 (marshmallow soft) to 10 (hard as a log). A medium firmness is one of the most popular choices because it hits that sweet spot between comfort and support.
That said, the feel of a mattress is subjective. When we test them, for example, we often experience them in different ways because members of our review team have different body weights.
Here's how to choose the best mattress firmness for you...
If you weigh 130lbs or less, you will feel comfier on a softer mattress (rated 2-4), especially if you are a lighter weight side sleeper. A softer innerspring or memory foam bed is a good choice here, as it provides cushioning around your back, hips, knees and shoulders. But if you enjoy the feel of a medium firm mattress, anything rated up to a 5 would also suit you.
If you weigh 130lbs to 230lbs, a medium or medium-firm mattress (rated 5-7) will provide the support and spinal alignment you need for a healthy sleep posture. Pick a medium or medium-firm memory foam mattress if you want a cradling effect on your body, or a medium to medium-firm hybrid if you want a slightly firmer feel.
For people who weigh over 230lbs, especially if you co-share your bed with another person weighing over that amount, pick a medium-firm mattress (7 out of 10). That level of firmness will ensure you sleep on top of the mattress, rather than sinking into it, so you will remain in alignment during sleep.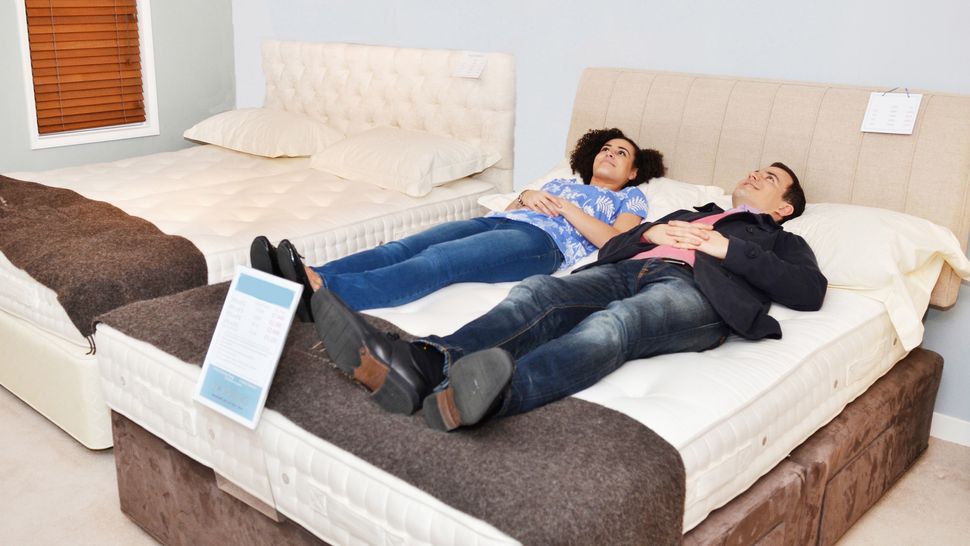 How to choose a mattress for your sleep position
Back sleepers
If you sleep on your back, choose a medium-firm mattress to keep you on top of the mattress, rather than letting you sink in. This is vital for back sleeping because you want neutral spine alignment to avoid any pain.
Stomach sleepers
Like back sleepers, you should steer clear of soft mattresses if you snooze on your front. A medium mattress is best for you. Pick one that's too firm or too soft and it will throw your spine out of alignment and put pressure on your back.
Side sleepers
Your main pressure points in this sleep position are shoulders, hips and knees, so pick a soft to medium mattress with cushioning to relieve pressure around those points. Memory foam is a great choice for side sleepers. For more guidance, read our guide to the best mattress for side sleepers.
When is the best time to buy a new mattress?
If you want the cheapest mattress prices and good discounts, the best time to buy a new mattress is on Black Friday, which falls on the last November of every year.
This is when we see big price drops from major sleep brands, as they are competing with one another for your holiday season custom. Our guide to Black Friday mattress deals contains everything you need to know to help you save the most money.
It's a superb time to buy more expensive mattresses for less too, including expensive cooling models and the best organic mattresses, which normally cost a lot more than other types because they use certified organic materials.
What is the best mattress in the UK right now?
We think the Brook + Wilde Lux is the best mattress in the UK right now as most types of sleepers will find its medium firmness to be just what they need. You'll have to be patient as this bed is handcrafted in the UK and delivery times may run longer than usual. But we trust the wait will be worth it for this affordable luxury mattress. We usually see it on sale for at least 40% off. It comes with a 200-night trial plus a 10-year guarantee.
If you're working with a smaller budget, the Emma Original is another fantastic value for money. Yes, it sleeps a little warm, but it's otherwise a fantastic memory foam mattress, especially for side sleepers. Better yet, it's often up to 50% off at Emma It comes on a 200-night risk-free trial, with a 10-year warranty.