Otty Pure mattress review in brief
Launched in 2019, the Otty Pure is a 25cm tall hybrid mattress that sits towards the upper end of this UK bed brand's range. The USP is that one of the memory foams featured is made from bamboo and infused with charcoal... although there's not as much as you might expect, given it's called out in the product's name. This innovative foam is designed to be breathable, temperature-regulating and odour-eliminating.
Although Otty rates it as a 6.5 on the firmness scale, we think it's much firmer (around an 8.5) and numerous customer reviews agree with us. This is perhaps the best mattress for back sleepers that we've tried out – the firmer sleep surface supports the lumbar beautifully, with just enough cushioning to keep things comfortable. Side sleepers will likely find it too firm though; there's not much give around the shoulders in hips in this position, which can lead to morning aches and pains.
Otty Pure specs
Type: Hybrid
Materials: Memory foam, other foams, coils
Firmness (/10): Officially 6.5, we'd rate 8.5
Depth: 25cm
Trial period: 100 nights
Warranty: 10 years
Price bracket: Mid-range
Don't expect the body hugging feel you'll find with one of today's best memory foam mattresses. There's a little sink-in, but not much. Overall the feel is sturdily supportive, with a little bounce. We're not sure if it's down to the bamboo-boost or not, but this mattress regulates temperature well, and we had no issues with it trapping heat.
The Otty Pure performed well in our motion transfer tests, making it suitable for couples on different sleep schedules, as well as wriggly sleepers seeking motion absorption. The edges are slightly softer than we'd like, though, especially when sitting on the edge of the bed.
The first part of our Otty Pure mattress review took place in March 2021, when we slept on a single size exclusively for three weeks. Since then, it has been in a spare room, where a variety of other people (of different sizes and sleep preferences) have slept on it intermittently, and given their views. We've also tested out a cheaper option from this brand (without the fancier foams), and you can read about that model in our Otty Original mattress review.
At RRP this is solidly a Premium model, but regular mattress sales of 35% off or more shift it into mid or upper-mid range territory. The extras are a little stingy for that price – particularly the trial, which at 100 nights is half what most of Otty's closest competitors give you. Despite that, we think this mattress offers good value for money. The build quality is excellent, and after a couple of years of intermittent use, it's holding up incredibly well, with no signs of dipping or sagging. Read on for our full Otty Pure mattress review, which explores all these points in more detail.
Otty Pure mattress review: Price
Premium pricing at RRP, but almost always 35-45% off
Double will set you back £525-£680, depending when you buy
Trial is shorter than most competitors
At full price, the Otty Pure is comfortably a Premium mattress. However, there are regular sales that knocks at least 35% off, with the best Otty sales and deals offering as much as 50% off. That takes it down into the mid or upper-mid price bracket, depending when you buy, with a double costing somewhere between £525 and £680. Here's a run-down of the official pricing for the Otty Pure, alongside the discounted prices you can expect to pay.
Single: RRP £799.99 (usually discounted to ~£480)
Double: RRP £1,049.99 (usually discounted to ~£630)
King: RRP £1,199.99 (usually discounted to ~£720)
Super king: RRP £1,349.99 (usually discounted to ~£810)
Many bed brands will use extras to amp up the value further, but they're a little stingy here. The trial period is only 100 nights, which is on the short side by current standards – most major competitors, including Simba, Emma and Brook + Wilde, all give you 200 nights to test out your new bed. Nectar gives customers a full year. The warranty is 10 years, which is about standard. Delivery is free, but only to the door of your building (more on this in the Setup section).
Despite all this, we think the Otty Pure is pretty fairly priced for what you're getting. It feels high quality, and is showing no signs of wear and tear or sagging after a couple of years of (albeit intermittent) use. Although sales do muddy the waters a bit, it's roughly in line with models like the Emma Premium and Brook + Wilde Elite in terms of what you'd usually pay, and both of those are hybrids of similar quality.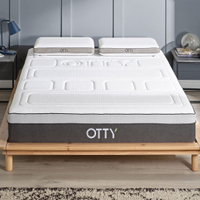 See the Otty Pure mattress at Otty
The Otty Pure is an hybrid mattress that combines springs alongside innovative bamboo- and charcoal memory foam. At full price it's a premium mattress, but there's usually at least 35% off, occasionally rising at high as 50% off. There's a 100-night trial and 10-year warranty.
Otty Pure mattress review: Design
25cm thick, hybrid mattress with tall pocket springs and foam
Top layer of bamboo- and charcoal-infused memory foam
Available in a wide range of sizes (including Emperor and EU sizes)
The Otty Pure is 25cm tall hybrid mattress made with a combination of springs, memory foam and other foams. The headline feature here is the use of bamboo- and charcoal-infused memory foam. Both of these materials have multiple traits that, in theory, make them perfect for use in sleep products. Bamboo is breathable, temperature-regulating and moisture-wicking. Charcoal is odour-eliminating and hypoallergenic. Both are sustainable resources.
Given that it's mentioned in the mattress' name, you'd be forgiven for assuming that most of the mattress is made up of bamboo and charcoal foam, when actually it's just the 2cm layer at the top, directly beneath the cover. (We still applaud the innovation, though.)
This layer is followed by more memory foam, and then support foam. Despite there being a fair amount of memory foam in the upper part of this mattress, it actually doesn't offer much of that sink-in feel you'd expect... but we'll get into that in the 'Firmness and support' section.
Beneath those foams is a layer of 16cm pocket springs, designed to absorb motion and boost support further. These are extra-tall, and provide space for air to circulate within the mattress. Foam rails around the perimeter firm up the edges, with some kind of feature designed to encourage airflow further. Finally, there's a layer of base foam. The cover is removable, via a zip that runs around the underside of the mattress, but it's dry clean-only.
The Pure sits at the upper end of Otty's range of four hybrid mattresses. At the top end of the scale, price-wise, is Pure Plus – a fancier version of the Pure, with the same bamboo-and-charcoal foam. Sitting below the Pure is the original hybrid. This is fairly similar to the Pure – both are 25cm tall hybrids with up to 2,000 16cm pocket springs, but the original doesn't have the bamboo foam. You can read all about it in our Otty Original Hybrid review. At the cheapest end of the lineup is the Aura, which is a thinner version of the original (although still fairly chunky at 23cm), with fewer springs.
Otty Pure mattress review: Support and comfort
Otty rates it a 6.5/10 in terms of firmness, we'd say more like 8.5
Slightly bouncy, with not much sink-in or body contouring
Very supportive sleep surface
This is undoubtedly a firmer mattress. Otty says it's a 6.5 on the firmness scale, but we think this is way off – we'd rate it more like an 8.5. When we placed our 8kg weight in the centre of the mattress, it sank in 5.5cm
You sleep close to the surface of this mattress, with the tall springs delivering a little bounce. If you press on the mattress with your hand you'll see the surface takes a second or two to bounce back, but because it's on the firmer side, most people won't feel any of that body hugging sensation associated with memory foam when they lie on it. The overall feel is one of sturdiness; the sleep surface feels lightly cushioned, and delivers excellent support, including under the hips and lumbar.
That's not to say it's uncomfortable. Far from it – all our testers all agreed that the Otty Pure was a great choice for back sleeping. Here, it delivers a good balance comfortable cushioning with even, reliable support. We'd also recommend it to stomach sleepers, as this position requires a firmer sleep surface to deliver proper spinal support.
It's less well suited to side sleeping, due to the lack of contouring. Many of our testers found their shoulders were achy in the mornings after sleeping on their sides on this mattress. Unless you know you like a firmer sleep surface, we'd recommend something softer to dedicated side sleepers.
Otty Pure mattress review: Performance
Absorbs motion well – suitable for couples
Good temperature regulation with no overheating issues
Edge support is fine but not great
The first part of our Otty Pure mattress review took place in March 2021, when we slept on a single size exclusively for three weeks. Since then, it has been in a spare room, where it has been slept on intermittently. We've included the views of a variety of people, of different sizes and sleep preferences, in this review.
Alongside the personal views of all of our sleep panel, we also conducted some tests using weights to gather a more objective view of this mattress' performance. Read on for a closer look at three more major elements of mattress comfort: motion isolation, edge support, and cooling.
Motion isolation
Motion isolation tests how well a mattress absorbs movements. Good motion isolation means if you're sharing the bed, your partner's movements won't reverberate across the sleep surface and disturb your sleep. It's mostly relevant if you're a restless sleeper who changes position a lot, or a light sleeper who shares a bed.
While we couldn't test what it was like to share the Otty Pure as we were only sent a single size, we did have one tester sit on one end of the bed and another get on and off the other end to mimic a co-sleeping situation. The mattress absorbed movements impressively well, probably thanks to those tall pocket springs.
This was backed up by our weight tests. We placed an (empty) wine glass on the sleep surface of the bed, then dropped an 8kg weight at distances of 4, 10 and 25 inches away from it, to roughly mimic someone moving position, getting up or back into bed, and so on. The wine glass barely moved at 25 inches, wobbled slightly at 10 inches, and fell over at 4 inches. That's a strong result compared to other mattresses we've tested. As a result, we think the Otty Pure would be perfectly suitable for co-sleepers and lighter sleepers who need strong motion isolation for a restful night's sleep.
Score: 4.5 out of 5
Temperature regulation
Overheating at night can lead to disrupted, poor quality sleep, which is why many of the big bed brands invest heavily in materials that regulate temperature effectively. When it first hit the market, memory foam gained a reputation for trapping body heat. Although many modern foams are better at regulating temperature, as a rule of thumb any design that's entirely made of foam will sleep warmer than a model that contains springs (because the springs provide space for air to circulate within the mattress).
The Otty Pure has several features geared towards delivering a cool night's sleep. The bamboo and charcoal foam are both supposed to be naturally temperature-balancing, and the other layer of memory foam that sits near the top is also described as heat-regulating. Generously sized coils provide plenty of space for air to move around, and the foam rails around the edges also have something called 'Airflow technology' (if we had to guess, we'd say this probably say that this just means there are perforations in it). Around the upper sides of the cover is a mesh section to allow air to easily pass though, too.
In practice, we found the Otty performed well when it came to temperature regulation. We've tested this bed out in all seasons, and none of our testers had any issues with it trapping body heat, or waking up feeling uncomfortably warm.
Score: 4.5 out of 5
Edge support
Edge support measures how sturdy a mattress its perimeter. Poor edge support reduces the amount of usable sleep space, because anyone getting too close to the edge might feel unsupported and in danger of rolling off. It can also make it more difficult to get up or sit comfortably on the edge of the mattress.
The Otty has foam rails around the edges to offer extra support. We found the edge support a little lacking – while our testers never felt in danger of rolling off in the night, the mattress doesn't feel super-sturdy when sitting at the side. However, do note that we tested the single size, which might affect edge support. At 25cm thick, the Pure is also on the taller side, which makes a softer edge more noticeable.
When we placed our 8kg weight on edge of the Otty Pure, it sat unsupported, and sank in 5.5cm. That's exactly the same amount of sinkage as we recorded in the centre of the mattress – often, you'd expect a little less sinkage around the edges.
Score: 3.5 out of 5
Otty Pure mattress review: Delivery & setup
Free delivery to your front door, lots of options to upgrade
100 night trial is shorter than most main competitors
Ready to sleep on within 4 hours, no issues with off-gassing
The Pure is vacuum-packed, rolled and boxed for delivery. The wait time is around 3-7 working days for all orders in the UK (rising to 14 days for offshore and NI orders). The courier will email you a few days before delivery to schedule your exact delivery date, and the drivers will give you a call you around an hour before your mattress is due to arrive.
Weekday delivery to your front door is free (assuming you have a mainland UK address), but there are some extra options you can opt into for a fee. It's £10 to have the Pure delivered to your room of choice, add on setup and packaging removal and that rises to £20. Old mattress removal is available with both of those options, and bumps up the fee by a further £30. Saturday delivery costs £20. While some brands do offer delivery to room of choice as standard, we're actually quite impressed with the range of delivery options available here.
The Otty Pure is delivered rolled and boxed, and delivery was nice and smooth. Otty includes a plastic tool you can use to safely slash through the plastic packaging (the amount of which we felt was a little excessive, but that's a minor quibble). Once removed from the packaging, Otty says the mattress can take up to 4 hours to expand, although occasionally it might take a few days (especially around the corners). Our mattress was ready to sleep on well within the 4-hour window, and we didn't experience any off-gassing.
Otty offers a 100-night trial with all its mattresses. As discussed in the Price section, that's a little on the short side by current standards. If you don't love the mattresses, you can return it for free during this time – visible damage will incur a small charge, so it's worth adding a mattress protector. Although this brand is available via Amazon, be aware the trial is only available if you purchase directly from Otty. The warranty is 10 years, which is about standard.
Otty Pure mattress review: Customer reviews
Not many customer reviews to go on
Of the reviews that exist, many praise supportiveness
Almost everyone says it's firmer than expected
Sleep comfort is very subjective, so to get a more rounded view of how a mattress performs in the real world, we like to take a look at a range of other customer reviews.
Unfortunately, there aren't a ton of reviews of this model available to consult. Otty doesn't show customer reviews for individual products on its website. Instead, it pulls in TrustPilot ratings, which bundle together reviews for all of a company's products as well as for the company as a whole. These do paint a positive picture of the company – there's an average of 4.5/5 over 9k+ reviews (March 2023).
We did a trawl through around 20 pages of reviews, manually searching for 'Pure', and found a small selection of reviews talking about this mattress specifically. Almost all were overwhelmingly positive, and many describe it as very supportive, and one customer saying it eased their back pain. Interestingly, a very common theme across the reviews was that it was firmer than the customer expected, but that it turned out to be extremely comfortable – sometimes, after a few days' 'breaking in' time. In short, we think Otty should reassess its rating for this mattress.
Of the complaints, one customer found it slept a bit warm. There was also one negative review that found it lumpy and that described it sinking in the middle after a month. That's very different to our experience with the Otty Pure, though.
On the Otty Pure listing on Amazon, at time of writing there were only five ratings (all five-stars) and only one written review. That review is extremely positive, calling out how supportive it it, agreeing with our medium-firm to firm assessment, and praising temperature regulation.
Should you buy the Otty Pure mattress?
The Otty Pure Hybrid is perhaps the most comfortable mattress we've tested for back sleeping. If you typically lie in this position, and have a preference for a firmly supportive mattress, it's a really strong recommendation. We think it's also a good choice for those who like to lie on their stomach, although side sleepers should approach with caution – we suspect it'll be too firm for most to get comfortable in this position.
Impressive motion isolation means this mattress is suitable for co-sleepers or anyone who tends to toss and turn in the night. We're not sure if it's down to the bamboo- and charcoal foam or not, but temperature regulation is reliably good, and we had no issues with this mattress trapping body heat. Build quality is high, with no signs of wear or sagging after a couple of years of (albeit intermittent) use. The edge support could be improved, so perhaps avoid if you have mobility issues that require a firm edge to push up off in the mornings.
Otty Pure mattress review: Alternatives to consider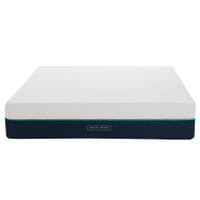 Brook + Wilde Elite mattress
The Elite is another hybrid, but the USP here is that you pick from soft, medium and firm sleep feels (and swap if you get it wrong). We tested the 'firm' version, and it's a softer than the Otty Pure, making it a better choice if you switch between your sides and back. At RRP a double is £1,299, but you can usually pick it up for around £585, so roughly in line with the Otty Pure. Get a taste of what to expect from our Brook + Wilde Lux review, which looks at the model down (only available in medium firmness).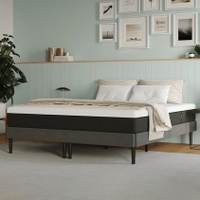 Emma Premium mattress
The Emma Premium also combines body-contouring memory foam with tall springs. It's less firm than the Otty Pure, so could be a good choice if you're seeking a little more pressure relief. It can sleep slightly warmer than the Otty, and edge support is similarly slightly weak. You can often pick this up half-price, with a double coming in around £600, putting it in the same ball-park as the Pure. Read more in our Emma Premium mattress review.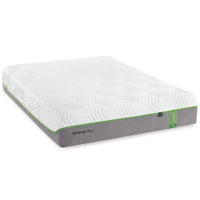 Tempur Hybrid mattress
If you're pushing the boat out and want something with a more traditional memory foam 'hug', head to Tempur. This brand is known for its luxurious foam, which cradles your body as you sleep, delivering excellent pressure relief. It'd be a great choice for side sleepers. This is an investment purchase, though, with a double costing from £1,999. Head to our Tempur Hybrid mattress review for more info.