ChatGPT and chatbots like it have been dominating tech news for months, ever since Microsoft CEO Satya Nadella introduced Bing Chat to the world back in February.
I was in the room when he first demoed ChatGPT at the inaugural Microsoft ChatGPT event, and it was impressive and frightening in equal measure. Watching Bing with ChatGPT spit out human-sounding answers to whatever question was asked, based purely on its ability to string words into sentences via algorithms, was remarkable.
I watched Nadella take to the stage again at Microsoft's annual Build conference, and Bing Chat was the star of the show. Microsoft knows it has the lead in a field of technology that everyone's talking about right now, so every speaker onstage talked up how this tech is going to make everything from coding to collaborating to cooking up logos for your next side hustle easier than ever before.
It's a compelling sales pitch, and one of the biggest new features Microsoft is talking up is the arrival of an AI-like chatbot inside Windows 11 itself. Branded Windows Copilot, this new feature is expected to start rolling out in preview form next month (June 2023).
Windows Copilot papers over problems in Windows 11
I think about the issues with Windows 11 on a semi-regular basis because that's about how often I get asked whether it's worth using. Typically it's some beloved and well-meaning friend or relative who's asking whether they should upgrade from Windows 10, and my answer is usually something along the lines of "You should probably switch sometime before 2025, when Microsoft stops supporting Windows 10."
I try not to say more than that because I've spent so much time using, thinking and writing about Windows 11 since launch that I could bore even Satya himself to tears with my opinions. While there's a lot I like about the latest spin on Windows, it has real, serious problems that sometimes make it hard to recommend over older versions.
There is, for example, no good reason to use the lion's share of the Widgets available in the new Widgets menu. They chiefly provide information that can typically be found faster and easier in a web browser — heck, half the time you click something in a Widget and it just opens a link in an Edge window, keeping you in Microsoft's ecosystem of apps without adding much value.
And while we're talking about keeping you in Microsoft's court, Windows 11 has been a real pain about hassling people to use Microsoft Edge and other Microsoft products. For a company that owns so much market share in the PC space, Microsoft sure makes itself look desperate with all the upsells and tricks it employs in Windows 11 to try and get people to use its services.
While I appreciate that Windows 11 brought with it a slew of useful options for customizing your PC (love the new snap layouts), as well as decking out all the top-level system menus with new designs, there's a downside to the new look. All this extra cruft sits on top of a lot of existing Windows menus and systems that are somehow simultaneously both easy to get lost in and hard to find when you need them, creating plenty of potential pitfalls to stumble into as you're puttering around the Settings menu trying to figure out how to get to your audio settings or fiddle with your network arrangements.
In fact, one of the key reasons I'm reticent to recommend folks upgrade to Windows 11 is I don't want to get asked about what's different, or how to access the new, cool features. They're too granular, too buried in menus and generally too hard to access for most folks without consulting a how-to article, like this list of 5 Windows 11 tips I wish I knew when I first started using it.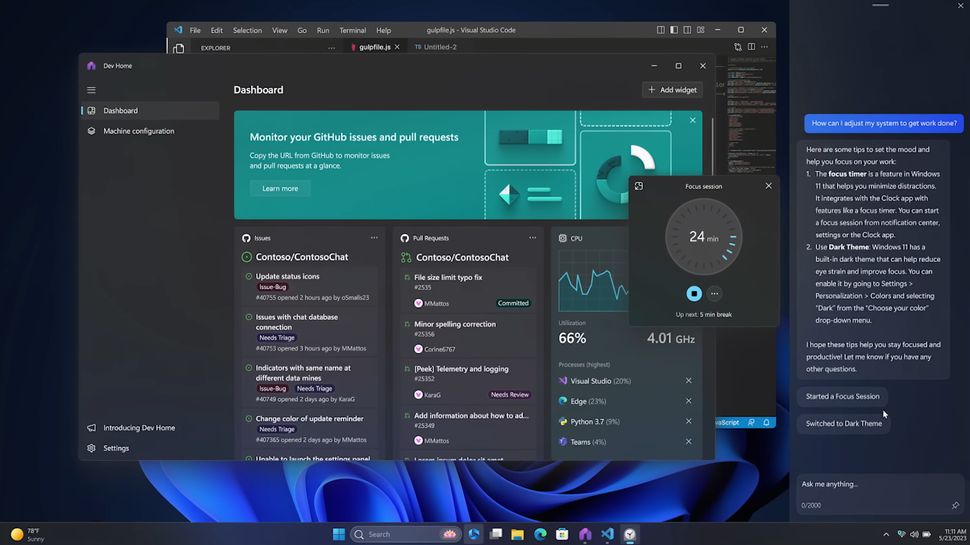 Microsoft might be aware of this issue, because today at Build I watched the company play a sizzle reel for its new Windows Copilot virtual assistant that highlighted how many basic Windows 11 features require trained help to use.
In the video we see the new Windows Copilot (which appears on the right-hand side of your Windows 11 desktop as a pop-out pane with a text entry box) doing things like providing you with tips on how to get the most out of Windows, or prompting you to use Windows 11 features like Focus Sessions and Dark Mode.
The video makes Windows Copilot look pretty cool, and I'm eager to see how well it works for an average idiot like myself. While the extra help it gives you in customizing and navigating Windows 11 is one of the cornerstones of Microsoft's pitch for the product, the company also claims Windows Copilot will be capable of reading and working with information on your PC, like documents and images. With plugins it should also be capable of automatically handling simple tasks on request, like generating an image and then sharing it with friends or colleagues in a separate app.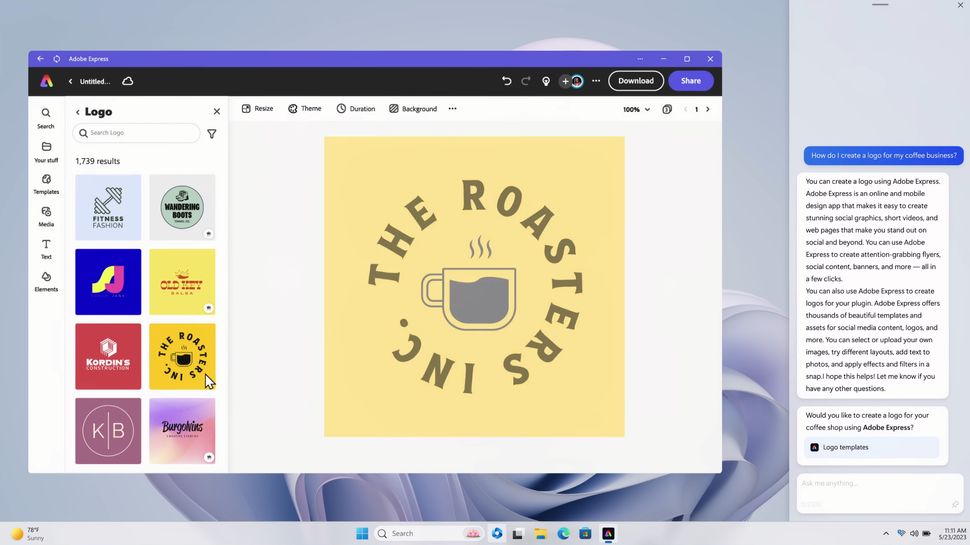 But in the end, I can't help wondering whether Windows Copilot is evidence that Microsoft has given up on making Windows 11 easier and more intuitive to use.
Because frankly, the most useful part of the Windows Copilot demo we saw today was the opening bit where the user was prompted to be more productive by enabling a Focus Session and switching to Dark Mode.
It was a powerful sell, one that immediately prompted me to wonder yeah, why don't I use Focus Sessions during busy days?
The answer, of course, is that the feature is buried in the OS in such a way that I regularly forget it exists. When I remember, it's not hard to access—like most things in Windows, you just hit the Start key, start typing what you're looking for and voila, it appears in the search results.
But it's the part about remembering to use it that keeps me from being more productive, not the lack of a chatbot to turn it on for me.
After today's demos it's clear that a key responsibility of Windows Copilot is going to be promoting Windows 11 features and helping users make the most of their copy of Windows, which is probably a good thing.
However, I can't help but feel that Copilot is just another layer of complexity Microsoft is adding atop Windows 11 to help users navigate its confusing, multi-layered legacy design.
More from Tom's Guide