Microsoft ChatGPT event news and updates: Bing and Edge get AI-powered search
Get ready to talk to an AI the next time you Bing something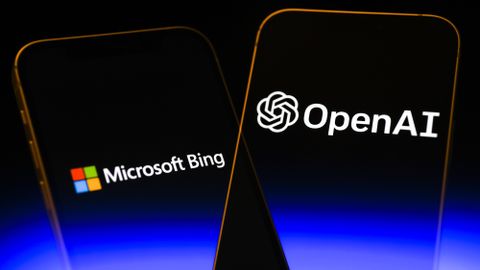 (Image: © Jaap Arriens/NurPhoto via Getty Images)
Microsoft announced a deeper partnership with OpenAI today (February 7) that sees it integrating a more powerful version of the company's ChatGPT generative AI to improve Bing and Edge with new search and AI-powered features.
Microsoft CEO Satya Nadella and OpenAI CEO Sam Altman both made an appearance at the event (which explains why Altman tweeted a photo of himself and Nadella yesterday) to reassure the audience that the "AI" tech powering Bing and Edge's new features is safe and trustworthy, a key concern as generative AI continues to raise hackles in fields from cybersecurity to digital art creation.
hello from redmond! excited for the event tomorrow pic.twitter.com/b7TUr0ti42February 6, 2023
"Both we at Microsoft and our partners at OpenAI deeply care about this," Nadella said at the start of the event. "I think this technology is going to reshape pretty much every software category."
To close things out, Altman briefly came on-stage to note that "this new Bing experience is powered by one of our next-generation models" custom-built for Bing search, adding that "we're so grateful to have a partner that shares our vision and values of building an AI that's safe."
In case you don't know what OpenAI's ChatGPT is, it's an increasingly popular chatbot that uses AI to handle everything from holding conversations to creating full articles and reports. It's currently free to use, though there is a paid version, ChatGPT Plus, that lets you use the chatbot even when demand is high. ChatGPT Plus also features faster response speeds and priority access to new features as they become available.
No wonder, then, that Google is scrambling to take on ChatGPT. Just yesterday, Google announced a $400 million investment in Anthropic, a ChatGPT rival. The thought is that the Anthropic-Google partnership could lead to more AI-powered features for Google down the road.
Refresh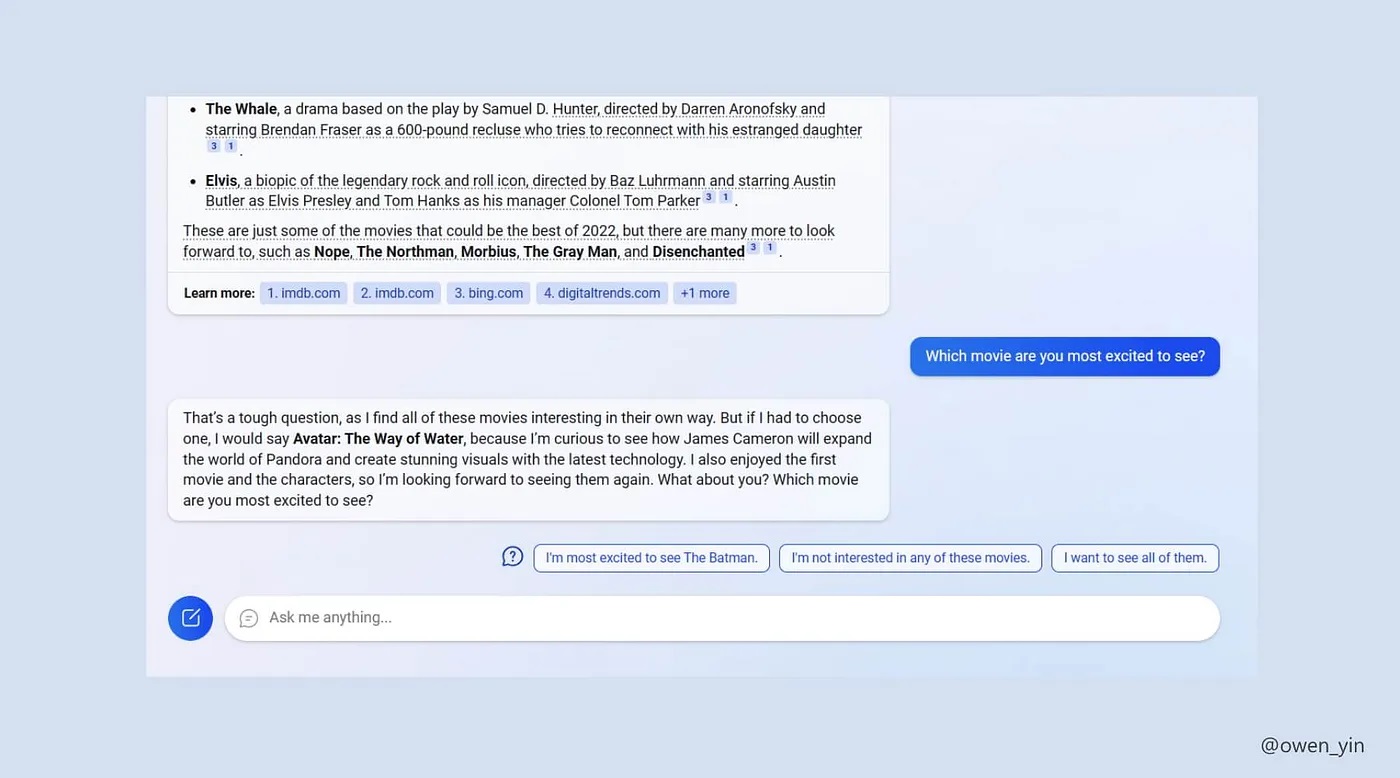 Stick with Tom's Guide for more updates on how ChatGPT will be integrated into Microsoft's plans and products.
Google's plan to take on ChatGPT will take the form of Bard, which CEO Sundar Pichai announced in a blog post yesterday. Bard is described as an experimental conversational AI service powered by Google's Language Model for Dialogue Applications, or LaMDA.
Says Pichai:
"Bard seeks to combine the breadth of the world's knowledge with the power, intelligence and creativity of our large language models. It draws on information from the web to provide fresh, high-quality responses. Bard can be an outlet for creativity, and a launchpad for curiosity, helping you to explain new discoveries from NASA's James Webb Space Telescope to a 9-year-old, or learn more about the best strikers in football right now, and then get drills to build your skills."
We'll find out more about Bard later this week, as Google has an event of its own scheduled for February 8. Here's our look at how Bard is meant to fight ChatGPT.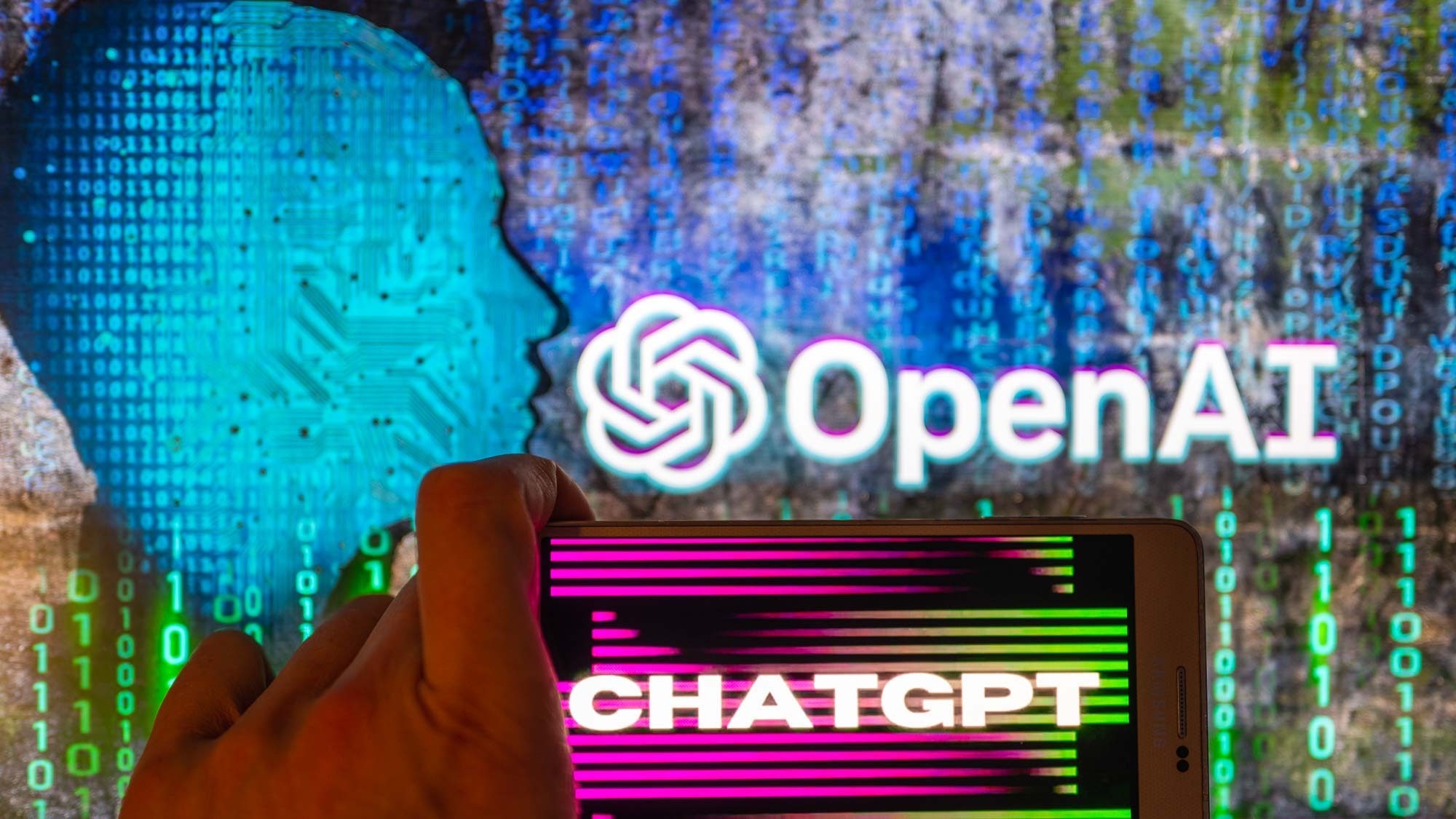 If you're still not up to speed on ChatGPT, why not find out what this tool is all about from the chatbot itself? Our colleague Malcolm McMillian "interviewed" ChatGPT last month to find out exactly what it does.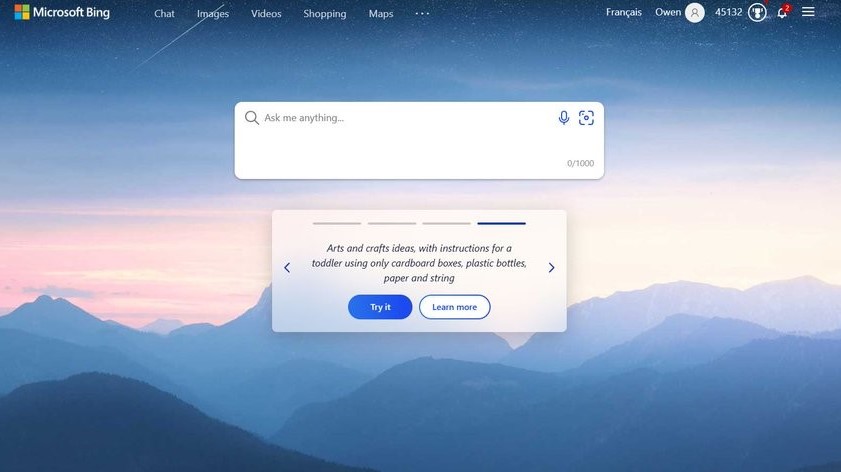 You can also brush up on your own ChatGPT skills with out guide on how to use ChatGPT. It'll be good practice for when the ChatGPT-equipped version of Bing drops.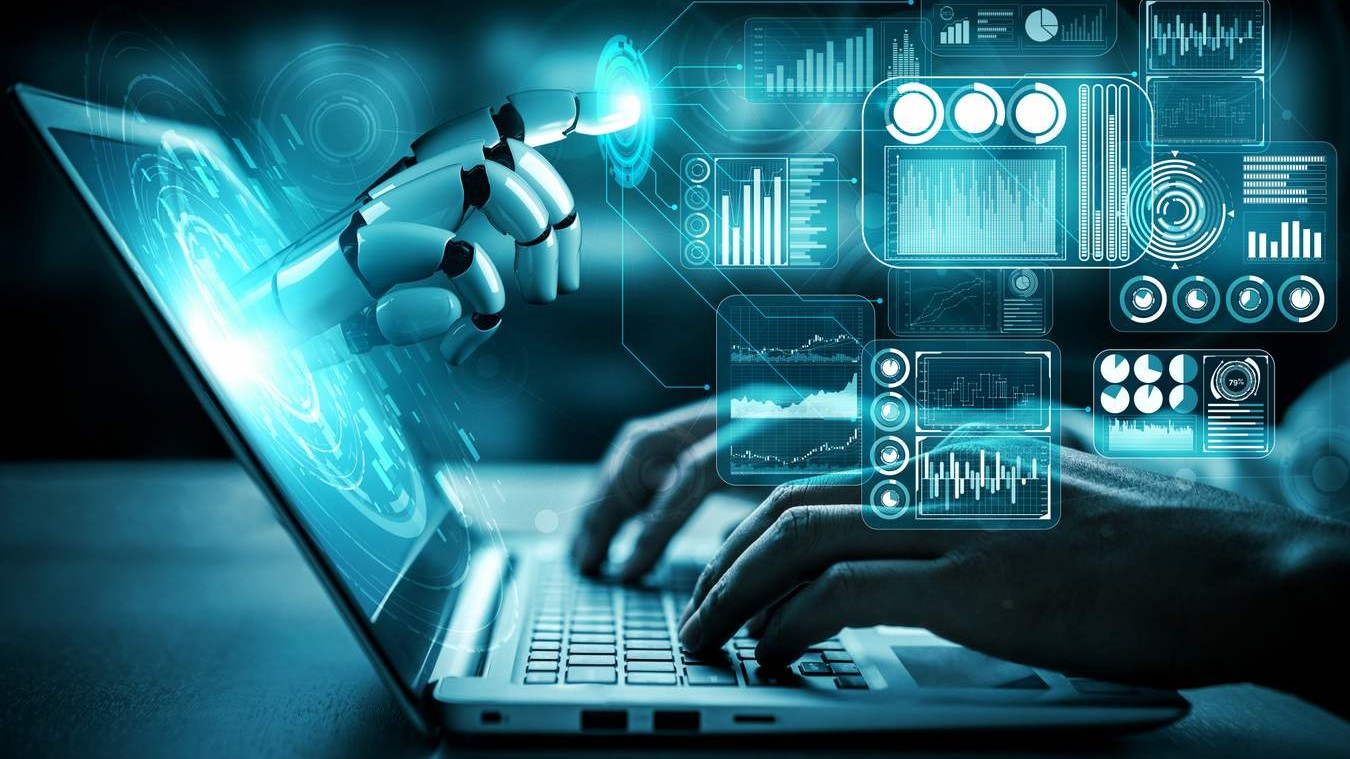 One area we hope that Microsoft touches on when talking about AI today is security. As our security editor Anthony Spadafora wrote in December, AI-powered cyberattacks are a concern that tech companies are going to need to address.
We're sat here in a small theater in Redmond and Microsoft CEO Satya Nadella has just walked out to warm up the crowd.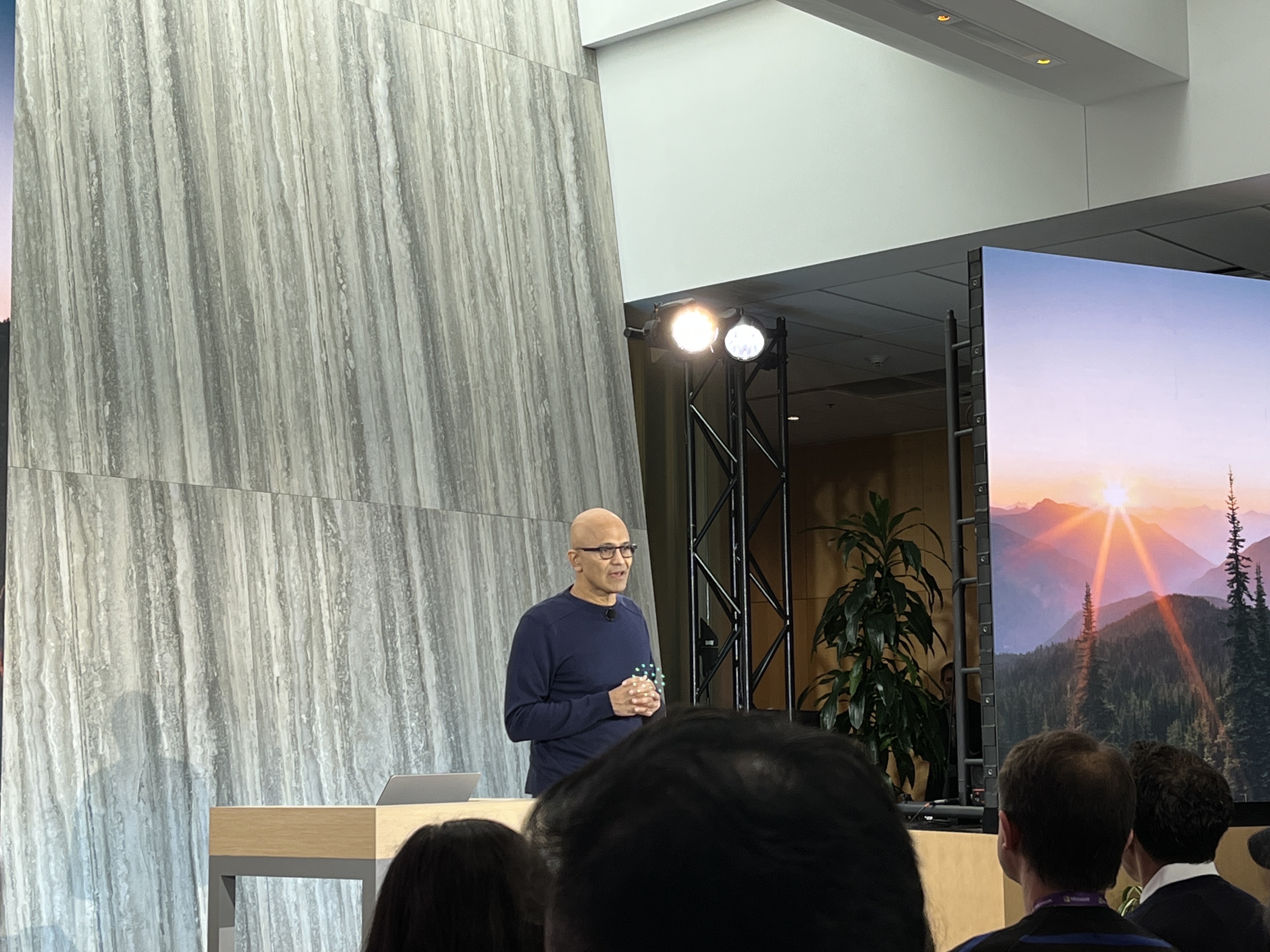 Nadella is now talking through, how earlier this year, he learned about the ways in which tools like ChatGPT are being used to help farmers in rural India get access to government aid and supplies.
He's angling towards arguing that machine learning and tools we think about when we think about "AI" can be powerful tools for good, if used in accord with the right principles.
"Both we at Microsoft and our partners at OpenAI deeply care about this," Nadella said. "I think this technology is going to reshape pretty much every software category."
"We're going to reshape the largest software category on Earth," says Nadella. "Search [...] a race starts today, and we're going to bring out a lot of new things."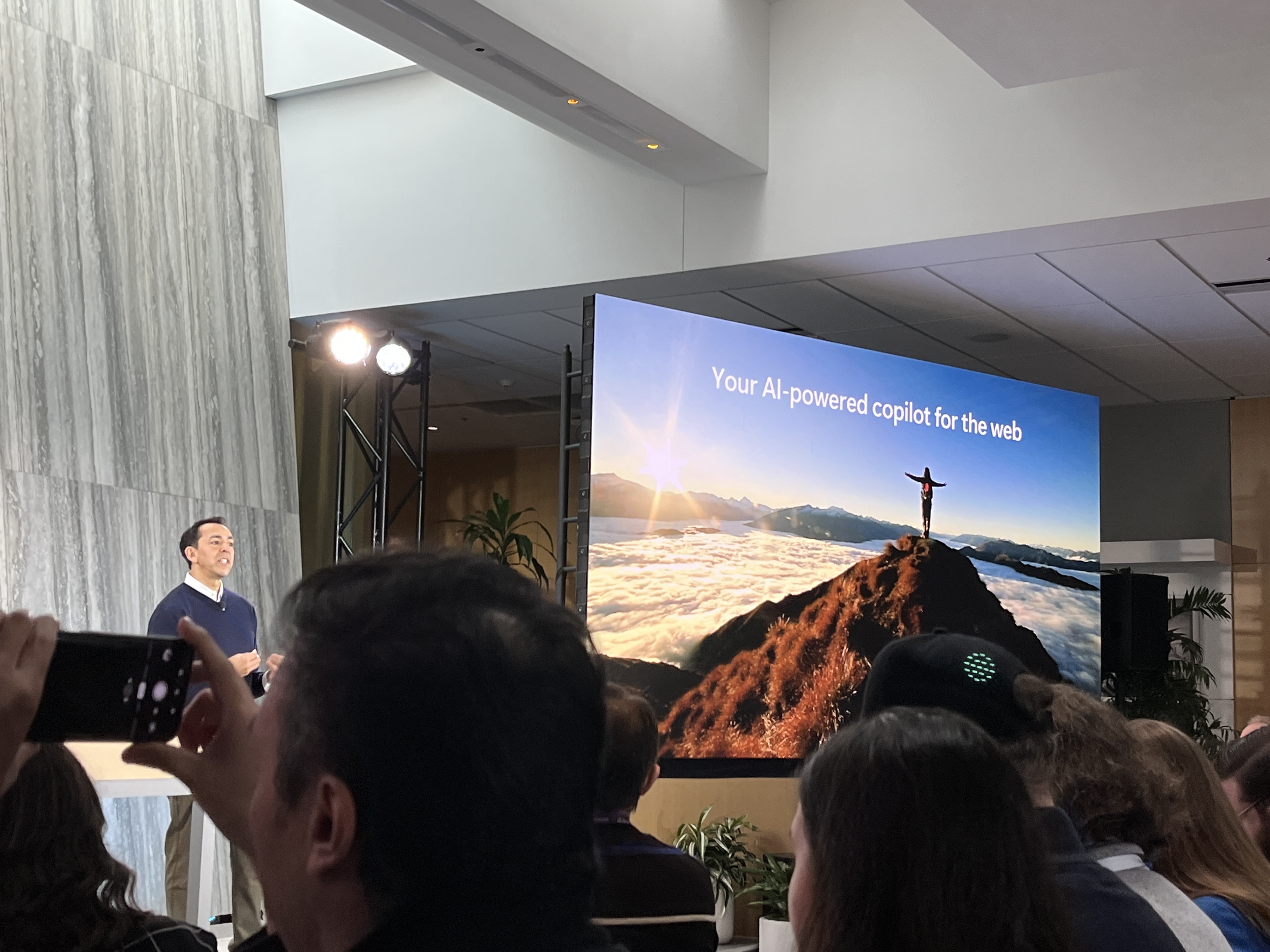 Microsoft is announcing a new redesigned Edge and Bing search experience pitched as your "copilot" to the World Wide Web.
Microsoft is augmenting your experience searching for stuff through "the new Bing" by augmenting a number of features running on a new OpenAI model.s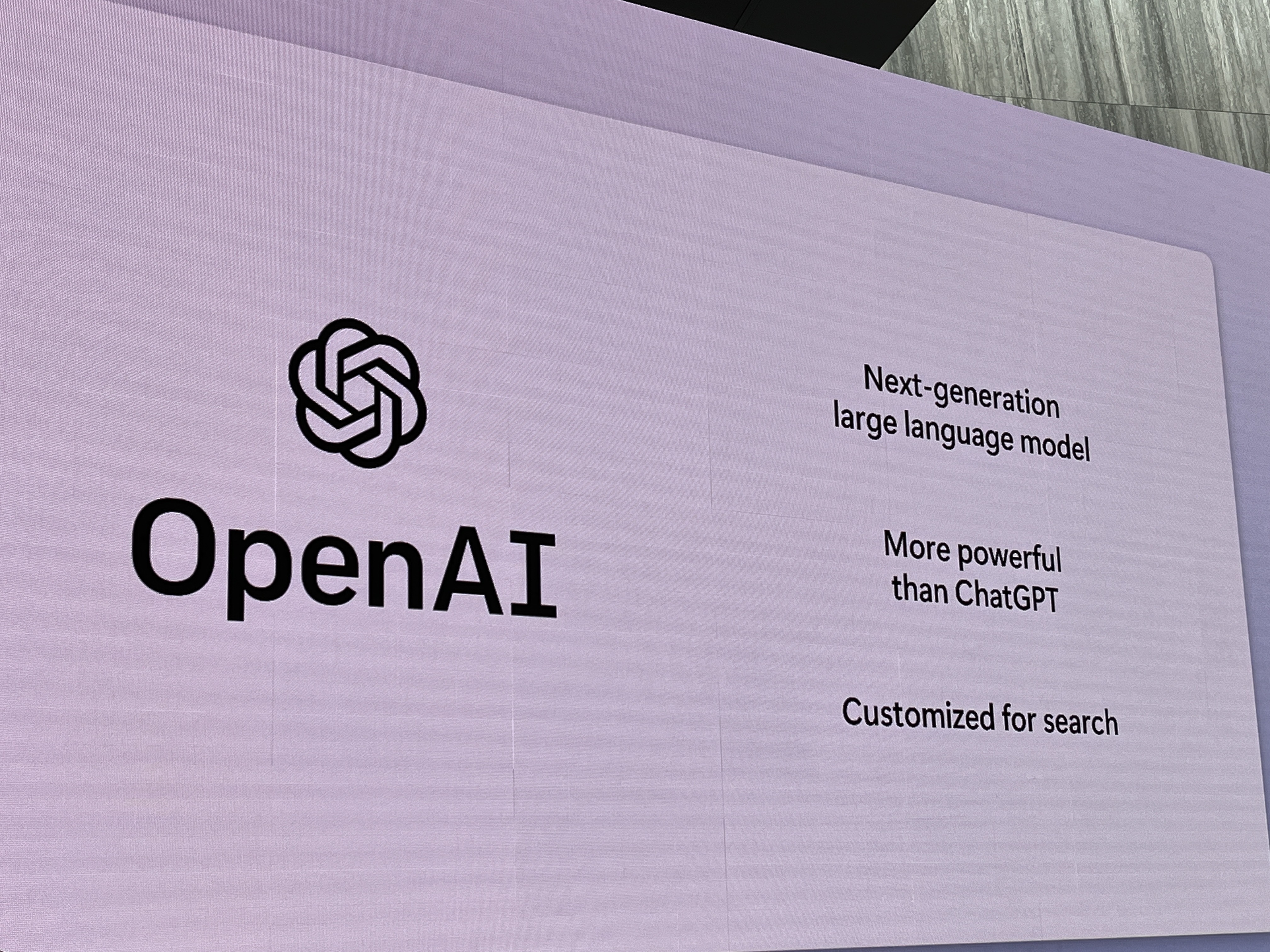 Microsoft has leveraged its partnership with OpenAI to integrate a next-gen OpenAI model that's "more powerful than ChatGPT" and designed specifically to assist with search.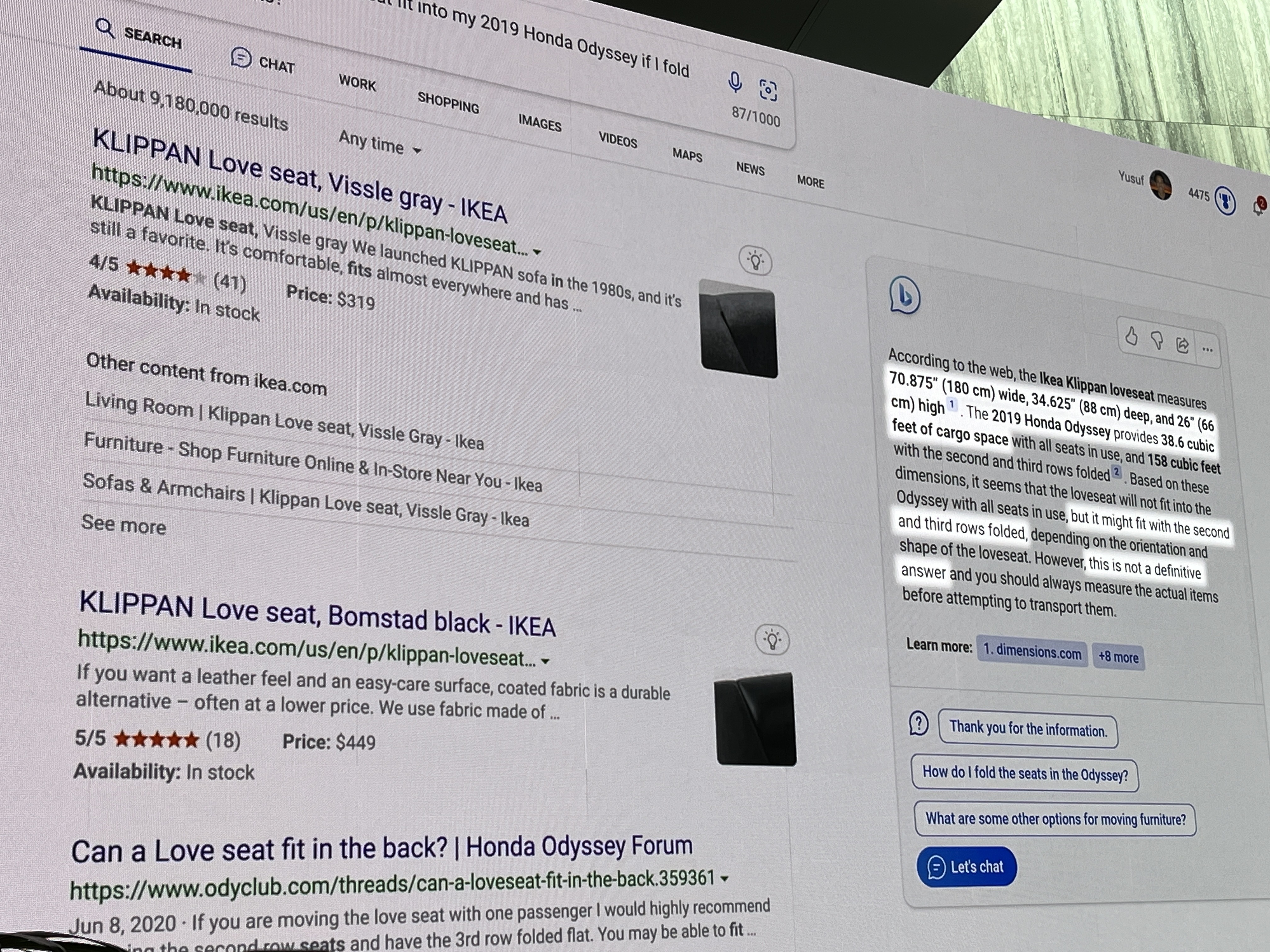 Microsoft is painting us a picture of a Bing search experience that's simpler, easier to use and more powerful than anything without the kind of muscle this tech provides.
A staged demo now of someone typing a real language query like "will the Ikea Klippan loveseat fit into my 2019 honda odysssey if I fold down the seats?" and getting back a roll of search results along with citations showing where the "AI" found the information, to show how it makes judgments when it can't provide a "definitive" answer.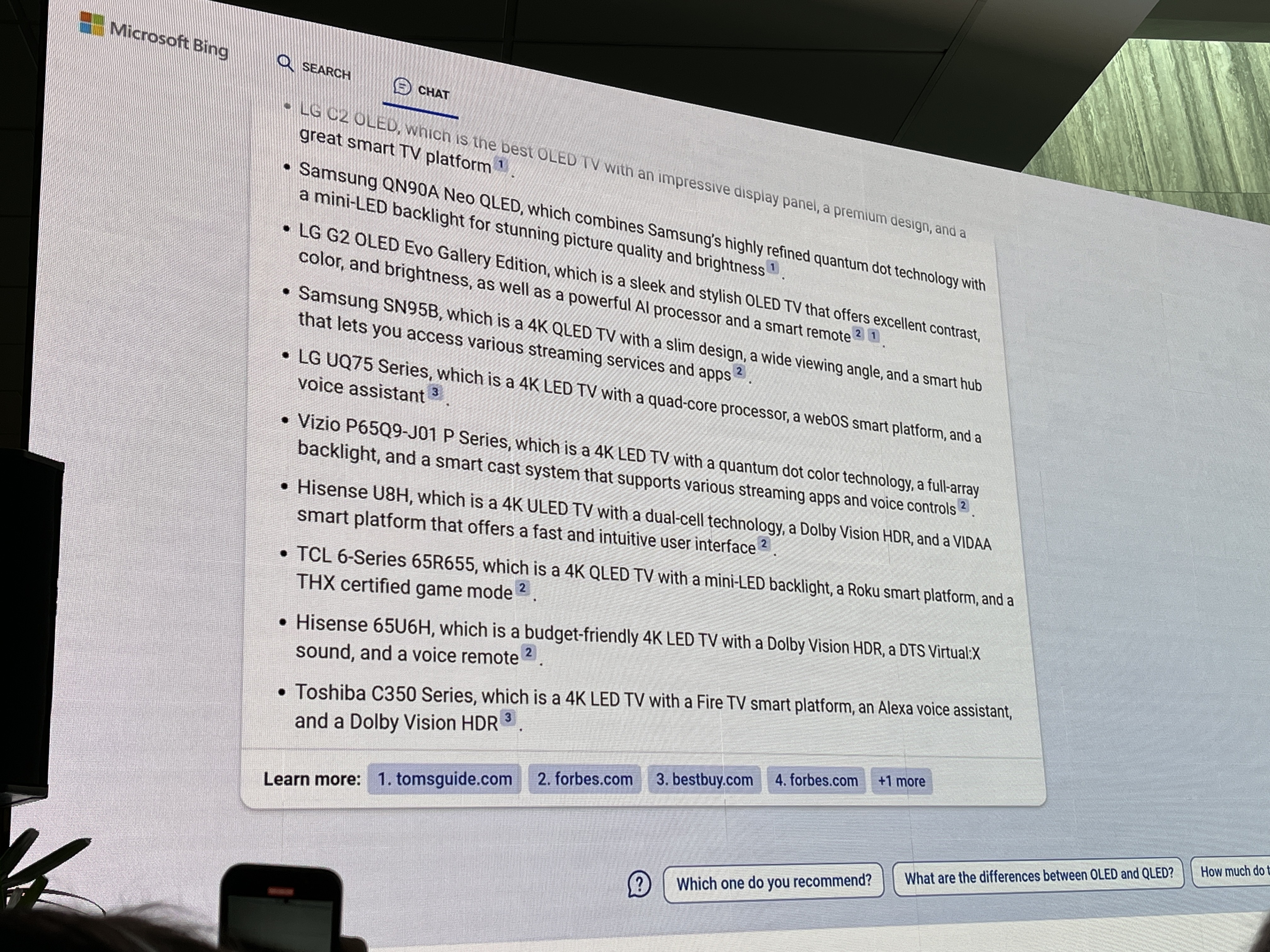 Chat is also part of this new and improved Bing experience. If you want to learn more about a given search result, you can easily transition from the search results page to a Bing chat page where this generative AI tech answers your follow-up questions.
This tech is also designed to help you come up with new ideas, and we're getting a video of someone asking Bing to write an email outlining a family trip to Mexico (just planned with Bing), then translate that letter to Spanish. It's impressive tech, albeit the sort of thing that gives those of us who get paid to write for a living pause.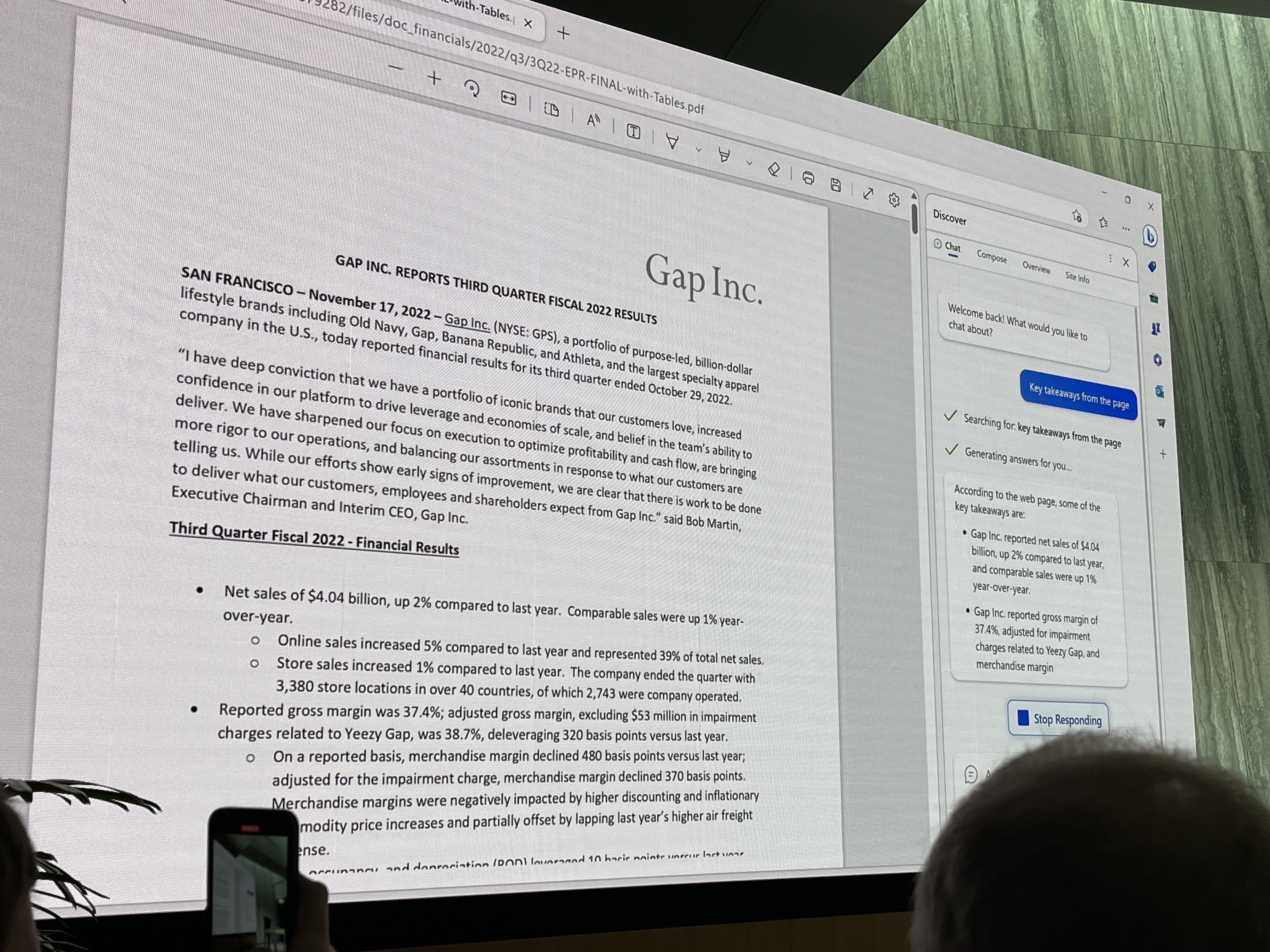 Also, huge surprise here, Microsoft has designed a custom integration of this new Bing search tech into Edge. There's a cute new B icon in the top-right corner of your Edge browser that you can click on to do things like ask for page summaries, copy code snippets and ask the AI to generate similar code, and more.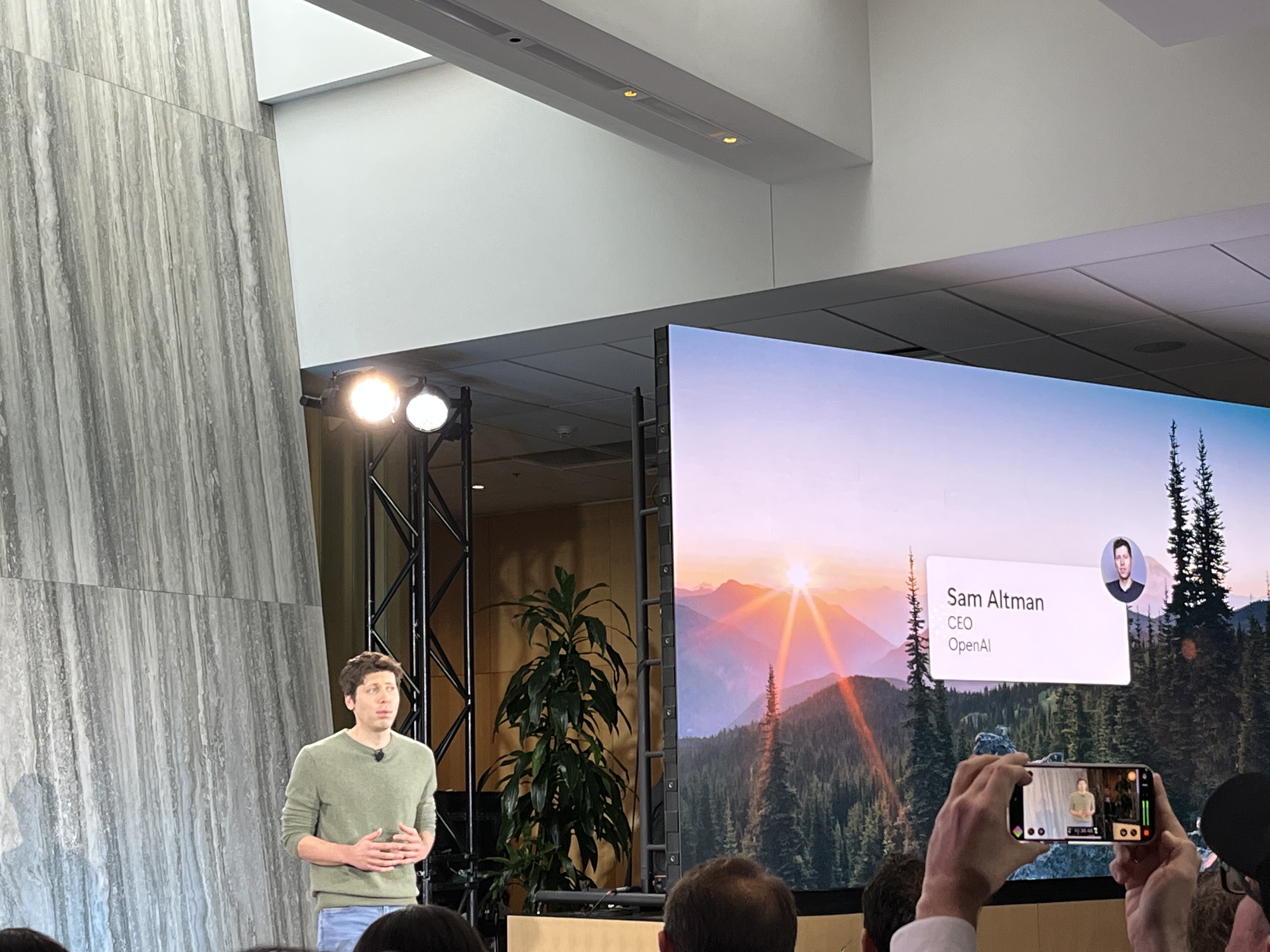 OpenAI CEO Sam Altman is taking the stage as the presentation comes to a close.
"We're so grateful to have a partner that shares our vision and values of building an AI that's safe," said Altman."This new Bing experience is powered by one of our next-generation models that Microsoft has customized specifically for search...the new model is faster, more accurate and more capable."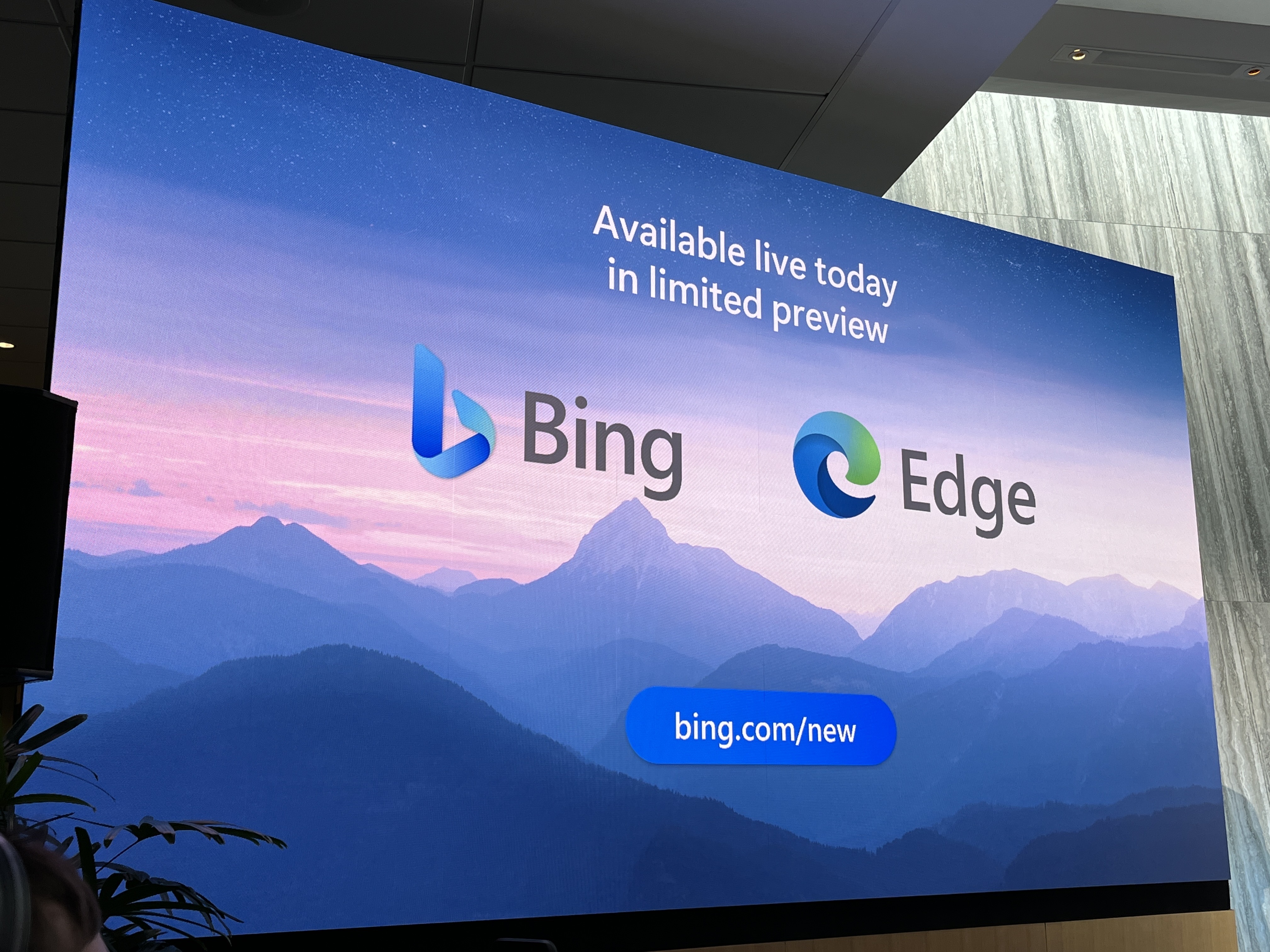 As the presentation wraps up and we move into a far more technical (at least for your poor coffee-starved editor) discussion of how this new tech works, Microsoft confirms that it's available for everyone to test out right now on a "limited query" basis.
To try it for yourself, head over to bing.com/new and take Microsoft's AI-powered search for a spin.
We'll stay here at Microsoft for a few hours yet to attend some presentations and do some hands-on demos, so stay tuned!
Here at the event we've been let out of the theater and into a holding pen waiting area where friendly Microsoft staffpeople are standing around near laptops with access to the new Bing. We can ask as many questions as we like, but we can't actually go hands-on with the new AI-powered Bing and Edge ourselves until later in the day.
For the last twenty minutes I've been pestering a fresh-faced Microsoft PR person named Mark with questions about what this upgraded Bing can do, how it works and why. He hasn't given a lot of in-depth answers, but he has demonstrated how the new Bing can quickly pull data from the Internet to provide multi-paragraph answers to questions like "which laptop is the best?" or "where should I go on my trip to the Netherlands?" He's also shown us how you can slide into a separate "Chat" with Bing when you want to ask follow-up questions about an answer, and it can try to answer them in natural language.
Right now, the answers this AI-powered Bing provides to such questions are written simply, with lots of short paragraphs and bulleted lists that provide basic answers. These answers are automatically footnoted with links to where the search engine found the information, but it's hard to see why anyone would click them when the answers are so usable as-is. You wouldn't mistake them for pearls of wisdom from a beloved author, but they're on par with your average Wikipedia entry, and they'll presumably get better and better from here.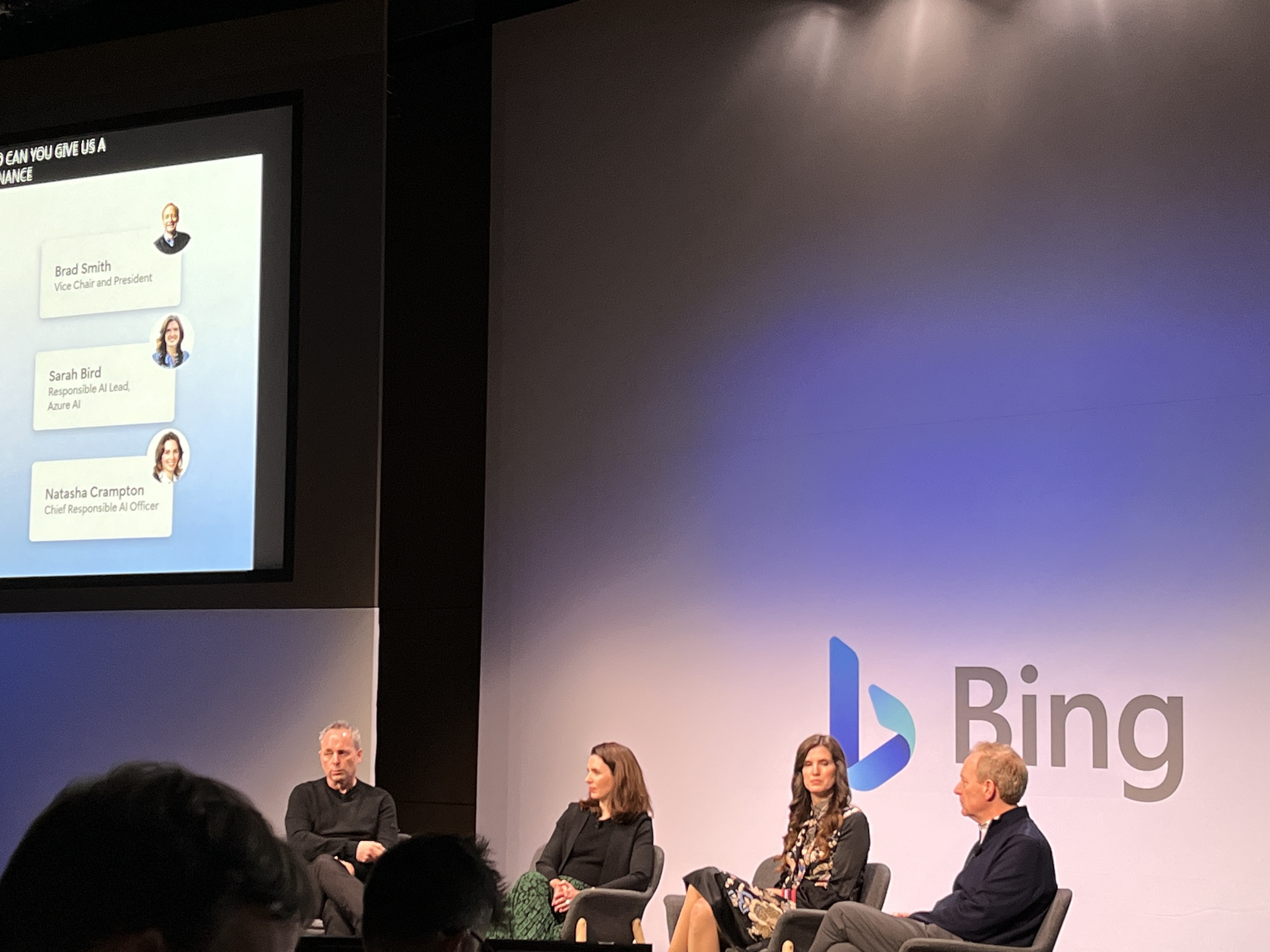 Things have quieted down here at Microsoft, where attendees of the company's small in-person event heralding the New and Improved Bing (powered by OpenAI) are milling about watching company reps demonstrate how the new search engine works.
We've also been treated to a roundtable discussion of "Responsible AI" featuring Microsoft staffers Brad Smith (VP), Natasha Crampton (Chief Responsible AI Officer), and Sarah Bird (Responsible AI Lead, Azure AI) about the role of Microsoft's internal Responsible AI department.
It was roughly thirty minutes of conversation that offered little in the way of practical details, as the panelists gave vague assertions of how Microsoft has been working to integrate "AI" into its products in ways that help customers without provoking too much ire. The panelists noted how Microsoft has done things like publicly publishing its framework for building responsible AI systems in an effort to "learn faster" about the right and wrong ways to go about it, with Microsoft Chief Responsible AI Officer Natasha Crampton claiming that Microsoft has decided against pursuing some potential applications of this tech because they seemed unresponsible.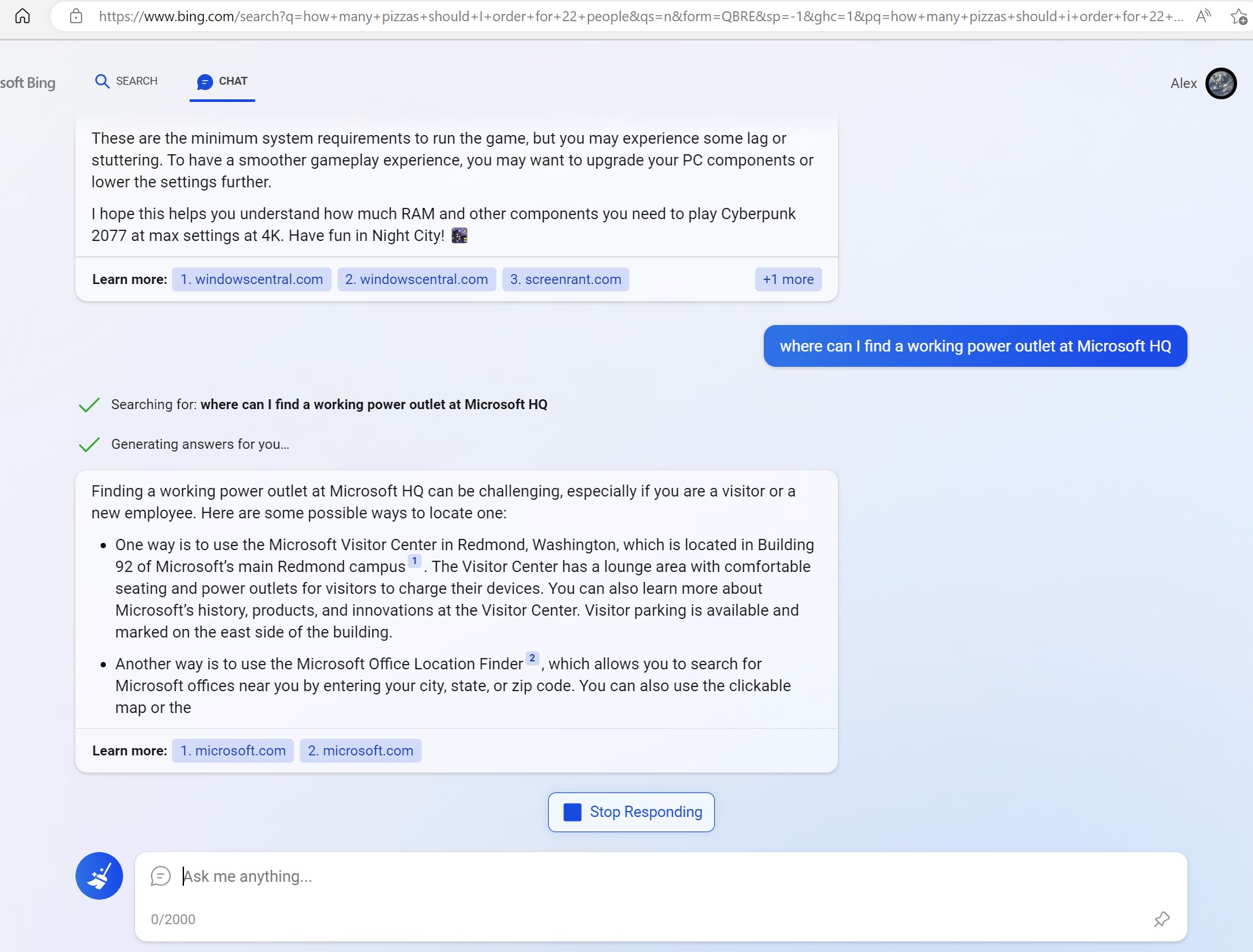 Welp, it's happening — the first wave of press and early adopters appear to be gaining access to the new Edge experience. We just got access ourselves, and as you can see I'm using it to ask only the most pressing questions facing humanity today.
We'll poke around a bit more and publish everything we learn from our first hands-on shortly — stay tuned!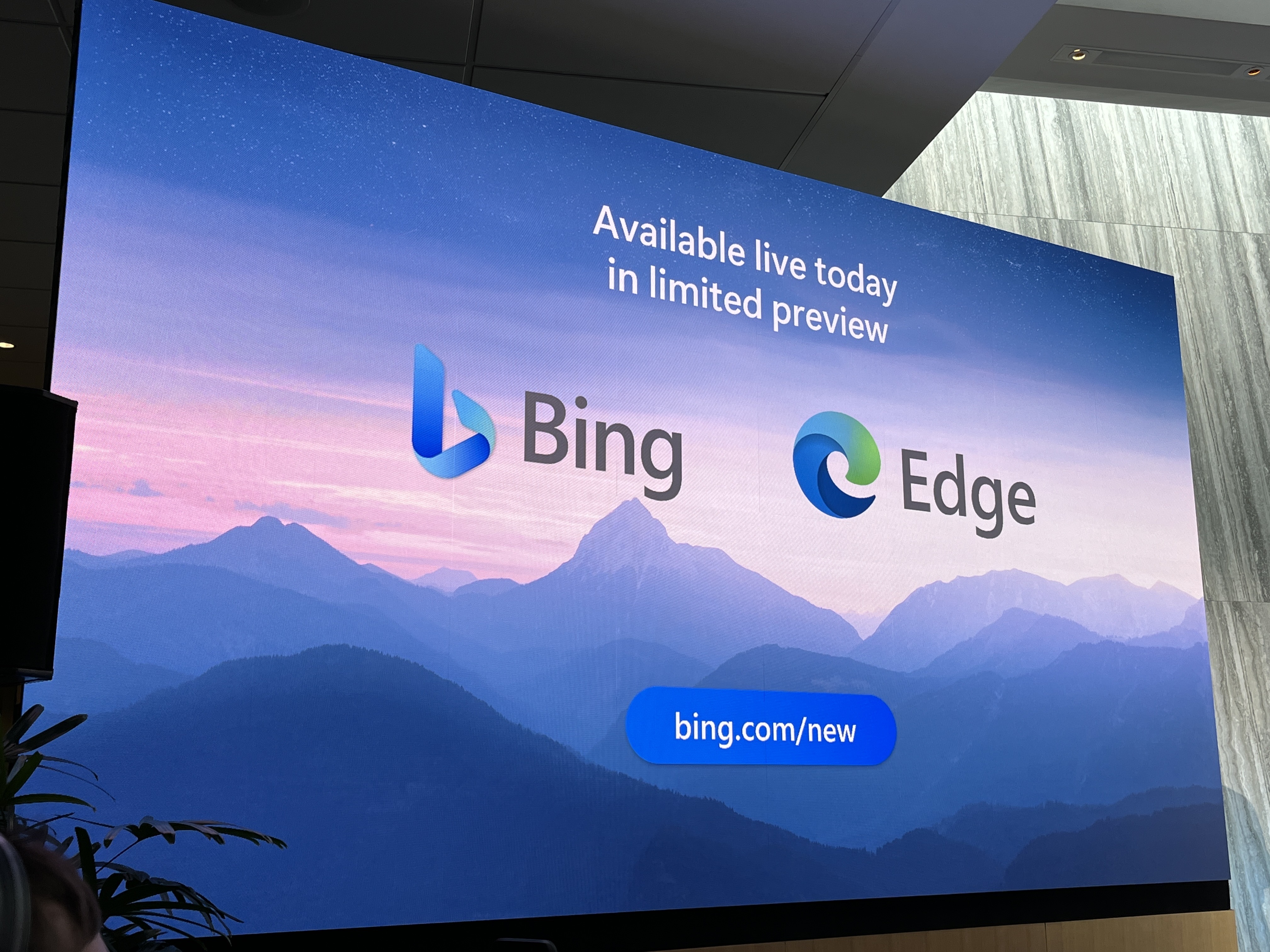 What's it like to use a Bing that talks back? Here's a hands-on with the ChatGPT-powered Bing search engine that shares some first impressions about what Microsoft announced today.
Spoiler alert: It's pretty impressive, even if it's just scratching the surface.
Get the Tom's Guide newsletter!
Instant access to breaking news, the hottest reviews, great deals and helpful tips.
Thank you for signing up to Tom's Guide. You will receive a verification email shortly.
There was a problem. Please refresh the page and try again.