The Microsoft Surface Laptop Studio is the company's most interesting laptop in years, and I hope it gets a sequel.
There's a decent chance we'll see one next week when Microsoft hosts an event Thursday (September 21) to talk up new developments in its some of its divisions, most notably the Surface business.
We don't yet know what to expect from Microsoft, though we will have people on the ground reporting live from the event to keep you as informed as we are. But I already have some guesses about what we'll see on Thursday.
Microsoft often hosts events in September or October to promote both its Surface devices and Windows in general, so expect to get some news about Windows 11 next week alongside whatever hardware news we hear.
We'll also almost certainly see new versions of Microsoft's various Surface devices, though I don't have high hopes for most of them. By that I mean while I expect to see a sequel to the disappointing Microsoft Surface Go 3, the unremarkable Microsoft Surface Pro 9 and the underwhelming Microsoft Surface Laptop 5, I'm not excited about any of them.
That's because Microsoft's Surface computers have been middling for years, delivering utterly acceptable ways of using Windows 11 on the go in various sizes of laptop and tablet. Only one Surface device has impressed me in all the years I've been covering laptops for Tom's Guide, and it's the Surface Laptop Studio.
Microsoft's Surface Laptop Studio is its best laptop in years
If you're not familiar, the Surface Laptop Studio debuted in 2021 alongside Windows 11 and instantly turned heads for its unique sliding hinged display. In our Microsoft Surface Laptop Studio review I called it the laptop Windows 11 was meant to run on, and I stand by my opinion that it's the ideal flagship for Microsoft's latest operating system.
Much of that stems from the unique design of the Surface Laptop Studio's 14.4-inch 120Hz touchscreen, which sports a fabric-covered hinge running horizontally along its rear that allows you to pull the bottom half of the display toward you and fold it down over the keyboard.
This lets you pull it toward you if you want to use the touchscreen with your fingers or an active stylus. I recommend the $129 Microsoft Surface Slim Pen 2 since it's uniquely well-suited for use with this laptop, as it both magnetically attaches to the Studio to charge and offers force feedback when you write on the display which Microsoft claims makes it feel like you're writing on paper.
I don't agree but I do think the Surface Slim Pen 2 is a great complement that makes the laptop more appealing and versatile for both work and play, which is why it's a bummer Microsoft doesn't include one for free with every Surface Laptop Studio.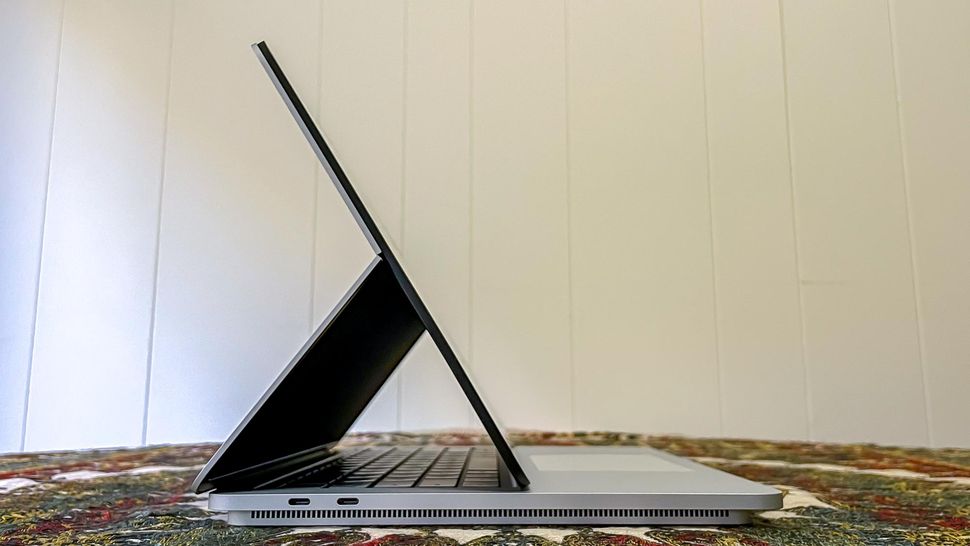 If we do see a Surface Laptop Studio 2 unveiled next week, I hope Microsoft prioritizes people over profit and chooses to include a stylus at no charge. The company sells the Studio by claiming its "boundary-pushing design lets you flex your creative muscle," and I'd take that marketing line a lot more seriously if Microsoft didn't charge an additional $130+ for the privilege of flexing said creative muscles with the stylus tailor-made for this laptop.
Price concerns aside, I think the Studio's eye-catching hinged display is a great way of iterating on the tried-and-true design of a 2-in-1 laptop (which typically fold 360 degrees at the hinge so you can use them as a laptop or weighty tablet) in a way that makes it more useful and more comfortable to use.
The fact that you can "tent" the display over the keyboard of the Surface Laptop Studio gives it an easel-like usefulness even the best 2-in-1 laptops can't match, and I find it makes tapping and drawing on the display more comfortable than if it were vertical or flat on the tablet.
It also highlights the more touch-friendly aspects of Windows 11 without requiring you to use it as a purely touch-based device, since you can slide the screen forward when you want to doodle, play a touch-based game or take notes, then slide it back again when it's time to get back to typing.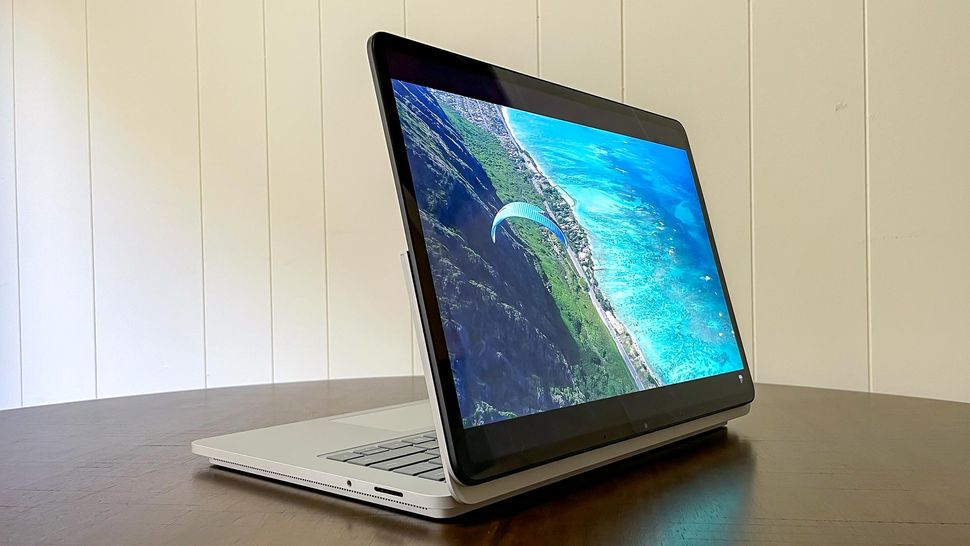 Plus, you're not limited to just using the display as advertised. The fact that you can rotate it along the hinge halfway down the display means you can spin the screen around to lay flat against the lid, which is great for using it as a fat tablet. But you can also spin it around while the Studio is open, letting you show your screen to someone sitting across from you without moving the laptop.
Is this useful for most people? Probably not, unless you really want to show your screen to someone during a meeting without moving your laptop. Is it a cool trick that makes you wonder what else a laptop could be and do? I think so.
I love the Surface Laptop Studio for its flexibility and versatility, strengths that aren't limited to its physical design. Inside that remarkable chassis are components that are just as versatile, since you can order one with both a decent (though now outdated) Intel Core i5-i7 CPU, up to 32GB of RAM and a discrete Nvidia GeForce RTX 30-series laptop graphics card.
That means you can get a Surface Laptop Studio that's powerful enough to play many of the best PC games at decent framerates, or help out with some heavy-duty photo/video editing. I can't say the same about any of Microsoft's other Surface products, which further sets this laptop apart as basically the only thing Microsoft sells which could hope to compete with a MacBook Pro.
But since nothing Apple sells is as flexible or as versatile as a Surface Laptop Studio paired with a good stylus, I think Microsoft can't afford to give up on this machine. Sure it's pricey and funny-looking, but there's no other laptop on the market like it. And after using one regularly since launch, I'd still heartily recommend it.
Outlook
Luckily for me, we've already seen some rumors and spec leaks which suggest Microsoft will unveil a Surface Laptop Studio 2 during its September 21 Surface event.
According to reporting by German site WinFuture (based on reported retailer leaks) that was picked up by The Verge, Microsoft will unveil a Surface Laptop Studio 2 with updated Intel Raptor Lake CPUs, Nvidia GeForce RTX 4000 series GPUs, more ports and more memory.
We'll be digging deeper into those reports and more as the event draws closer, but these early rumors already have me excited about what Microsoft might be launching this fall. The Surface Laptop Studio is its most interesting laptop in ages, and I'm excited about the prospect of finally seeing the company refine and improve on it.
Of course, if that does come to pass we can likely count on the price of this already premium laptop going up a bit beyond the $1,600 that its predecessor started at. Maybe this time the company won't charge us an extra $130 for the stylus? A fool can dream.
More from Tom's Guide