Building an audio setup isn't the easiest thing to do. You have to determine how much you want to spend, what you want to use it for, etc. But, especially with most TVs needing at least a soundbar to upgrade their sound, just about everyone will need to build their own audio setup at some point — no matter how simple.
That's why Sonos speakers are a great solution for a lot of audio setups. No, they aren't the cheapest speakers — the "entry-level" Sonos One will cost $219 brand new — but they are well made, have great sound quality and are incredibly versatile. Add in the fact that its more recent offerings like the One have smart assistants like Alexa and Google Assistant built-in, and there are a lot of reasons to choose Sonos speakers for your audio setup.
And while I haven't quite managed to build out a home-wide Sonos audio system (which is my eventual goal) Sonos speakers are still a key part of my audio setup. I currently have an old Sonos Play:1 (the predecessor of the Sonos One) connected to an Amazon Echo dot in the kitchen and a Sonos Beam soundbar for the living room TV, but the anchor of my audio setup is the little black box that doesn't even have a speaker — the Sonos Amp.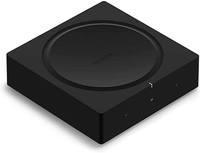 Sonos Amp $699 @ Adorama
The Sonos Amp connects to external speakers, turntables, TVs and more to bring your existing kit into the Sonos world. Once connected it will act as any other Sonos speaker for group play and multiroom audio over Wi-Fi.
The Sonos Amp is a game changer
If you go to our list of the best Sonos speakers, you won't find the Sonos Amp on it. That's because, as previously mentioned, it doesn't actually have any speakers. But that's not a bad thing, because it allows you to bring your own hardware into your existing Sonos audio setup.
Our Audio Editor Lee Dunkley raved about the Sonos Amp last year for this exact reason. While soundbars like the Sonos Beam (Gen 2) or the Sonos Ray produce great sound in compact packages, there are still better hi-fi speakers out there if you truly want the best TV sound possible. With the Sonos Amp, you can connect existing speakers and TVs to the Amp and effectively turn them into Sonos speakers. You can also do this with turntables — which is precisely why I got the Sonos Amp.
How I use Sonos Amp in my audio setup
I am a huge fan of listening to vinyl. As a former professional musician, I'll freely admit that digital audio is objectively better, but there's just something about listening to an album with no skips and taking it all in. One of my fondest memories of last year was just plugging in my Sony headphones into my record player, laying down on the floor of my DC condo and listening to Idles' album Crawler from start to finish.
But sometimes, I just want to lounge on the couch and listen to an album or swap between my turntable and my TV or streaming music, and the Sonos Amp lets me do it with ease. I just plug the turntable into my Sonos Amp, drop the needle and I can control everything from the Sonos app. It's incredibly convenient and allows me to play my record collection through my Sonos Beam soundbar that's already connected to my TV. It's much simpler than having a separate audio setup for my turntable and my TV in the same room.
Yes, there are now third-party solutions out there that solve my problem. Victrola has launched the Stream Carbon and Stream Onyx turntables that allow you to connect your turntable to your Sonos ecosystem without the Sonos Amp — but they're not cheap. The Onyx is the cheapest at $599, only $100 less than the Sonos Amp's $699 price tag. If you already have your own turntable or speakers, the Amp is probably the smarter investment than buying an entirely new turntable just to connect to your Sonos speakers (which you'd still need to buy or own separately).
Even with these new products, I still recommend the Sonos Amp if you want to add a turntable to your audio setup. It allows you to pick your own turntable, and it's the clear choice if you already own a record player. I got one nearly five years ago now, and it's still my favorite part of my audio setup.
More from Tom's Guide
The Era 100 and 300 have been unveiled (March 7, 2023). Discover everything we know about the Sonos Era 100 and Era 300 from our hands-on first impressions.