Samsung Galaxy A event recap — Galaxy A53, Galaxy A33 make their debut
Samsung unveiled two new midrange phones — and we've got all the details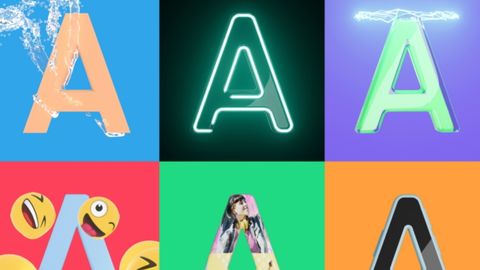 (Image: © Samsung)
Samsung told us to expect more powerful midrange phones from the Galaxy A event today (March 17), and that's exactly what the company delivered. The Samsung Galaxy A53 and Samsung Galaxy A33 made their debut at the online event in advance of a launch next month.
The Galaxy A53 will cost $449/€449/£399 when it debuts on April 1 (though some U.S. carriers will apparently get the phone on March 31). The Galaxy A33 arrives on April 22, priced at €369/£329; the lack of U.S. pricing would seem to suggest the A33 isn't coming to this country, at least not initially.
The price of the Galaxy A53 would also make you think the phone will be pretty competitive with devices like the iPhone SE and Pixel 5a. Samsung also outlined features and capabilities for its new midrange phones that further suggest these devices can go toe to toe with just about any non-flagship handset.
Here's more on what Samsung announced during today's event:
Galaxy A53: Samsung's more fully featured phone looks a lot like the Galaxy A52 from last year, right down to 6.5-inch screen and quadruple camera array. But an Exynos 1280 now powers the device, and that includes a lot of AI-inspired features, Samsung says. A 5,000 mAh battery should deliver multi-day battery life, and the phone offers IP67 water- and dust-resistance.
Galaxy A33: A lot of the same features in the A53 have found their way to the A33 — the 5,000 mAh battery, Exynos 1380 chipset, AMOLED panel and IP67 water resistance. In fact, it's safe to say the Galaxy A33 saw significantly more upgrades over last year's predecessor, the Galaxy A32.
You can watch a replay of the Galaxy A event below. Our live blog summary, written as the event took place, follows.
Refresh
Good morning, and welcome to Tom's Guide's Samsung Galaxy A event live blog. Things don't get started for several more hours, but we'll bring you any last-minute rumors and leaks ahead of the big reveal, and give you the lowdown on what to expect. Stick with us and you won't miss a thing.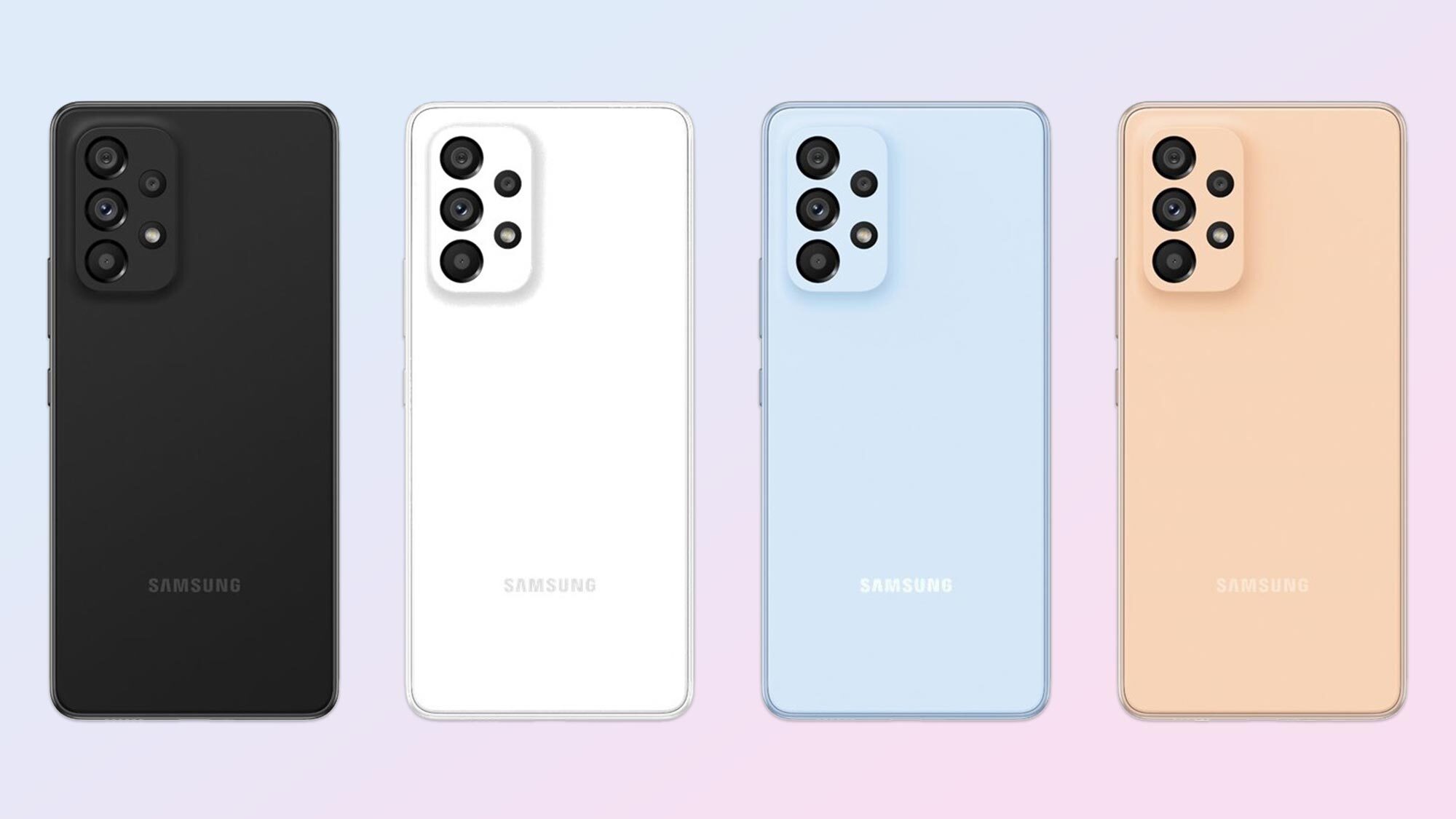 "Why would anyone care about Galaxy midrange phones?" you may find yourself asking. And we hear you. Certainly, the Galaxy S22 phones launched last month contain more premium features.
But as we noted at the outset, the Galaxy A phones are surprisingly strong sellers, particularly with Samsung paying more attention to its midrange models in recent years. And with the iPhone SE 2022 shipping tomorrow, it's natural to want to compare the new phones Samsung announces today — particularly the Galaxy A53 — to Apple's budget phone.
Here's a closer look at why you ignore the Galaxy A announcements at your peril.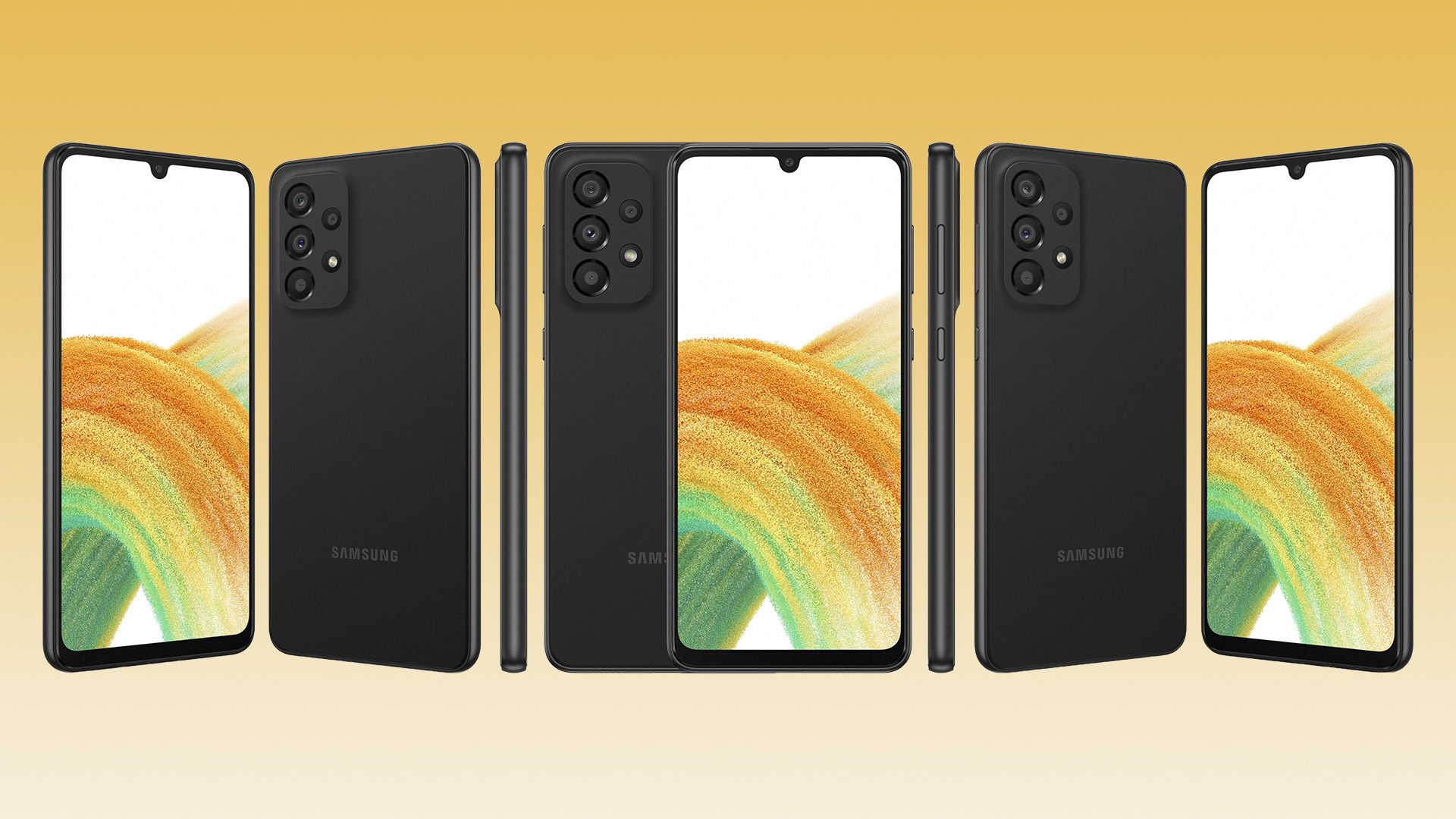 Looking to stay on top of the Galaxy A news as it happens? As of this writing, the most recent leak about today's announcements focuses on Galaxy A33 specs.
Specifically, the new phone is tipped to launch at €379, which would translate to more than the $279 Samsung charged for the A32. Phone makers rarely do straight phone conversions, instead choosing to set specific prices for specific regions. Still, that price could reflect rumored improvements for the Galaxy A33, including an OLED panel instead of an LCD one.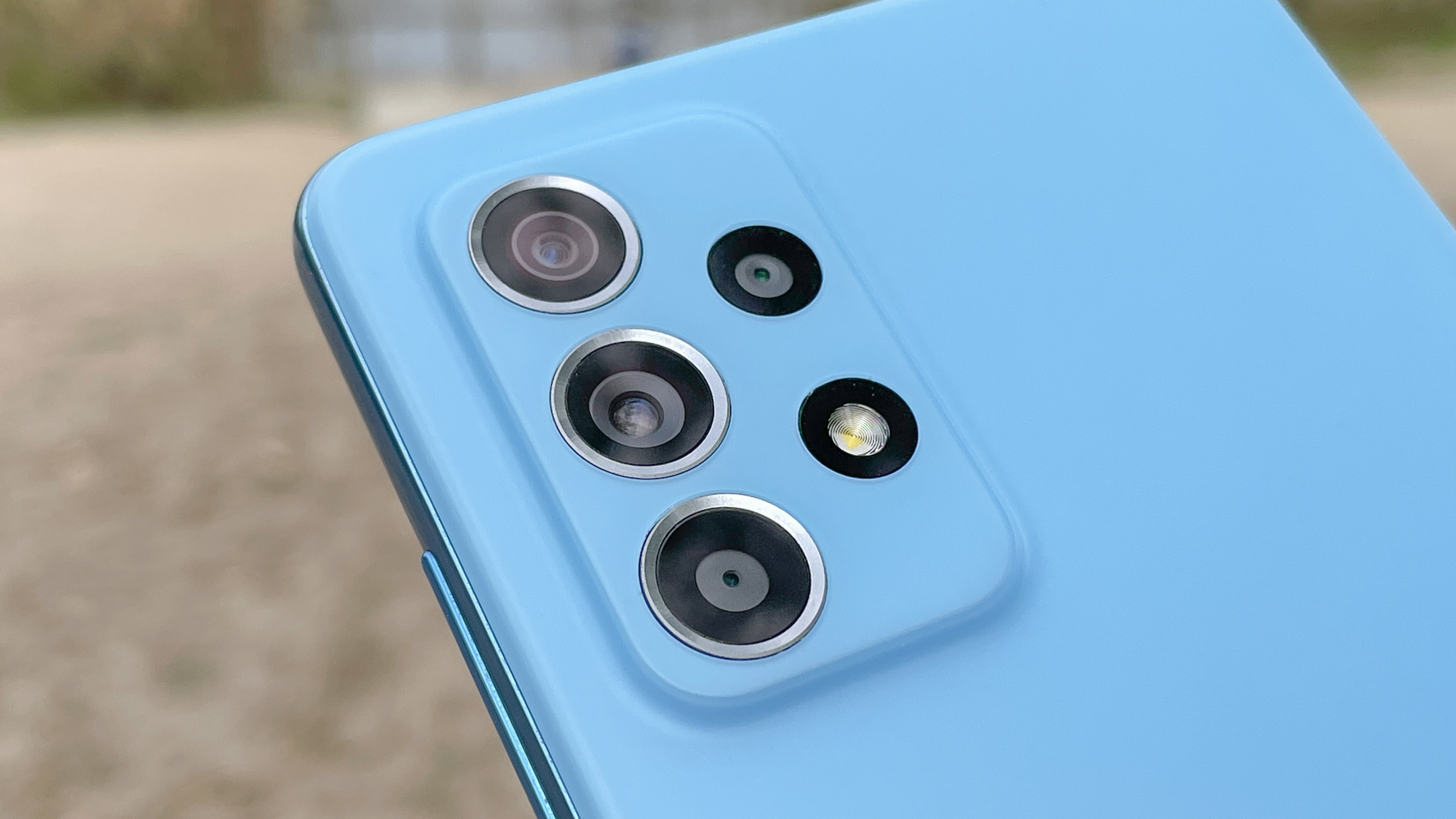 When it announced today's Galaxy event over the weekend, Samsung was uncharacteristically forthcoming about what to expect at the March 17 product reveal. "Samsung is taking the impactful Galaxy innovations for the A series even further," the company said in its event announcement. "The awesome new Galaxy A series devices are designed to provide the fully-loaded experience that people want from a smartphone."
That's a somewhat broad claim, but we're hoping it means software improvements that deliver more features to the Galaxy A lineup, particularly the cameras. Because right now, the initial links seem to suggest the Galaxy A53 and Galaxy A33 will offer cameras that are very similar to the ones featured on their predecessors — at least on paper.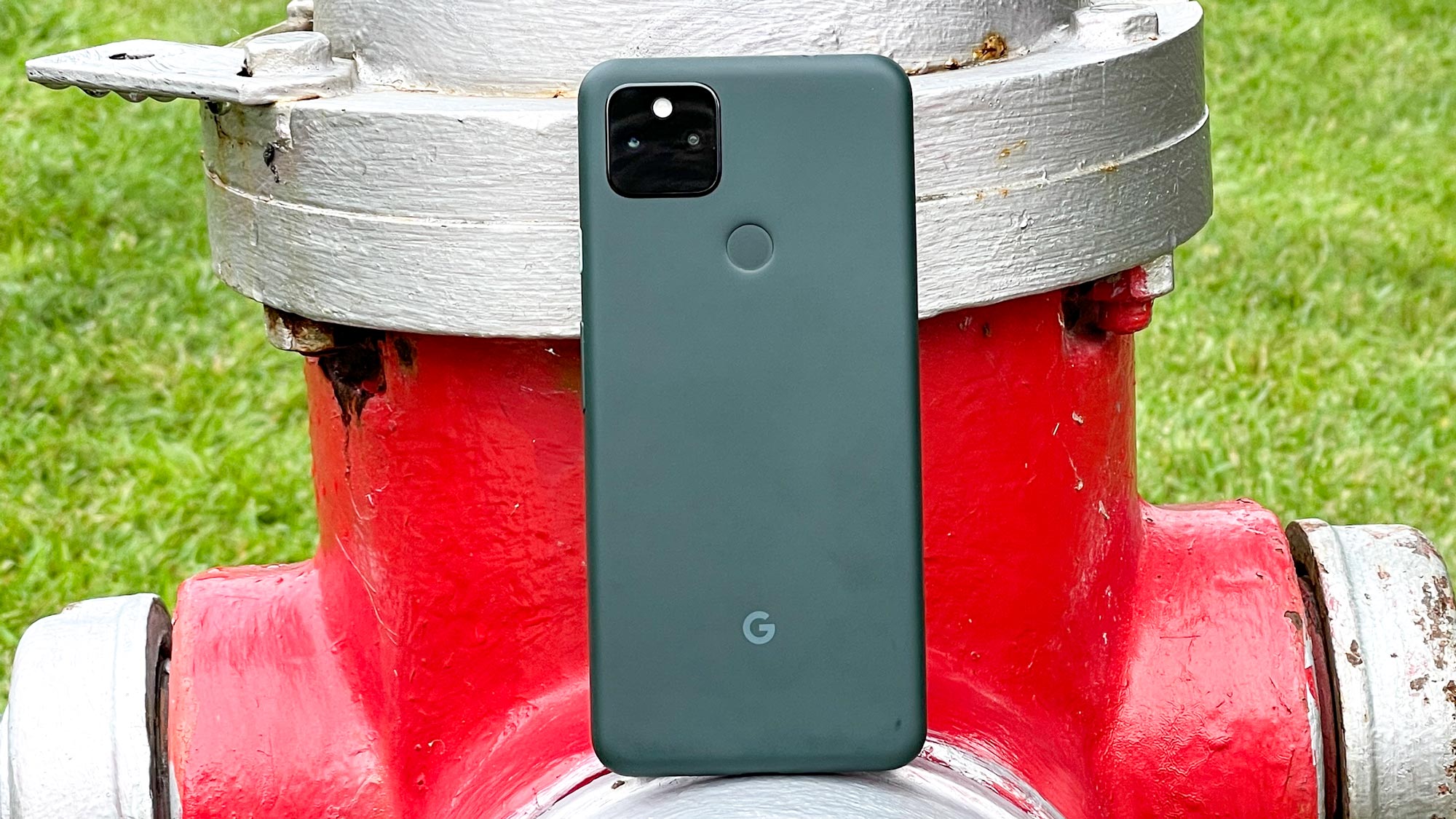 While the iPhone SE 2022 is the current budget phone darling that's grabbing headlines, the Galaxy A33 and A53 will need to also square off against the Google Pixel 5a.
While the rumroed specs put the Galaxy phones on top, Google's latest budget phone is a bit of a triumph, offering a great take on Android in a neat package with killer phone photography, all for under $400.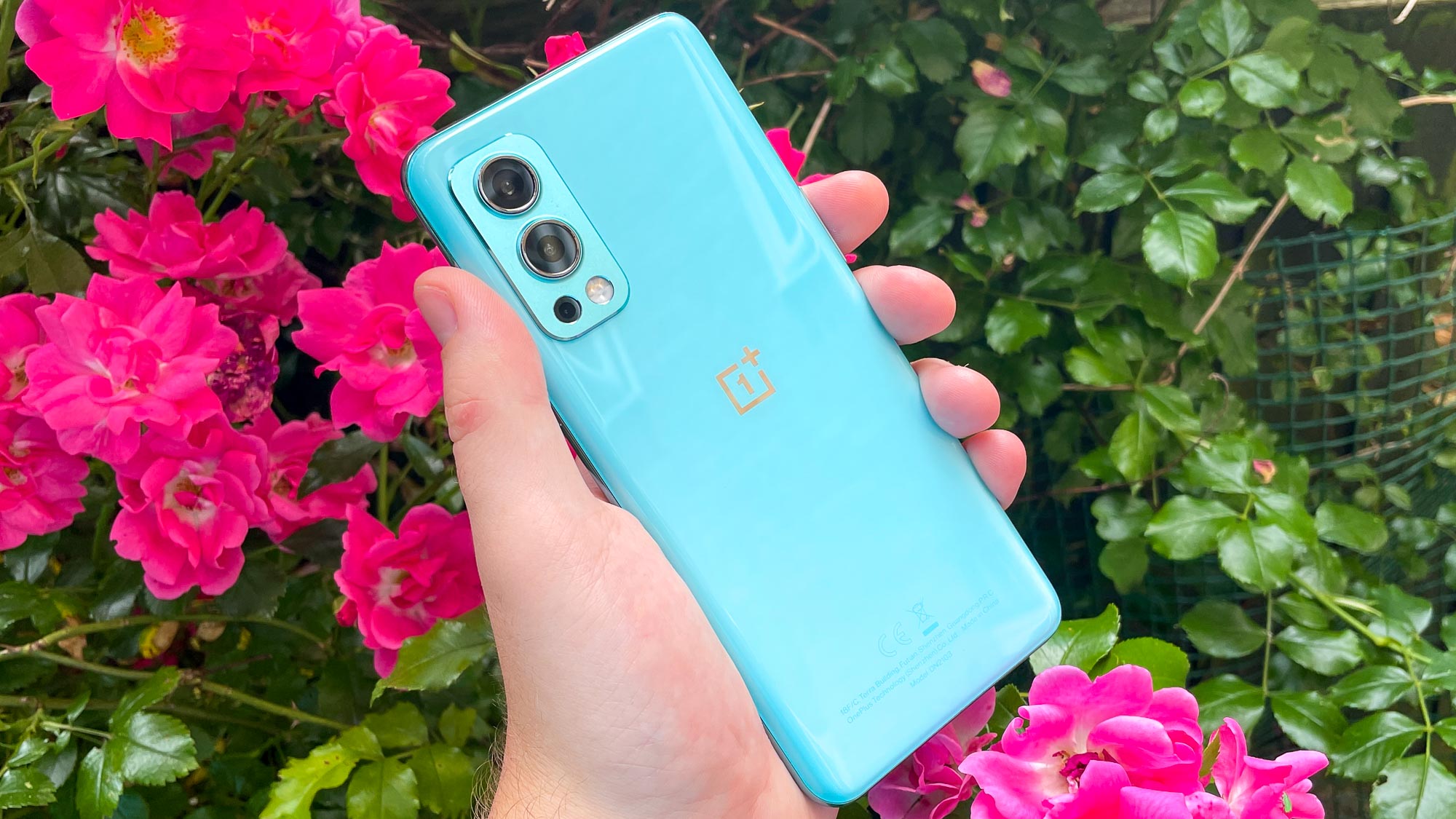 Other mid-range phones are also set to be rivals for the Samsung Galaxy A33 and A53, most notably the OnePlus Nord 2.
Last year we dubbed the OnePlus Nord 2 as "the new mid-range phone to beat" and reviewer Richard Priday concluded: "OnePlus has again produced a phone that offers so much for a handset of its price that you may struggle to believe the specs sheet. It's just a pity that it's still not coming to the United States."
Samsung may have the advantage by bringing its more affordable phones to the U.S. but time will tell if it can oust OnePlus in other markets.
If you're looking for a last-minute round-up of what we're expecting Samsung to launch today, Evan Blass has summarized the expected specs for the Galaxy A53 and Galaxy A33 in tweet form.
Depending on who you ask, there could be other phones making their debut during today's Samsung event. The one that pops up most frequently among rumor mongers is the Galaxy A73.
The rumors surrounding the Galaxy A73 are particularly intriguing as some leakers believe it's going to get a 108MP camera — a first for the Galaxy A lineup. The A73 would also feature a telephoto lens, which is not something you see on a lot of midrange phones.
Galaxy A73 looks a lot better & more premium than the Galaxy A72It reminds me of the display design of the Galaxy Note 20 pic.twitter.com/cZktNODpAdMarch 9, 2022
The problem, of course, is that these features are uncomfortably close to the Galaxy S21 FE, the phone Samsung released back in January as a lower-cost member of the Galaxy S21 lineup. That phone was almost immediately overshadowed by the Galaxy S22 launch, especially since the Galaxy S22 only costs $100 more than the S21 FE and is arguably a better value.
We can't necessarily imagine Samsung releasing another phone that further undercuts the Galaxy S21 FE, at least not on a global scale. It's possible the Galaxy A73 is limited to select markets, much in the way the Galaxy A72 was. Whether that means it gets any stage time today at the Galaxy A event is anyone's guess.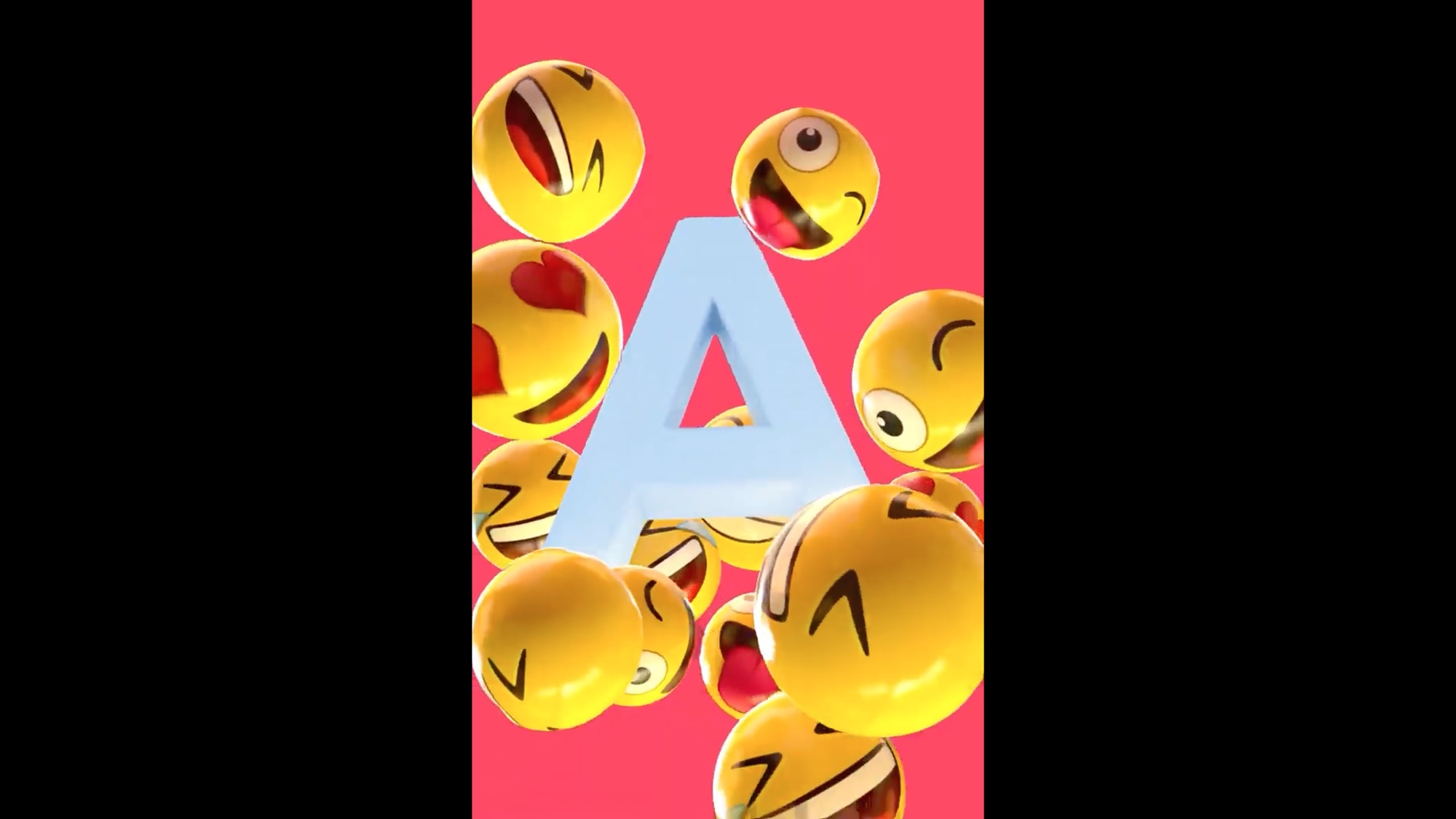 We're less than 15 minutes away from the Galaxy A event getting underway, and Samsung's live stream is now, in fact, live. There's a looping video playing if you're the kind of person who likes to get hyped up before your phone launches or if you'd like to be driven slowly made by the peppy launch music.
"Awesome is for everyone," is the oft-repeated chorus, just in case you were wondering what theme Samsung is shooting for today.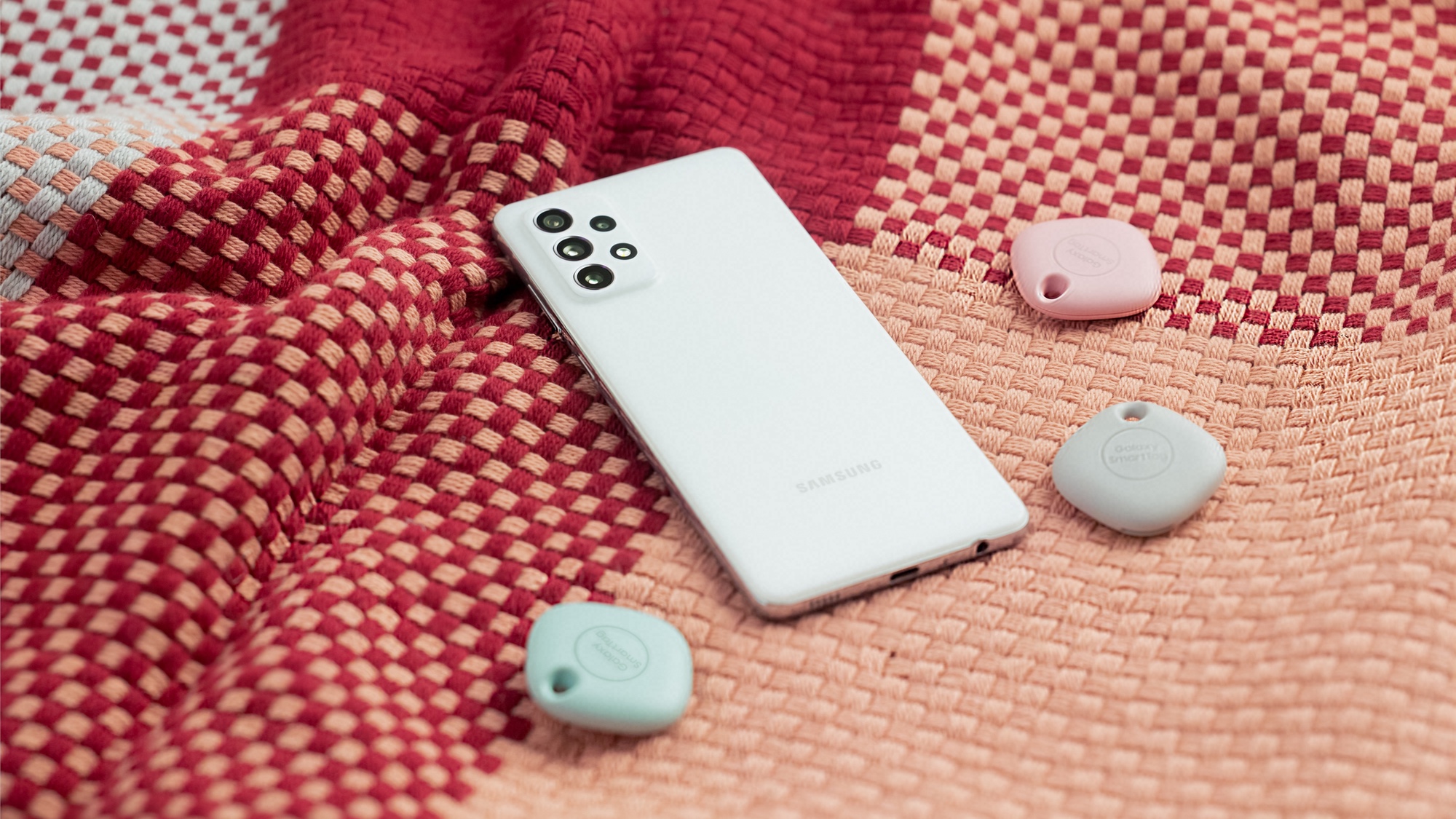 More evidence as to why the Galaxy A phones are getting their very own launch event today — Android Central reports that A-Series phones made up 58% of Samsung's phone sales last year. You'd hold an event, too, if the Galaxy A52 (pictured above) and its friends were that big a part of your phone business.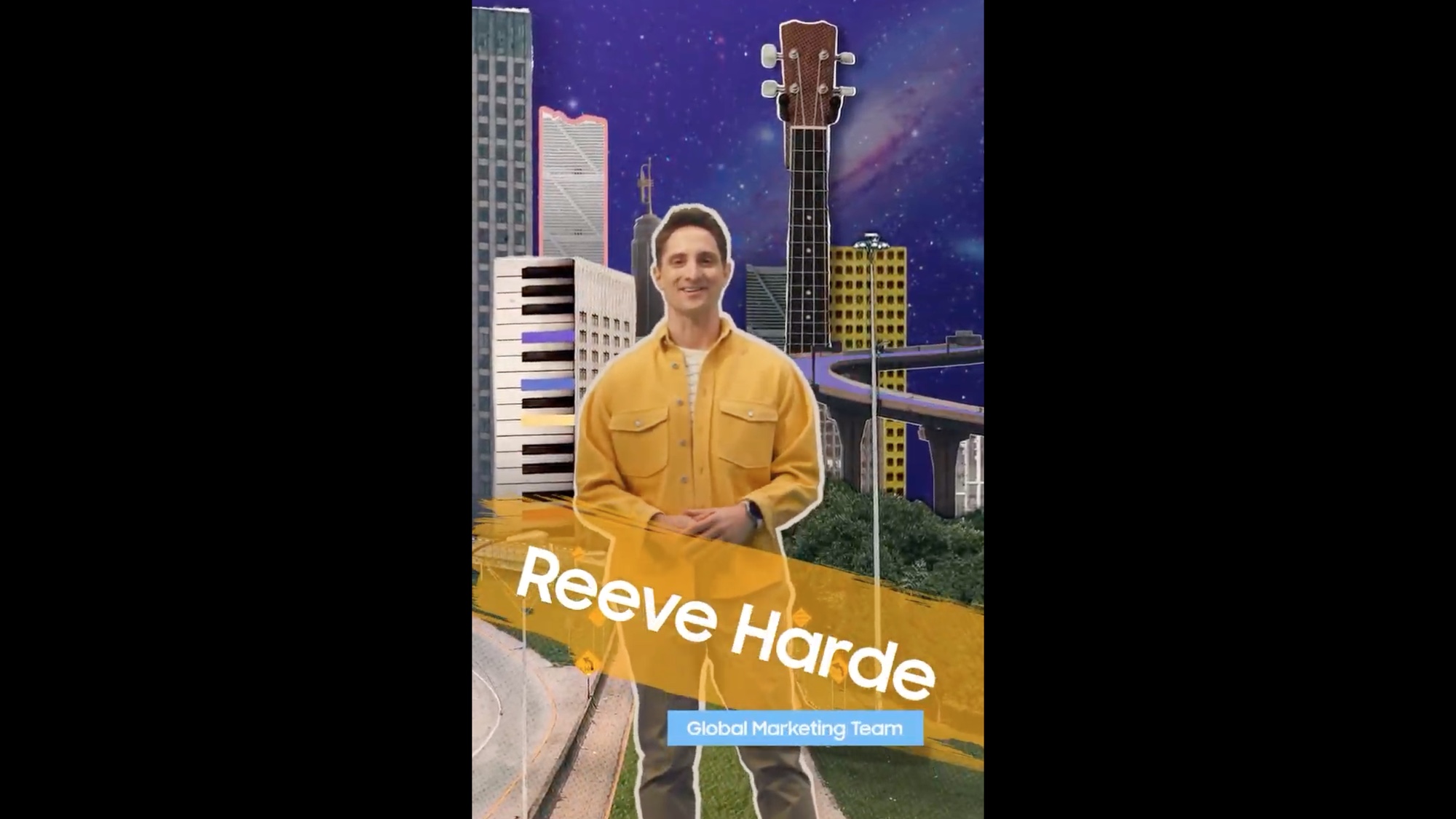 Do not adjust your set. Samsung is showing the video of its live stream in a vertical orientation, aimed at smartphone users.
We're seeing the Galaxy A53 and Galaxy A33 by the way.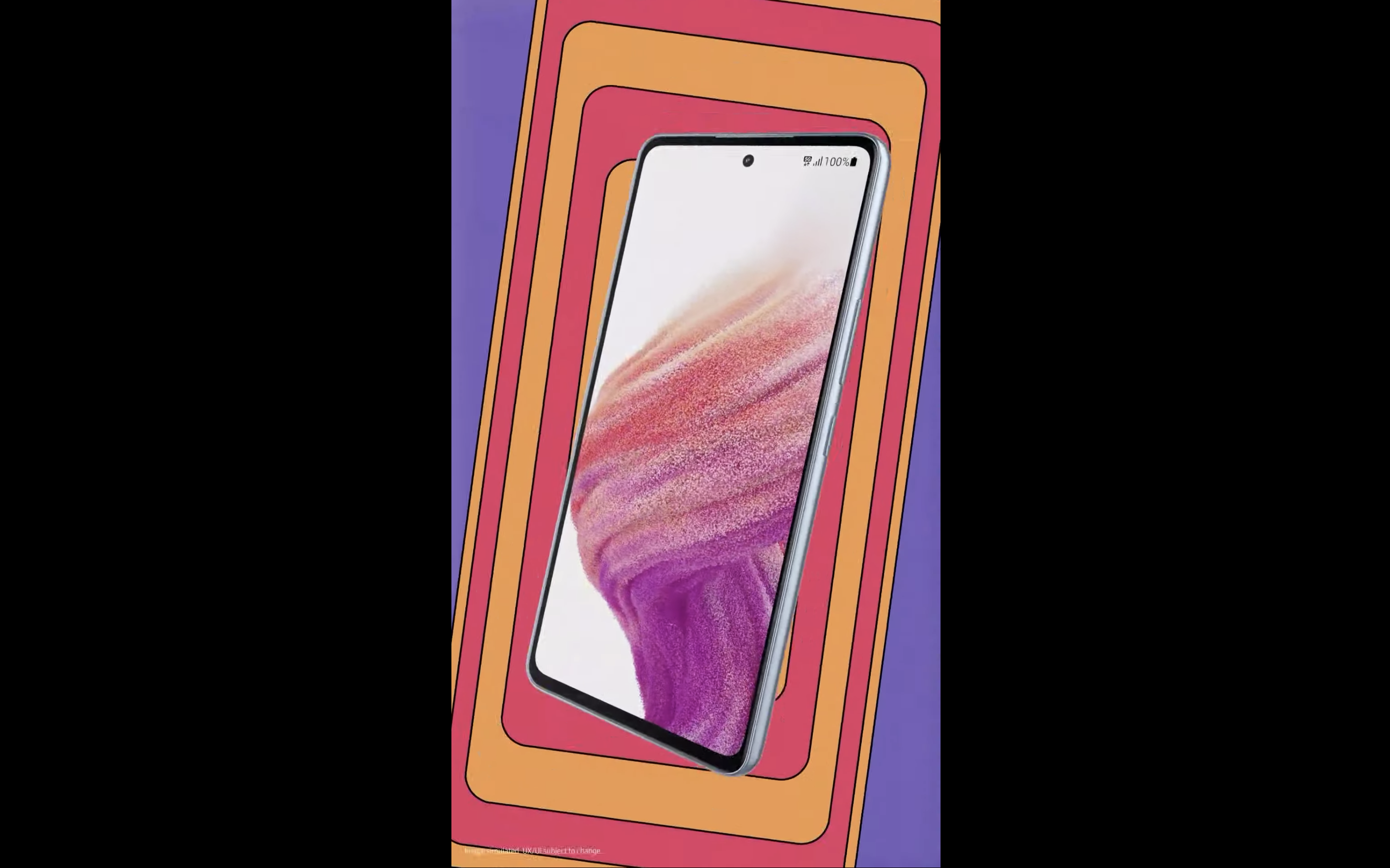 The Galaxy A53 features a 6.5 inch screen and the A33 has a 6.4-inch speaker. Samsung's promising a rich, immersive sound from a louder Dolby Atmos speaker. The phones rely on an algorithm to adjust brightness when they're outside.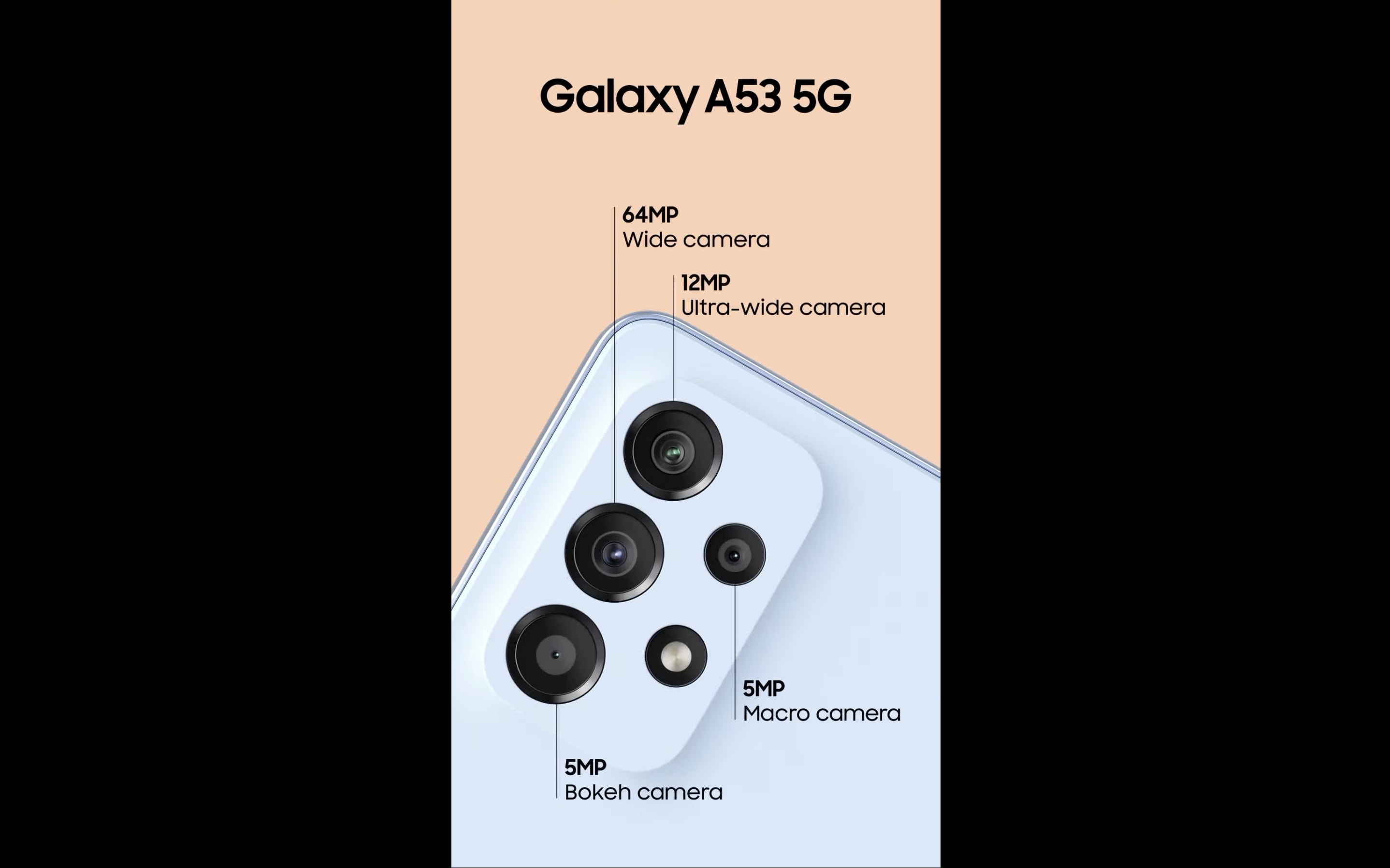 Here are the camera specs: 64MP main camera on the Galaxy A53, 48MP on the Galaxy A33.
The Portrait mode has been enhanced across the A series to capture greater depth. Samsung also promising low-light innovations like an improved night mode.
The phones use AI when you capture video to adjust frame rate. And that artificial intelligence also helps remove unwanted objects from photos. (The Pixel 6 offers a similar feature.)
AI feature appears to be powered by a 5nm processor, which we assume is the Exynos 1280.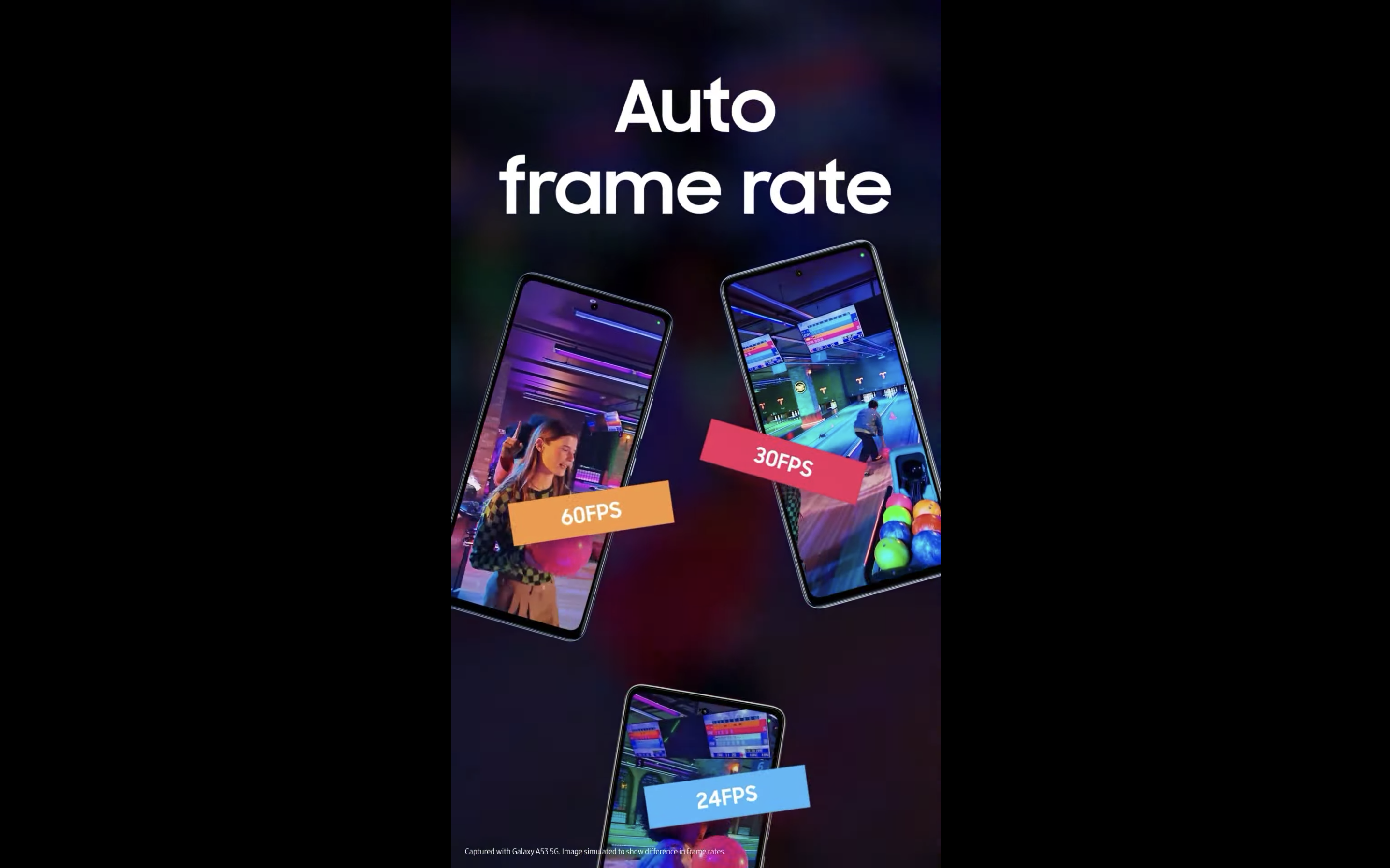 Samsung's message appears to be that the Galaxy A phones shouldn't be thought of as discount devices. Between the AI-powered features and Quick Share capabilities, the Galaxy A33 and Galaxy A55 should be considered every bit a frontline phone as the Galaxy S22 flagships.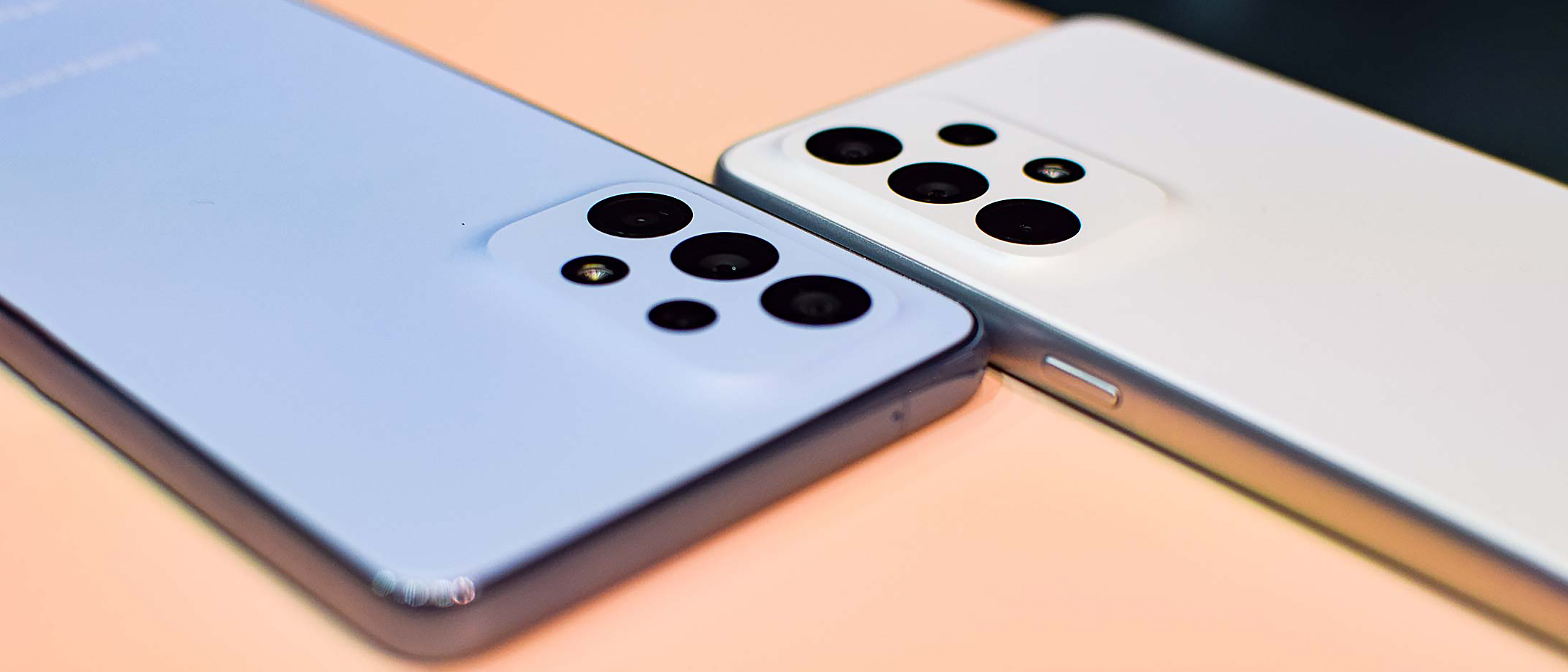 If you want to cut to the chase, our Galaxy A53 first look is now live, as is our Galaxy A33 first look.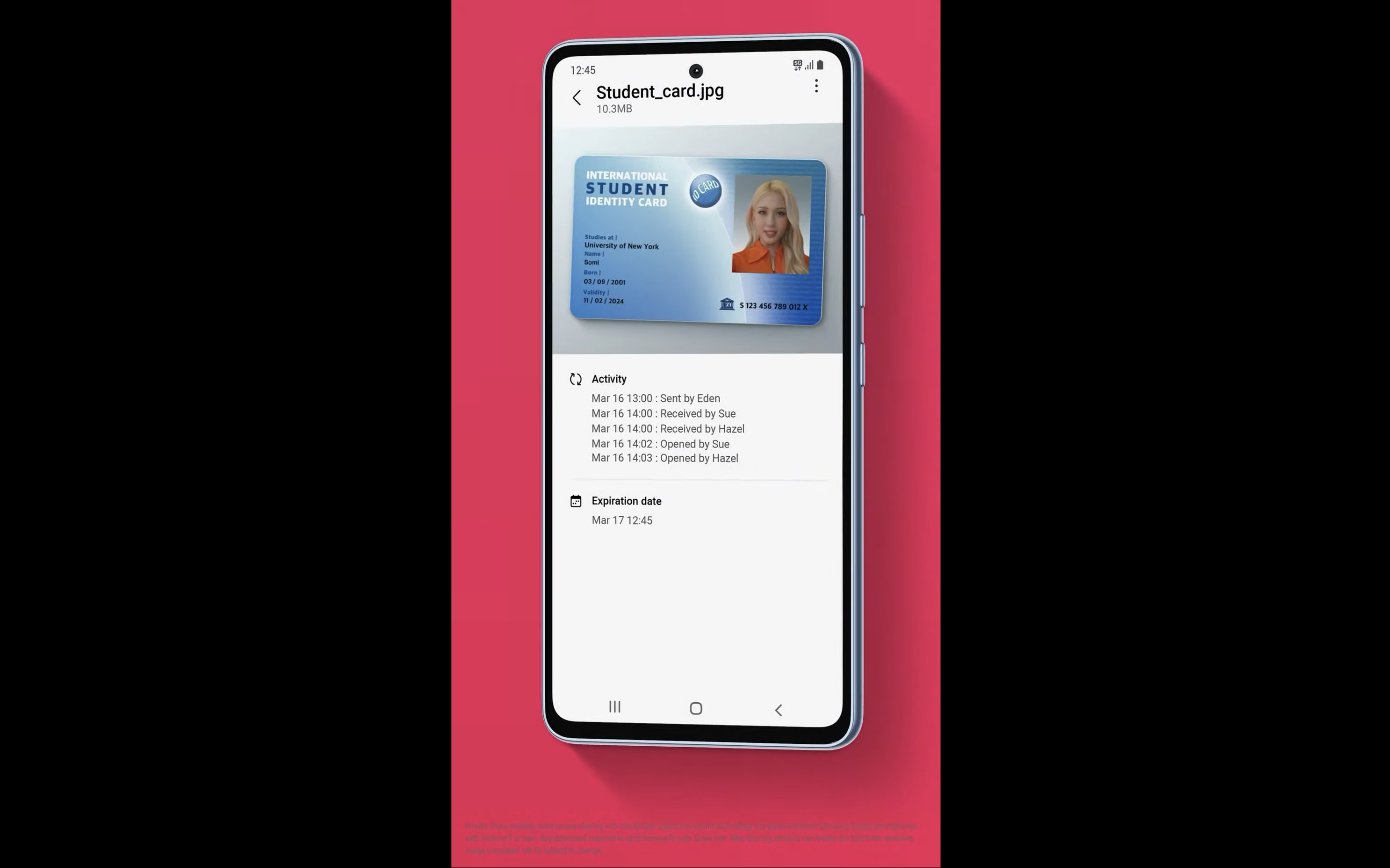 Let's talk durability. The A33 and A53 have IP67 water- and dust-resistance and boast a sturdy frame to guard against drops. (We'd imagine you still want to get a case, though.)
Samsung promises multi-day battery life from the 5,000 mAh power packs in both phones. Apparently, apps that aren't in use get put to sleep without any intervention from you.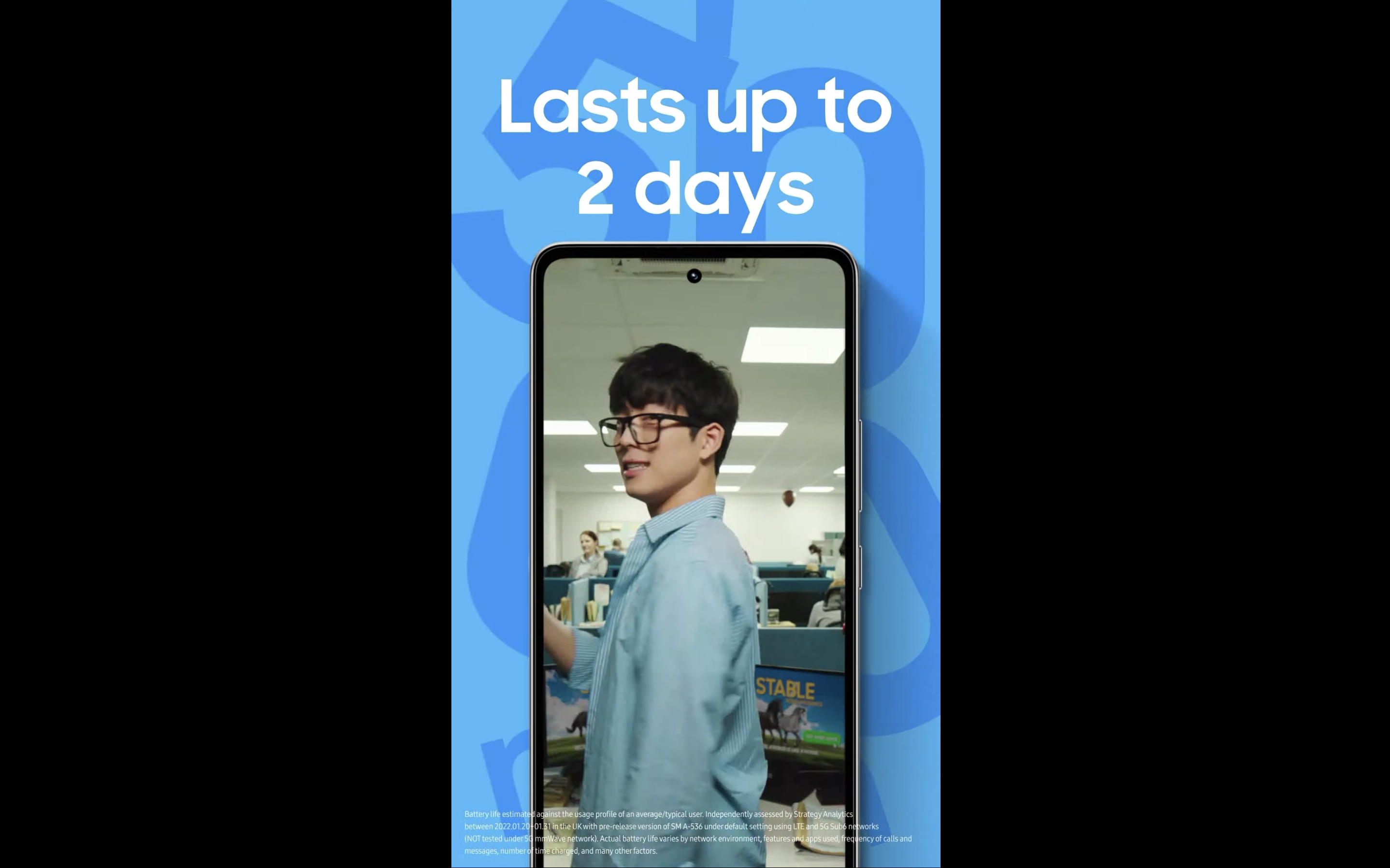 One UI 4 is the interface of choice for the Galaxy A53 and Galaxy A33. Samsung is touting the privacy dashboard feature that comes with that Android 12 interface, which is a smart move given the concerns about privacy these day.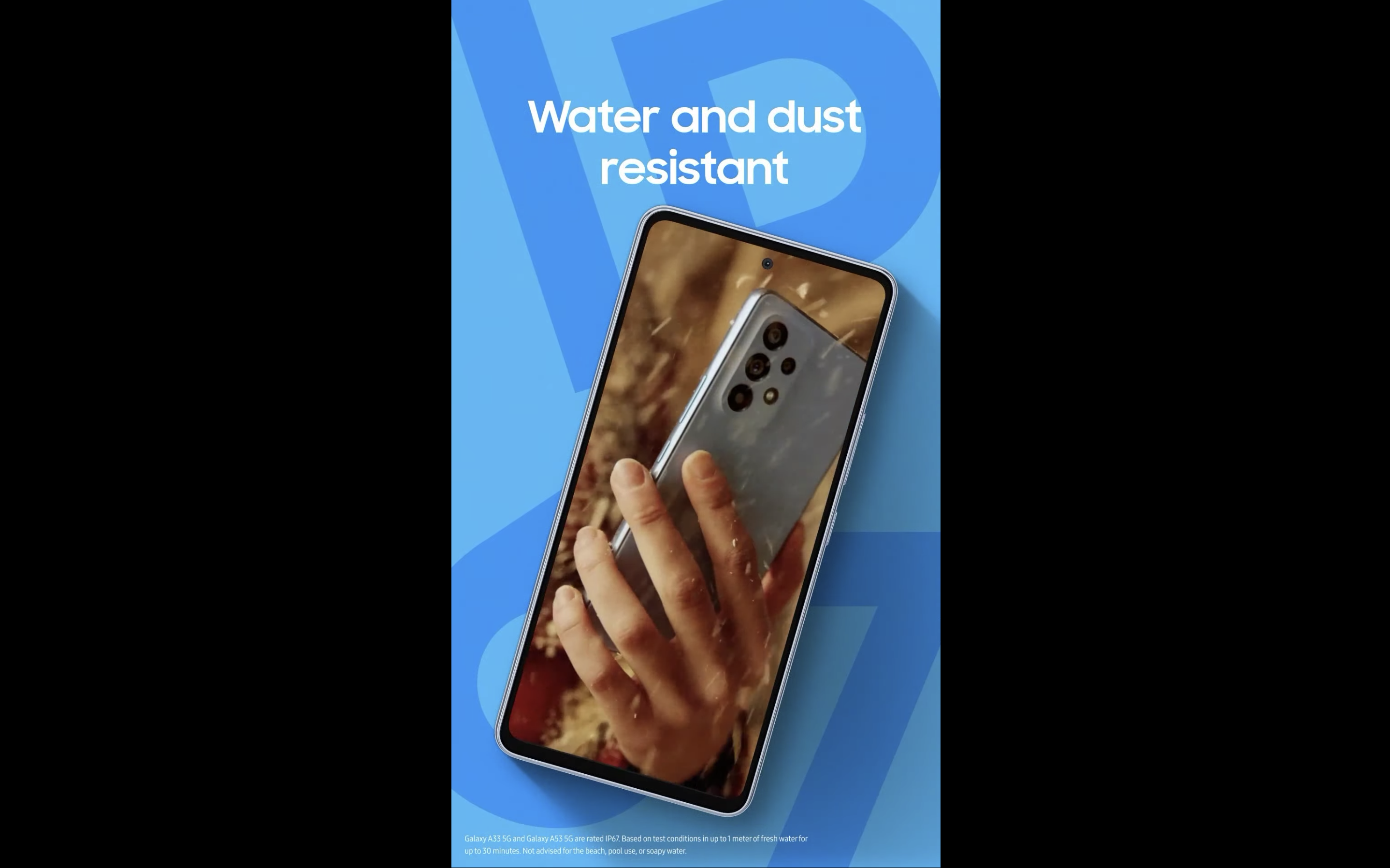 SIM trays, side keys and other parts of the phone are made out of recycled phones, part of Samsung's efforts at making sustainable devices.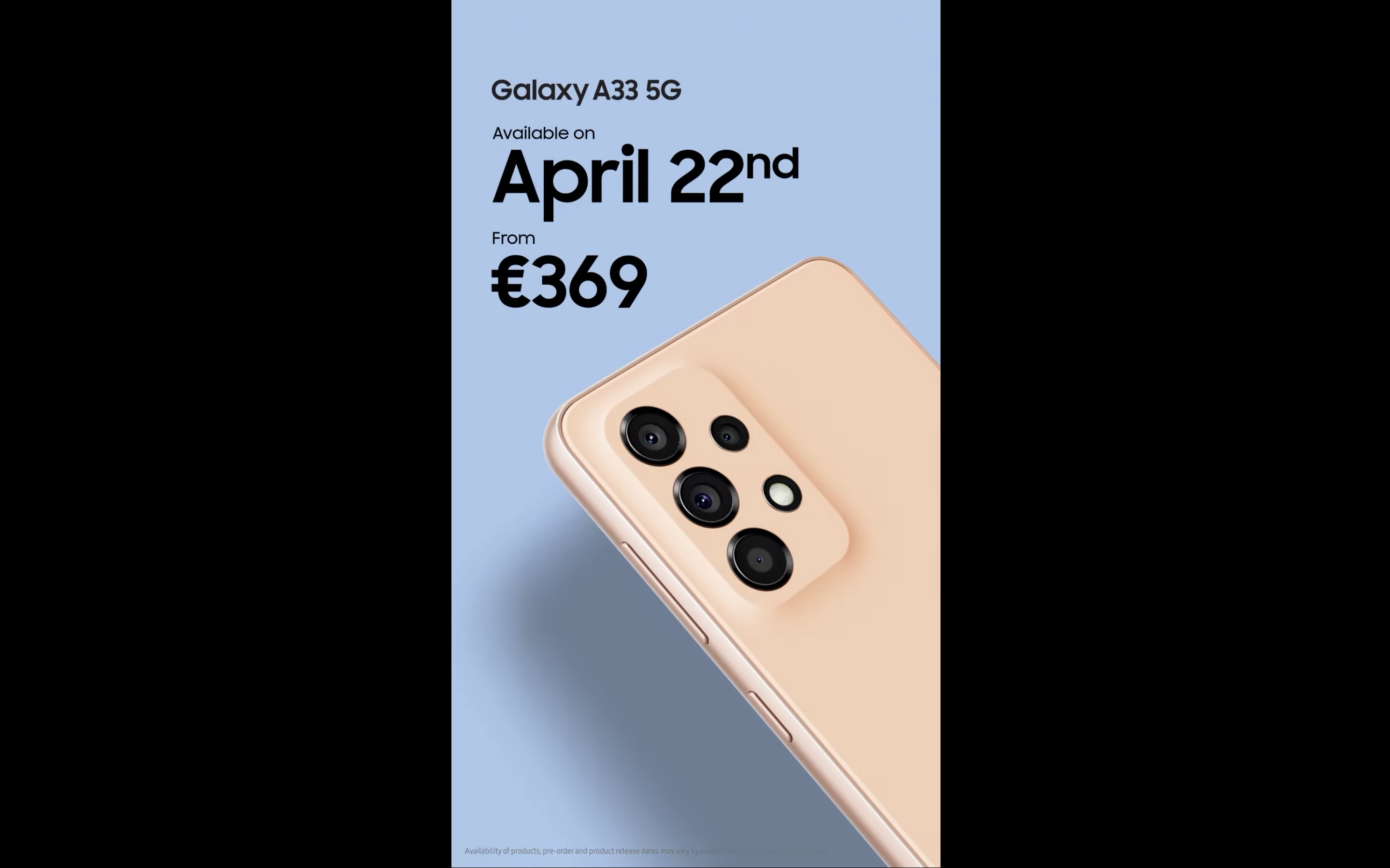 Here's the pricing and availability information: The Galaxy A53 arrives April 1, but you can place pre-orders on March 18. The A53 costs €449 and the A33 costs €369; that phone arrives later in April — April 22, to be exact.
"What about US prices?" you demand. Friend, they only gave us the Euro prices, but I'm sure Samsung will update us soon on US pricing.
Pre-order the phones and you can get some Galaxy Buds wireless earbuds as part of your purchase.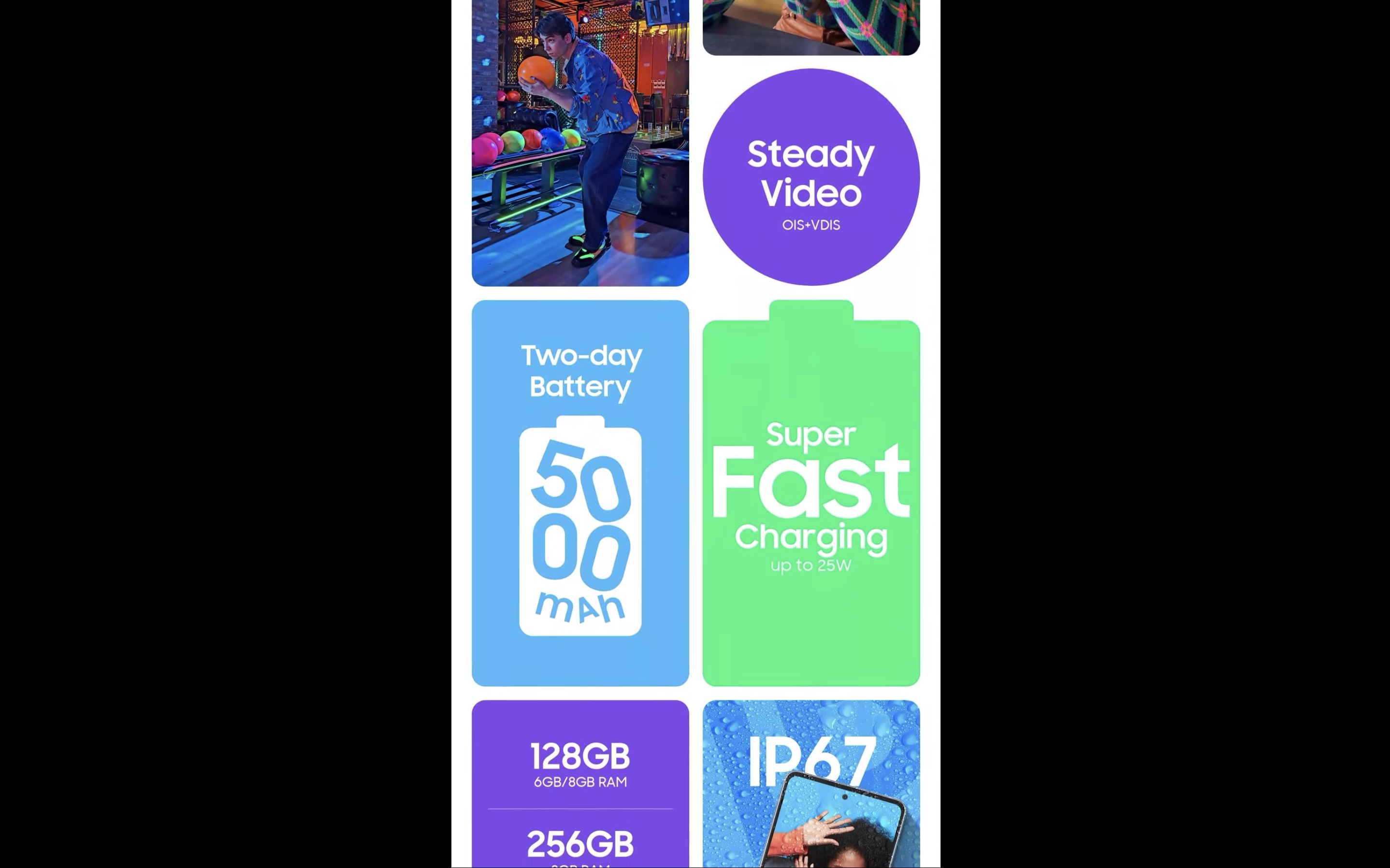 And after 18 minutes of peppy announcements — I dare you not to have "Awesome camera, awesome screen, long-last battery life" echoing in your brain — Samsung has told us all we need to know about the Galaxy A53 and Galaxy A33. Thus concludes today's episode of "things that could have been handled via an email."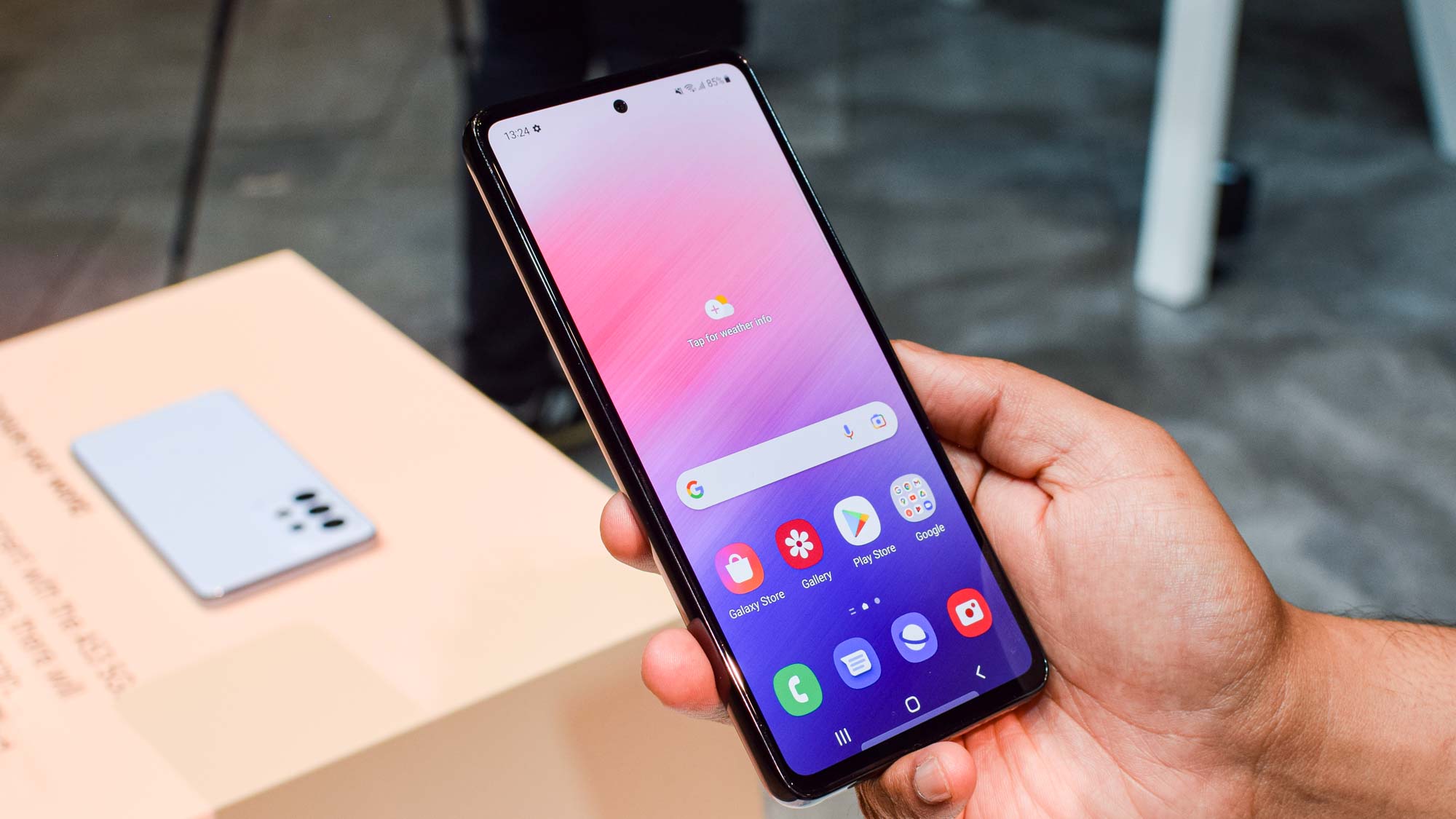 Here's a recap of the Galaxy A53 specs.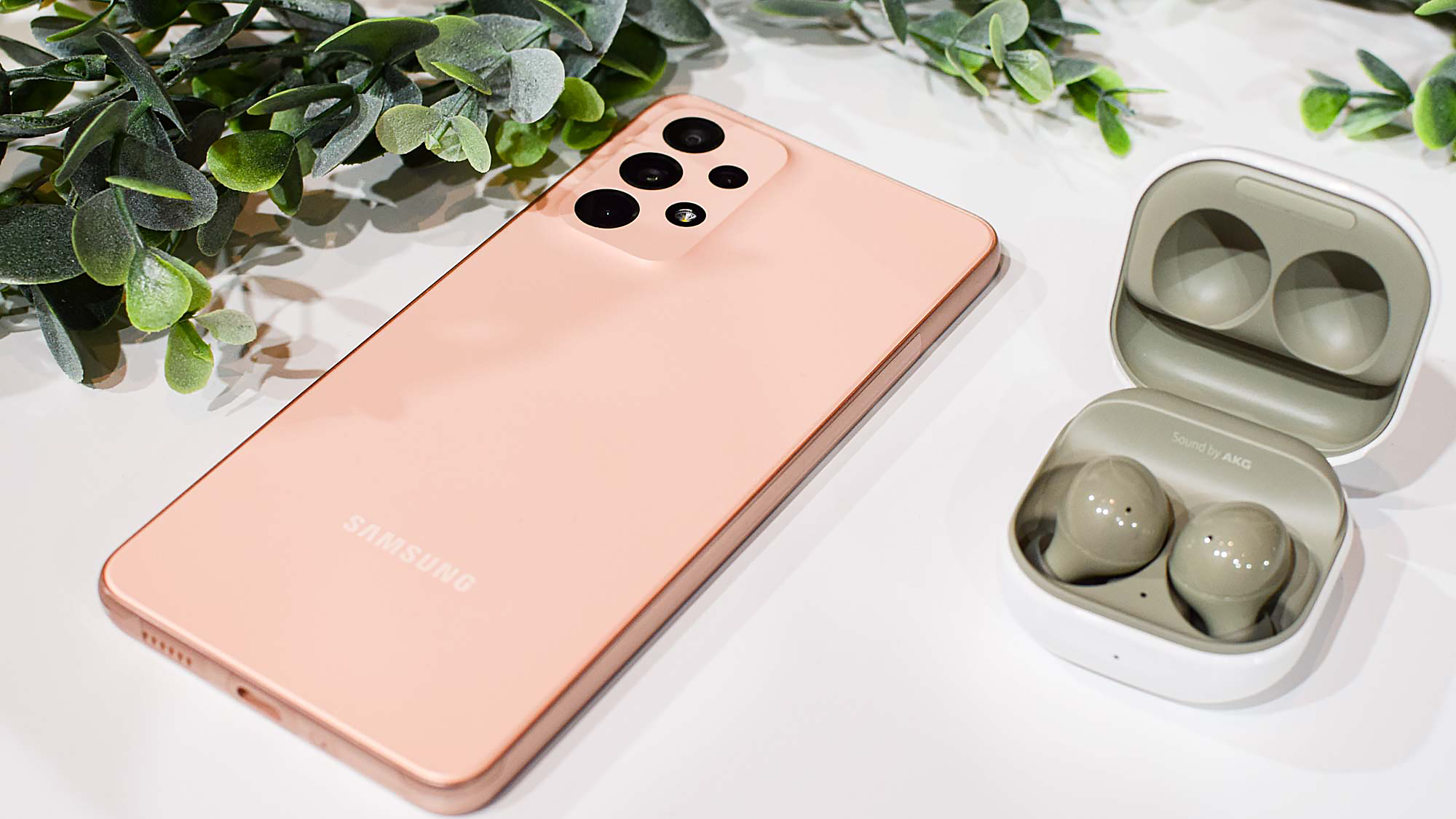 Here are the Galaxy A33 specs that Samsung revealed today.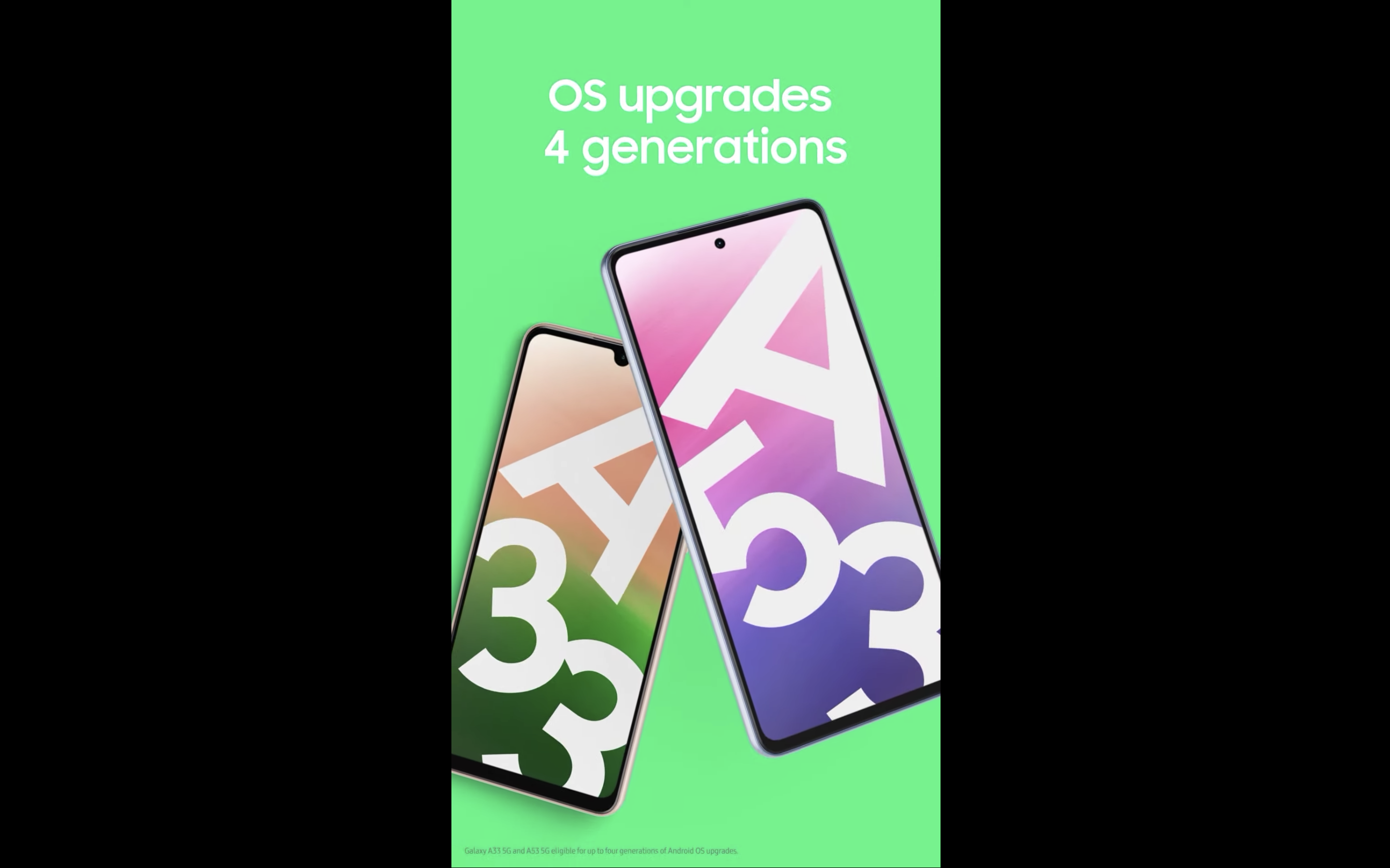 We've got updated U.S. pricing and availability for the Galaxy A53, directly from Samsung. In the U.S., the phone will cost $449 — a $50 discount from the Galaxy A52's debut price last year, and equal to what Google charges for the Pixel 5a.
T-Mobile and Verizon will start offering the Galaxy A53 on March 31. The phone becomes available at AT&T, Samsung.com and other retailers on April 1.
There's no word on U.S. pricing for the Galaxy A33. That gives us the impression that phone's headed to other markets like the U.K. for now.
Get the Tom's Guide newsletter!
Instant access to breaking news, the hottest reviews, great deals and helpful tips.
Thank you for signing up to Tom's Guide. You will receive a verification email shortly.
There was a problem. Please refresh the page and try again.