When it comes to our laundry chores, we're always looking for clever ways to make life easier — that's where smart tech appliances come in handy. Trouble is, knowing which smart home tech to choose for your household can be tricky, and so it always helps when a homes expert gives his seal of approval.
Jonathan Scott, one-half of the Property Brothers, has given kudos to an 'ingenious' appliance in his laundry room. Scott, who also lives with girlfriend, New Girl actress Zooey Deschanel, often posts some of their cool smart home additions on Instagram. So what exactly is this laundry appliance that will become "the future of tech"?
The LG Studio Styler is what has got him excited, a laundry appliance that will essentially do all your dry cleaning at home without the use of harsh chemicals.
In his Instagram post captioned: "Dry cleaners at home without loads of toxic chemicals? Yes please! #FutureofTech," Jonathan explains his laundry discovery.
The smart "laundry essential" uses true steam to sanitize and deodorize items, and can de-wrinkle and iron clothing (so you don't have to!). In addition, it does a great job at sanitizing kids' toys and "smelly" sports equipment. In fact, he was so impressed he stated the LG Studio Styler is "something that I think will become a staple in everybody's home and in the laundry room – if you have the room." A bold claim from a man who knows all about renovations and smart home solutions.
So, if you're fed up with frequent trips to the dry cleaners, the LG Studio Styler may well be the answer to all your laundry needs, and more!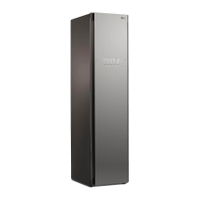 LG Styler Steam Closet: now $1,695 @Amazon
The LG Styler Steam Closet comes with a TrueSteam Technology designed to quickly freshen and remove odors from clothes. It can remove airborne allergies without the use of bleach, soaps or other harsh chemicals. Equipped with a built-in heat pump, this will de-wrinkle and iron delicate garments without high-heat damage. Best of all, it has smart-connectivity via an app where you can control your settings and cycles at just a touch of a button.
When you're using one of the best washing machines to do your chores, you might want to note these 7 laundry detergent mistakes to avoid at all costs, or this big laundry mistake could be ruining your clothes.