I'm gearing up to run my fifth marathon next weekend, and one way I cope with the tapering paranoia is to write a list of all my marathon essentials for the morning of the race.
As well as my running shoes, sports bra, and headphones, one thing I'll always pack is an anti-chafe balm, and my go-to one right now is $14.
For anyone who isn't clued up, the balm looks like a roll-on deodorant roll-on, but when rolled onto the skin, helps prevent painful chafing. Chafing occurs when your skin rubs against clothing, or materials, and is common during a marathon, as you're likely to be in your sweaty running kit for a good few hours. The balm provides a barrier on the skin, to protect it from painful rubbing.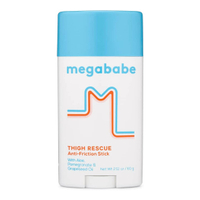 Megababe Thigh Rescue Anti-Chafe Stick: $13.95 @ Amazon
The Megababe Thigh Rescue Anti-Chafe Stick is on Amazon for $14 right now, and comes in a 2.12 ounce roll-on tube. It's a clear, vegan formula, that won't rub off onto your clothes, or leave you with a sticky white residue on your skin. There's also a smaller, travel-size version for $9.95 if you are short of space in your kit bag.
As a fitness editor and a marathon runner, I'm no stranger to testing weird and wonderful running products. My problem with anti-chafe balms in the past has been that they can be thick and sticky, leaving a white residue on the skin and clothing, which doesn't look all that nice in my race photos. The Megababe balm is clear, meaning you don't get that white residue on your skin.
The balm itself is vegan, and has skin-soothing ingredients like pomegranate seed extract and orange oil to protect the skin. I don't just roll this on my thighs, I'll put it underneath the chest strap of my sports bra, and on my feet to (hopefully) prevent painful blisters on the day. I also carry it with me in my kit bag to the race to top it up before I check my bag in. There's a slight scent to the balm, but nothing too intense, and I doubt it'll make much of a difference after 26.2 miles.
As well as the chafe stick, I also always apply factor 50 sunblock on my face, arms, and legs. Again, you're outside for a long time on race day, and even if it's overcast, the last thing you want is to get sunburnt and dehydrated after running a long way. Even if you're not running a long way, using an anti-chafe stick in the summer can make running in shorts a lot more comfortable — it's an essential every runner should own.
More from Tom's Guide