The need for movies like Superbad continues, well past its 2007 release. The film saw Seth (Jonah Hill), Evan (Michael Cera) and Fogell (Christopher Mintz-Plasse) determined to have a final big night out before they graduate high school and go to college. Naturally, it doesn't go to plan. Hilarity ensues. And we learned the name 'McLovin.'
The movie is not merely about "boys being boys", though. Superbad is extremely funny, but it also shows genuine, touching, affection between the key characters and demonstrates the importance of male friendship. It is this mix that makes it such a classic.
If you like films with that vibe, here are some others to check out on some of the best streaming services, including Netflix, Max and Peacock.
This is the End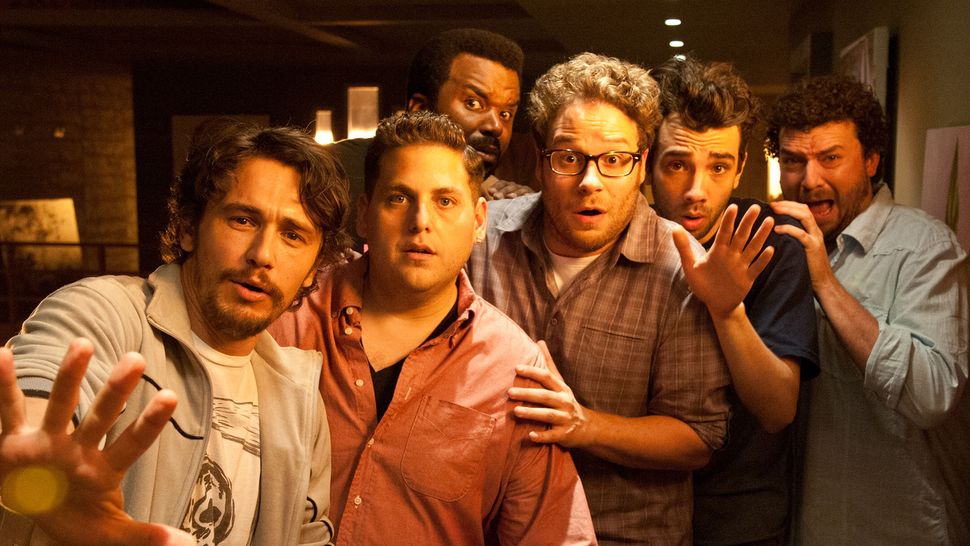 James Franco (playing himself) is hosting a celeb-filled party, and Seth Rogen and Jonah Hill are among those invited. A series of apocalyptic events brings the fun to an end, leaving those three stranded and fighting for survival alongside Jay Baruchel, Craig Robinson and Danny McBride. Working together, they might just make it through. This is the End turns up the daftness seen in Superbad by at least a few levels.
Not only was This Is the end written by the same people that wrote Superbad, but Michael Cera and Christopher Mintz-Plasse also feature, and put in very funny, self-deprecating performances. There is plenty to draw Superbad fans to this film. The list of other stars who feature would take too long, but it includes Rihanna, Mindy Kaling and even Emma Watson, who all embrace the film's ridiculous premise.
Watch on Netflix
The Hangover
A group of friends (Bradley Cooper, Ed Helms and Zach Galifianakis) wake up in Las Vegas after a bachelor party without the groom but with an unknown baby. With the wedding getting ever closer, they must race around the city to try and find the groom in time. Doing this, of course, is not straightforward. There are plenty of Superbad-like moments, including a spin in a police car, Mclovin style. It all feels rather like what might happen when the Superbad guys grow up and go on a bachelor party.
The Hangover won audiences over with its stars turning in complimentary performances, with Cooper's confidence providing a great contrast to Helms' nervousness and Galifianakis' aloofness. The Hangover is something of a classic and there are sequels if you enjoy the original.
Watch on Max and Netflix in the US and Now TV in the UK
Scott Pilgrim vs The World
The 2010 movie is based on a set of comic books by Bryan Lee O'Malley. They follow Scott (Michael Cera) as he has to fight Ramona Flowers' (Mary Elizabeth Winstead) evil exes in order to date her — weird ritual, right?. However, you don't need to have read them to enjoy watching the adaptation. It has all the elements you loved from Superbad, with a heaping splash of retro gaming and comic book vibes.
The thing to know about Scott Pilgrim is that the cast is spectacular, featuring amazing appearances from Kieran Culkin, Brie Larson and Anna Kendrick, amongst others. Like Superbad, Scott Pilgrim is full of hilarious one-liners and scenes of teenage boys mucking up, usually because of a girl.
Watch on Peacock in the US and Amazon Prime Video in the UK
American Pie
Like Superbad, American Pie is a classic. Four high school best friends (Jason Biggs, Chris Klein, Thomas Ian Nicholas and Seann William Scott) vow that they will lose their virginity before graduating, and go to embarrassing lengths to try and make it happen. As with Superbad, the central characters are neither cool or charming, but they (mostly) have an endearing side.
American Pie is a bit gross, hilariously funny and is the foundation for many of the high school movie tropes seen in Superbad. The boys don't quite steal the show though, as Alyson Hannigan leads a group of strong female characters too.
Watch for free on Tubi in the US and Amazon Prime Video in the UK
Booksmart
Molly (Beanie Feldstein) and Amy (Kaitlyn Dever) spent high school working hard, but realize that their impending graduation signals the end of an era. And, like Superbad, it leads to one big night of partying gone awry. There are moments of hilarity, female solidarity and out-and-out grossness. By the end of the night, these usually well-behaved girls find themselves in a struggle to get to graduation on time, and you'll be cheering them on.
Booksmart is very much Superbad but starring girls. There are various moments that may feel like tributes to the older movie, too. It still keeps a sense of originality though, perhaps because, unlike many other films of this type, the protagonists are women. There are also great cameos from Friends icon Lisa Kudrow, Ted Lasso main man Jason Sudeikis and Shrinking star Jessica Williams.
Watch on Peacock in the US and on BBC iPlayer in the UK (for a limited time).
Bridesmaids
When Lillian (Maya Rudolph) asks Annie (Kristen Wigg) to be her maid of honor, she isn't quite prepared for what will follow. It hits Annie that she doesn't have the perfect life she thinks her best friend has. Things don't get better as she meets the rest of the bridesmaids and the sophisticated Helen (Rose Byrne) tries to take over. While the characters are older than in 'Superbad', 'Bridesmaids' is similarly a comedic tale about friendship and moving on to the next stage of life. It is a great depiction of how long-term female friendships can withstand jealousy and the toughest situations.
Judd Apatow served as a producer on both Superband and Bridesmaids. Both have plenty of iconic, funny and rather disgusting scenes. The Bridesmaids cast is full of comedy superstars too, with Melissa McCarthy, Rebel Wilson, Matt Lucas, Terry Crews and Jon Hamm all playing roles of varying significance. McCarthy's all-action performance is particularly hilarious.
Watch on Peacock and Hulu in the US and on Netflix in the UK
Harold and Kumar go to White Castle
Harold and Kumar go to White Castle is, like Superbad, the story of male friends who don't exactly know how to talk to women. Their goal, though, is different. As the title says, Harold and Kumar (John Cho and Kal Penn) just want the tiny and unique burgers sold at a not-that-near White Castle restaurant. On the way, they're hit with all kinds of misfortune on the way, most of it being their fault.
If male friendship was the thing that drew you to Superbad, this 2004 movie is for you. Neil Patrick Harris famously plays a twisted/amped up version of himself, but other amazing cameos abound.
Watch on Amazon Prime Video
More from Tom's Guide