It's officially spooky season and while some of the best streaming services like Max are going big on horror this month, the list of new to Netflix movies in October 2023 is a little more diverse. This month Netflix has a little something for everybody.
Included among the new additions are a handful of critically acclaimed flicks that definitely have a shot at making our list of the best Netflix movies. From a slick popcorn blockbuster led by Hollywood's last true movie star to one of the most celebrated war movies of all time, Netflix has added plenty of must-watch movies this month. And yes, there is a modern masterpiece horror on this list as well.
All the movies in this roundup scored an impressive 90% or higher on the review aggregation site Rotten Tomatoes. And while that's not a foolproof guarantee of a movie's quality, it's an indication that most critics consider these movies worth watching. For more viewing recommendations, check out these 3 new Netflix shows with 100% Rotten Tomatoes ratings.
Mission: Impossible - Ghost Protocol (2011)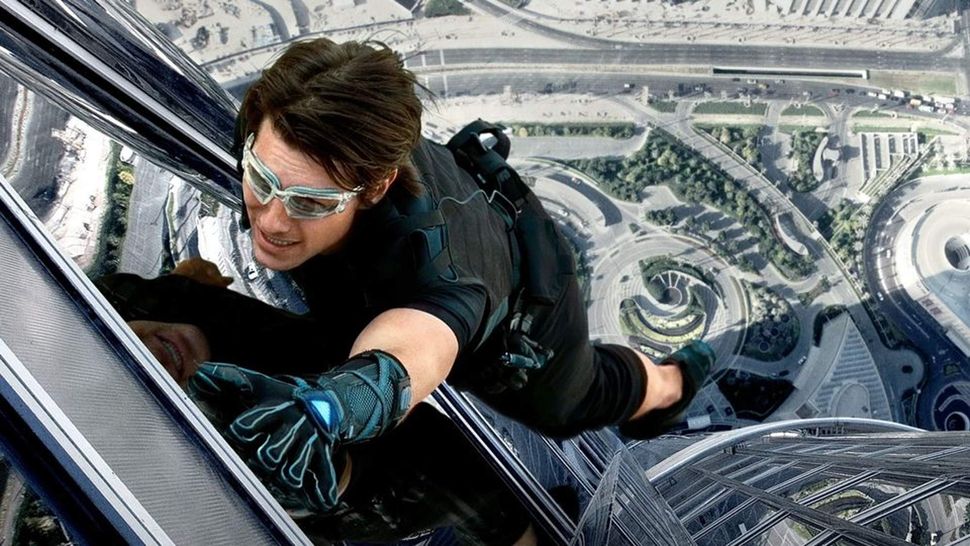 Often cited as the entry where the Mission: Impossible franchise "got good" (although don't discount the underrated Mission: Impossible 3), Ghost Protocol is the fourth adventure for MIF agent Ethan Hunt (Tom Cruise) and his team. This globetrotting mission sees the American answer to James Bond on a quest to clear his name after being framed for a terrorist attack by sinister forces.
The breathtaking scene where Hunt scales the tallest building in the world, the Burj Khalifa in Dubai, often gets all the attention, but Ghost Protocol is thrilling from the very beginning right up until its suitably dramatic finale. While it's slickly directed by Brad Bird in many ways Mission: Impossible - Ghost Protocol feels like an old-school Hollywood blockbuster, and it's a reminder that Cruise might just be the last true movie star left in the industry today. Fans of Top Gun: Maverick will love this one.
Genre: Action
Rotten Tomatoes score: 93%
Stream it on Netflix
Saving Private Ryan (1998)
Directed by Steven Spielberg, Saving Private Ryan is one of the most celebrated war movies of all time, and its influence on the genre can still be felt to this very day. Set in 1944 on the European frontline, the epic flick follows Captain John Miller (Tom Hanks) as he leads a small group of men on a mission to locate Private James Ryan (Matt Damon) with the intention of bringing him home after his three brothers are killed in the conflict.
What follows is a harrowing journey through the most brutal war in human history. Captain Miller and his men face unimaginable hardship on their mission to find Private Ryan, but they face each obstacle with resolute determination and a sense of honor. Famed for its opening sequence that depicts the Normandy landings, Saving Private Ryan has so much more to offer than just its utterly unforgettable opening. It's simply one of the best movies ever made. And Spielberg's magnum opus.
Genre: War
Rotten Tomatoes score: 94%
Stream it on Netflix
It Follows (2014)
If you're in the mood to be frightened this month — and it is the season for it — then Netflix is offering up one of the best horror movies of the last decade in It Follows. This chiller centers on a mysterious entity that is transmitted via sexual intercourse. The unlucky victim will be relentlessly pursued by a never-tiring figure until they either pass it on to somebody else or are caught and brutally killed by the shape-shifting demon. The figure doesn't run or teleport, but it never stops following. Ever.
The movie focuses on Jay (Maika Monroe), a carefree teenager who is given the fatal curse after sleeping with her new boyfriend, Hugh (Jake Weary). Still trying to make sense of her newfound pursuer, Jay must flee for her life, while also formulating a plan to eradicate the entity once and for a little help from her friends. It Follows is a highly unnerving horror movie that will have you checking over your shoulder everywhere you go for weeks after you watch it. It's perfect for Halloween!
Genre: Horror
Rotten Tomatoes score: 95%
Stream it on Netflix from Oct. 11
Catch Me If You Can (2002)
Another Steven Spielberg effort, Catch Me If You Can is easily one of the iconic director's most overlooked movies. The crime caper is based on the autographical book of the same name written by American conman Frank Abagnale. The convicted felon's account of his own deeds is heavily disputed by some, but this larger-than-life story makes for a thoroughly entertaining game of cat and mouse between two beloved actors.
Catch Me If You Can follows Frank Abagnale (DiCaprio) from a miscreant runaway performing cheap hustles on the streets of New York for pocket change to a full-blown conman duping innocent people out of millions of dollars while pretending to be a Pan Am airline pilot. With a silver tongue and an innate ability to say just the right things at the right time, Frank quickly builds a lavish life for himself. But his actions attract the attention of FBI Agent Carl Hanratty (Tom Hanks) who becomes obsessed with catching the carefree crook.
Genre: Biopic
Rotten Tomatoes score: 96%
Stream it on Netflix
Silver Linings Playbook (2012)
Much more than "the movie that won J-Law an Oscar", Silver Linings Playbook is a laser-sharp romantic comedy-drama that centers on deeply flawed but extremely likable characters. Bradley Cooper plays Pat, a former teacher recently released from a mental institution. Trying to get his life back on track, and reunite with his estranged wife, his recovery gets complicated when he meets Tiffany (Jennifer Lawrence) who offers to help him reconnect with his wife, but only if he'll partner her in an upcoming local dance competition.
Silver Linings Playbook is a real showcase of remarkable acting talent. Not only are Cooper and Lawrence excellent in the leading roles, but Robert De Niro, Jacki Weaver and Chris Tucker also shine with memorable supporting performances. If you're craving a rom-com that is a little less glossy, then Silver Linings Playbook is an easy recommendation. And while it does pack an overall peppy tone, the movie also tackles some heavy themes. But, impressively, it always strikes the right balance between honest human drama and charming comedic moments.
Genre: Romantic drama
Rotten Tomatoes score: 92%
Stream it on Netflix from Oct. 17
Spy Kids (2001)
Netflix's reboot of the Spy Kids franchise arrived last month, but viewers nostalgic for the original can relive their childhood as the beloved 2001 action-comedy is landing on Netflix this month. Directed by Robert Rodriguez, Spy Kids follows a brother and sister who discover that their parents are actually international superspies. After a criminal mastermind kidnaps Mom and Dad, it's up to young Carmen (Alexa Vega) and Juni (Daryl Sabara) to save the day.
Armed with an arsenal of high-tech gadgets, and some seriously cool transportation, it's up to these small heroes to not only recuse their parents but also save the world from a crazed television host with plans for world domination. Spy Kids is great fun, and while some of its effects haven't aged especially gracefully over the last 20 years, it's still a family action movie capable of delighting viewers of just about any age. Its two direct sequels are also coming to Netflix this month, so can enjoy the entire original Spy Kids trilogy starting Oct. 13.
Genre: Action
Rotten Tomatoes score: 93%
Stream it on Netflix from Oct. 13
Miss Juneteenth (2020)
Turquoise Jones (Nicole Beharie) is a hardworking single mother and in an effort to get her daughter Kai (Alexis Chikaeze) a full scholarship to college, she enters her into a local Miss Juneteenth pageant. Turquoise is herself a former beauty queen, but the rebellious Kai isn't so enthusiastic about the idea and only agrees in order to keep her mom happy. But as the two prepare for the pageant they start to bond while also considering their individual relationship with Kai's unreliable father, Ronnie (Kendrick Sampson).
With a relatable mother-daughter dynamic at its core, Miss Juneteenth walks a well-worn path but it manages to impress thanks to its strong performance from its central trio and an overall charming tone. The movie also touches on the significance of the Juneteenth holiday which gives it some added importance and makes it an even easier recommendation.
Genre: Drama
Rotten Tomatoes score: 99%
Stream it on Netflix
More from Tom's Guide