Winter is almost over, and you'll probably be relieved to pack away your favorite sweaters, and get ready for spring. But before you do, you'll need to know how to store your winter wardrobe to keep them fresh all year round.
We often throw our seasonal or unused clothes at the back of the closet, never to be seen again until the next winter. However, not knowing how to store your winter wardrobe properly could damage delicate (and expensive!) garments such as your favorite cashmere or wool knitwear. Not only will the right storage protect and keep them in good condition, but will also prevent moths from finding their way into your closet or drawers. Generally, their larvae will eat through wool, silk, cashmere, mohair, fur or any other natural fabric.
So, if you want to keep your items moth-free and in pristine condition, here's how to store your winter wardrobe in simple ways.
Check out these 5 tips to store suits, and if you want to declutter your closet, here are 7 ways to organize your wardrobe.
1. Clean and repair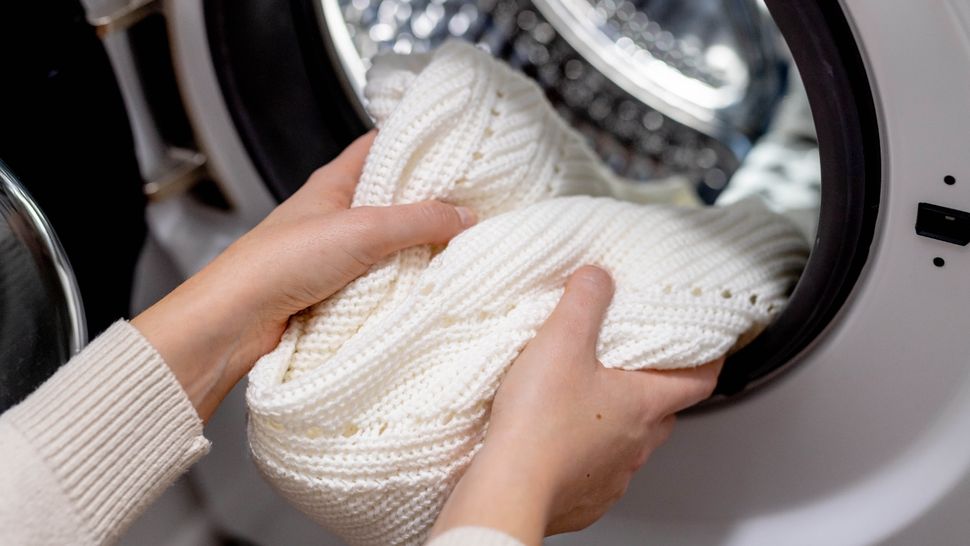 Before putting away winter clothing into storage, always machine wash or dry clean delicate items — not forgetting to check the care label. If not, dirty clothing will produce bad smells or even mildew in humid conditions. In addition, any traces of sweat, perfume/fragrances or lotions you use may stain the fabric, causing it to turn yellow over time. So ensure all items are fresh and clean before storing.
After laundering your winter clothing, check for any items that have holes, small tears, or torn pockets linings that need repairing. This will help to keep it in top shape before you pack things away. Plus, you'll have it looking pristine and ready to wear without fuss. If you find any with major damage, you may want to consider recycling it. Likewise, if you find yourself with an overabundance of things you never really wore, you could consider donating any unwanted items.
2. Fold sweaters before placing into storage
Once you've washed or dry cleaned your natural-fibre garments, sort them into piles of what needs to be folded and what needs to be hung. Typically, sweaters should be folded, while everything else should be hung in garment bags.
Lay your heaviest sweaters at the bottom of your plastic storage bin in a neat stack, with the lightest sweaters on top. Ensure you invest in sturdy, durable plastic storage container bins with secure lids and avoid overstuffing your box. Winter garments need room to breathe, so pack them loosely. You can even buy stackable ones like these Plastic Storage Container Bin with Secure Lid and Latching Buckles — 6 pack ($44, Amazon), that are easy to store, especially with limited space.
For delicate garments, it's recommended to carefully fold and wrap them in acid-free tissue paper, before placing them into a storage bin. This will add an extra layer of protection to prevent items from snagging.
3. Hang long items in cotton garment bags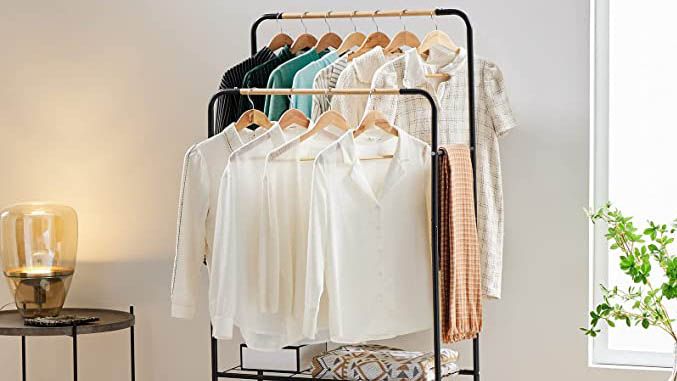 Winter coats, dresses, suits or other delicate items like furs should be hung on a hanger and placed inside cotton garment bags. Unlike plastic garment bags, 100% cotton is more breathable to allow proper ventilation, and will protect from dust and condensation. Whereas, plastic or other synthetic materials tend to trap moisture, which may result in discolouration, fading or even yellow spots starting to develop.
What's more, most garment bags are moth-proof such as these Clear Garment Bags for Hanging Clothes ($17, Amazon) to protect your sweaters, coats or any other clothing from pests. As a bonus, they also keep them spotless. In any case, ensure your closet is well-ventilated, as moths tend to thrive in humid conditions.
4. Keep your clothes smelling fresh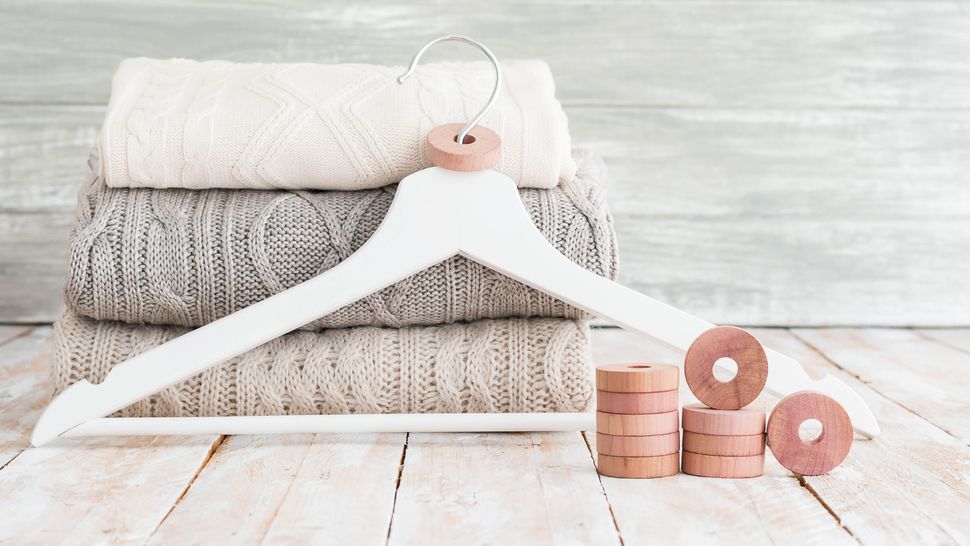 As well as keeping your winter wardrobe in good shape, they also need to smell great too. Add cedar wood or lavender when storing clothing to keep them fresh. Moths particularly dislike strong scents, so these will also act as a pest repellent. Similarly, you can place sachet bags of lavender fragrant inside your closet or drawers. Alternatively, hang wool clothing onto cedar hangers or buy ball-shaped pieces of cedar to hook onto hangers.
If you don't have lavender, you can also use sachets made with dried rosemary, thyme, cloves, or bay leaves, all of which are commonly found in our kitchens.
5. Store in a cool dry place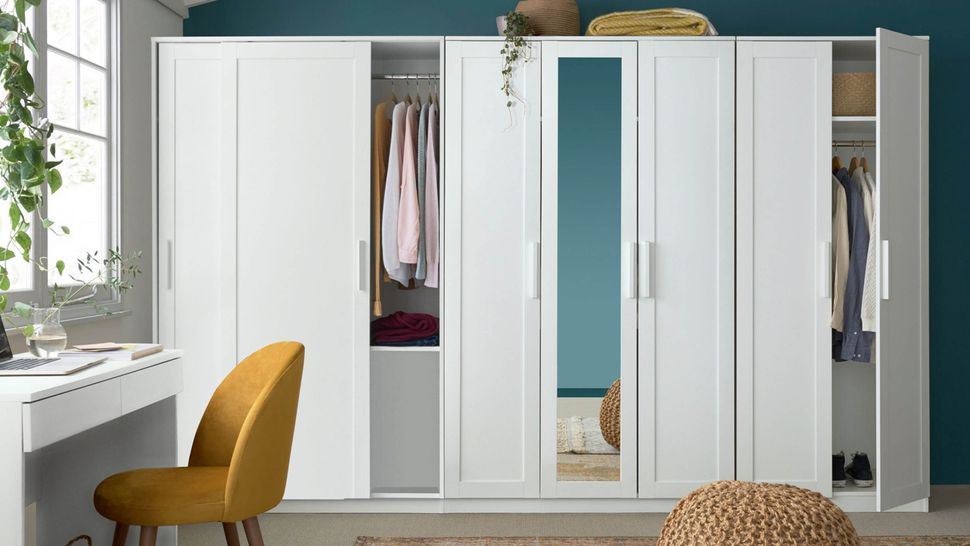 Where we store our winter wardrobe is just as important as how we store them. The ideal spot is a cool, dry and climate-controlled location — away from direct sunlight and heat. This is because bright environments will cause clothing to fade, while damp or humid conditions could lead to mildew. Also ensure your storage space is clean and dust-free as you don't want your clean and fresh garments to pick up dirt.
Avoid storing clothes in the attic or basement as these are subject to extreme temperature changes, which could damage your winter clothing. Instead, opt for a dark corner in your closet, bedroom or even your guest room.
Can I store winter clothing in plastic bags?
If you dry clean your winter clothing, never store them in those plastic, dry cleaner bags they come back in. This will essentially 'suffocate' your items, trapping in moisture and condensation. What's more, you don't want to encourage mildew growth, which would ruin the quality of your garment. Always store in cotton bags to allow items to breathe, and air out.
---
Are your sweaters covered in small balls of fuzz? Here's how to remove pilling from clothes. And if you've accidentally shrunk your knitwear in the wash, here's how to unshrink a sweater without damaging it.