Whether you want to look smart for the office, formal meetings or a special event, it's always good to know how to store suits without creasing them. After all, a good quality suit is a stylish investment, and you'll want to make sure it's in top shape for when you're ready to wear it — and make an entrance.
Even if you'll only take it out of the closet a few times a year, knowing how to store your luxury suits properly will ensure that it stays fresh, in good condition and lasts longer. While it might seem like a tedious task, it's actually not that hard to do, and only takes some simple steps.
So, if you want to dress to impress with your favorite 'power' suit, follow these 5 top tips to store suits without creasing them.
1. Clean and repair
Before storing away (until the next occasion), always ensure that your suits are clean and odor-free. The best method is to dry-clean suits to get rid of stains or lingering body odors or fragrances in the fibres. However, if you've only worn it once, or there are no marks or odors, you can simply use a suit brush and a lint roller to get rid of any particles, hair, or dust.
This is also a good opportunity to get any repairs or alterations done to your suits. First check for any items that have holes, small tears, or burst seams that need repairing. For this, it's advisable to take it to a specialist tailor who will also do any necessary alterations.
Cleaning and repairing will help to prolong the life of your garments, so you'll always have it looking pristine and ready to wear without fuss.
2. Protect it from pests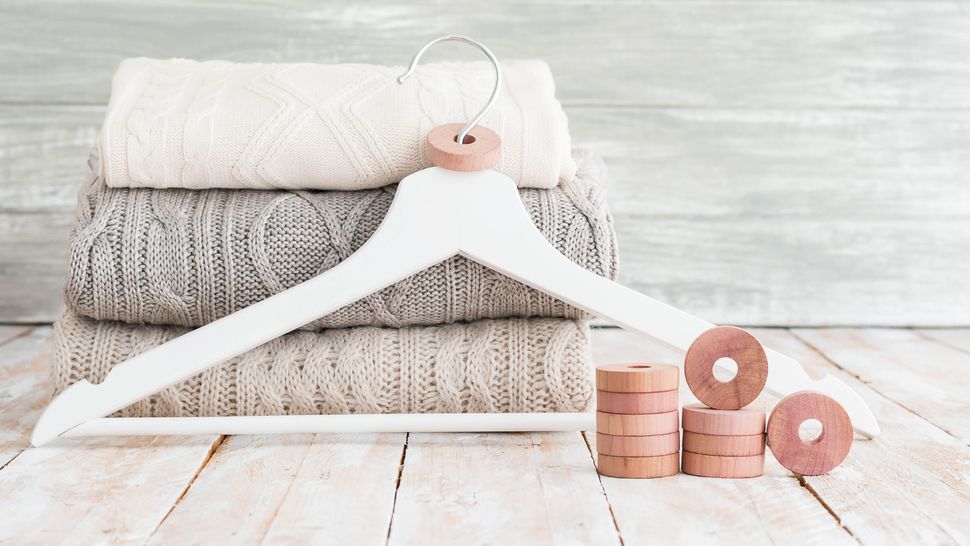 Another thing to protect your fine fabrics from are moths and moth-larvae. These tiny pests will find their way into your closet or drawers, where their larvae will eat through wool, silk, cashmere, mohair, fur or any other natural fabric.
Much like how to store your winter wardrobe, you'll need to prevent moths from ruining your expensive suits. More importantly, moths can trigger allergic skin reactions when those sensitive to them come into contact with either adult or larval moths.
Luckily, moths dislike strong scents, especially cedar wood and cedar oil, so it's a good idea to place these inside the closet. Better still, you can hang suits onto cedar hangers like these Solid Cedar Hangers 12 Pack ($26, Amazon), or buy ball-shaped pieces of cedar to hook onto them. Similarly, you can place sachet bags of the fragrant lavender inside the closet or drawers to deter moths.
3. Hang on wooden suit hangers
Always hang suits on wooden suit hangers, and avoid using wire or plastic hangers. These tend to stretch out collars, leave dent marks in delicate fabric or quickly deflate the shoulder pads in your suit jacket. What's more, you don't want to risk accidental tears or rust when using wired hangers.
Typically, wooden suit hangers are constructed of natural wood and wide enough to protect the shape of the collar, and trouser bar is essential for dress pants that are ready to wear. Ideally, slacks should be hung from the hem on a felt clamp hanger as it will allow creases to fall out without adding new ones.
There's nothing worse than a wrinkled or lacklustre suit to cramp your style!
4. Place inside a breathable garment bag
Once you've hung on a wooden suit hanger, place inside a breathable, cotton garment bag. Unlike plastic garment bags, 100% cotton is more breathable to allow proper ventilation, and will protect suits from dust, dirt and condensation. Whilst plastic or other synthetic materials tend to trap moisture, which often results in discolouration, fading or even yellow spots starting to develop.
What's more, most garment bags are moth-proof such as these Clear Garment Bags for Hanging Clothes ($17, Amazon) to protect your formalwear or any other clothing from pesky critters.
5. Store in a cool, dry space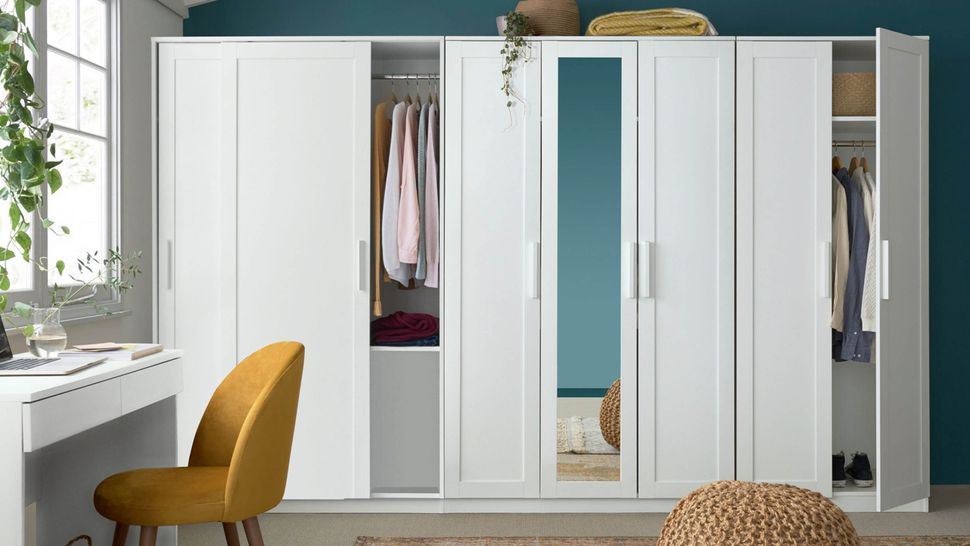 Finally, always store suits in a cool, dry place, and away from direct sunlight or heat. Typically, bright environments will cause fabrics to fade, while damp or humid conditions could lead to mildew.
The ideal place is at the back of a wardrobe or closet, in a climate-controlled space in the home. In addition, avoid jam-packing it into your closet, and make sure your storage space is clean and dust-free. You don't want your clean and fresh garments to be crushed or pick up dirt when you take it out to wear.
Other suit care tips
— After you have worn a suit, always air it out for a day before cleaning and placing inside a garment bag.
— Similarly, when taking a suit out of its storage bag after a long period, air it out before you wear it.
— When travelling, use a portable garment bag that will keep your suit in good shape whilst on the move.
— Avoid storing suits in the attic or basement as these are subject to extreme temperature changes, which could damage your expensive garments.
More from Tom's Guide