Shopping for a new TV always comes with a twinge of guilt, as it means that it's time to retire a screen that you've been watching for years. Sometimes you're upgrading because you're replacing an old CRT TV that you bought back in the '90s…and other times, frustratingly, it's to replace a TV that you just bought a few years ago — and that made me wonder, how long should a TV really last?
To answer that question, I scoured the internet for hard data and sprinkled in some knowledge from my decade-plus of covering the best TVs as a journalist.
What I found out is that most people choose to upgrade their TV every 5 to 10 years, whenever a new technology becomes the standard. According to data from NPD, the average age that a TV gets replaced is 6.6 years.
That being said, however, some enthusiasts (myself included) may upgrade slightly faster than the average TV watcher in order to see an improvement in picture quality or to opt for a larger screen size. In short, some folks can go a decade or more without replacing their TV, while others will see the need to upgrade every four to five years.
Here's how to know when it's the right time for you.
How long should a TV last?
In a perfect world, hardware never breaks, software always stays up to date and smart platforms never slow down. Unfortunately, however, that's not the world we live in and TVs will likely break within a few years of owning them.
I know that's an answer you didn't want to hear, especially considering how long your last TV survived. The reason newer TVs break faster is because, a decade or more ago, TVs didn't have a software component to them. A display was only responsible for receiving input and nothing else.
These days, a TV always comes with some form of smart TV interface. That means, just like your phone or laptop, they're going to slow down as they age and the software on them becomes more and more advanced. Eventually, even the best smart TVs can slow down to a crawl or completely crash.
If the TV's smart platform doesn't do it in, there's a chance that there will be some mechanical failure. In the case of an LED-LCD TV, a QLED TV or a Mini-LED TV, a TV's backlight or LCD can go out. LEDs are often rated for between 40,000 and 60,000 hours of use, but that doesn't mean they'll always last that long. OLED TVs, on the other hand, gained a reputation for pixel degradation and burn-in because of how frequently that occurred in first-generation models. CRT TVs weren't flawless, obviously, but their components stood up better to constant use.
To that end, there's no definitive answer on how long a TV should last from a purely mechanical standpoint. Their durability depends on what display technology the TV uses, how frequently it's being watched and what the manufacturer is doing in terms of updates to the smart platform. Some TVs you buy now could well last you the next decade, but generally I wouldn't buy one expecting for it to last that long.
How long is a TV under warranty?
Most TVs are sold with a one-year manufacturer's warranty that will cover any of the above problems. If you see pixel degradation in your OLED or an unlit section in your QLED TV, chances are good that you'll be able to get it replaced via the warranty if it was purchased within the last 365 days. After that, well, things get dicey.
To give you some peace of mind that your new big-screen TV is protected, some retailers will offer extended warranties. These can be worth buying depending on the cost and what they'll cover. Most will cover you if the TV has an electrical or display issue like the ones mentioned above. Some will extend that coverage to other events — even those caused by user error and accidental damage — but those are usually considered on a case-by-case basis.
If you've been burned by a retailer's return and/or warranty policies in the past, you can consider buying an extended warranty through the manufacturer. These can range from 2 to 5 years and will often require you to register your purchase with the manufacturer within a certain period of time after the purchase.
The fact that most extended warranties will only cover a TV for about five years tells me that, in the eyes of their makers and the retailers that sell them, five years is about the length that you should reasonably expect a TV to last.
But when should you upgrade?
Right, so the blanket answer for most folks is every five years when the TV inevitably breaks down — but that's not always the case for everyone. In fact, I routinely get emails from readers upgrading a TV from the late '90s or who have just moved into a new house with a larger living room that requires a larger screen.
The answer of when you personally should upgrade will change depending on your life circumstances, first and foremost, and then will come down to personal preference. The first step, however, is to determine your need level.
If your TV is outright broken and out of its warranty period, that's probably the best reason to buy a new TV. Basically, you need a new one to replace the old one. In that case, no one would fault you for buying a new model. In all of the data I've seen and user polls I've read, this is by far the most common reason to buy a new TV.
What about buying a new TV because you need a bigger size? Well, according to data from NPD collected in 2022, upgrading to a larger size was the reason that accounted for about 44% of new TV purchases. This is clearly less of a problem than a TV outright breaking, but that shouldn't stop you from buying one if the need arises, especially as large-screen TVs continue to drop in price.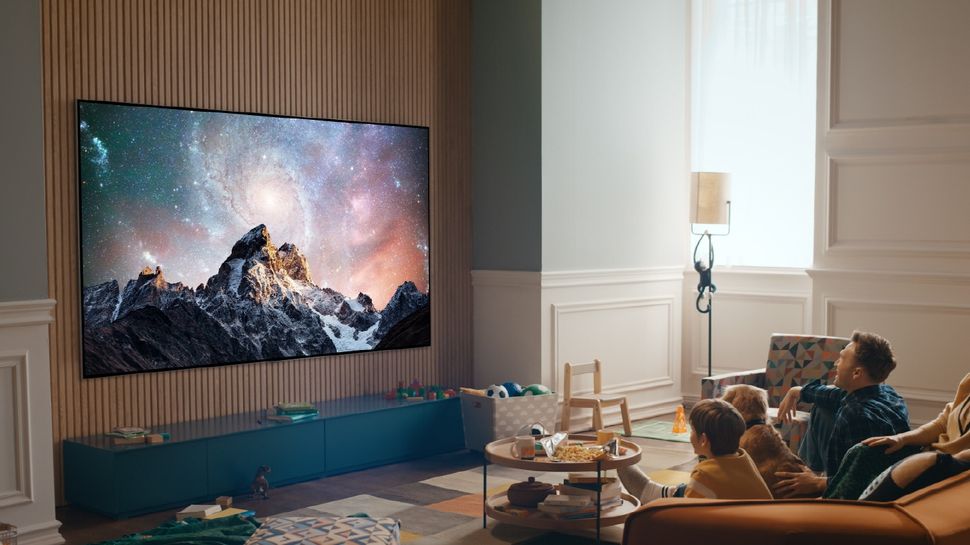 Finally, you might upgrade because you own an HDTV and want a 4K TV. This is more of a want than a need, but it still might be worth doing. At larger screen sizes, 4K TVs are certainly worth the money — not only do they have four times the amount of pixels to make content look sharper, but technology like HDR means modern 4K TVs are more colorful and offer better contrast than their predecessors.
So, is there a time you shouldn't get a new TV? If it's only the smart platform causing you a headache but the TV itself is still working great, then consider picking up one of the best streaming devices to circumvent its on-board smart platform. Is the problem is purely software-related, there's a good chance you can work around it.
Again, only you'll know when it's time to make the jump, but the consensus among people in your current predicament is that if your current TV is broken or too small for a new living space, it's time to upgrade.
When that time comes, whether that's this week or in five years from now, Tom's Guide will be here to help you pick out a TV no matter what your budget looks like.
More from Tom's Guide