It's hard to call the iPhone 15 Pro vs. iPhone 14 Pro match-up's winner so early in the year, but there are already plenty of rumors to help us figure out each phone's strengths and weaknesses.
This year's new iPhone 15 Pro is still several months off, while the iPhone 14 Pro is on sale now and still one of the best phones you can get right now. But for users looking to upgrade later in 2023, or who are simply curious about where Apple's going to make changes to the Pro iPhone next, we've compared all the rumors for the iPhone 15 Pro so far with the iPhone 14 Pro's known specs and performance to try and figure things out.
This comparison won't look at the iPhone 15 Ultra, the rumored new top model that could replace the iPhone 15 Pro Max. If you're interested in that, then take a look at our iPhone 15 Ultra vs iPhone 14 Pro Max face-off. Here, we're going to be looking at the two smaller Pro models to see how their features compare.
iPhone 15 Pro vs. iPhone 14 Pro: Rumored specs
Swipe to scroll horizontally
| | | |
| --- | --- | --- |
| Row 0 - Cell 0 | iPhone 15 Pro (rumored and assumed) | iPhone 14 Pro |
| Display | 6.1-inch OLED | 6.1-inch OLED |
| Refresh rate | 120Hz | 120Hz |
| CPU | A17 Bionic | A16 Bionic |
| Storage | 128GB, 256GB, 512GB, 1TB | 128GB, 256GB, 512GB, 1TB |
| Rear cameras | 48MP main/12MP ultrawide/12MP 3x telephoto | 48MP main/12MP ultrawide/12MP 3x telephoto |
| Front Camera | 12MP | 12MP |
iPhone 15 Pro vs. iPhone 14 Pro: Expected price and availability
Obviously we can't say for sure when the iPhone 15 Pro will launch, but it's not wild to assume that it will launch with the rest of the iPhone 15 series in September. One rumor believes it could be September 22 specifically that the phones go on sale.
How much the iPhone 15 Pro will cost is up in the air too. Apple's kept the price of its Pro iPhones the same in the U.S. for the past four years, but in the U.K., Australia and beyond, the prices rose with the iPhone 14 series. It's possible we'll see a small bump this year, but fingers crossed nobody has to pay extra.
The iPhone 14 Pro has been on sale since September 2022, and starts at $999 / £1,099 / AU$1,749 for 128GB of storage. If Apple keeps up its current habits, the 14 Pro will be made unavailable when the iPhone 15 Pro arrives, so it'll be hard to get a hold of outside of certain third-party retailers or cell carriers. But if you can find it, chances are there will be a discount on the 14 Pro's price to make it more enticing.
iPhone 15 Pro vs. iPhone 14 Pro: Design and display
The iPhone 14 Pro introduced a larger rear camera bump, and added the Dynamic Island in place of the Face ID notch, but otherwise looked like the past few generations of flat-sided iPhones. We aren't likely to see any sweeping changes to that design for the iPhone 15 Pro.
However, there have been rumors that Apple will add curved edges to the back glass, but there's disagreement on this fact among the rumormongers.
There's also the possibility that Apple will use solid-state buttons (with additional haptic feedback) and titanium side rails for a more premium finish on its most expensive iPhones, although these could be just for the iPhone 15 Ultra.
We should see a few new exclusive color options for the iPhone 15 Pro, alongside the typical black/grey/silver choices that Pro iPhones, including the iPhone 14 Pro, always offer. We'll likely be saying goodbye to the Deep Purple hue of the iPhone 14 Pro though, since Apple like to rotate its way through brighter color options year-by-year.
Similarly, the iPhone 15 Pro display shouldn't be changing much from its current 6.1-inch 120Hz form, with an adaptive refresh rate enabling an always-on display as with the iPhone 14 Pro. The only substantial rumor for the iPhone 15 Pro's screen is that it could use improved OLED technology that would allow the displays to work for longer than current OLED panels.
We'd expect it to still have dual cutouts in the screen for the selfie camera and Face ID sensors (as all iPhone 15 models will have, according to one source). Some have said the next iPhone could use an under-display camera, but rumors for this are still sparse and unsupported.
iPhone 15 Pro vs. iPhone 14 Pro: Cameras
After making a big change to the iPhone 14 Pro's cameras, we aren't expecting any big overhauls of the iPhone 15 Pro's sensors. That should result in a 48MP main camera, 12MP ultrawide and 12MP 3x telephoto cameras on the back, and a 12MP selfie camera on the front of the upcoming phone.
One potential change is the use of new Sony camera sensors instead of the current Samsung-made ones. These new Sony sensors will apparently offer better exposure control, making for brighter images with difficult lighting conditions and improving the performance of what are already some of the best camera phones around.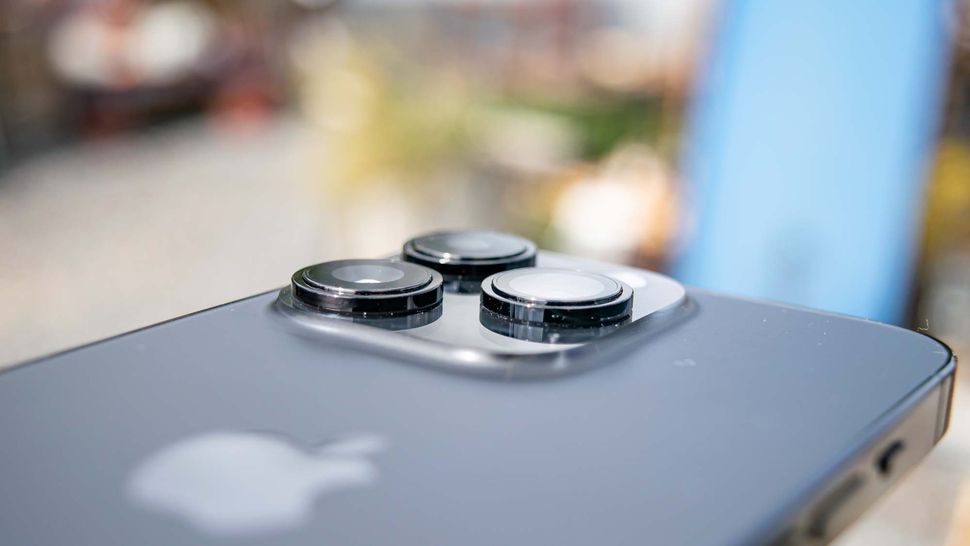 The most exciting iPhone camera rumors, those for a more powerful periscope telephoto camera and dual front cameras, are only rumored for the Ultra/Pro Max model. If these claims are accurate, you'll have to pay top dollar for them.
iPhone 15 Pro vs. iPhone 14 Pro: Performance
The iPhone 14 Pro is already the most powerful phone around with an A16 Bionic chipset, so where does Apple go next? According to the leak-o-sphere, it'll be with a more efficient 3-nanometer A17 Bionic chipset. Hopefully there will still be a nice performance increase along with that, so Apple doesn't lose its lead to Android phones using chips like the Snapdragon 8 Gen 2.
In terms of memory, the iPhone 15 Pro should still offer the same 128GB base storage capacity, with 256GB, 512GB and 1TB options available for those willing to pay extra, as with the iPhone 14 Pro. It would be nice if Apple started offering 256GB by default, but given how long it took to ditch 64GB phones from its line-up, that's likely wishful thinking.
We'd expect Apple to focus on eSIMs again for the iPhone 15 Pro, possibly in more markets this time as only the U.S. iPhone 14 Pro models came without physical SIM slots. It's annoying that you can no longer pop your SIM in another phone to make calls and messages in an emergency with the iPhone 14 series though, so we hope Apple leaves the rest of the world out of its eSIM-only plans for as long as possible.
iPhone 15 Pro vs. iPhone 14 Pro: Battery and charging
The iPhone 15 Pro's battery capacity is a mystery, but fingers crossed Apple increases the size of the 15 Pro's cell, or makes the rest of the phone more efficient.
The 3,200 mAh battery in the iPhone 14 Pro is lacking in endurance, performing distinctly average in our battery life test, instead of excelling as most iPhones do. Something needs to change here, otherwise it'll be hard to recommend the iPhone 15 Pro to anyone who uses their phone heavily.
One thing Apple has effectively confirmed already is that the iPhone 15 Pro will use a USB-C port, rather than Lightning like the iPhone 14 Pro and many iPhones before it. This is not only to give the iPhone 15 Pro more convenient charging and faster data transfer, but also to comply with incoming EU legislation that will make USB-C compulsory on mobile devices by 2024.
iPhone 15 Pro vs. iPhone 14 Pro: Outlook
It's hard to say just how much of an improvement the iPhone 15 Pro will be on the iPhone 14 Pro right now, but it's looking like there could be some substantial upgrades. The new camera sensors, chipset and design tipped for the 2023 iPhone could all add up to enough to tempt you to upgrade from the 14 Pro.
That's definitely not necessary, and you're unlikely to miss out on too many features. The basic display, camera types and battery don't look like they'll be changing. Plus a potential price increase could make even the biggest upgrades seem not worth the payout.
We'll keep an eye on the rumors as the months elapse heading towards the iPhone 15 Pro's assumed September release, and get our hands on one to test as soon as we can. And as that happens, we'll keep feeding back to you about how it compares to the current iPhone 14 Pro model.