Bose QuietComfort Ultra Headphones
The QC Ultra Headphones combine class-leading ANC with intuitive features and universal spatial audio to deliver one of the most engaging, peaceful listening experiences money can buy.
For
Modernized design
Effective Immersive Audio experience
Intuitive controls
Impressive ANC
Against
High cost compared to most rivals
Middling battery life for a flagship design
Sony has stepped up its ANC tech with the XM5 to give Bose a run for the money. They sound superb, and the 30-hour battery life (with ANC) is strong. Everything from the touch controls to the Headphones Connect app is well thought out and seamlessly integrated.
For
Articulate and engaging sound
Great control options
Impressive noise-cancelation
Long battery life
Stellar call quality
Against
Redesign divides opinion
Gets hot around the ears during longer listening
This Bose QuietComfort Ultra Headphones vs. Sony WH-1000XM5 face-off compares the flagship models from two of the world's greatest headphone rivals. If you're looking to make a buying decision on the best noise-canceling headphones money can buy, this face-off will tell you everything you need to know.
While we've already covered the Bose QuietComfort Ultra Headphones vs. Bose 700, the Sony WH-1000XM5 are the next closest rival to the new Bose flagship. The Sony model have been around since May 2022, and have managed to hold their own in terms of noise-canceling despite strong competition from big-name rivals. But how do they compare to the newer Bose?
As the Bose 700 successor, the all-new QuietComfort Ultra Headphones are masterfully engineered and boast plenty of upgrades in a new sleek design with intuitive touch controls. They come with a price increase, though, making them the more expensive option.
In this face-off I weigh up the pros and cons of two of the best noise-canceling headphones I've tested. Read on to discover the differences, and which of these two masterful noise-canceling models are the right headphones for your needs.
Bose QuietComfort Ultra Headphones vs. Sony WH-1000XM5: Specs compared
Swipe to scroll horizontally
| Header Cell - Column 0 | Bose QuietComfort Ultra Headphones | Sony WH-1000XM5 |
| --- | --- | --- |
| Price | $429 / £449 / AU$649 | $399 / £379 / AU$649 |
| Size | 7.7 x 2.0 x 5.5 inches | Not specified |
| Weight | 8.9 ounces | 8.8 ounces |
| Battery life (rated) | 24 hours (18 hours w/ Immersive Audio) | 30 hours (ANC enabled) |
| Connectivity | Bluetooth 5.3 with SBC, AAC, LE, and aptX Adaptive support | Bluetooth 5.2 with SBC, AAC and LDAC support |
| Special features | Adaptive ANC, ambient listening mode, aptX Adaptive, Bluetooth multipoint, customizable sound, quick charging, Immersive Audio with headtracking (universal), SimpleSync, touch volume controls, voice activation | Adaptive ANC, Ambient Sound Mode, DSEE Extreme Audio, Bluetooth multipoint, customizable sound, quick charge, passive mode, 360 Reality Audio |
Bose QuietComfort Ultra Headphones vs. Sony WH-1000XM5: Price and availability
The Bose QuietComfort Ultra Headphones are available to buy now for $429 at the Bose store as well as online retailers including Amazon, Best Buy, and Walmart. The new Ultra Headphones are $50 more costly than the previous flagship: the Bose 700. They're available in black and white smoke color options.
Available in black, blue or silver color options, the Sony WH-1000XM5 launched in May 2022 at $399 / £379 / AU$649. By comparison, the refreshed design and eco credentials bumped up this next-gen flagship by $50 over the model they replaced. See how they compare in our Sony WH-1000XM5 vs. Sony WH-1000XM4 face-off.
In terms of overall cost, the Sony headphones continue to offer a mind-bending feature set and are the better priced model overall.
Winner: Sony WH-1000XM5
Bose QuietComfort Ultra Headphones vs. Sony WH-1000XM5: Design
Both headphones stand out for their luxe styling. You're sure to get noticed with either of these upmarket headphones on your head or draped around your neck when on your travels. The new Bose Ultra Headphones appear to take design cues from rival models to create a chic and well-crafted headphone. Their superior craftsmanship, blending the 700's sharp-looking aesthetics with the QC series' pleasant wearable design, adds twistable and foldable earcups.
The headband is more substantial and has softer padding. The sturdy aluminum frame allows the earcups to slide out or retract to get the right fit, while the premium leather wraps around the headband and earcups provide impressive long-term comfort. Even the bundled carrying case has gotten a facelift, featuring cutouts to collapse and stow the Ultra Headphones securely when on the move.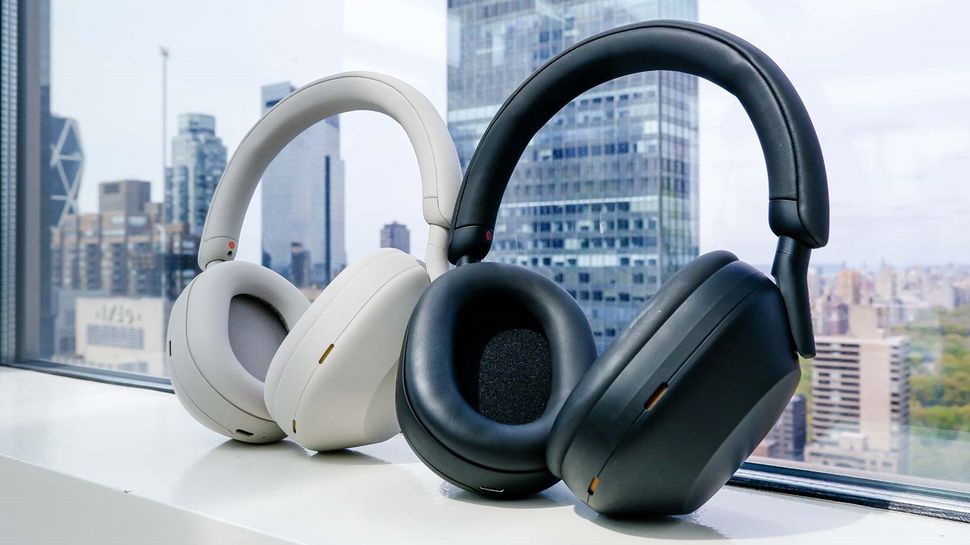 The Sony WH-1000XM5 sees the new design opting for a slimmed-down chassis, narrow synthetic leather headband and simpler earcups. They offer good comfort levels and I like the slightly larger earcups, which helped my ears feel more comfortable when wearing the Sonys.
It's a matter of personal taste, but both models look slightly better in their lighter finishes over the non-descript matte black versions. They also seem to wear better than black versions, and the Sonys in particular are prone to showing scuffs and sticky finger marks.
Winner: Tie
Bose QuietComfort Ultra Headphones vs. Sony WH-1000XM5: Controls
Physical buttons and voice activation are part of both models. Tactility is responsive and solid, ensuring all intended commands are properly executed. Advanced mic arrays give both models excellent speech recognition and vocal capture when using the digital assistant. Firing up Alexa or Google Assistant with their wake-word phrase was instantaneous, and voice commands were addressed as quickly as they were received.
Touch controls are on the right earcup for both models to navigate playback commands. Wear detection is supported on both, but the Bose Ultra has a new volume control strip on the right earcup that feels accurate and is a great addition.
The left earcup on the Sony has a physical button that allows you to cycle through your noise-canceling options.
Winner: Tie
Bose QuietComfort Ultra Headphones vs. Sony WH-1000XM5: Sound quality
When it comes to sound delivery, the Bose QuietComfort Ultra Headphones and Sony WH-1000XM5 represent top-tier performance. Although each has their strengths and your preference for one or the other will come down to personal taste, the Sony WH-1000XM5 give the stronger presentation across a wide range of music styles.
Immersive Audio is the headline feature of the Bose QuietComfort Ultra Headphones. The universal spatialized audio is made possible by proprietary digital signal processing software, so whatever music source or streaming platform you use, you'll benefit from immersive listening on Bose's newest flagship.
Immersive Audio gave a phenomenal first impression. With the "Still" setting, I felt like I was listening to live music. Sounds appeared to have more space around them and felt like they wrapped around my head. I wouldn't say that it always felt entirely natural, and some elements of music that I know well were less prominent with Immersive Audio enabled. But it gave an impressive sense of spaciousness that stays anchored to a fixed point no matter where I moved my head.
The "Motion" setting delivers the same dynamic listening experience while on the go but keeps the immersive sound experience equally balanced to the same level in each earcup.
Bass levels appear to be slightly stronger when either of the Immersive Audio modes are selected. This may be intentional as it helps to draw you in to using the mode, but the Off setting feels far more natural in terms of stereo soundstage even if the bass sounds leaner. The Immersive Audio settings are fun and the sonic presentations are livelier than what you'll hear from Apple or Sony's spatial audio, too. Not to mention the QC Ultra's headtracking is spectacularly accurate with zero latency.
The Sonys give you the option to manually adjust the equalizer in the Headphones companion app, but the default setting is pretty nicely balanced to begin with. Listening to Christine and the Queens "Tilted" the Sony's frequency range handling sounds smooth and refined. Listening on my morning commutes really put a spring in my step. Bass levels are strong, and my only criticism is that upper treble details lack a little expression.
Nevertheless, there's exceptional layering of the upper bass and mid frequencies while listening to "La Ritournelle" by Sébastien Tellier, and the orchestral elements give a perfect sense of acoustic space with a wide and enjoyable soundstage.
While Bose's signature sound balance has a richness and warmth that's very pleasant, I found I needed to adjust the EQ for a better balance on the QC Ultra Headphones. Listening to orchestral and acoustic tracks I know well, I found that certain mid frequencies were less prominent than I'm used to hearing, making the Sony WH-1000XM5 the better choice for audiophiles looking to hear every strand of the recording mix.
Winner: Sony WH-1000XM5
Bose QuietComfort Ultra Headphones vs. Sony WH-1000XM5: Active Noise Cancelation
The main reason why I've pitted these two headphones together is to see which have the better ANC performance.
There's no doubt about it, the Bose QuietComfort Ultra Headphones have the best noise-canceling performance I've encountered. Set to Max, I could barely hear anything of what was going on around me and I'd say that nearly 95% of unwanted sounds were silenced during my testing. They completely silenced the world around me to the point where I couldn't hear anyone in the office. My keyboard taps were non-existent, as was the sound of the kitchen faucet when I turned it on to top up a glass with cold water. Any blaring noises that caught my attention sounded like background effects on songs.
Sony's ANC is impressive, too. Without leaving any trace of how hard the ANC circuitry is working, the Sony WH-1000XM5 banish pretty much all external sound and leave a nice dark background against which your music can do its thing.
It really is a close race between these two flagship ANC models, but Bose continue to lead the way with the most powerful noise neutralizing headphones you can buy. Rarely have I heard ANC so effective, allowing me to luxuriate in my favorite music without distraction.
Winner: Bose QuietComfort Ultra Headphones
Bose QuietComfort Ultra Headphones vs. Sony WH-1000XM5: Call quality
Sadly, the QC Ultra Headphones don't outperform the Sony in terms of voice calling quality. That may sound shocking given the QC Ultra's flagship status and price, but that doesn't make them an inferior calling headset. They performed well with wireless video and voice calls, eliminating background noise, but some high-frequency sounds and wind did enter conversations.
The Sony's impressive mic array systems ensure that the XM5 achieve the kind of call quality best described as "exemplary." Wind-noise is kept to a minimum, and both ends of a conversation prove clear and easy to follow on any calls I took. However, it is Sony's Transparency Mode that steals the show, granting up to 20 levels of ambient attenuation, and was strong enough to pick up conversations happening around me with ease.
Winner: Sony WH-1000XM5
Bose QuietComfort Ultra Headphones vs. Sony WH-1000XM5: Battery life
Bose says the QuietComfort Ultra Headphones give listeners 4 hours more battery than the Bose 700, meaning you should get 24 hours of continuous listening on a full charge. That said, enabling Immersive Audio brings that estimate down to 18 hours. Allow up to 2 hours for the headphones to fully charge, and the fast-charge feature provides up to 3 hours of play time from a 15-minute charge.
The WH-1000XM5 are good for 30 hours between charges if you keep active noise-cancelation switched on, and that will rise to as much as 40 hours if you turn it off. The XM5 need a leisurely 3.5 hours to go from "flat" to full when charging via the USB-C input on the right earcup, and can retain an hour's-worth of power after 10 minutes or so. The XM5 are also USB-PD (Power Delivery)-compatible, and charged in this way can get three hours of power after just three minutes.
In terms of overall playback times, the WH-1000XM5 headphones come out on top.
Winner: Sony WH-1000XM5
Bose QuietComfort Ultra Headphones vs. Sony WH-1000XM5: Verdict
Swipe to scroll horizontally
| Header Cell - Column 0 | Bose QuietComfort Ultra Headphones | Sony WH-1000XM5 |
| --- | --- | --- |
| Price and value (5) | 4 | 4 |
| Design (15) | 13 | 13 |
| Controls (10) | 9 | 9 |
| Sound quality (25) | 23 | 25 |
| Active noise cancelation (20) | 20 | 19 |
| Call quality (10) | 8 | 9 |
| Connectivity (5) | 4 | 5 |
| Battery life (10) | 8 | 9 |
| Total Score (100) | 89 | 93 |
The impressive redesign, outstanding noise canceling and Immersive Audio tech on the Bose QuietComfort Ultra Headphones make these the best noise-canceling headphones overall. But they're beaten by Sony's flagship in several key areas: battery life and sound quality.
Ultimately, the Sony WH-1000XM5 headphones are the more compelling set of cans overall. While not quite up to the standards of the new Bose, the progressive changes that Sony has made to its ANC technology with each new generation makes them the closest Bose rival on the market. They're more affordable, and I appreciate how light they feel to wear on my head and the engaging sound they deliver that puts a spring in my step.
If you really do just want the best-in-class noise cancelation for a long-haul flight, though, the new Bose QuietComfort Ultra Headphones should be your go-to choice. These svelte-looking cans are engineered to handle ambient sounds across the entire frequency spectrum, and the Immersive Audio is a fun element that many will enjoy.
More from Tom's Guide