Some of the best Prime Day deals can seriously stop you in your tracks. "They're going for how much?!" And in this epic week for discounts, no deal has stood out to me quite as much as this price drop for an SSD.
Right now the SanDisk 4TB Extreme Pro Portable SSD is on sale at Amazon for $239. To put that into context, this model normally retails at $899. That's a pretty astonishing saving of $660 or 73% off. If you're a PC user or console gamer in the market for a new solid-state drive, I'd understand if you need to lie down.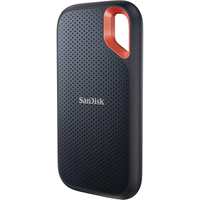 SanDisk 4TB Extreme Pro Portable SSD: was $899 now $239 at Amazon
73% OFF! This particular SSD is a monster. Not only does it provide 4TB of storage, if offers read/write speeds up to 2,000MB/s. Speedy file transfer is the order of the day with this SSD, and we also love its small, sturdy shell, which makes it ideal for stuffing into pockets. U.K. readers, the SanDisk 4TB Extreme Pro is £343 at Amazon, which isn't as big a bargain as its U.S. equivalent so we recommend the 2TB version for £179.

The best PC games, biggest Xbox Series X titles and the best PS5 games are increasingly swelling in file size, so having a lot of speedy storage is more or less essential in 2023. And 4TB really is a colossal amount of storage.
The SanDisk 4TB Extreme Portable SSD is a bit of a beast. Not only does it offer you all that digital storage, it delivers NVMe-like performance, with read/write speeds up to 2,000MB/s. Suffice to say, you won't be waiting long for your file transfers.
I also like the Extreme Pro Portable's sturdy plastic shell, as it means this SSD is exactly what it claims to be: truly portable. It's just 0.41-inches thick and 4.36-inches long. To give you a better idea of its real-world proportions, here's an older (non Pro) model next to my iPhone X.
There's actually a brilliant saving to be made on the drive in that photo, too The SanDisk 1TB Extreme Portable SSD is on sale for $82 at Amazon; that's a saving of 67% next to its standard $249 price tag. UK readers can also get on this deal, with the SanDisk 1TB Extreme Portable SSD on sale for £73 at Amazon; another 67% from its unusual £221 RRP.
I've been using the 1TB Extreme model for three years now, and it's never given me any problems when I've been transferring games between this external SSD and my PS5's internal NVMe drive.
But I can't lie, the sheer storage capacity of the SanDisk 4TB Extreme Pro Portable SSD makes me extremely tempted to upgrade. And c'mon, who can resist a $660 price drop!
Now that you've potentially just bought a new SSD with a gargantuan amount of storage, don't sleep on our best Prime Day PS5 deals, best Prime Day Xbox Series X deals and best Prime Day laptop deals.