The iPhone SE (2022) is already one of the best cheap phones, and is the cheapest iPhone Apple actually sells, but it could always be cheaper. Thankfully, Black Friday sales have driven down the price of Apple's mid-range handset to levels normally reverse for ultra-budget phones. And AT&T has one of the cheapest we've seen.
Right now you can pick up an iPhone SE (2022) at AT&T for just $72 or $2 a month. That's 81% off. You do need to sign up for an unlimited plan, but it means the phone itself will end up costing you next to nothing. That's way cheaper than the regular $429 price.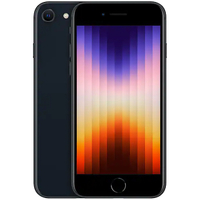 iPhone SE (2022): was $429 now $72 @ AT&T
The cheapest iPhone just got even cheaper over at AT&T, with the carrier knocking the price down to $2 a month. The only catch is you need to sign up for an unlimited plan to qualify, and pay the usual $35 activation fee.
The iPhone SE 2022 is the third generation of Apple's cheap iPhone, and despite the low price it comes with some very impressive hardware. It's also your only option if you want an iPhone under 6-inches, though the trade-off is that you don't get a full-screen display. It's a 4.7-inch display modeled after an iPhone 8.
This is a phone that runs on the same A15 Bionic as the iPhone 13 and iPhone 14, meaning it is without a doubt the best performing phone in its priced range. It's also the only iPhone to still offer Touch ID, and is capable of producing excellent photos through a single 12MP rear camera.
On top of that you have a 7MP selfie camera, 5G and a battery that lasted just over 9 hours in our testing. If that's not enough, support for 20W charging will restore you to 61% charge in just 30 minutes.
While the iPhone SE (2022) did drop to $49 for a time, over at Straight Talk, the price has since risen to $99. It's also possible to purchase the phone outright for $149 at Walmart. But $72 trumps all that, and gets you the cheapest iPhone for a spectacularly low price.