Update: The red color is sold out but the black iPhone SE model is still in stock.
If you're looking for one of the best Black Friday iPhone deals, but don't want to deal with iPhone 15 prices, then you'll want to head over to Straight Talk. The carrier is offering the third generation iPhone SE for a very low price. But you might want to grab one fast, before they run out of stock
Right now you can get the iPhone SE (2022) at Straight Talk for just $99. That's not a typo, Straight Talk have knocked $280 off the normal asking price, and the only catch is that you have to sign up for one of the carrier's Unlimited data plans — starting at $45 a month.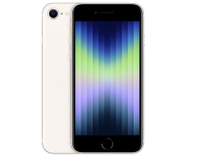 iPhone SE (2022): was $379 now $99 w/ unlimited plan @ Straight Talk
Grab yourself the cheapest iPhone and one of the best cheap phones for an unbelievable discount over at Straight Talk. You can grab the iPhone SE (2022) for just $99 when you sign up for an unlimited plan (from $45 a month).
The iPhone SE (2022) is one of the best cheap phones you can buy right now, offering a fantastic array of features for a reasonably low price. It's also the cheapest iPhone you can buy, which makes it a perfect entry point into Apple's mobile ecosystem.
While cheap, the iPhone SE has a lot of great features that some cheap phones tend to lack. It's not as up to date as the iPhone 15 or even the iPhone 14, but it still manages to offer everything that makes a phone worth having. Things like 5G, excellent photo quality, speedy performance from the A15 Bionic chipset and a pretty reasonable battery life.
It's also the only compact iPhone you can buy right now, making it ideal for those of you that prefer not to have a 6-plus-inch phone. Plus it's still an iPhone, with access to all your favorite Apple software and the latest iOS 17 operating system — with all the benefits that upgrade affords.
Granted the low price means you do have to sacrifice some things. The 4.7-inch display is on the small side, and there are some pretty chunky bezels surrounding it. There's also only a single camera lens on the back, which means you'll have to go without ultrawide photography or optical zoom.
But when the price is as low as $99, this is not the kind of deal you should be passing up. But if you're in the lookout for Black Friday deals, be sure to check out our list of the best Black Friday iPhone deals and the best Black Friday Apple deals. Or, if you'd rather buy a totally different phone, then our list of Black Friday phone deals could help you find a device with your name on it.