Taking a daily greens powder has soared in popularity, who knew drinking a glass of murky green water could be so trendy? Whether you have already joined the greens club or you simply want to see what all the hype is about, you can get a supply of greens powder for less from Free Soul right now in this year's early Black Friday deals.

I'm a sucker for any food or drink that looks like it is good for my insides and having already been struck by a nasty cold this month, I like to think I'm putting ingredients in my body that will help support my immune system over the dark and dreary Winter days. I started using the Free Soul greens powder (FS-Greens) every day in October and I have massively benefitted from just how easy it has been to fit into my morning routine. Read my full experience over here.
I've started recommending it to friends who aren't a big fan of eating their five a day, and right now you have the opportunity to save 25% on a monthly subscription to a greens powder or save 15% on a one time greens purchase and shop wide including money off Free Soul protein bars, probiotics and shakers.
We can't guarantee how long this Black Friday sale will last over at Free Soul or how long stocks will last, so be sure to check out the deals below while they're still available.
Early Black Friday FS-Greens deal available now: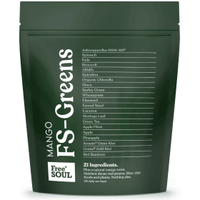 FS-Greens powder: was $37 now $28 at FreeSoul
Treat your immune system and gut health for 25% less. That's right, you can get the Free Souls greens powder for under $30 in the early Black Friday sale. This includes the mango flavored option so no scrunching up your face as you take your morning greens! This 25% offer is available when you subscribe, meaning you will only pay $28 every four weeks for your monthly dose of greens. If you only want to make a one-time purchase, you can still save 15% at the checkout. Note, delivery costs will vary depending on location so do check this before pressing pay.

Why I'd recommend the Free Soul Greens Powder
Much of adulting is spent trying to find time to do the things that we both need to do and want to do. My thing is finding the time to balance work, exercise, meal prep and everything in between. I love nothing more than when I have time to make a big wonderful berry or apple green smoothie in the morning and pack all my fav veggies into my lunch and dinners. But when this isn't possible I like to find a quick yet trusted way of doing so.
This is where using the Free Soul Greens Powder for the past month has come in handy. I don't use it as a substitute for any foods or nutrients but rather take it daily as a way to ensure my body is consistently consuming things that are good for me on days when I struggle to eat the rainbow. I also feel like it helps clean my insides if I have been drinking alcohol the night before, which can help with the hungover guilt that inevitably comes after one too many tipples.
You may be wondering what ingredients are included in a powder like this, especially considering Free Soul packs 21 ingredients into the mix. The Free Soul powder is packed with ingredients like Ashwagandha, Golden Kiwi and Maca, which can help support important things like your digestion, and hormones and even reduce bloating.

It has very naturally slotted into my morning routine and I've found it super easy to travel with. Since it's a powdered product, you could even take it through airport security with you if you want to keep supporting your insides while on holiday.

Looking for more Black Friday deals like this? You can stock up on protein powder right now too with these Protein powder Black Friday deals or refresh your activewear wardrobe with our fitness editor's list of things to buy at Lululemon before Black Friday.