We're entering the holiday sales season here in the States, and that means you can already find some of the best Black Friday deals on laptops, tablets and more as retailers try to entice customers getting an early start on their shopping.
In fact, there's a great deal on for a limited time that drops the price of a new LG Gram 17" Laptop to just $999 at Best Buy. That knocks $800 off the cost of this $1,799 Windows 11 ultraportable, which means you're getting this big-screen laptop for nearly half off in one of the best early Black Friday deals of the year so far.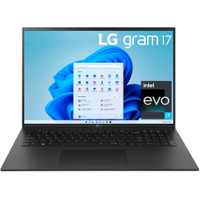 LG Gram 17" Laptop: was $1,799 now $999 @ Best Buy
Best Buy is knocking $800 off the price of this 2.9-pound LG Gram 17, which comes with a bright 17-inch (2560 x 1600 pixels) display, 12th Gen Raptor Lake Intel Core i7 CPU, 16GB of RAM and a 1TB SSD for storage. In my LG Gram 17 (2022) review I raved about this laptop's great screen, big keyboard and 12+ hours of tested battery life.
I really like the LG Gram 17 because it gives you all the productivity benefits of a 17-inch laptop—a big, bright display, a full, comfy keyboard, plenty of ports and good battery life—in a durable yet surprisingly lightweight chassis.
This is the pitch of the Gram brand, and if you're looking for a lightweight laptop to carry for basic work and play but want more than 13-15 inches of screen real estate this is one of the few and best options I've ever used. At 0.7 inches thin and just under 3 pounds heavy the LG Gram 17 is thinner and lighter than the smaller 15-inch Dell XPS 15, and it's nearly as thin and light as a 13-inch MacBook Air M2.
And while the LG Gram 17's 17-inch WQXGA (2,560 x 1,600 pixels) display isn't quite as lush as an OLED screen or as bright as a MacBook's display it's plenty bright for use in all but direct afternoon sunlight. The laptop's Core i7 CPU and 16GB of RAM are great for browsing the web and getting work done, but be aware that the LG Gram 17 won't give you the kind of computing power you need for playing the best PC games or running demanding applications.
However, you do get excellent battery life from this big-and-light laptop. In our testing, the LG Gram 17 lasted 12 hours and 34 minutes on a full charge, meaning you can take it to the office or to school for a full day without worrying about needing to bring a charger.
So if you want a great, lightweight productivity laptop with a big keyboard and an awesome 17-inch display, make sure to nab this killer LG Gram 17 deal before it's gone. Just be aware that the Gram's matte black chassis is an absolute fingerprint magnet.
And if you'd like to see what other discounts are on offer for portable PCs this time of year, have a gander at these 5 early Black Friday gaming laptop deals and keep checking back to our regularly-updated guide on the best cheap laptop deals!