If you love your morning coffee and need a reliable coffee maker to help kick-start your day, Black Friday 2021 is the best time to find a deal — even before the actual Black Friday.
When looking for the best Black Friday coffee maker deals, you need to look for things such as performance, convenience and affordability. Which features does the coffee maker offer? Some of the top coffee makers offer strength-control settings, built-in milk frothers, or a range of presets to suit your tastes.
With so many different coffee makers on the market, it can be difficult to spot a great deal. But we've done all the searching for you and found some great Black Friday deals on coffee makers.
So whether you prefer top brands like Keurig or more basic options, here are some of the best Black Friday coffee maker deals you can find right now. What's more, if you love a great bargain, check out the best Black Friday deals to see what's available.
Top 5 Black Friday coffee maker deals right now
Black Friday coffee maker deals — best sales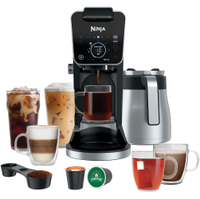 Ninja DualBrew Pro Specialty System: was $249 now $199 @Amazon
This coffee system from Ninja lets you not only brew single cups, but also has a 12-cup thermal carafe, works with pods as well as coffee grounds and has a built-in frother and 60-ounce reservoir. An independent hot-water dispenser makes it great for teas, too.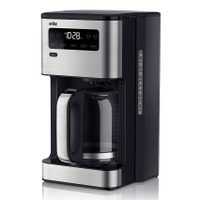 Braun PureFlavor FastBrew: was $89 now $77 @Best Buy
Not feeling too fancy? This no-nonsense Braun unit gets you up and out the door for under $80. But it's no slouch — it'll brew up to 14 cups of joe at a time. It has four different brewing options: regular, fast, bold and over ice. The touchscreen display lets you schedule your next cup up to 24 hours in advance.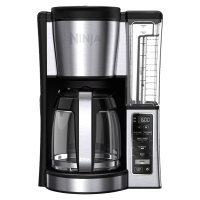 Ninja 12-Cup Brewer: was $99 now $79 @Best Buy
This attractive coffee maker uses grounds to brew up to 12 cups, and can be scheduled up to a day in advance. Fill up the removable water reservoir at the sink to avoid messes.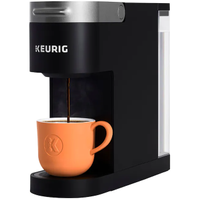 Keurig K-Slim Single-Serve K-Cup Pod: was $119 now $99 @Best Buy
When you just need a simple cup of coffee, this Keurig machine will do the trick. It has a compact design — less than 5 inches wide — and lets you choose from 8, 10, or 12-ounce pours.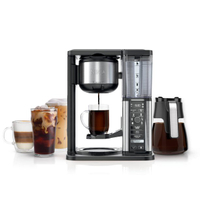 Ninja Specialty Coffee Maker: was $139 now $119 @ Walmart
This great Ninja deal will save you $10, and offer a rich brew experience. It comes with a fold-away frother to make cappuccinos, macchiatos, lattes and cold milk. It has six brew sizes ranging from a single cup to a half carafe, and an iced coffee function. For what you're getting, this deal is excellent value for money.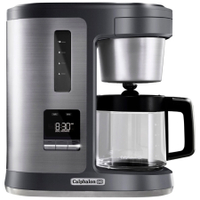 Calphalon Special Brew 10-Cup: was $159 now $134 @Best Buy
This stylish-looking machine lets you brew up to 10 cups up to 24 hours in advance, and features a strength and flavor adjuster for that perfect blend.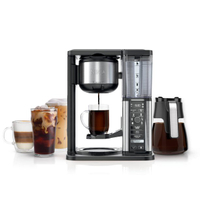 Ninja 10-Cup Specialty: was $169 now $159 @Amazon
This great Ninja deal will save you $10 and offer a rich brew experience. It comes with a fold-away frother to make cappuccinos, macchiatos, lattes and cold milk. It has six brew sizes ranging from a single cup to a full carafe, and an iced-coffee function.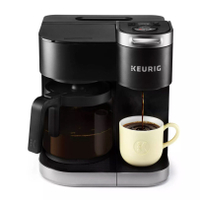 Keurig K-Duo Single-Serve & Carafe Maker: was $179 now $164 @Walmart
This Keurig coffee maker does double duty, brewing just a single cup when you need to start the morning, or a full 12-cup carafe when company comes calling. It works with both grounds and Keurig's own K-Cup pods and can be programmed to your daily schedule.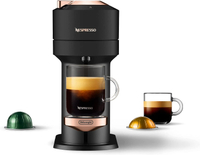 Nespresso Vertuo Next: was $199 now $179 @Amazon
Nespresso coffee fans will love this great deal. This stylish unit works with Nespresso Vertuo capsules, available in 30 aromatic blends. It can make delicious crema in various sizes, 5, 8, and 18-oz coffees, and single and double espresso. It uses a one-touch brewing system and looks luxurious in a black-matte rose gold.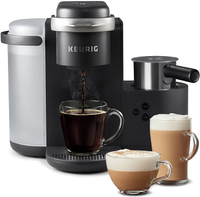 Keurig K-Cafe Single Serve K-Cup: was $219 now $179 @Walmart
If you're after an all-in-one coffee maker that can make delicious lattes and cappuccinos, this Keurig is a great deal. Just use any K-pod to brew coffee and much more. It comes with a large 60-oz. water reservoir that can make up to six cups at a time. It brews and heats at the same time and has a handy auto-off feature.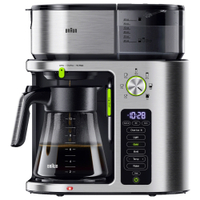 Braun Multi-Serve 10-Cup: was $299 now $195 @Best Buy
This impressive grounds machine uses Braun's ExactBrew system to optimize the water level, temperature and flow speed to your preferences. A handy flip-down tray holds a single cup, but the maker is tall enough to accommodate a travel mug.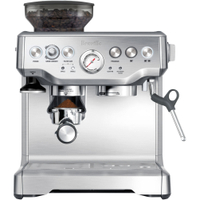 Breville Barista Express Espresso Machine: was $699 now $650 @Amazon
For the luxury coffee lover, there's the Breville Barista Express, which has 15 bars of pressure, a milk frother and integrated grinder. You can adjust the grind amount, choose from a single or doppio, and change the water temperature. Its stainless steel finish will make a real statement, too.
Should I wait until Black Friday to buy a coffee maker?
Not at all. As you can see above, major retailers, including Amazon, Best Buy and Walmart, are already offering deep discounts on all sorts of coffee makers, ranging from low-end drip machines to luxurious espresso machines.
That's not to say you won't find even more deals at more retailers on Black Friday itself (Nov. 26), but they probably won't be better deals.
Black Friday coffee maker deals — what to expect in 2021
Last year, there were plenty of price cuts across coffee makers during Black Friday. This included deals on popular brands such as Cuisinart, Keurig, Breville and Nespresso to name a few.
Amazon offered a $50 discount for the Keurig K-Slim coffee maker, which went down from $110 to $60. Walmart was selling the Nespresso VertuoPlus from $149 to $99, while there were other great deals on Best Buy and Home Depot.
This year, we can expect to see similar deals. In particular, discounts on the Keurig K Cup or K-Slim coffee makers, and offers from Breville, Ninja and Nespresso. As always, be sure to check in on there as we will be updating it with more great coffee maker deals right up until Black Friday.