Amazon Prime members have it pretty good these days. Not only can they take advantage of free shipping, Prime Gaming, Prime Video and more, but they also get a year-long membership to GrubHub Plus for free.
Still hungry for more? Amazon Prime members get 20% off GrubHub orders over $20 using the code "COZY20" at checkout. This offer is valid until February 14.
Note that the code only works once, and you must have an active GrubHub Plus membership through Amazon Prime for the code to work. (You can get free GrubHub Plus with your Amazon Prime membership by clicking the link below.)
For more Amazon deals, check out our Amazon promo codes.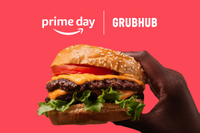 Grubhub Plus: 1 year free + 20% off @ Amazon
Prime members can get a year of GrubHub Plus for free. Normally priced at $9.99/month, that's a total savings of $119. GrubHub Plus gives you access to unlimited $0 deliveries on orders of $12 or more. Until February 14, you can use coupon "COZY20" to take 20% off GrubHub orders of $20 or more. The coupon can only be used once and you must be a GrubHub Plus member through Amazon Prime to take advantage of this deal.
If you need more convincing to sign up to GrubHub Plus, you should know that we rank it as the best food delivery service. It has a wide area of service that covers both local and chain restaurants. We also like the GrubHub interface — it keeps things simple and makes it easy to find the restaurants and dishes you're looking for.
With GrubHub Plus, you'll get $0 delivery fees on orders over $12 at eligible restaurants. There are also exclusive offers like free food or order discounts. GrubHub Plus usually costs $9.99/month, but Amazon Prime subscribers get a year-long membership at no extra cost.
If you're looking for more ways to save, check out our list of the 15 best Prime member benefits, or look at the Super Bowl TV deals you can score right now.