The UAE doesn't have a stellar record of internet freedom, and those visiting, working, or living in the country should definitely consider using a UAE VPN for Dubai. Whether you want to speak to your family over WhatsApp VoIP, access censored websites, or simply stream overseas TV, using the best VPN for UAE is the only way to do it.
With almost 40% of residents already using a VPN in UAE, it's clear that they're indispensable tools for day-to-day life in the Emirates. However, with so many options to choose from, choosing the best-performing provider can be a tricky job. My team of experts and I at Tom's Guide have reviewed and compared dozens of providers, and here I'll pull together the top 5 UAE VPNs for Dubai and Abu Dhabi.
These VPNs have been reviewed in terms of privacy, speed, unblocking, and of course, value for money. If you're looking for a quick answer, check out the 3 best UAE VPNs below – or keep scrolling to know everything about my 5 top-rated providers.
Note: For travelers, we strongly recommend installing a Dubai VPN before you leave home, as they may not be available to download when you're in the country.
The three best UAE VPNs at a glance: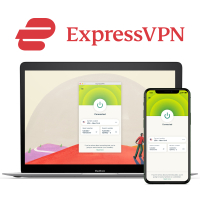 1. ExpressVPN – the best VPN for UAE and Dubai
ExpressVPN is at the top of my UAE VPN list thanks to great speeds, a wide server network, and class-leading privacy features. Robust apps and friendly 24/7 support make it a delight for beginners and experts alike.
Tom's Guide readers can enjoy 3 months of extra protection for free on signing up for the 12-month plan – and you're also backed by a 30-day money-back guarantee in case it's not for you.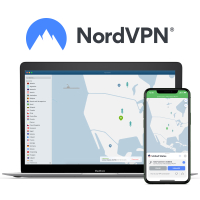 2. NordVPN – the fastest VPN for UAE
NordVPN is an excellent choice for streaming Netflix and other geo-restricted content in the UAE, thanks to top-notch unblocking powers, lightning-fast speeds, and a massive number of servers worldwide. With an in-built antivirus and an independently audited no-logs policy, it's security and privacy are also top-notch.
24/7 customer support and fairly simple apps mean that it's neck-and-neck with rival ExpressVPN for usability. Plus, usually sitting below the $3.50 mark, it's also good value for money, and you can even try it out risk-free with a 30-day money-back guarantee.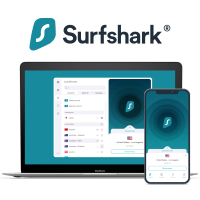 3. Surfshark – the best bargain UAE VPN
Surfshark is hands down the best budget UAE VPN, thanks to a sub-$2.50 per month price tag. Plus, with unlimited simultaneous connections, class-leading speeds, and rock-solid security features, there's more than enough power under the hood.
Exceptional unblocking powered by a wide network of servers and simple & easy-to-navigate apps across devices means that it's overall a very solid package for just about everyone. And, there's also a 7-day free trial in addition to the 30-day money-back guarantee so that you can try it out without putting any money on the line.
My list of the five best UAE VPNs for Dubai:
ExpressVPN: the best UAE VPN overall
Subscribe if:
✔️ You want a VPN you can set and forget: ExpressVPN's auto-connect feature means that you connect once, and you're always protected by a secure VPN line.
✔️ You want access everywhere: with servers in 94 countries and 160 locations worldwide, ExpressVPN provides unrestricted access to geo-blocked content, no matter where you are.
✔️ You want top-notch security: with AES-256 encryption, an intuitive kill switch, and handy add-ons like a password manager and ad-blockers, ExpressVPN is possibly the best security money can buy.
Avoid if:
❌ You want servers in the UAE: unlike some VPNs, ExpressVPN doesn't boast physical servers in the UAE.
❌ You're on a budget: although ExpressVPN delivers tremendous value, its pricing is steep, and I'd recommend Surfshark for those who don't want to break the bank.
❌ You want a Linux VPN: ExpressVPN only offers a command-line interface for Linux devices, not a GUI.
Bottom line: ⭐⭐⭐⭐⭐
ExpressVPN is my #1 VPN overall and an excellent pick for bypassing restrictions in the UAE and Dubai. It offers class-leading encryption, consistent speeds, and powerful unblocking alongside easy-to-use apps across the board, friendly 24/7 support, and an in-depth knowledge hub for help on the fly. Definitely should be on your shortlist.
From delivering excellent connection speeds worldwide to evading VPN-blocking technology, in my ExpressVPN review I found it to be an all-round package that delivers on every front – and because of that, I rate it the top VPN for Dubai and the UAE.
ExpressVPN provides excellent privacy, with AES-256 encryption, a selection of protocols to choose from, plus IPv6 leak protection and a kill switch. However, just keeping the apps on their automatic settings will provide the perfect combination of speed and security.
Alongside great privacy, Express is also great for unblocking geo-restricted streaming services – you'll be able to browse global Netflix libraries, Amazon Prime Video, Disney+, BBC iPlayer, and even access live sporting events from around the world.
All you need to do is select a server in a country of your choice, and you'll be able to stream it as if you were there in person.
The service maxed out a healthy 750 Mbps in my testing, which, although not the fastest I've seen, is still over 30 times the speed you'd need for streaming in 4K or Ultra HD – and much faster than the vast majority of domestic internet connections.
A UAE VPN should also have great support as restrictions seem to be constantly changing, and Express has perfected it. You'll be able to talk to a real person 24/7 – they usually reply in a matter of seconds – and ask them any question you want about the service. The best part? Express has a dedicated UAE page on its support site.
What really puts ExpressVPN above the competition, though, is how it combines these premium features and presents them all in a genuinely simple and easy-to-use package. The apps are totally plug-and-play, and even newbies can get protected in seconds – plus a 30-day money-back guarantee means you can test the service for free to make sure it works.
With over 3,200 servers in a whopping 160 locations around the world, including difficult countries like China, Turkey, and Russia, there's virtually no place ExpressVPN can't reach. That said, Express doesn't have servers in the UAE and only around it, such as in Israel – but this shouldn't be an issue for most users.
It's worth noting that Express only offers eight simultaneous connections – meaning you'll only be able to use the VPN on eight devices at a time. However, that should be more than enough for most people, and it's a sacrifice I'd be willing to make when Express's overall package is considered.
Swipe to scroll horizontally
ExpressVPN test results

| Feature | Comments | Rating |
| --- | --- | --- |
| Design | Simple and clean design with every option very easy to find | ⭐⭐⭐⭐⭐ |
| Ease of use | Ideal for both beginners and tech experts, thanks to simple customization options | ⭐⭐⭐⭐⭐ |
| Performance | Sufficiently quick for everything you may need it for | ⭐⭐⭐⭐ |
| Unblocking | Access to every streaming site I threw at it | ⭐⭐⭐⭐⭐ |
| Security and privacy | Rock-solid encryption, a verified no-logs policy, and nifty add-ons like ad-blocking | ⭐⭐⭐⭐⭐ |
| Customer support | 24/7 customer support with tons of helpful guides | ⭐⭐⭐⭐⭐ |
| Price | Quite expensive when compared to others options on the market | ⭐⭐⭐ |
NordVPN: the fastest UAE VPN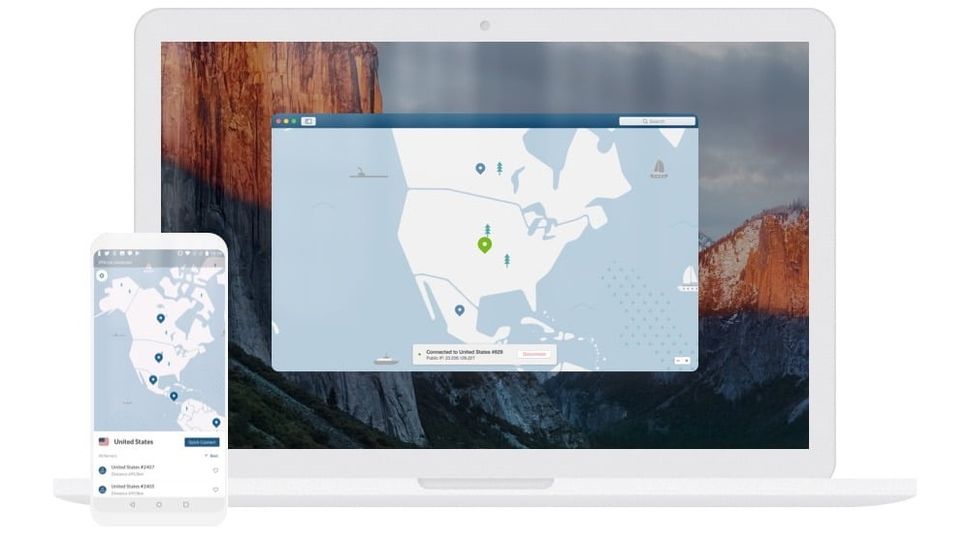 Subscribe if:
✔️ You need excellent unblocking in the UAE: NordVPN knocks it out of the park when it comes to streaming, unblocking every streaming site under the sun.
✔️ You want built-in antivirus: NordVPN is a complete security solution with a built-in antivirus, a password manager, and ad-blockers for extra safekeeping.
✔️ You want the perfect blend of cost and quality: Usually available at under $3.50 a month – and often less – NordVPN's great value considering what you get.
Avoid if:
❌ You want to protect a lot of devices: NordVPN only offers 6 simultaneous connections, and those on the hunt for a VPN for mass usage may be better off with Surfshark.
❌ You want a VPN for your mobile: Nord's map-style interface is slightly complex to deal with on a phone's smaller screen.
❌ You want servers everywhere: Nord is present in 60 countries and while that's quite good, providers like ExpressVPN and Surfshark offer better reach.
Bottom line: ⭐⭐⭐⭐½
NordVPN offers 360-degree security with essentials such as strong protocols and a strict no-logs policy topped up by built-in antivirus and password manager. It's also able to unblock every streaming site there is, inside and outside the UAE with zero buffering or ads, and priced below the $3.50 mark, it's excellent value for money.
There's a reason why my NordVPN review rated the service so highly, and one of the big name's strengths is its power as a UAE VPN. Unlike rival ExpressVPN, NordVPN boasts physical servers in the country – 5 of them – and its global fleet of over 5,000 servers is an excellent showing to go along with that.
Nord's security-focused approach pays dividends when it comes to staying safe in Dubai and the UAE, and its excellent encryption ensures your browsing stays truly private.
It's truly a one-stop solution for security obsessives, thanks to a built-in antivirus – Nord Threat Protection – that keeps malware, ransomware, and other digital threats at bay. Plus, with ad and pop-up blockers, you'll be able to enjoy a smooth and worry-free experience 24/7.
Alongside that, there are features like DNS leak protection, two kill switches, and Onion over VPN, which all combine to create a seriously solid security solution.
A highlight, though, is Nord's Double VPN, which routes your internet traffic through two servers instead of one, thereby both encrypting your data and changing your location twice, providing extra protection.
It's not all work and no play with Nord, though, as it has great streaming power, and you'll easily get through to Netflix, iPlayer, and more, plus other sites restricted by Etisalat and Du.
Great connection speeds – it topped out at over 950 Mbps in my testing – mean that you won't be waiting around, and apps for pretty much every device allow you to stay protected wherever you are. In fact, it was the fastest VPN I tested in my last round. Seriously impressive.
However, one of the few downsides is the design of the mobile VPN apps. They retain the map-based interface from the desktop clients, but on smaller screens, this doesn't work quite as well. This is a very minor issue, though, and one unlikely to cause any real problems.
A limit of 6 simultaneous connections is a little more irritating, and means that Nord isn't as tailor-made for individuals with lots of tech or families as some of the other services that come with eight or ten, or as in the case of Surfshark, unlimited simultaneous connections.
Although not quite as well-rounded as ExpressVPN, NordVPN provides an excellent UAE VPN service thanks to multiple physical servers in the country and great value. Highly recommended.
Swipe to scroll horizontally
NordVPN test results

| Feature | Comments | Rating |
| --- | --- | --- |
| Design | Intuitive and fun design, but it's not the most clutter-free | ⭐⭐⭐⭐ |
| Ease of use | The map-style interface needs some getting used to, especially on the mobile apps | ⭐⭐⭐⭐ |
| Performance | Blistering speeds, one of the fastest I've tested | ⭐⭐⭐⭐⭐ |
| Unblocking | Unrivaled streaming support with access to all kinds of libraries | ⭐⭐⭐⭐⭐ |
| Security and privacy | Well-rounded security thanks to a built-in antivirus and ad & pop-up blockers | ⭐⭐⭐⭐⭐ |
| Customer support | 24/7 customer support with lots of helpful guides | ⭐⭐⭐⭐⭐ |
| Price | Excellent value for money, but cheaper options are available | ⭐⭐⭐⭐ |
Surfshark: the best cheap UAE VPN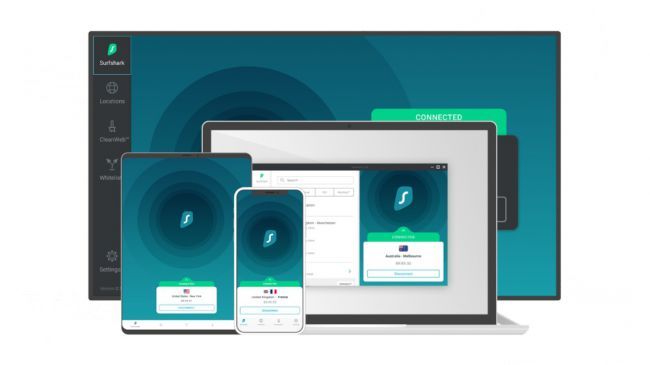 Subscribe if:
✔️ You want a fast UAE VPN: with speeds of over 950 Mbps, Surfshark is up there with the very fastest.
✔️ You want to protect tons of devices: Surfshark offers unlimited simultaneous connections, meaning there's no limit to the number of devices you can use it on.
✔️ You're on a budget: at less than $2.50 per month means that it's hard to beat how value for money Surfshark really is.
Avoid if:
❌ You want a foolproof kill switch: Surfshark's kill switch failed when I messed around with low-level settings. However, this is very unlikely in real-life usage.
❌ You want a VPN for torrenting: although Surfshark supports torrenting, it doesn't quite match up to the likes of ExpressVPN and other top providers.
❌ You want tons of configuration: Surfshark is clearly targeted at beginners and first-time VPN users, which means that tech enthusiasts may find it too simple.
Bottom line: ⭐⭐⭐⭐½
Surfshark is the best budget choice for those looking for a secure and fast UAE VPN. With unlimited simultaneous connections and near class-leading unblocking capabilities, it's in the upper echelon of VPNs fit for streaming geo-restricted content around the world. Powerful yet simple apps make it a delight for beginners, and a 7-day free trial plus a 30-day money-back guarantee means that you can try it risk-free.
For many, Surfshark could provide the perfect UAE VPN experience – it's simple cheap VPN, and gets the job done. While you won't have quite as many in-depth features of Express or Nord, you'll still have good security and great speeds to browse day-to-day – read my Surfshark review for more.
Surfshark isn't weak by any means, and with AES-256 encryption, Double Hop, and split tunneling, it actually offers a number of privacy features you wouldn't expect at this price point – great for staying anonymous if you want to browse restricted sites, which is a must in the UAE.
Although its kill switch isn't the most well-rounded that I've seen (it failed when I tested it under extreme pressure), there's hardly anything to worry about, as it's pretty reliable for normal day-to-day usage.
A core selling point, though, is Surfshark's unlimited simultaneous connections – you'll be able to log in as many devices as you want, and all that without a drop in privacy or performance.
What's more, a handy Camouflage mode will keep you hidden from VPN blocks and snooping UAE ISPs, and a unique NoBorders mode will connect you to the best-performing server under your current network restrictions.
For those looking to stream, Surfshark's got you covered. It's on par with the big hitters, and you'll be able to access Netflix, iPlayer, Hulu, and more without any buffering thanks to class-leading speeds of over 950 Mbps and servers in 100 countries, including servers in Dubai and Saudi Arabia.
In fact, Surfshark's a much better streaming VPN than many more expensive rivals. While its OpenVPN speeds are admittedly under par at a little over 130 Mbps, it's unlikely to be an issue, given that WireGuard is pretty much the norm now – although be aware that Camouflage mode (also known as obfuscation) is only available with OpenVPN.
Rounded off with simple, attractive apps, that's pretty much all you need to know about Surfshark – it's fully featured, great for streaming, and will keep you secure online.
It might not be a super-configurable powerhouse, but many users don't need that, and the Android VPN and iPhone VPN apps really stand out in terms of ease of use and functionality.
For less than $2.50 a month, I'm not complaining. And, in addition to the 30-day money-back guarantee, there's also a 7-day free trial, so make sure you try the service risk-free before committing.
Swipe to scroll horizontally
Surfshark test results

| Feature | Comments | Rating |
| --- | --- | --- |
| Design | Fun and intuitive design, superb for new VPN users | ⭐⭐⭐⭐⭐ |
| Ease of use | Both mobile and desktop apps score maximum points on ease of use | ⭐⭐⭐⭐⭐ |
| Performance | One of the fastest providers in my testing | ⭐⭐⭐⭐⭐ |
| Unblocking | Effortless unblocking and gets past every streaming site there is | ⭐⭐⭐⭐ |
| Security and privacy | Overall very secure but the kill switch could've been better | ⭐⭐⭐⭐ |
| Customer support | 24/7 customer support with an in-depth knowledge hub | ⭐⭐⭐⭐ |
| Price | Excellent value for money, one of the cheapest option | ⭐⭐⭐⭐⭐ |
Proton VPN: the best UAE VPN for accessing media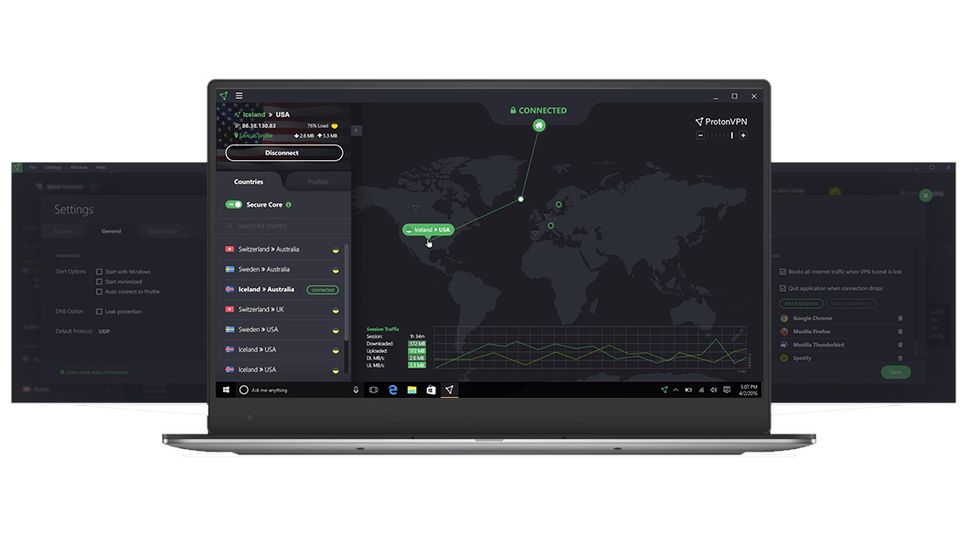 Subscribe if:
✔️ You want a super secure VPN for Dubai: Proton VPN is a delight for privacy purists, thanks to Secure Core servers, open-source apps, and physical servers in the UAE.
✔️ You want a VPN for Linux: Proton VPN comes with a graphical user interface (GUI) for Linux installations, unlike ExpressVPN, which only offers a command-line interface.
✔️ You want a free UAE VPN: Proton VPN has a free plan with access to 100 servers and unlimited bandwidth, which you can use for as long as you want.
Avoid if:
❌ You're on a tight budget: Proton VPN is an expensive pick and if you're looking for great value for your money, consider Surfshark.
❌ You're looking for a simple VPN: Proton's apps are well made and powerful, but beginners might find them a little intimidating.
❌ You want a free streaming VPN: while Proton VPN's free version is more than capable of day-to-day usage, it doesn't come with any unblocking abilities.
Bottom line: ⭐⭐⭐⭐½
Proton VPN is a UAE VPN that sets the bar quite high for what security in a VPN should look like – Secure Core servers, Swiss privacy laws, and open-source apps all boost reliability in what's a very secure service. Streaming support is on par with the big three, and there's very little it misses out on. Plus, you can give it a spin with the free version to make sure you like the apps.
Proton VPN has improved a ton since my last Proton VPN review, and now the Swiss privacy experts are contending with the best in the business.
A good UAE VPN should have its users' privacy at its heart, and that's exactly what Proton VPN does. With a verified zero-logging policy and powerful features like its rock-solid Secure Core servers and Tor over VPN, whatever you need to do, Proton does its best to keep you anonymous.
On that note, Secure Core is a very interesting feature. Functioning much like NordVPN's Double VPN, Secure Core routes your traffic through an ultra-secure server in either Switzerland, Iceland or Sweden, before sending you on to your location of choice. This is especially useful when connecting to regions like the UAE, Turkey or Iraq that have (a very small) potential to be compromised at the server level.
Besides the fact that it's based out of Switzerland, a country well-known for its strict privacy laws and one that's outside EU and US jurisdictions, all of Proton VPN's apps are open source, boosting transparency and reliability even further.
What's more, Proton VPN is actually one of the few VPNs to have servers within the UAE. It also recently cranked up its global server count to 3,000+ in 69 countries, meaning that it's closer than ever to what ExpressVPN and Surfshark offer.
The company recommends connecting to these servers with the Secure Core feature, and that means that you can do all your day-to-day browsing in private with your VPN connected.
In my testing, Proton VPN delivered top speeds of around 460 Mbps. that's not hugely impressive, even when combined with Proton's proprietary VPN Accelerator that claims to amp up server speeds by up to 400%. However, it's still more than capable of maxing out most domestic connections, so it certainly won't be slowing you down.
Proton's also excellent when it comes to streaming, and just about everything, including Netflix, iPlayer, Amazon Prime, and Disney+, is smooth sailing.
However, it's worth noting that Proton's free VPN plan doesn't come with unblocking capabilities, as they're exclusive to users of the paid plan – although the free plan does have a partnered server to allow anyone anywhere to access Deutsche Welle's unbiased news coverage.
Speaking of pricing, it's on the expensive side of things, and while it's still cheaper than ExpressVPN, those pinching for pennies will be better off with Surfshark.
One downside is the fact that Proton's live chat isn't 24/7, meaning that you may have to wait around if something goes wrong. However, that's a small complaint – and if having the most private VPN is your prime objective, Proton VPN will be perfect.
Swipe to scroll horizontally
Proton VPN test results

| Feature | Comments | Rating |
| --- | --- | --- |
| Design | Fun and dynamic design, with the dark mode stealing the spotlight | ⭐⭐⭐⭐ |
| Ease of use | The mobile apps are super easy to use, but the desktop apps may need some getting used to | ⭐⭐⭐⭐ |
| Performance | Not slow, but certainly not the fastest on the market | ⭐⭐⭐ |
| Unblocking | Access to pretty much every streaming site you'd like to watch, plus great ofor evading censorship | ⭐⭐⭐⭐ |
| Security and privacy | Excellent security thanks to open-source apps and Secure Core servers | ⭐⭐⭐⭐⭐ |
| Customer support | Doesn't have 24/7 live chat but no shortage of helpful guides | ⭐⭐⭐⭐ |
| Price | A touch more expensive than the others, but there's a free plan for limited usage | ⭐⭐⭐ |
VyprVPN: the best UAE for evading censorship
Subscribe if:
✔️ You want a reliable UAE VPN: VyprVPN's Chameleon protocol bypasses VPN blocks in restrictive countries like UAE and China with ease.
✔️ You want tons of simultaneous connections: VyprVPN offers 30 simultaneous connections, much more than top providers like ExpressVPN and NordVPN.
✔️ You want tons of server locations: despite being a smaller provider, VyprVPN has servers in over 70 countries worldwide.
Avoid if:
❌ You want a VPN that's fast: VyprVPN's speeds are mid-pack at best, and providers like Surfshark and NordVPN are head and shoulders ahead.
❌ You're on a budget: while there are no renewal hikes, a starting price of around $5/month means that VyprVPN isn't the cheapest around.
❌ You want to stream UK Netflix: VyprVPN gets past a good number of streaming platforms but UK Netflix is not one of them.
Bottom line: ⭐⭐⭐⭐½
VyprVPN is an excellent UAE VPN with decent unblocking powers and simultaneous connections. With fully-owned servers in over 70 countries and a unique Chameleon protocol for bypassing VPN blocks, it's a go-to solution for keeping your internet activities private in restrictive regions like the UAE and Russia. However, if you're looking for a real all-rounder, I'd recommend my choices above.
While it's a smaller provider, in my VyprVPN review, I found that it worked well in a number of different situations – and one of them is as a UAE VPN.
Like all the VPNs on this page but very few others, VyprVPN clearly states its ability to access restricted content. This commitment to help those in the UAE avoid censorship is a good sign and means it should be diligent when maintaining the service. What's more, Vypr is also a great China VPN, a country that similarly restricts its citizens' internet access.
With a unique Chameleon protocol that obfuscates your VPN connection and allows you to bypass VPN blocks, along with servers in over 70 countries worldwide, VyprVPN is able to unblock more sites than regular VPNs.
What's more, the company owns all the servers that it operates – there's no involvement of any third-party hosts, which translates to better privacy of user data.
VyprVPN prioritizes its users' security and has been verified as a zero-logging VPN – that means the service never collects any data that can identify users, which is important for personal privacy online.
You'll also get good connection speeds, and VyprVPN is effective at unblocking pretty much every streaming service, including the very popular iPlayer, Prime Video, and Disney Plus. Be aware, though, that in my testing it was only able to access US Netflix – not the UK, Canada, Japan or others.
VyprVPN's compatibility is pretty commendable too, and you'll be able to operate it on Windows, iOS, Android, Mac, and even Anonabox, Blackphone, and smart TVs. With over 30 simultaneous connections on offer, VyprVPN is an excellent choice if you're looking for an ultra-secure provider for your family or friends.
However, it's worth noting that if you sign up from the iOS or Android app, you'll only have 5 simultaneous connections to play with. Plus, with top speeds of only around 300 Mbps in my testing, it's not exactly a speed demon.
Compared to the rest on this list, VyprVPN isn't nearly as modern and polished, with a considerably old-looking UI and a recent price hike has taken it from one of the cheapest VPN services to one of the most expensive. It's priced at $5/month, and although there are no renewal hikes, it's nowhere close to the affordability of Surfshark or NordVPN.
However, if you find that other providers don't do the job in the UAE, VyprVPN is definitely worth trying out.
Swipe to scroll horizontally
VyprVPN test results

| Feature | Comments | Rating |
| --- | --- | --- |
| Design | Fun and interesting design with lots of neatly presented options | ⭐⭐⭐ |
| Ease of use | Simple enough for beginners, and tech experts will have a great time too | ⭐⭐⭐⭐ |
| Performance | Not quite as fast as a Surfshark or a NordVPN | ⭐⭐⭐ |
| Unblocking | Lots of server locations ensure decent unblocking | ⭐⭐⭐ |
| Security and privacy | Proprietary protocols, an independently audited no-logs policy, and fully-owned servers | ⭐⭐⭐⭐⭐ |
| Customer support | Quick email support and a very detailed knowledge hub | ⭐⭐⭐⭐ |
| Price | No renewal hikes make it a great catch | ⭐⭐⭐ |
Update notes
If you've visited this page before, you'll notice that the provider reviews are now much more detailed, with supporting elements in the form of boxes such as "Subscribe If" and "Avoid If" alongside each of them.
These boxes, in combination with a new "Test Results" table at the end of every review that contains one-line summaries of that particular provider's performance on core aspects, will help you pick the UAE VPN that best aligns with your needs, as they highlight the main draws and also the few minor misses of my top contenders.
Last but not least, I've also fact-checked and updated all pieces of information on the page, including a provider's server count, latest speeds, and simultaneous connections.
How to choose the best UAE VPN
A Dubai VPN should be well-rounded due to the wide range of uses in the country. For users looking to access VoIP services and avoid network restrictions, obfuscated servers that mask VPN usage will be essential. This is because if you're detected using a VPN, you still won't get access to the apps or sites you want.
The UAE also has a track record of blocking various sites with little notice, so having a VPN with a good history of being able to access restricted content is also essential. A robust support network is also invaluable in the case that something doesn't work as it should.
As always, privacy should be a priority. Staying anonymous is of utmost importance due to the government's strong opposition to VPNs, so quality encryption, zero-logging policies and a choice of protocols are signs of VPNs that take privacy seriously.
Topping my list is ExpressVPN. Widely regarded as the best UAE VPN for Dubai and the rest of the country, its stealthy servers, great speeds and excellent support mean it's a reliable way of accessing restricted content. However, there are a number of other options, so figure out exactly what you need from your VPN, and pick from our comprehensive list above.
UAE VPN FAQs
Are VPNs illegal in UAE?
No. Having a VPN is not illegal in UAE. Businesses rely on them too much for the government to ban them outright.
However, using a VPN to access restricted content is a grey area, and those using a VPN for the "purpose of committing a crime or preventing its discovery" risk a fine of up to AED2,000,000 – equivalent to over $500,000.
It is, however, fairly safe to say that the UAE is more concerned about preventing terrorism and large-scale crime than it is about individuals accessing restricted content – and we can't find any evidence of anyone ever being prosecuted for that reason.
We do not condone using a VPN to break the law. We also believe in the freedom of information and the internet. If you choose to use a VPN, for whatever reason, it's important to assess the risks to see if you think it's worth it.
Why do you need a UAE VPN?
People use VPNs in UAE for a number of reasons.
Firstly, internet access is censored and restricted, and a VPN can allow the user to access this content.
Secondly – and probably the most common reason – is that Etisalat and Du hold a monopoly on the VoIP market, meaning free apps like Whatsapp and Messenger cannot be used to call people for free. A UAE VPN can allow individuals to use these free services for a much lower monthly cost compared to the state-sanctioned providers.
Thirdly, streaming. With a VPN you can access streaming media, including Netflix, live sports, Hulu, BBC iPlayer and more. This is especially useful for expats as media from their home country is likely to be blocked. A VPN can virtually relocate them back home and give them access to this media.
What VPNs work in UAE?
Other than ExpressVPN, NordVPN, Surfshark, Proton VPN and VyprVPN, not many. Thanks to the UAE's tough restrictions on VPN usage, many VPN providers – including larger ones – have been effectively disabled. While they're great in the rest of the world, in the UAE and Dubai they simply don't work.
The five on this list mostly work thanks to obfuscated servers that can evade VPN detection. This basically means that anyone inspecting web traffic won't be able to tell that a certain connection is using a VPN.
While some other providers may work, we believe these five offers citizens and travelers the best chance at accessing what they want to when in the UAE.
Can you get a free UAE VPN for Dubai?
If you want a free UAE VPN, you should take a look at our rundown of the best free VPN services. However, from this list of the best UAE VPNs, only Hotspot Shield offers a free service.
We'd highly recommend using a paid-for service in countries like the UAE that have strict censorship laws. This is because in most cases you'll want to have your VPN switched on all of the time, and free services almost always come with data limits – PrivadoVPN Free gives you 10 GB a month, while TunnelBear Free provides a tiny 500MB a month.
Also, paid-for VPNs give you the widest selection or servers, and you can be absolutely sure that they'll consistently unblock sites. While a no-fee VPN might not cost any money, it might not work properly and, at worst, leak your information and compromise your online privacy.
Finally, all the best Dubai VPNs on this list offer at least 30-day money-back guarantees, so even though you will have to pay to get access, you'll be able to get your money back within 30 days if the service turns out not to be for you – no questions asked.