Best resistance bands: Quick Menu
1. The quick list
2. Best overall and value
3. Best alternatives
4. Best premium
5. How to buy
6. How we tested
The best resistance bands shouldn't be viewed as the next best thing when you don't have dumbbells, kettlebells, or other gym equipment to use. Our favorite resistance bands feature in our best home gym equipment round-up, alongside our favorite exercise bikes and more.
The Journal of Sports Science & Medicine explains that resistance band training could significantly improve your hamstring and inner thigh flexibility when used regularly. Moreover, other research has shown that resistance bands can be used to develop explosive power for strength training athletes. As long as your muscles are challenged under load, resistance bands could help you develop strength.
These little power bands could also improve flexibility or aid recovery if you're easing back into the gym. You can slide them into one of the best gym bags for outdoor workouts or loop your leg through them to assist with technical moves like pull-ups. They also help bridge bodyweight and strength training if you're new to the gym.
The best resistance bands come in a variety of strengths and some packs even offer different attachments like ankle cuffs, door jambs, or handles. For low-impact full-body workouts, we've tried and tested the best resistance bands on the market to help you decide which one is the best for you. And once you've chosen a set, why not try out the resistance band workout Chris Hemsworth used for Thor: Love and Thunder?
Best resistance bands overall and value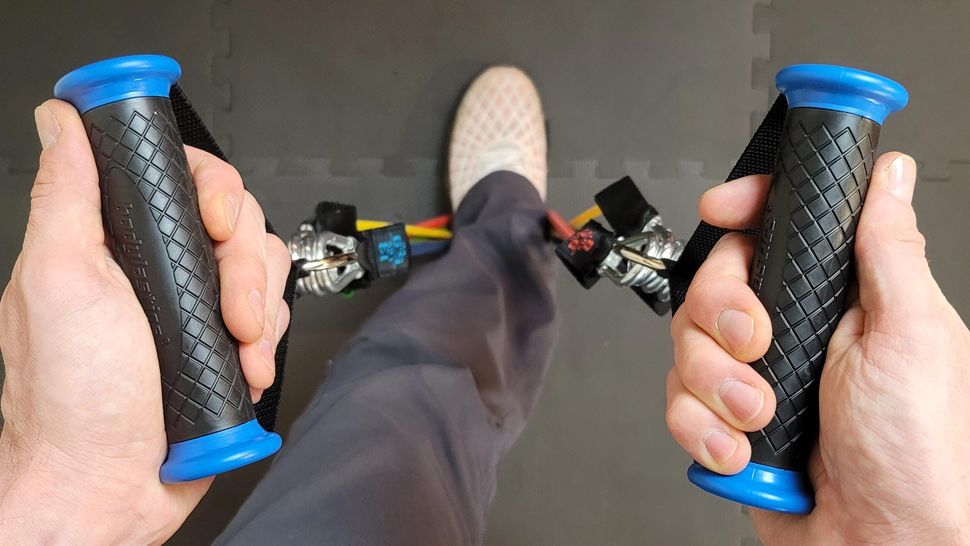 Best overall
Bodylastics resistance bands
Best overall
+ Comes with a variety of attachments and resistance
+ Internal cord to prevent breakage
- Exercises in the booklet supplied are limited
This kit has it all: in addition to the exercise bands themselves, it comes with a variety of useful attachments, including handles, ankle straps and a door anchor. The durable, anti-snap latex bands range in resistance from 3 to 30 pounds and can be used together for a total resistance of 404 pounds, depending on which kit you buy.
Everything comes in a tidy carrying pouch; the whole package weighs less than 5 pounds total. The best thing about these bands, in my opinion, is the patented anti-snap technology, designed to prevent overstretching and snapping during those more intense workouts. In my testing, each band felt strong as hell, and I never felt unsafe while stacking up the resistance levels. The ankle straps are comfortably padded, too.
Our rating: 4.5 stars
Best value
Black Mountain resistance band set
Best value
+ Can stack different resistance bands for more tension
+ Comes with extras
- Clips catch on bands
Utilizing a proprietary blend of synthetic and natural rubber, Black Mountain Products features commercial-grade grommets on their resistance bands, combined with durable nylon and double stitching on all seams. The metal clipping system makes these stackable bands easy to swap out the handles, which are grippy and built for comfort.
I was pleased to find that the whole kit comes with its own carrying pouch to house the included bands (five total, ranging between 2 and 30 pounds of resistance each), two handles, an ankle strap, a door anchor, and a handy starter guide, which outlines how to stack multiple bands on the handles for increased overall resistance. (For example, combining the red and black bands at once equates to roughly 40 to 50 pounds of total resistance.) All in all, that's plenty of bang for your buck.
Our rating: 4 stars
Best budget
Fit Simplify resistance loop bands
Best budget
+ Lightweight and extremely portable
+ Simple, easy to understand resistance rating
- Not long-lasting
While most resistance bands are generally affordable, Fit Simplify's best-selling set is almost shockingly inexpensive. The five loops range from "extra-light" to "extra-heavy" resistance and are made from heavy-duty, tear-free latex.
Fit Simplify Resistance Loop Exercise Bands are simply great for anyone looking to add a little more resistance to their HIIT routine. We appreciated the simplicity: each package consists of just five resistance bands in a nylon pouch; a short "use and maintenance" pamphlet is also included.
Be warned: these bands are built to (eventually) fail. According to the pamphlet, each band is rated for 9,000 individual stretches with normal use.
Our rating: 4 stars
Best alternative resistance bands
Best all-in-one
BodyBoss 2.0 home gym package
Best all-in-one
+ Whole workout package
+ Comes with a workout manual
- Range of resistance won't be for everyone
As the name implies, the BodyBoss 2.0 isn't technically a resistance band: it's a whole workout package. Of all the resistance band kits I've tested, this one is absolutely the most comprehensive. The whole package includes a foldable base (with retractable anchors for the resistance bands, which simulate 0 to 30 pounds each); two to four resistance bands (depending on which kit you purchase); two handles; two wrist/ankle straps (for cardio boxing); a door anchor; and a workout bar.
But that's not all. BodyBoss bundles its kit with a training journal, setup guide, and surprisingly robust workout manual (complete with color photo diagrams for each exercise).
Our rating: 4.5 stars
Best non-latex
TheraBand non-latex resistance bands
Best non-latex
+ Non-latex design and slip-proof
+ 4-inch bands comfortable against the skin
- No accessories
Many of the best resistance bands are made of natural rubber latex, but TheraBand's trio of synthetic rubber bands help those with allergies avoid hives or anaphylactic shock.
Unlike the other non-loop bands, however, there are no handles (or carabiner clips) on either end to grab onto; you can either wrap the resistance bands around your body as you grip them or tie them off into customizable sizes.
The beginner set we tested comes with three different bands (respectively rated at 4.3, 3.7, and 6.7 pounds of resistance each), but the advanced set ups the ante to 8.5, 10.2, and 15.3 pounds of resistance. Heck, it'd cost less than $50 to spring for both sets, which makes these resistance bands a damn good value, too. And while they look modest, TheraBands are the perfect addition to any home gym; they're more versatile than you'd expect.
Our rating: 4 stars
Best mini
Perform Better mini band loops
Best mini
+ Easy to understand loops
- Won't be large enough for all users
- Not suitable for anyone with a latex allergy
The Perform Better Mini Band set comes with four loops ranging from "light" to "extra heavy." (The tension range isn't listed, but is likely in the 3 to 30-pound range.) They measure just 9 inches in diameter, which ensures immediate tension, though larger-limbed people may find using them to be a bit intense.
Like the Fit Simplify bands above, the Perform Better Mini Band Resistance Loop Exercise Bands don't have any standout features in the design department. You'll get four light to extra-heavy resistance 9 x 2-inch bands, a single-page exercise pamphlet, and that's it.
The bands' tighter diameter does indeed put you to work right away. If you need more range for lankier arms and legs, the Fit Simplify bands might be a better choice.
Our rating: 3.5 stars
Best premium resistance bands
Best premium
SPRI Braided Xertube resistance bands
Best premium
+ Lightweight
+ Durable and strong
- No extras
Unlike every other resistance band on this list, which are essentially designed like oversized rubber bands, each SPRI Braided Xertube is composed of four separate bands braided together like a rope. They're lightweight, super durable, and easy to toss into a gym bag as you head out the door. The Tuff-Tube rubber is designed to take plenty of abuse, resisting abrasion and tears as you plow through your next arm day; according to the company, these are the toughest tubes on the market.
For nearly $30 per band, they darn well should be. While SPRI does offer a variety of resistance band kits, the Xertube design gets the premium treatment (i.e., they're sold separately, one band at a time). That being said, SPRI does offer a plethora of other useful gym gear to complement its bands, and after test-driving the Xertubes, I'd be willing to bet their other equipment is worth the extra spend.
Our rating: 4.5 stars
Best heavy duty
Serious Steel heavy duty resistance band set
Best heavy duty
+ Seriously strong and comes in bundles
- No accessories or instructions
- Not suitable for latex allergies
Serious Steel's Heavy Duty Resistance Bands come in six different varieties, and they're made with fused latex sheets for dead-serious tensile strength. The strongest band can withstand 150 pounds of tension, adding some extra "oomph" to those pull-ups, squats, deadlifts and leg presses. (The lower-level bands are fantastic for warm-ups and stretches, too.)
One look at the Serious Steel Heavy Duty Resistance Band Set, and I knew this company was playing for keeps. I tested out their two-band set that includes one 5 to 25-pound band, and one 10 to 50-pound band. Serious Steel offers six different bands in total and bundles them in packs of two, three, four, and six. You don't get any extra accessories or instructions with these resistance bands, but that's because they're marketed to people who already know what to do with them. I appreciate all the customization here because everyone has different fitness goals and needs.
Our rating: 4.5 stars
Best for Peloton
Hyfit Gear 1 Smart home gym system
Best for Peloton
+ Inbuilt Bluetooth sensors connect to an app for interactive workouts
+ Easy to see progress
- App subscription starts at $15 per month
Wearables have become a hot commodity in recent years, and Hyfit Gear 1 purports to be the first-ever smart strength-training resistance band. It comes with built-in Bluetooth sensors that connect to an app (available on both iOS and Android) to track repetitions, duration, force and calories burned. The adjustable bands are built to last, while the included accessories allow for myriad workout variations. Anchor the bands to utilize your full bodyweight, or loop them around your ankles to add extra tension to your squats.
The Hyfit Gear 1 is fairly new to market, but it's gaining traction in the fitness sector, and we're always interested in proper synergy between fitness and tech. (Judging from the company website, the Hyfit Gear 1 looks like the Peloton of resistance bands, complete with a monthly subscription.) We'll keep our eyes on this brand from afar. For now.
Our rating: 4 stars
How to buy the best resistance band for you
When deciding on which resistance bands you should get, price is usually a good place to start. Some hardcore resistance band kits cost upwards of $100, but you can get a decent set for less than $30. Personal fitness should never break the bank, especially when it comes to basic gym accessories at the beginner level. Nevertheless, you get what you pay for, and poor band construction is an eyeball injury waiting to happen.
As the name implies, these dead-simple gym accessories can add an extra challenge to various exercises; when leveraged properly, they can also provide assistance for more challenging exercises like pull-ups. The best bands are often stackable, so you can use multiple bands to increase total tension.
Resistance bands come in several basic styles, such as individual tubes, heavy duty superbands and mini bands; the best bands all depend on what you need them for.
Superbands are just what they sound like: giant rubber bands that instantly up the ante. Mini bands are much smaller, making them useful for physical therapy or just stretching out an achy limb. Tube-style bands have handles, and they're super for bicep curls, shoulder presses, lateral arm raises and much more.
Most resistance bands are made out of latex or rubber, so keep an eye out for allergy-free materials if your skin is sensitive to the former.
How we tested the best resistance bands
To see which are the best resistance bands, we performed a number of exercises, varying them based on the type of band we were testing.
For the mini bands on this list (the ones without any handles), we used one medium-tension band from each brand to perform two sets of 10 reps for lateral arm raises, and one set of 10 reps for lateral walks with a lower-tension band. For any tube-style bands (the ones with handles), we used them for two sets of 10 reps for bicep curls and chest presses.
We put the superbands through the same paces as the tubes, in addition to one set (10 reps each) of assisted pull-ups and another of resisted standard push-ups.
The methodology for testing these bands is by no means an exact science, but every body has a different fitness journey, and these things are built for adaptability.
More from Tom's Guide
Get healthy and in shape with our other fitness gear guides:
Wearables Best smartwatches | Best running watches | Best Garmin watches | Best sports watches | Best fitness trackers | Best cheap fitness trackers | Best Fitbit | Best cheap running headphones | Best running headphones
Workout equipment Best treadmills | Best adjustable dumbbells | Best home gym equipment | Best resistance bands | Best foam rollers | Best yoga mats | Best weighted jump ropes | Best smart scales | Best shoes for Peloton and indoor cycling
Apps and exercises Best workout apps | Best running apps | Best 10-minute ab workout | How to lose belly fat | Best tabata workouts | Best 30-minute workouts | Best beginner HIIT workouts