Planting down on one of the best yoga mats can transform your yoga practice or post-workout stretches, and you don't have to be a supremely seasoned yogi to benefit, either. Whether you're an advanced yoga teacher or still fine-tuning your downward dog, your yoga mat will become your new and trusted best friend.
We recommend doing your homework before investing in the best yoga mats as size, thickness, budget, weight and grip all matter. If you prefer to flow your way to yogi nirvana in a hot yoga class, lashings of sticky grip will help you get there, whereas anyone nursing sore knees might pick a plushly padded mat instead (check out this yoga for knee pain workout if that's you).
We grabbed this $10 accessory and got to work testing the best yoga mats out there, summarizing their pros and cons in our round-up below. Whether you're leveling up your inversion practice or simply improving your flexibility and mobility — we've got you covered. So rather than slide your way to your next warrior one, you can glide there with confidence instead.
Find out how to clean your yoga mat properly and discover this bedtime yoga routine with 14 million views to help you snooze more soundly, or read on for our best yoga mat expert guide including top tips for picking your mat.
The best yoga mats you can get now
Why you can trust Tom's Guide Our expert reviewers spend hours testing and comparing products and services so you can choose the best for you. Find out more about how we test.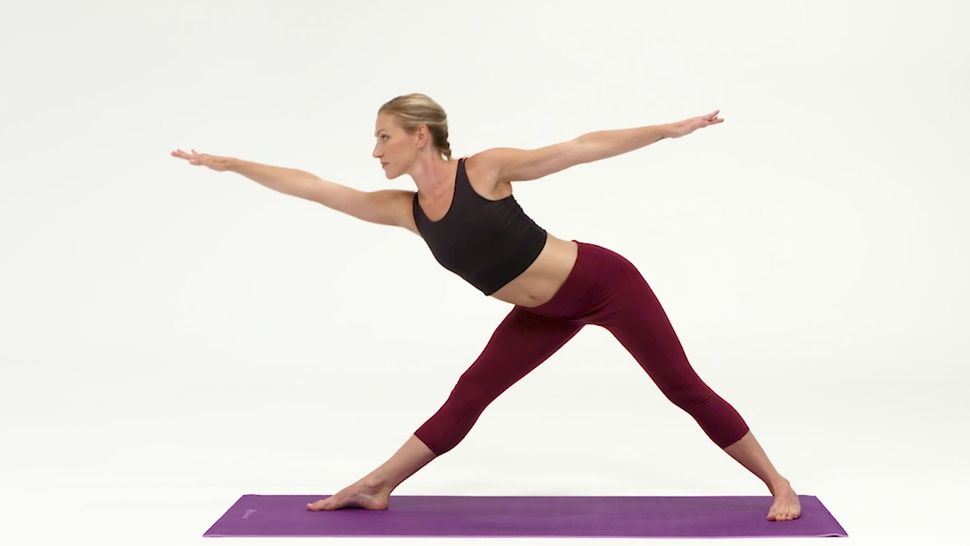 The Gaiam Premium 2-Color Yoga Mat is perfect for beginner and experienced yogis, as well as anyone looking for a fitness mat to work out at home. The 6mm-thick, PVC surface provides decent cushioning and is textured to be non-slip. The mat is reversible, so you can choose which of the two colors to use on any given day. If your mat doesn't hold for any reason, Gaiam also offers a lifetime guarantee.
Reviewers on Gaiam's website were impressed with the quality and "beautiful design" at such an affordable, reasonable cost. One reviewer said, "This is a great mat for a great price. It stays put, the material doesn't flake off, it's thick enough but not too thick and my hands and feet don't slide around. Very comfortable and vibrant colors." Another said, "This mat has lasted me a few years now and still looks new."
The extremely affordable BalanceFrom GoYoga mat has everything you need: double-sided non-slip surface, lightweight, easy to wash and clean and portable (a strap is included). The high-density, ¼-inch foam material ensures comfort for your spine, knees, elbows and hips. The moisture-resistant technology means you can sweat it out without worrying about slipping and injuring yourself. And the BalanceFrom mat is extremely cheap — though that means it will flake, tear and fall apart faster than other mats.
"I use it for more strength and core movements (pushups, burpees, bridges, lunges, etc) and also use sneakers on it often," one Amazon reviewer wrote. "For the beating that I put on these mats, I honestly think it's a great price." Another noted, "The mat is good quality for a low price, and definitely a worthwhile buy for anyone looking to dip their toes into a yoga practice."
If you're looking for a mat that's kind on the planet, the Manduka Eko Yoga Mat may be the best buy for you. Available in a selection of muted shades, it's made from natural, non-Amazon harvested tree rubber and is free from nasty plasticizers and toxic dyes.
It's biodegradable nature means it needs regular cleaning, plus monthly maintenance with rubber-restoring products, to keep it at its best. Provided that you limit sun exposure, avoid vigorous daily use, and store it in a carry bag, it's one of the most durable mats you'll find.
The Manduka Eko Mat is designed by yoga teachers which explains its near flawless performance. We found that the mat's 'catch-grip' technology gives the right amount of grip and flexibility to flow between poses. Note, it is worth keeping a towel to hand as the sticky closed-cell top surface won't absorb sweat, but this does mean the mat stays fresher for longer.
3/16" of thickness adds to this mat's luxe feel, however it is heavy at 5.9lbs so is best used for at-home yoga sessions.
The best yoga mat for hot yoga fans is the Yogi Bare Paws Extreme Grip Yoga Mat. It will stop you from slipping when a session gets sweaty and has etched in alignment markers to help you hit those poses.
The deluxe mat is biodegradable, vegan-friendly and made with fully sustainable materials, (including 100% recyclable packaging), so scores high for its environmentally-friendly credentials. Minor niggles are that it's heavy to carry at 5.5lbs, although you can buy a Yogi Bare carry strap to lighten the load. It also smells rubbery at first. That said, the benefit of this natural rubber and polyurethane blend is that it doesn't shift beneath you and offers plenty of support when used on all kinds of floor surfaces.
If you have extra sensitive joints or body aches and pains, the ProsourceFit Extra Thick Yoga Mat is one of the best yoga mats for you. The ½-inch foam provides comfortable cushioning even on hardwood floors and will be gentle on your knees, back and hips. The non-slip surface ensures a stable base for yoga, pilates and other workouts. The mat is lightweight and portable, thanks to an included sling, and can even be used as a sleeping mat when camping.
A reviewer on ProsourceFit's website wrote, "I love my new yoga mat and it's great for the wooden floor in my apartment. There's enough support for my knees and wrists when I do yoga classes at home." Multiple five-star Amazon reviews also pointed out the comfort factor of the mat. "After about a year into use as my yoga mat, I had a failed back surgery that left me in a lot of chronic pain. At this point, it became my favored mat for a ton of different activities."
Tall yogis or anyone wanting a little extra width when stretching will appreciate the dimensions of this outsized mat. The Cambivo Extra Long and Wide Yoga Mat measures 84" x 30", which we found to be a welcome upgrade from the regular-sized mats on test. Although we'll say that this roomy option is probably best for at-home yoga rather than for classes at busy studios that are short on floor space.
Not only is it large, the mat delivers on thickness, with 1/4" of padding that protects against injuries and feels soft underfoot. Considering its spec, it's no surprise that the mat weighs in on the heavier side, but a carry strap is included that helps with portability.
It could be off putting that there isn't a bigger choice of colors or designs, but if size is your main priority then you really can't go wrong with this buy.
For those who want to take one of the best yoga mats on the go, Lululemon's Reversible (Un) Mat is extremely lightweight. Roll it up and take it to the park for an outdoor workout, to the studio when class is back in session or on a trip when travel starts back up. The rubber base provides support and decent cushioning, while the polyurethane top absorbs moisture and sweat. Plus, the mat has an antimicrobial additive to prevent mold.
Overall, Lululemon customers are pleased with the mat's quality (though they did point out its initial strong smell). "This mat is perfect for me. It is lightweight and easy to clean," one reviewer wrote. Another added, "I needed something thin with grip that I could use for home workouts. My previous mat would get in my way when I'd do burpees. This one stays put!"
Environmentally-conscious yogis and fitness buffs will rejoice in knowing that the Jade Harmony Mat is sustainably made from rubber sourced from renewable rubber trees. Jade mats contain no PVC, EVA or other synthetic rubber. Plus, the company plants a new tree for every mat sold. The material provides a ton of traction and stability, which makes it one of the best yoga mats for sweaty workouts and hot yoga.
Reviewers on Jade's website also noted the mat's durability. "I've had my mat for SEVEN years and I still can't find a reason to replace it," one wrote. Another raved about the moisture-resistant surface. "This mat is perfect. I sweat buckets and almost never need to use my full-mat-length towel." It's the choice for quite a few yoga teachers, as well, as one explained, "Let's just say I have been teaching for ten years and absolutely love the harmony yoga mat! Unsurpassable quality, grip and comfort."
As its name suggests, the main selling point with the Super Grip Yoga Mat is its grip didn't disappoint when we used it during our regular hot yoga class. The grippiness of the mat also really helped during a HIIT workout and staying in position when doing press-ups, mountain climbers, and the plank. It also helped us keep our feet in place when doing lunges with weights, an exercise that often causes a lot of wobbling.
The trouble with its super stickiness, however, is that it also attracted a ton of dirt and fluff from the floor. This isn't too much of an issue and can be counteracted by regular cleaning and the use of a carry bag but it's a bit disappointing considering the price tag.
If you're looking for a multi-functional mat that works just as well at the yoga studio as in a HIIT class, then this is a solid investment. Resilient enough for daily use, it comes with a good amount of cushioning that should suit most yogis.
How to choose the best yoga mat for you
When shopping for the best yoga mats, there are a number of factors to consider, before buying:
Size and thickness: Most standard yoga mats are about ¼ inch thick, but you may want a thicker mat if you require more cushioning for your wrists and knees. If you're a taller yogi and don't want to go "off mat" while you practice, look for a longer yoga mat.
Grip: Will the texture and surface provide grip and traction during your class or workout? The last thing you want is an injury because the mat slipped mid-practice. Look for mats that are designed to be grippy without the need for a yoga towel if this is important.
Sustainability: If making sustainable choices is important to you, you should look into the materials of the mat and how and where it's made.
Odor: As for odor and visual appeal, those vary by the mat's manufacturer. Some of the best yoga mats have an initial unpleasant smell, which can dissipate after cleaning.
Cost: The best yoga mats come in a wide range of prices, from affordable, sub-$20 options to higher-end, brand-name selections. When it comes to cost, you may want to think about how often and how heavily you'll use the mat. If you're a dedicated yogi or you want to use a mat for HIIT workouts, you may want to splurge for a tougher mat that can hold up under the conditions.
Best yoga mats for hot yoga
If you prefer hot yoga (or you tend to get sweaty during workouts), the grip will be your single most important factor when choosing the best yoga mat for hot yoga. A thinner mat will also help you ground down better during balances and inversions because there's less distance between you and the floor.
Natural rubber tends to fare better in heat, and any brand that uses moisture-wicking materials will prevent slipping and bacteria build-up. You can often find this information on the brand's website. We love cork yoga mats for this reason, but they can be harder to clean.
It's best to consider the type of classes you prefer. Fast-paced classes will require quick transitions, so you'll need to balance a grippy texture with the ability to move with ease.
---
Get healthy and in shape with our other fitness gear guides:
Wearables
Best smartwatches | Best running watches | Best Garmin watches | Best sports watches | Best fitness trackers | Best cheap fitness trackers | Best Fitbit | Best cheap running headphones | Best running headphones
Workout equipment
Best exercise bikes | Best Peloton alternatives | Best adjustable dumbbells | Best home gym equipment | Best resistance bands | Best foam rollers | Best treadmills| Best weighted jump ropes | Best smart scales | Best shoes for Peloton and indoor cycling | Best water bottles |Best protein shakers | Tonal vs Mirror
Apps and exercises
Best workout apps | Best running apps | Best 10-minute ab workout | How to lose belly fat | Best tabata workouts | Best 30-minute workouts | Best beginner HIIT workouts | best yoga apps
---