17 Reasons to Skip WWE 2K17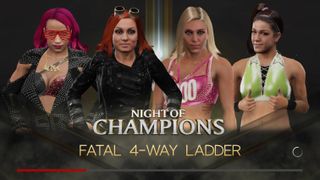 17 Reasons to Skip WWE 2K17
After hours of hate-playing WWE 2K17 (PS4, PS3, Xbox One, Xbox 360), I've come to the conclusion that it's not worth the retail price of $60 and that you may even be better off spending that money on a ticket to a live wrestling event. Sure, the game looks polished at first and there are tons of customization options, but you'll soon realize that 2K17 feels more immediately outdated than any chapter before it. With that said, here are 17 reasons to skip WWE 2K17.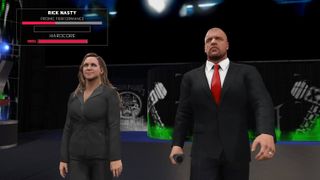 It's already outdated
WWE 2K17 arrived as relevant as an obsolete mule this year, thanks to the promotion's seismic Brand Split shakeup that split the roster between Monday Night Raw and SmackDown Live. This means that not only everything from the entrance stages to the iconography looks wrong, but also that the game is stuck with Triple H and Stephanie McMahon as The Authority, so Daniel Bryan and Mick Foley are missing as the General Managers of the shows.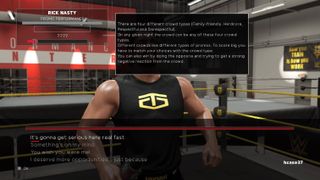 The new Promo Engine is terrible
A well crafted promo, the monologue delivered at an audience or another superstar, can be the key to developing a storyline or making a performer more engaging. Unfortunately, WWE 2K17's much hyped Promo Engine feature is terrible. Not only does it present your options in tiny text, but it's hard to know what option will get the best reaction.
The game forces you to choose between sparse, often inaccurate versions of what your character will actually say. You can't even easily predict how your promos will go over as crowd descriptions such as "Disrespectful" don't tell you enough. Maybe this is supposed to be difficult, as to show fans how hard it is to be a WWE superstar, but it sure isn't enjoyable.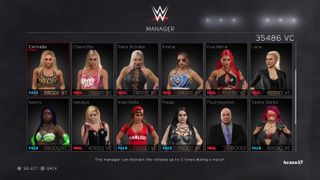 We don't say "Divas" anymore
The game's announcers still say "Divas" when talking about female wrestlers, another reminder that this game is woefully out of date. Earlier this year the WWE announced that it would retire the pejorative "Diva" term for its women performers, and call them superstars, just as they do their male counterparts. This game released late October, which should have given developer 2K Games enough time to go in and delete those lines of code. It did not.
2K17 Still Calls Female Superstars "Divas"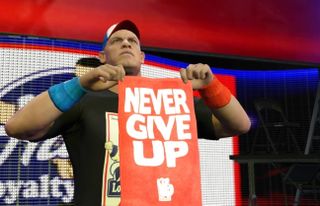 All superstars get treated the same
John Cena, 15-time world champion and star of Trainwreck, Sisters and now SNL, is known for many things. For instance, he's never, ever tapped out to a submission hold, which is such a big part of his character that the motto "Never Give Up" is plastered all over his merchandise. So imagine my surprise when my rookie Create-A-Wrestler character made Cena tap and the game's announcers treated it like just another day at the office.
If this game were made with care and attention to detail, Cena tapping either wouldn't happen or would be treated like something monumental. Instead, these moments happen with every superstar, turning them into generic, cookie-cutter punching bags.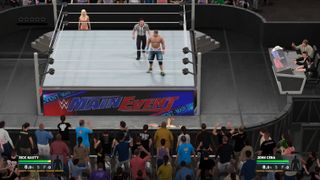 Nobody cares about Main Event
Here are the WWE TV shows that anyone actually watches: Monday Night Raw, SmackDown Live, NXT and 205 Live. Yet for some reason, Career Mode in 2K17 makes you compete on its least-known show, Main Event, which airs only on Hulu Plus. This isn't because new talent must suffer on this show as a rite of passage either, as it's a place the company sends talent to when it's bored of them, but doesn't want to fire anyone. Or, as a friend of mine said, "How many WWE fans will discover Main Event is a TV show because of WWE 2K17?"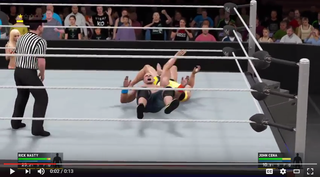 Commentary is all wrong
One of the best changes that occurred as a result of the summer's brand split was the promotion of Corey Graves to the Raw commentary team and the removal of Jerry The King Lawler from all announce booths. Unfortunately, you reap none of those benefits here, as the traditional (and grating) team of Michael Cole, JBL and Lawler do commentary for each and every show. And while each of them rambling incoherently is somewhat true to life, it makes for a grating experience.
Jerry The King Lawler and JBL still on Raw commentary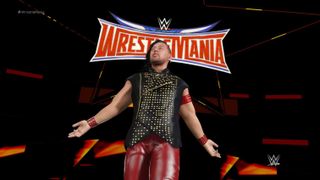 Too many characters are DLC-exclusive
$60 is a lot of money these days, but WWE 2K17 demands users pony up even more to get some of the most popular talents on TV today. For example Shinsuke Nakamura, the current NXT champion and one of the biggest signings that WWE pulled off in 2016 must be purchased separately, and doesn't even come included in the season pass you get with the deluxe digital edition ($90). That's right, in order to get Nakamura, the King of Strong Style, you need to pay another $10 for the NXT Enhancement Pack, which also gets you Apollo Crews and Nia Jax (both no longer with NXT anymore, by the way).
Shinsuke Nakamura Enters The Arena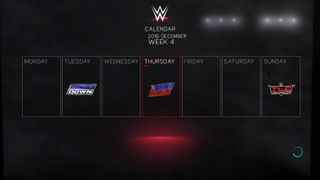 My Career Mode actually takes a lifetime
I've been playing My Career mode in WWE2K17 for months, to the point where my create-a-wrestler Rick Nasty has held the United States championship and decimated top stars including Brock Lesnar, John Cena, Seth Rollins and Kevin Owens. So why has Mr. Nasty not made a single appearance on Monday Night Raw yet? A superstar with this meteoric a rise should be rewarded with at least an interview on the federation's flagship program, as should the player who created them.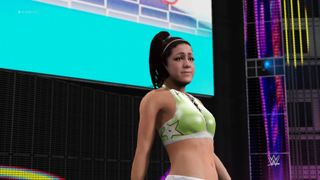 Iconic faces rendered terribly
Depending on which characters you select, you run the risk of getting shocked by terribly poor renders. For example, the always-cheerful Bayley's face looks as if she's been kidnapped and is afraid for her life. Even odder, body-builder Dana Brooke's got the cold, dead, glowing eyes of one of Game of Thrones' White Walkers. These differences may be funny at first, but are just a glaring reminder of how the game feels unfinished.
Bayley's Entrance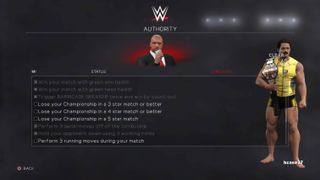 Impossible and terrible Authority Challenges
Stephanie McMahon and Triple H, the nefarious Authority faction that ran the WWE on-screen (or at least they did, back before the brand split), love to play favorites, and WWE 2K17 is the latest chapter that asks you to complete Authority Challenges in matches to win favor with them. Unfortunately, challenges such as "Win by DQ" can be next to impossible to do, as they require you to get your opponent to do something nefarious, which won't happen if you're fighting a good guy or gal. Also, Authority Challenges that ask you to lose a match (or worse, your championship) feel tantamount to the infamous Finger-Poke-of-Doom moment.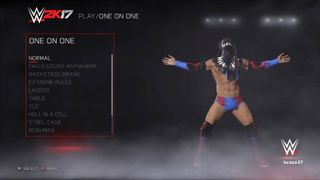 No Showcase Mode
Usually, WWE's 2K games feature a mode where you play through a series of matches that walk you through the career of the superstar on the cover. You get no such mode this year, though it probably wouldn't be challenging to play through Brock Lesnar's career of mauling his opponents.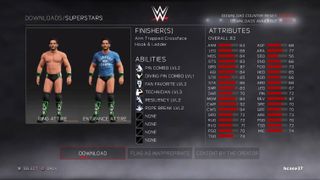 Established Talent MIA
Die hard fans who would pay $60 or more for a WWE game are probably familiar with Johnny Gargango and Tomasso Ciampa, the current NXT Tag Team Champions that are also known as DIY. The duo have worked wonders in both NXT and the Cruiserweight Classic and were involved with at least two of the most memorable matches of 2016. Unfortunately, they're nowhere to be seen in this game. While WWE fans may be used to this (Sasha Banks was missing in 2K16), and some may excuse it because DIY had been splitting their time in WWE and independent promotions, it's getting harder and harder to ignore the lack of important superstars.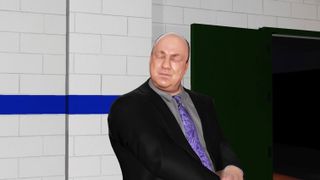 It takes forever to become a Paul Heyman guy or gal
Super manager Paul Heyman may appear in My Career mode to talk to you in the hallways, but unlocking him as your manager requires that you complete Heyman Guy Challenges (hold a championship belt for 365 days, win 12 Wrestlemania matches in MyCareer mode, win ten titles) that might outlast the game itself. Not only is this annoying, it doesn't make sense. Heyman is known to jump onto rising stars early, not buy-in later on.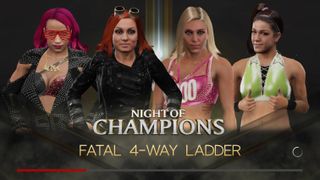 Bad hair days forever
Video games over the last years have evolved so that long, flowing manes of hair can move realistically. Unfortunately, that technology isn't present in 2K17, as Sasha Banks' signature fuchsia locks render as clunky and as chunky as the dreadlocks that Finn Balor wears when he's The Demon King.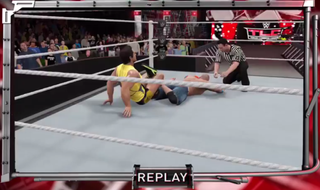 The submission mini-game still sucks
Surviving an opponent's submission hold is still incredibly hard, as the joystick-mashing mini-game introduced in 2K15 is still here. The high-degree of difficulty punishes new players who haven't logged hours of gameplay, likely limiting the base of people who actually want to play the game.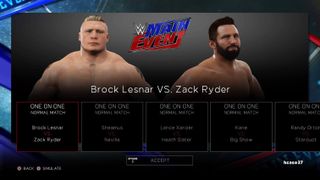 Who's booking this thing?
If you pay attention to a random night's card (the lineup of matches) in WWE2K17, prepare to laugh harder than Paul Bearer at a funeral. Of all the moments I found most hilarious, Brock Lesnar performing on Main Event had me cackling the hardest. Lesnar barely appears on Raw, WWE's flagship program, much less a Hulu-exclusive side show.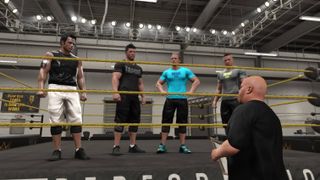 Training sessions make no sense
When your create-a-wrestler starts out in NXT, head trainer Matt Bloom yells at them to be a better wrestler, and to have more entertaining matches. Taken at face value, though, these things don't make sense, as what the game really wants is for you to win these practice matches. This might be well and good for someone who believes in wrestling, but there's a suspension of disbelief if you know its all predetermined.