10 Best Video Game Couples of All Time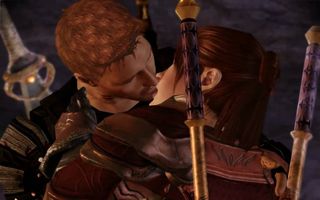 The game of love
They don't call it "the game of love" for nothing! From comrades-in-arms to rescued princesses and everything in between, romance blossoms in video game stories time and time again.
Of course, whether you're team Freeman-Vance or team Mario and Peach, everyone has an opinion about which couple is best. Just Google "Tifa or Aerith" and you'll see what we mean. But the following 10 couples' love will always have a place in our hearts and on our game consoles.
Spoilers beyond this point!
Email jscharr@techmedianetwork.com or follow her @JillScharr and Google+. Follow us@TomsGuide, on Facebook and on Google+.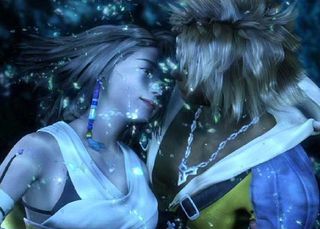 Tidus and Yuna, "Final Fantasy X" (2001)
You think your long-distance relationship is hard? The star-crossed lovers of "Final Fantasy X" don't just come from different worlds — Tidus is a fictional character from the dreams of a long-dead civilization who shouldn't exist in Yuna's world.
MORE:12 Best Mobile RPGs
Between her suicide mission, his reality-hopping, and the gigantic monster itching to destroy the world, their love is about 10 different kinds of doomed, but Tidus and Yuna's love is so powerful that it almost — almost — makes the crazy plot of "Final Fantasy X" make sense. Also, if you didn't cry at the end of this game, you might be dead inside.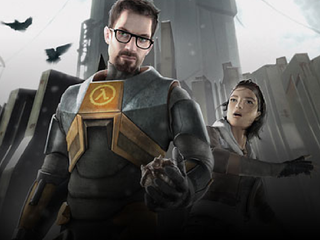 Gordon Freeman and Alyx Vance, the "Half-Life" series (1998-2007)
Fighting off interdimensional alien invaders might not sound like a good time, but in "Half-Life 2" (2004) it was the start of a beautiful friendship between theoretical physicist Gordon Freeman and hacker Alyx Vance that, over the course of the following two games, blossomed into something more.
Gordon Freeman's lips are sealed on the subject, but everyone else in the "Half-Life" video game universe knows that when he and Alyx Vance aren't shooting Combine soldiers, they're doing a little combining of their own. In "Half-Life 2 Episode 2," Alyx's father even asks when he's going to get grandkids!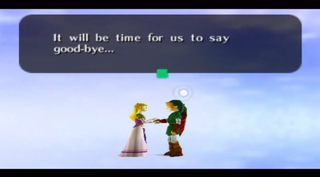 Link and Zelda, "The Legend of Zelda: Ocarina of Time" (1998)
In the more than 10 "Legend of Zelda" games in which they appear together, Link and Zelda aren't always lovers. But in "Ocarina of Time," their romance spans a childhood friendship, a classic save-the-girl plot, enough cross-dressing to make Shakespeare proud and a long-awaited team-up against the evil king. But after defeating the villain, Zelda decides to use her power to rewind time by seven years, undoing the evil king's destruction as well as Link and Zelda's adventures together, and turning them into children once more.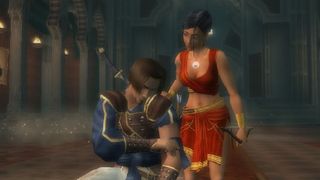 The Prince and Farah, "Prince of Persia: Sands of Time" (2003)
These two didn't start on the best of terms — his army sacked her city and took her captive — but when the evil Vizier threatens to destroy the world, the Prince and Farah are forced to work together.
MORE: 20 of the Hottest Video Game Babes
Along the way the two slowly fall in love, but when Farah dies trying to save the Prince's life he uses the Dagger of Time to rewind back to before the two even meet. After defeating the Vizier once and for all, the Prince leaves Farah, now alive but with no memory of him — but not before astounding her with a whispered secret he shouldn't possibly know.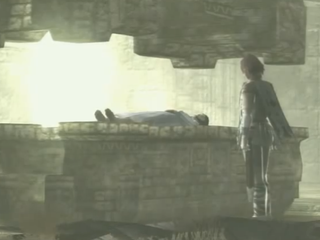 Wander and Mono, "Shadow of the Colossus" (2005)
When the game begins with Wander swearing to a bodiless and mystical entity that he'll do anything to bring the already-dead Mono back to life, you just know this can't end well. At the entity's behest, Wander kills the mysterious colossi, and at first it seems to be working — color slowly returns to Mono's cheeks and at times he can hear her voice — but the colossi contain a power that slowly corrupts Wander's body even as it heals Mono's. After the last colossus falls and the dust settles, Mono awakens at last — only to find herself in a strange castle, trapped and alone.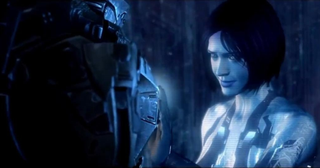 Master Chief and Cortana, "Halo 4" (2012)
Is an artificial intelligence capable of love? For that matter, is Master Chief? Throughout the "Halo" series, the supersoldier known only as John-117, aka "Master Chief," has never been without his A.I. companion Cortana.
MORE:10 Most Graphically Stunning Games of All Time
The games never overtly address romantic feelings between the two, but in "Halo 4," when Cortana's program reaches the end of its functional life span, Chief drops everything to try to save her — and fails. Cortana dies defeating the Forerunners' new commander, and uses the last of her strength to form herself into a hard-light construct capable of touching Chief for the first — and last — time.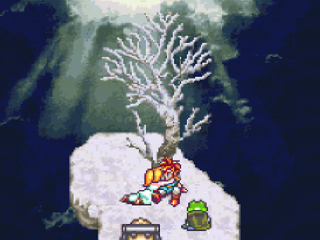 Marle and Crono, "Chrono Trigger" (1995)
She's a princess bored with palace life, he's a village boy with a friend who makes time machines. What could possibly go wrong? After narrowly escaping a case of 400-year-old mistaken identity on their first trip through time, Crono, Marle and their friends find themselves face-to-face with a future apocalypse.
MORE: Best Game Console Emulators for Android
Their quest to change that future ends up costing Crono his life, but (if the player chooses) Marle finds a way to change the past, bringing Crono back just in time for the two and their friends to change the future together.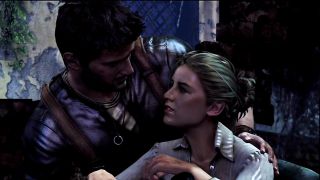 Nathan Drake and Elena Fisher, the "Uncharted' series (2007-2011)
From flirty swashbucklers to estranged divorcés and back again, Nathan Drake and Elena Fisher's tumultuous relationship hits just about every emotional note you could ask for. The two meet when Nate tries to trick Elena into funding his latest treasure-hunting expedition. It only goes downhill from there, but though they have to leave the treasure behind, Nate and Elena find the silver lining.
These two are smart, busy people, and sometimes their lives get in the way of their relationship. But whenever that happens, all it takes is another life-or-death adventure to remind them how much they mean to each other.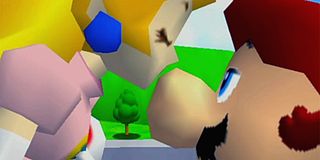 Mario and Peach, the "Mario" series (1985-present)
The undisputed prom king and queen of video games, Mario and Peach have been in love since they first appeared as Jumpman and Pauline in the 1981 arcade game "Donkey Kong." Since their official couple's debut in "Super Mario Bros." (1985), Mario and Peach have appeared in dozens of games together, and for all that time the princess and the plumber have had eyes only for each other.
And it's not all saving Peach from the evil Bowser that keeps them together. Both Mario and Peach share a lot of hobbies, from tennis to go-karting. They also throw a whole lot of parties, too.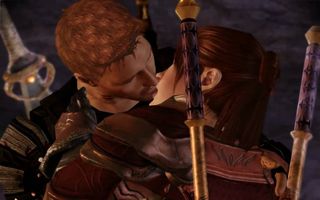 Alistair and You, "Dragon Age: Origins" (2009)
Of all the wonderful possible couples in the "Dragon Age" games, no couple won more hearts — and then broke them — than Alistair and the player character. If you're playing as a female Gray Warden (or a male, with the help of a mod), Alistair isn't afraid to make the first move — that is, if you've waited long enough to let him.
MORE:20 of the Hottest Video Game Hunks
But Alistair isn't just a pretty face — he has opinions about the way your actions shape the kingdom of Ferelden, and he knows that sometimes love doesn't conquer all.