Tips and Tricks for Android Browsers
Browsing On the Go
A significant (and growing) number of people are surfing the internet from a mobile devices running Android, and not all of them are using the stock Android browser. In fact, there are a whole host of third party browsersavailable across the various Android platforms, each with its own unique quirks and features. Today, we'll take a look at a bunch of interface tips and tricks you might want to be aware of when looking at a range of common Android browsers.
Cross-Platform Syncing
Browser syncing is a feature that tries to bridge the gap between desktop and mobile browsing by allowing you to sync your bookmarks, and sometimes even entire browsing sessions, across two devices. Google Chrome, for example, allows you to sign in with your Google account on both desktop and mobile browsers, which in turn allows you to access your desktop bookmarks while on your smartphone, and vice versa. Additionally, you can sync your open tabs in the "Other Devices" section whenever you open up a new tab. This allows for near seamless switching between desktop and mobile browsing. Many other browsers, such as Opera and Maxthon, include similar browser syncing or cloud tab functions.
Reader Mode
Some mobile browsers, such as Firefox, or Kindle's Silk browser, feature a "Reader Mode" for trimming off clutter. This includes banners and other formatting fripperies that get in the way of a clean read. Alternatively, you can also reduce clutter with add ons like AdBlock (provided you're using a browser that supports extensions). More on extensions later.
Addons
If the built in functionality of mobile browsers isn't enough, a number of browsers, such as Firefox (which pioneered plugins on the desktop) and Dolphin, include the option to install extensions in order to provide extra features. Added functionality ranges from tweaking appearances to the ability to save webpages as PDFs. There's even mobile versions of some of our favorite desktop extensions, like AdBlock Plus.
Request a Site's Desktop Version
A number of websites now include mobile-friendly versions that offer a reduced level of content and features in order to avoid unduly straining the resources of a tablet or smartphone and to limit the data required to load pages. Unfortunately, sometimes, the trade-off is functionality. However, your gear is good for it, you can set manymobile browsers to request the full desktop version of a website. While you might get a website interface that requires more resources to load and isn't designed with a touch interface in mind, it does offer full functionality. You can, for example, load up Microsoft Office Web Apps and edit documents, rather than simply reading them from the mobile site.
Home Screen Bookmarks & Widgets
Just about every mobile browser has its own way of handling bookmarks in order to meet the challenge of the touchscreen. Still, one thing that you can do with just about any of them is simply save the bookmarks as icons on your home screen. Another common browser feature that is easily overlooked is a bookmarks widget that you can pin onto your screen for easy access.
Incognito / Privacy Mode
Another desktop browser feature sometimes forgotten by mobile users is Incognito / Private / Privacy Mode. When enabled, this feature does not track your search or browsing history and removes any cookies associated with the Incognito browsing session. It's great for the paranoid and for those who want to conceal searches or browsing on a shared device (such as when gift shopping for a loved one). Chrome, Maxthon, and Dolphin are just a few of the browsers that feature some sort of Privacy Mode.
Your Browser's Interface Quirks
Good apps don't just attempt to copy the desktop experience. Instead, they try to take advantage of the unique interface offered by a smartphone or tablet. Each browser has its own quirks and features designed for the smaller touchscreens of smartphones and tablets. These include tab management through pulldown menus and buttons, Dolphin's customizable gesture bookmarks, or Chrome's voice-activated search.
Data Compression
Some mobile browsers, such as Opera and UC Browser, also include data compression as a built-in feature, allowing users to squeeze more out of a tight data plan or load large files, sites, and media that much faster. Opera's Turbo Mode is a great example. It features data compression and download acceleration, can be configured depending on the browser. Opera Mini automatically defaults to Turbo Mode in order to speed up the browser, while the more fully featured Opera Mobile allows you to have it engage when away from a WiFi connection.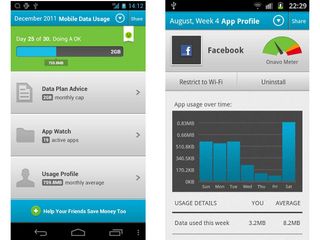 Get A Data Monitoring App
If you're on a limited data plan, you will probably want to get your hands on a Data Monitoring application in order to track your data use so that you won't be surprised when you come close to (or exceed) your cap. Let's face it, "bill shock" sucks. There are a host of free and premium apps that provide these features, such as Onavo Count. Best of breed apps can allow you to set your billing period, track how much of your data allowance you've been using, which apps are data hogs, and can even warn you when you're coming close to your data cap.
Onavo Extend
Even if you don't have data compression built into your browser, you can still shrink your data usage a bit by using Onavo Extend, an app which detects when you are away from WiFi and then compresses incoming data such as photos, videos, and app data. By reducing your data usage, therefore extending your data plan, allowing you to do more browsing away from WiFi networks, as well as saving you from extra charges.
Do you have any favorite tips or interface tweaks for getting more out of your favorite Android browsers? Feel free to share them with other users in the comments section below.