20 Blackberry Games Worth Playing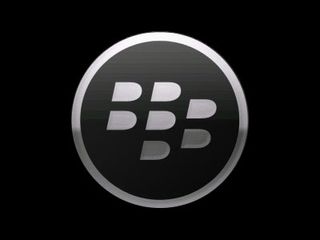 All Work and No Play Makes for a Boring Blackberry User
BlackBerry smartphones made a name for themselves as a productivity tool, helping users stay on top of work no matter where they are. Yet like any other kind of smartphone, RIM's products are portable computers. They're not only capable of helping users process emails, contacts, and appointments, but have some fun as well. What follows are twenty BlackBerry Games Worth Playing.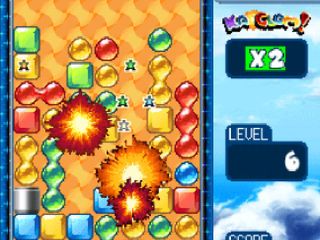 Ka-Glom Free
Here's a classic puzzle game that longtime BlackBerry users have spent hours on. In Ka-Glom players strategically move blocks around, causing explosive chain reactions to clear as many blocks as possible. With two game types, the speedy Survival mode and its more ponderous Puzzle counterpart, even BlackBerry newcomers will get hooked.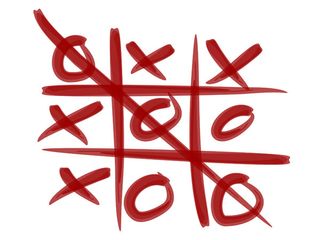 Tic Tac Toe
It's a game that any good player will tie at worst. Movies, university professors, and scholars have held up Tic Tac Toe as the ultimate example of "sometimes the best move is not to play". But as a mindless time-waster, few games are as simple as this X's and O's classic.
GT Warship Online
Battleship is another classic, where players take turn firing at their enemy's grid to find and sink the opposing fleet. Play it against a computer, and you'll find the artificial intelligence too regular and "cold". But join a claimed online community of 1.3 million players, and you can face off against living, breathing opponents—bringing their all-too-human quirks to keep things interesting.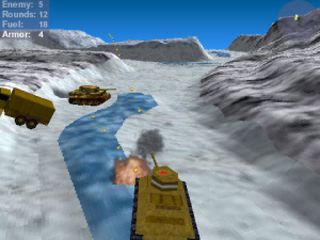 Tank Ace Lite
In Tank Ace, players command a World War II-era tank on a destroyable 3D landscape. Available for use are the famous Allied Sherman, the Soviet T34, and the German Tiger. With two things to keep track of—where the tank is going and where the turret is aimed—this tank simulation promises a unique challenge for desktop warriors.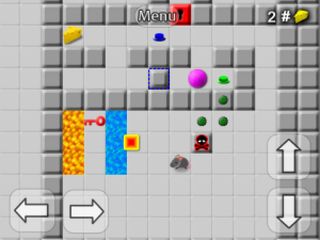 Rodent Rush
Rodent Rush players may notices similarities with the classic Chip's Challenge. Players have to maneuver a rat through a series of mazes, while avoiding traps and deadly enemies. Along the way the rat will have to pick up cheese and sometimes keys to unlock each level's exit.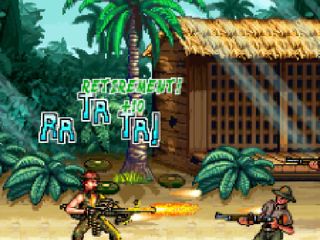 Chuck Norris: Bring on the Pain
Even if the Boogeyman doesn't check his closet for famous martial artist Chuck Norris, Bring on the Pain promises a blast—literally! Faced with an endless army of evil soldiers is some random tropical country, Norris will rely on his martial art skills, firearms expertise, and even ability to lift entire vehicles to rescue hostages and prevail. If you've ever wanted to become the classic 80s movie action hero, here's your best chance.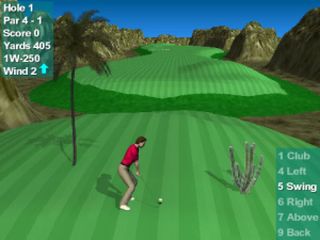 Par 72 Golf Lite
Golf sounds simple enough—put the ball into a hole in as few shots as possible. But this is an old game that's hard to master, which will become apparent for players of Par 72 Golf Lite. With realistic wind, hill, and slope simulations, plus three different mountain, desert and seaside settings, This BlackBerry game captures the challenge of keeping your score down for the mobile device.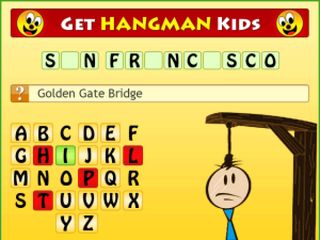 Hangman
The classic word game, Hangman challenges you to get things right within a limited number of guesses. Select the right letter, and it's shown where it appears in the word or phrase, assisting future suppositions. Choose the wrong letter, and you bring a virtual convict closer to his date with the hangman's noose. How well do you do with incomplete information? This is a great way to find out.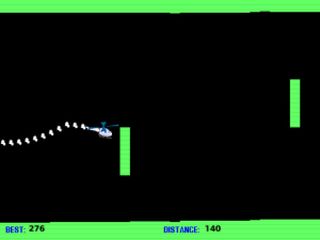 Copter
The controls are super-simple: hold a button down to make the helicopter go up, let it go to make the 'copter go down. The challenge is keeping the helicopter flying for as long as possible, maneuvering it to avoid obstacles, the floor, and ceiling.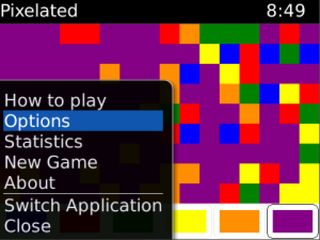 Pixelated
A complicated version of Reversi of sorts, Pixelated is another color-based game. Players change the color of squares, winning when they change all squares to the same color. The only limitation is that players can only work with squares beside other squares they've already touched (all games start with the upper-left square).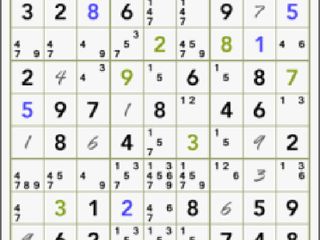 Sudoku Lite
Sudoku is ubiquitous enough that you're probably familiar with its mechanics: fill up a 9 x 9 grid, so that each row and column has only one instance of each number from 1 to 9. Think of it as a crossword but with numbers instead of letters. Players can choose from three different difficulties, with ten levels per respectively. How fast are your number-sorting and logic skills?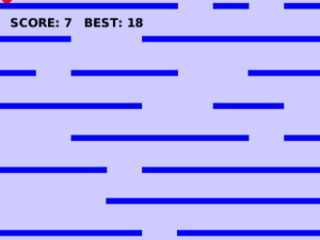 FallDown
In FallDown, players need to maneuver a ball through a series of constantly-rising levels. Direct the ball so that it falls through holes and avoid getting crushed at the top of the screen. The longer you stay alive, the more points you score.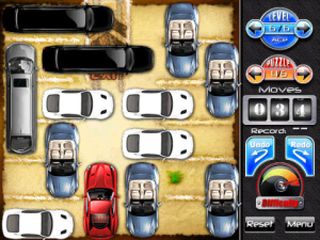 Aces Traffic Pack Classic
A contemporary version of another classic that has appeared on early mobile devices, Traffic Pack turns a congested parking lot into a game. Players need to maneuver cars, vans, trucks, and even stretch limousines, clearing a path for their own vehicle. With over 40 puzzles that get progressively harder, this puzzle game is guaranteed to tie up many hours.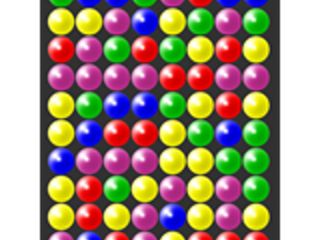 Bubble Breaker
In this game, players pop bubbles by tapping on them on touchscreen BlackBerrys or selecting them with the trackball. Each pop removes the selected bubble and any other bubble of same color touching it. The more bubbles you pop in one go, the more points you score.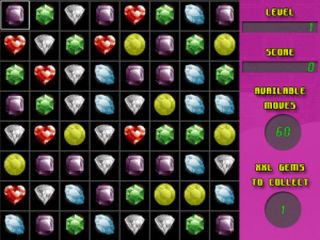 Gems XXL
A Bejeweled clone, Gems XXL features the same mechanics. Move gems to clear the board and score points. The name of the game is lining up the same kind of gems horizontally or vertically in series of three or more. Clear enough gems to proceed to the next level.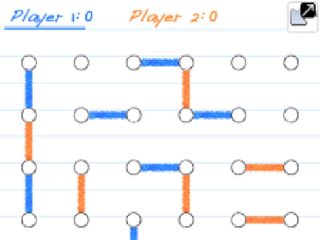 Dots
The BlackBerry version of a popular paper-and-pencil game, Dots pits two players against each other, with an empty grid of dots as the arena.Taking turns, players bridge the dots by drawing a vertical or horizontal line between two adjacent ones, and a player who forms a box gets another turn. Think before you draw, as mistakes can open up consecutive boxes for your opponent!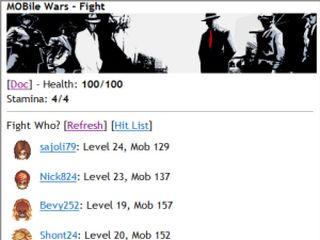 MOBile Wars
Take control of your own underworld empire. Run missions, expand your influence, and fight off rival gangs. Get the highest score possible and make a name for yourself on an online leaderboard. MOBile Wars isn't for action game fans, but for players who like to think before they act. Be like Fredo, and you'll be too weak. Rush in like Sonny and you'll spread yourself too thinly. Achieve balance like Michael and you'll win in the end.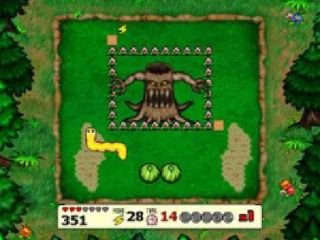 Snake Deluxe 2
Perhaps the most famous cell phone game of all time, Snake Deluxe for the BlackBerry represents an upgrade of sorts. With high-resolution graphics, 32 different levels, 4 different scenarios and 4 respective bosses, this game is far-removed from its simple black-and-white predecessor. Everything is presented through a story-driven adventure mode.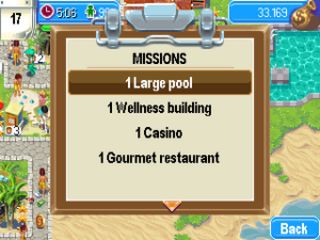 Hotel Tycoon Resort
Take control of an island resort. Only you can direct it through eight objective-based missions, and keep it running indefinitely in endless mode. Build pools, living spaces for your guest, and other recreational facilities like tennis courts, souvenir shops, casinos, restaurants, and many more. Will you build a retreat for the masses or an ultra-exclusive getaway? It's all up to you.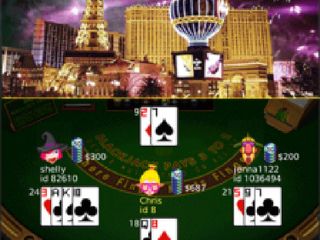 GT Blackjack Online
How close can you get to 21 without going over? You probably know how to play Blackjack, and now's your chance to play the famous card game—against a claimed online community of 1.9 million. Grow your stack of virtual chips, or see how quickly you can lose it (new chips are given to players daily).