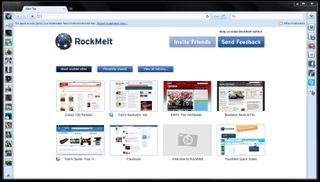 RockMelt?
So what is RockMelt, exactly? In short, RockMelt is a modified version of Google's Chrome web browser, and is based on the Chromium toolkit from the same company. While the new browser certainly does a lot to differentiate itself from its origins, here we see a familiar home page. You can see some RockMelt additions already, which we'll get to later.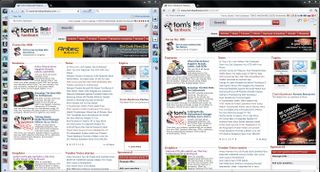 RockMelt vs Chrome
Here is a side-by-side comparison of RockMelt (left) and Chrome (right). If you take away the "edges" on the left and right sides of the RockMelt browser, the two browsers would be nearly identical.

Overview: Edges and Sharing
The three most prominent features of the RockMelt browser are the "edges" on the left and right. The left edge handles your Facebook friends list (Facebook is heavily integrated into RockMelt) and the right edges takes care of RSS/Atom feeds. There is a also a "share" button in between the url bar and the search bar.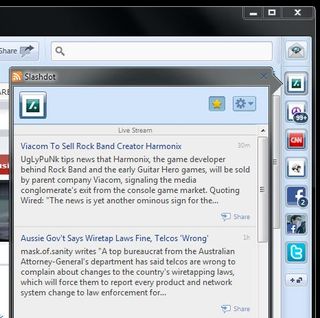 RSS Feed Edge
The RSS edge can hold the RSS feeds of all your favorite websites. Simply click on one of the icons (in this case, Slashdot) and the feed pops up on the right side of the browser window. The feed can be moved around within the window, too.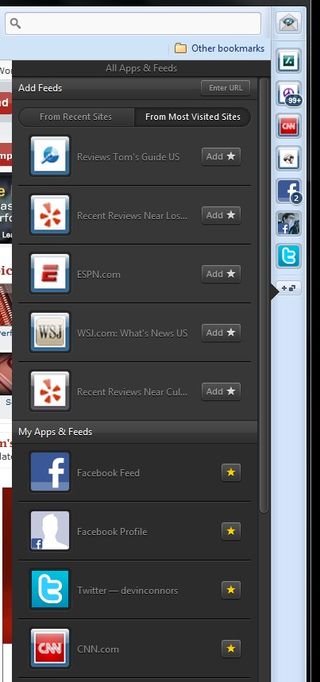 Adding Feeds
When adding new RSS feeds to your edge, you can either search for feeds by URL or add feeds from recently visited websites.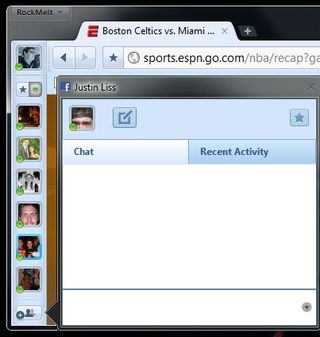 Facebook Edge
As previously stated, Facebook is a big part of RockMelt. The left edge shows all of your Facebook friends that are online, and by clicking on their photos, you can start Facebook Chat windows. A Facebook page does not need to be opened; everything is run through the browser (when you install RockMelt, it asks for your permission so it can access your Facebook data).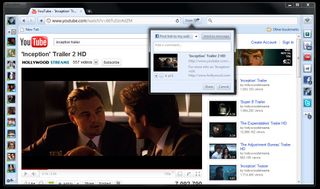 Sharing!
See a cool video or webpage that you want to share? Instead of navigating to Facebook or Twitter, just click the share button, add a quip about the link, then share through Facebook, Twitter, or any number of other services.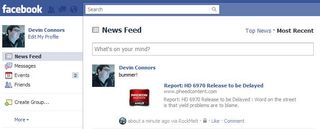 Facebook Status
Sharing on Facebook through RockMelt is noted under whatever is shared. Instead of saying via iPhone or TweetDeck, it labels the post as "via RockMelt."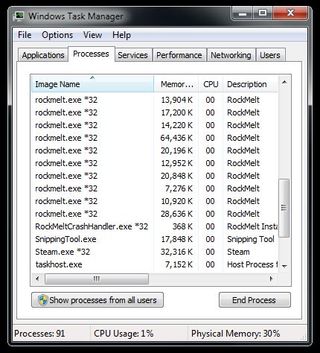 Too Much Memory!
RockMelt brings a lot of social innovation to the web browsing space, and certainly makes staying connected to Facebook a lot more fluid, but the browser does have some kinks. We ran a simple RAM usage test where we opened five tabs in each (Tom's Hardware, Tom's Guide, Facebook, Twitter, and YouTube). While Firefox used 98 MB and Chrome used 152 MB, RockMelt jumped all the way to 210 MB. IE8 still took the cake at 364 MB, however.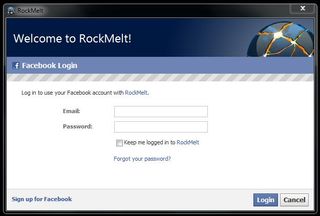 Privacy Concerns
RockMelt is all about Facebook, but the words "privacy" and "Facebook" are heavily intertwined these days, and many are hesitant to allow anything to access to their FB data. So if you're concerned about privacy and don't want your Facebook account connected to a web browser, then RockMelt is not for you.