13 Great Holiday Games to Get You in a Festive Mood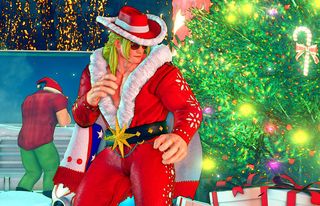 It's that magical time of the year
It's that time of the year again, when everyone gathers around a warm fireplace to drink eggnog, exchange gifts, and… play video games? Evidently, if you're reading this! Every game on this list has been chosen because it exhibits holiday cheer. Some do so via quirky costumes and special missions, others overhaul their levels to look seasonally suitable, and a few select titles on this list are built from the ground up to celebrate the holidays. So whether you like driving gingerbread trains, fighting wintertime crime, or learning how to say Santa Claus in different languages, we've got games for you.
Credit: Capcom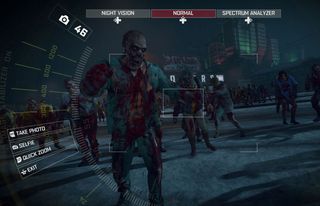 Dead Rising 4
If you're a gamer who likes to deck the halls with zombie brains, Dead Rising 4 has you covered. Featuring franchise-favorite character Frank West, DR4 plops you down in Christmastime Colorado, where you can play through a full campaign revolving around hacking through zombies and reveling in the holiday spirit. Unlike previous entries in the series, there's no doomsday timer or co-op in the campaign, but Capcom compensates for these omissions by including one of the most awesome holiday-themed menu music suites of all-time.
Credit: Capcom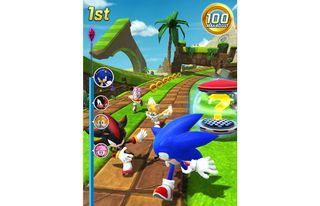 Sonic Forces: Speed Battle
'Tis the season to be speedy! Sonic Forces: Speed Battle has brought the snowy surprises of the holiday season to its multiplayer racing gameplay. Every racetrack in the game is coated in a layer of fluffy powder for a limited time, so get in before the snow melts. Also, some players have gotten their hands on an elf-costumed Classic Sonic, so keep your eyes peeled for Santa-assisting hedgehogs as you dash through the game's wintery environments.
Credit: Sega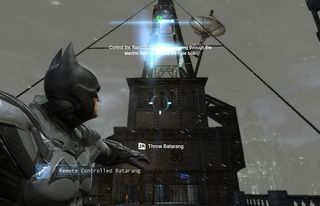 Batman: Arkham Origins
Batman: Arkham Origins is a Christmas Eve caper for the caped crusader, centered onhis struggle to fend off a league of deadly assassins sent to kill him on the night before Christmas. In the game, you traverse the snowy streets of Gotham (with advanced weather-snow effects present on the PC version, if you have a strong Nvidia graphics card), fight in holiday-themed encounters, and even drop thugs onto prickly, pointy Christmas trees. It's very festive! If you want a taste of Origins' electrifying holiday energy, check out its insane remix of "Carol of the Bells."
Credit: Warner Bros. Interactive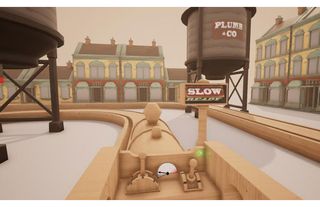 Tracks: The Train Set Game
If you're looking for a wholesome experience for young, imaginative gamers, or if you simply like to build train sets and track layouts, Tracks is an inexpensive and fantastic choice. It features tons of content and has a bunch of special items and settings for the holiday season, including Christmas trees, igloos, village houses, snowy weather, gingerbread trains and much more. For train enthusiasts who want to spend countless hours building their very own winter wonderland with its own wooden railroad system, Tracks: The Train Set Game is the holiday treat to beat.
Credit: Excalibur Games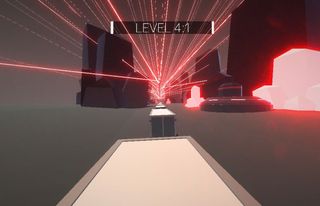 Clustertruck
Clustertruck is a nails-hard, adrenaline-pumping, first-person speed platformer, so only those who like their holiday games difficult need apply here. For those who still want in, Clustertruck features a neat winter wonderland DLC world (that's included for free with the base game), enabling you to run, jump and slide across trucks traveling through fantastical Arctic levels. Plus, there are Christmas and other season-themed levels made by fans in the Steam workshop, if you want even more holly, jolly Clustertruck madness.
Credit: tinyBuild LLC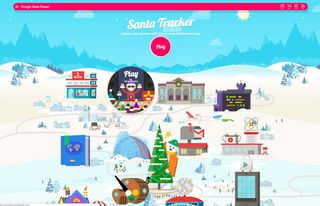 Santa Tracker
If you [know a young child who] could use a fun, educational holiday game, Google's very own Santa Tracker is a great browser-based option. Just open up Google Chrome and head to Santa Tracker's web page, where you'll find a whole suite of interactive activities. The games on offer let you design your own custom elf, learn how to say Santa Claus in a ton of different languages, code a snowflake, prep presents at the North Pole — and those are just a few examples of what's available. There's a lot of educational enjoyment to be had with Santa Tracker, so give it a whirl.
Credit: Google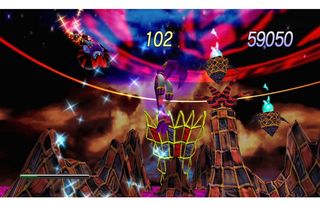 Christmas Nights into Dreams
If you want to play as a flying, androgynous purple-and-peach jester who soars through airborne, Christmas-colored hoops to the tune of Jingle Bells, Nights Into Dreams' Christmas Nights into Dreams component is the bizarre, beautiful blast from Sega's past to check out. It's 2.5D flying fun for all ages, so if you've got family you want to share the colorful, zany Nights action with, this Xbox 360 remaster makes for a great holiday addition to your Xbox One game library via backward compatibility.
Credit: Sega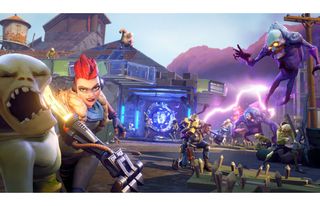 Fortnite
If you're into Fortnite and play it on any of the many, many systems it's available on (Switch, Xbox One, PS4, PC, Android, iOS, probably a Tamagotchi by the end of next year, etc.), gear up for Season 7's Christmas event. We've gotten a little teaser of what's coming our way, in the form of skins such as "Nog Ops" and "Yuletide Ranger," as well as an ice sword weapon, but more holiday cheer is likely in-bound. Keep an eye on updates from Epic Games for further details.
Credit: Epic Games, Inc.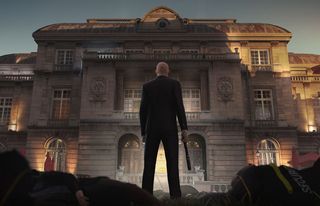 Hitman 2016
If you have yet to play Hitman 2016, now's not a bad time to give the game a shot, as it features the coolest (free!) Christmas DLC level in any stealth game ever. As Agent 47, the "Holiday Hoarders" mission tasks you with infiltrating a Parisian palace during its holiday festivities, in order to catch two robbers intent on stealing some very valuable presents. To do this, you can subdue them in any way your heart desires… all while dressed up as Santa, if you're skilled enough to nick Saint Nick's costume while he roams about the palace. The whole mission is very Home Alone-inspired, which increases the holiday fun that much more. For those of you who own Hitman 2, don't fret: The mission might be coming to the sequel very soon.
Credit: Warner Bros. Interactive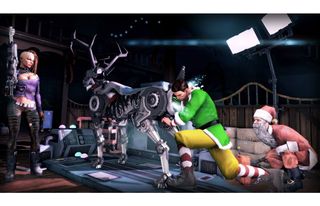 Saints Row 4
If you want an adult-oriented, unapologetically raunchy Christmas stocking stuffer, this pint-size Saints Row 4 DLC ought to do the trick: The "How the Saints Saved Christmas" pack features a few short but sweet missions and contains robot reindeer, a Santa in need of rescuing and a lot of candy cane licking. Want to find out how all of those things intersect? Download the DLC and see for yourself. We won't spoil the surprises here because we're not rated M for mature, darn it.
Credit: Deep Silver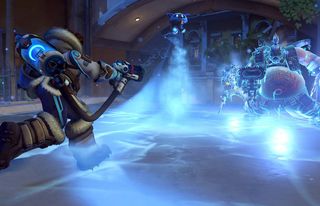 Overwatch
The folks at Blizzard have once again graced Overwatch with an annual assortment of holiday treats, this time around providing some pretty wild skins for everyone's favorite mains. Yes, ladies and gents, this means you can dress up Junkrat as Krampus and Bastion as a wrapped-up present. There are other costumes available, too, like a festive Reinhardt outfit and biathlon-ready Widowmaker skin. In short, if you like Overwatch's coolest characters, you won't be disappointed by their holiday getups.
Credit: Blizzard Entertainment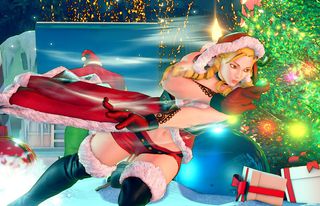 Street Fighter V
If you're a diehard Street Fighter V player and demand some holiday cheer in your virtual punch-outs, Capcom's got you covered — for a price. Though the Holiday Pack is a piece of DLC that's a bit too greedy to truly be in the spirit of the season, for $9.99 (less during sales), Capcom will let you dress up a few fan-favorite SFV characters in outrageous Christmas costumes. Thought Laura didn't have enough clothing in the base game? Wait 'til you see her Mrs. Claus outfit. Also, Zangief is dressed up as a 'roided-out Santa wearing a bear pelt, if you're still not sold on this DLC. The Holiday Pack even includes a Christmas-themed New York City stage. For more holiday cheer, you can also check out Capcom's 2017 and 2018 holiday add-ons, which include costumes for such characters as Menat, Alex, Cody and Sakura.
Credit: Capcom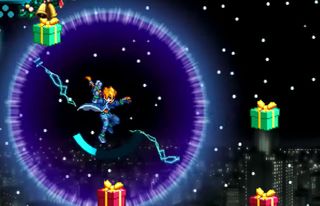 Azure Striker Gunvolt
If you want one of the more obscure holiday surprises in gaming, check out Azure Striker Gunvolt on Dec. 24 and 25 (or set your system's clock to those days). On those two days, you should expect to see a Christmas Mode appear in-game, which will add unique holiday touches to levels and shower the screen with Christmas presents. The goal of the mode is to see how many presents you can collect. It's like playing 52 pickup, only with more pixelated explosions and fun.
Credit: Inti Creates