New iOS 12 Features That Make Your iPhone Better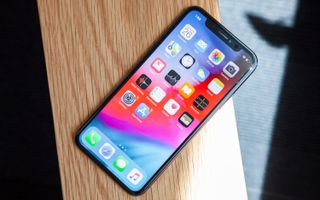 Top iOS 12 Features
iOS 12 has been out since September, and if you haven't downloaded it yet, you really should give it a try now. The new version of Apple's mobile operating system isn't a radical departure from iOS 11, but you'll still see some noteworthy changes that should enhance how you use your iPhone or iPad.
With iOS 12, Apple is making serious improvements across the board to its mobile OS, including faster performance on older iPhones, new predictive Siri features, Memoji, tools that help users be more mindful of the time they spend on their devices and group FaceTime chats. With iOS 12.1 now available, there are even more features to explore. Here are some of the top new features to check out. (Image Credit: Tom's Guide)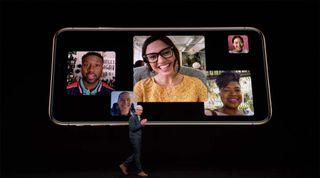 Group FaceTime
Apple has finally added a long-awaited group calls feature to FaceTime that lets you talk to up to 32 people at once. The feature got a preview at Apple's June developers conference, but wasn't in the initial iOS 12 update after beta testing revealed that group chats needed a little more fine-tuning. With iOS 12.1, though, our FaceTime group chat future has arrived.
Each user can employ a number of camera effects that are new to iOS and iMessage. You'll have the ability to replace your head with an Animoji's or Memoji's, or use artistic filters for a cartoon-like effect. And FaceTime is now integrated into iMessage, so you can instantly and easily start a FaceTime call with an existing iMessage group with the tap of a button. And if you're worried about getting lost in that sea of faces, Apple says that FaceTime uses AI to detect who's speaking, automatically bringing them to the front of the conversation. Other participants' images get resized depending on how active they are in the conversation. (Image Credit: Apple)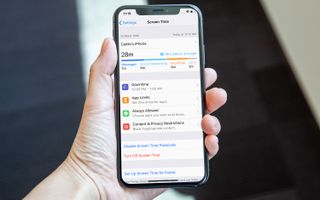 Digital Health and Screen Time
Responsible phone and app usage has been a hot-button issue as of late, with Google introducing its own user wellness initiative with Android P. Likewise, iOS 12 introduces Digital Health, which manifests itself across Apple's mobile OS in a few different ways. There's Screen Time, which allows you to place a limit on how much you use certain apps. You can also monitor your habits with the help of a weekly activity report, which offers insights on which apps dominate your screen-on time, battery and send the most notifications.
Speaking of notifications, iOS 12 will now show lock screen notifications overnight without waking the entirety of the display. If you have this feature enabled, alerts on your lock screen will present themselves in a minimized fashion while you're sleeping, resembling simple white text on a stark black background, without your wallpaper illuminating the room. And when you wake up, you'll see a good morning message that shows the weather and everything you might've missed. (Image Credit: Tom's Guide)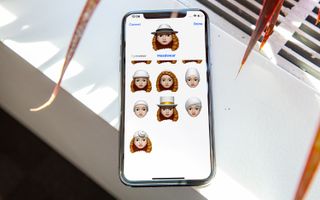 Memoji and Animoji
Apple copying Samsung copying Apple — that's one way to look at Memoji, which is a new form of Animoji that you design yourself. Similar to Samsung's AR Emoji feature on the Galaxy S9 and Note 9, you can create your Memoji with a selection of hairstyles, skin tones, glasses, hats and the like. And as you're building your Memoji, you can see your virtual form take shape in real time, emulating your movements and mannerisms. Already, we think Memoji look smoother than Samsung's stilted and unnatural Animoji.
On iOS 12, four new Animoji have joined the party — tiger, T-rex, ghost and koala. Then there's the strange, strange addition of Tongue Detection, which is exactly what it sounds like: You stick out your tongue, and your Animoji (or Memoji) will as well. If you send selfies to a friend in iMessage, you'll also be able to superimpose your Memoji over your head in a picture. (Image Credit: Tom's Guide)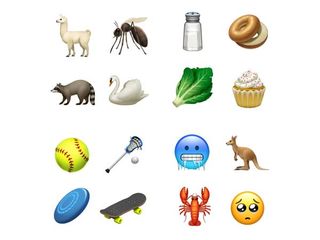 More emoji than ever before
People can't get enough of emoji, as a glance at all the emoticons cluttering up your Messages app should confirm. And an upcoming tweak to iOS 12 is going to give emoji-hungry users even more way to express themselves. iOS 12.1 introduces 70 new emoji. The new additions include everything from people with red, gray and curly hair to new sports including lacross and softball. If you've ever found yourself scrolling through a list of emoji and thinking, "If only there was a llama emoji at my disposal," then iOS 12.1 will be the answer to your prayers. (Image Credit: Apple)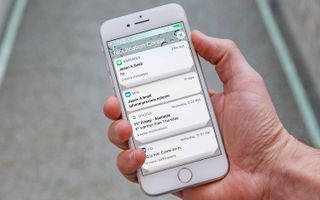 Improved notifications
Previous versions of iOS could drown you in a sea of notifications if you weren't careful. But iOS 12 improves things by giving you more control over which notifications you see. When you get a notification from a particularly pushy app in iOS 12, you can swipe left and tap the new Manage button. That gives you the option of having iOS 12 deliver future notifications quietly: they'll still show up in Notification Center, but they won't make your iPhone buzz nor will they distract you by flashing up on the screen. iOS 12 also groups notifications from the same app, making it easier to manage them when they pile up. (Image Credit: Tom's Guide)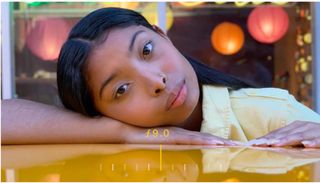 New Depth Control feature
Portrait mode in the iPhone's Camera app can produce some very stylish shots with an artistically blurred background. But what if you'd like to fine-tune the look of your photo? iOS 12.1 adds a Depth Control feature that lets anyone with an iPhone XR, iPhone XS and iPhone XS Max adjust the depth of field in a photo, whether that's when you're previewing your shot or after you've captured your image. Apple says Depth Control will also be available for the front TrueDepth camera, so you'll be able to make similar adjustments on selfies. (Image Credit: Apple)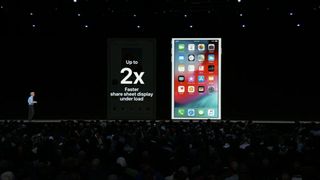 Faster performance
Apple says improving performance was a primary area of concentration for iOS 12 — not just in the latest models with the best hardware, but especially for the older ones. In fact, the company highlighted one example — the iPhone 6 Plus — which could see 40 percent faster app launch times, 50 percent faster keyboard launch times and 70 percent faster camera launch times from the lock screen with iOS 12.The processor will also ramp up performance much faster than on iOS 11, and shut it down just as quickly to conserve battery life as much as possible.
We ran some tests using the iOS 12 beta on an iPhone 6s this past summer and noticed that many apps launched faster once we upgraded to the new OS from iOS 11. The phone didn't unlock any faster in our testing, and there's no impact on synthetic benchmarks, but Apple seems to have delivered on the promise of making your older phone a little bit more responsive with iOS 12. (Image Credit: Apple)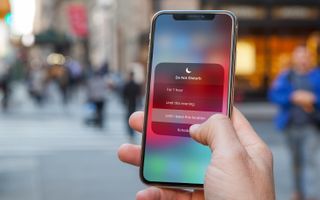 Siri Shortcuts and Suggestions
Remember Workflow? Apple bought the developers behind the popular automation app last year, and the new Siri Shortcuts operate in a similar way. Users can create a progression of actions in apps that carry themselves automatically when certain conditions are met, like messaging someone, setting the thermostat and firing up your favorite podcast when you leave work. All you have to do is download the dedicated Shortcuts app and start building your own automated workflows.
There's also Siri Suggestions, which serves up context-aware recommendations for certain scenarios. For example, when Siri knows you have a Calendar event to see a movie, it recommends turning on Do Not Disturb mode when it starts. Or, if you make a phone call at a certain time each day, Siri brings up that call as a suggestion at the appropriate time. (Image Credit: Tom's Guide)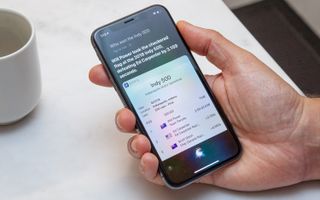 Expanded Siri smarts
Updates to Siri go beyond shortcuts and suggestions. As part of its annual effort to smarten up its digital assistant, Apple has expanded Siri's knowledge base to include information about Nascar and other motor sports, celebrities, and food. (Siri can now tell you how many calories are in that Big Mac you're about to eat, for example.) Siri's also able to look up passwords, after you've provided the necessary biometric proof that you're you. These changes aren't likely to allow Siri to catch up to Google Assistant, but they do make iOS's built-in digital assistant a more useful helper. (Image Credit: Tom's Guide)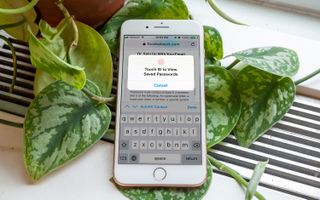 Better password tools
Apple's making several changes in iOS 12 that should beef up password security without also upping the difficult of having to come up with and remember secure passwords. A new feature in iOS 12 automatically generates passwords, saving them to your iCloud keychain so that they're available on all your Apple devices. A new audit tool flags overused passwords of yours so that you can replace with stronger auto-generated ones. When you get those one-time authentication passcodes via SMS as part of two-factor authentication, they'll now temporary appear as AutoFill options on your keyboard, saving you the trouble of having to memorize a random string of numbers you'll never have to use again. (Image Credit: Tom's Guide)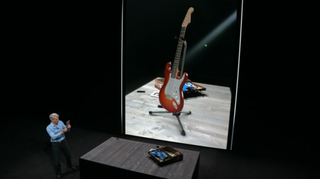 ARKit 2
Apple says ARKit 2 delivers better facial tracking, more realistic rendering, and most importantly, shared AR experiences. As developers build apps using the new version of ARKit, you and a friend can play AR games together — things you do on your screen will be reflected on your friend's, and vice versa.
But a significant part of ARKit 2 is USDZ — Apple's new file format for AR content that the company is sharing with web and software developers. USDZ content will appear on sites you visit, like when you're shopping. Items at retailers, for example, can be visualized in fully 3D models that can then be placed in the real world. (Image Credit: Apple)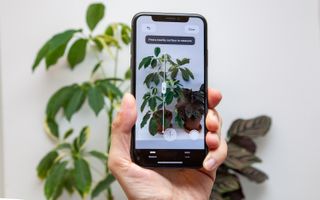 A new Measure app
ARKit 2 is powering a new built-in app for iOS 12. Dubbed Measure, the app lets you select points through your iPhone or iPad camera's viewfinder to measure objects in the real world. Measure should come in particularly handy for DIYers who can now get more precise measurements from a built-in tool on their phone instead of having to eyeball things or reach for a separate tape measure. The new app also includes a level which uses your iPhone's sensors to turn your device into a level for hanging up pictures straight. (Image Credit: Tom's Guide)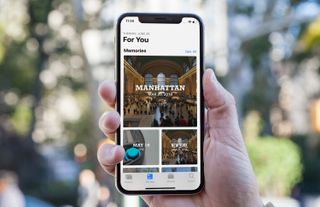 Photo suggestions and all-new search
Apple added a new "For You" tab to serve up recommendations in the iOS 12 Photos app. From this screen, your iPhone suggests sharing photos with people in your contacts that it recognizes in your photos. And if you do share those photos, your friends and family on the receiving end will be given a suggestion to share their own back. Additionally, iOS 12 also offers supercharged search that should make it easier than ever before to navigate the extensive photo library you've amassed over the years. (Image Credit: Tom's Guide)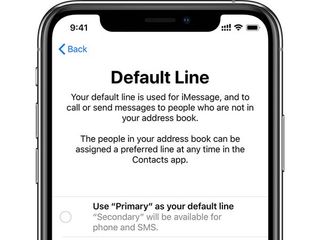 Dual SIM card support
One of the unheralded features that Apple included in its latest round of iPhone updates was the addition of dual SIM card support. That's a welcome feature if you do a lot of traveling and like to use a local phone service, or it can come in handy if you use one phone for both your personal and business dealings but want to keep the lines separate. The iOS 12.1 update enables that capability on the iPhone XS, iPhone XS Max and iPhone XR. In addition to the physical nano-SIM card, users with those phones can now activate a second plan using a digital eSIM. (Image Credit: Apple)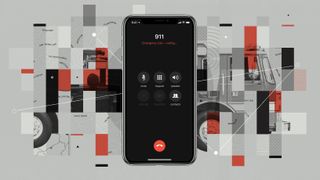 Better responses in emergencies
Apple isn't just concerned with improving your phone's performance in iOS 12. The new OS also includes an update to the Hybridzed Emergency Location (HELO), system to automatically share your location with emergency responders. That's a critical improvement for mobile devices, which aren't associated with a fixed address, so often 911 operators can only see the nearest cell tower instead of a specific location. Apple aims to fix that by adding data from GPS and Wi-Fi access points to provide a better idea of where you are when you make a 911 call. (Image Credit: Apple)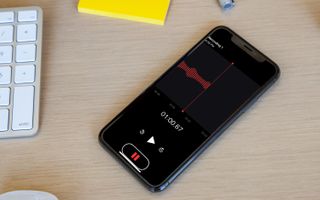 New News, Stocks, Voice Memos and Books apps
Apple has updated a bunch of core iOS apps for iOS 12, including News, Stocks, Voice Memos and iBooks, which has been renamed Apple Books. News now gets a sidebar on iPad which provides quicker access to your favorite sources. Business news will also be featured in Stocks as it pertains to companies in the ticker, and the entire Stocks app has been rebuilt.
Voice Memos looks a little different too, and now gets iCloud support, while Apple Books now bears a closer resemblance to Apple Music, with the ability to very easily jump back into something you were previously reading right from the app's home screen. Best of all, each one of these apps now appears on the iPad, too. (Image Credit: Tom's Guide)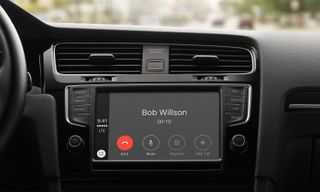 Third-party maps in CarPlay
Here's a big one for drivers. CarPlay has long restricted navigation to Apple Maps, which has proven frustrating for the majority of users who would rather rely on apps like Google Maps and Waze that offer more extensive features in the car. Android Auto doesn't have that restriction, and now, thankfully, Apple is lifting theirs. Google Maps and Waze will support CarPlay on iOS 12 devices, so you can use the third-party navigation app you prefer.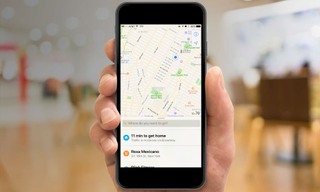 Map Improvements
While it wasn't part of the iOS 12 announcements at WWDC in June, Maps is in line for an upgrade in iOS 12 — at least eventually. Apple is in the process of improving the mapping data at the heart of Maps, by collecting that information itself instead of relying on third-party data. That will make it easier for Apple to correct and update maps, while also giving the company greater control over fine-tuning accuracy. Apple is promising improvements to searches in Maps, getting rid of those head-scratching results from other cities (or continents) that can crop up in the current version.
Unfortunately, these changes are going to roll out over time. The new Maps was only available to users in San Francisco as part of the iOS 12 beta; eventually it will roll out to the rest of Northern California this fall, with the changes making their way to all iOS users over time. (Image Credit: Tom's Guide)