9 Best Apple Watch Cases and Screen Protectors Under $15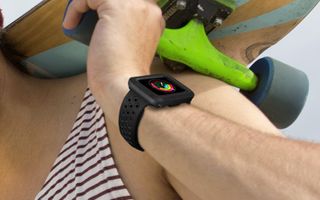 9 Best Apple Watch Cases and Screen Protectors Under $15
The Apple Watch is a versatile smartwatch that lets you track your fitness, place calls, message friends and interact with apps — all from your wrist. But you don't want to scuff the screen or (worse) crack it accidentally, especially when an out-of-warranty service fee can run you up to $229 if you don't opt for an AppleCare+ plan.
To sidestep these problems and keep your Apple Watch Series 1, 2, or 3 safe, you might want to consider a case or screen protector. Granted, adding an accessory to your Apple Watch might not seem like the best idea from an aesthetics perspective, but it's likely worth the small investment.
To help you protect your Apple Watch, we've compiled the following list of top cases and screen protectors. All of these accessories have earned high marks from both Amazon users and Fakespot, a service that gives insight into how many legitimate reviews each device has.
Credit: BRG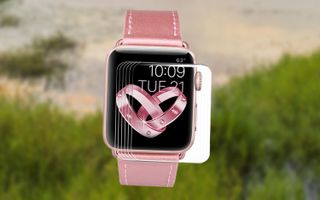 Covery Apple Watch Screen Protector
Covery's Apple Watch Screen Protector comes in a pack of six for just $7. The screen protector has an HD clear surface that the company says will maintain clarity. Additionally, the screen protector has an anti-puncture function to safeguard your screen from scratches, as well as a bubble-free design. Covery says its screen protector has 100-percent touch-screen functionality, and the company offers an 18-month unconditional refund on defective units.
Amazon rating: 4.5 stars
Fakespot grade: A
Credit: Covery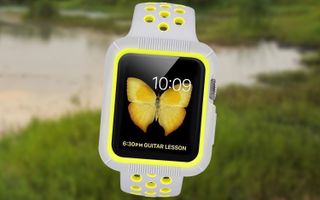 BRG for Apple Watch Case
BRG's Apple Watch case fully envelops your Apple Watch in a soft TPU material. The case, which can fit a variety of Apple Watch models, including the Apple Watch Nike+ Sport Edition, protects your device's corners and face. BRG offers a variety of color options to suit your style, including yellow, blue and pink. And just in case you want a specialized band, the BRG comes with one. Not bad for just $11.
Amazon rating: 4.5 stars
Fakespot grade: B
Credit: BRG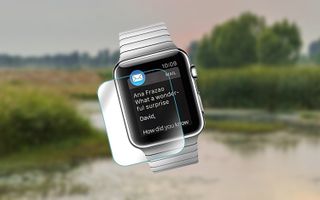 AquaShield Apple Watch Screen Protector
AquaShield's Apple Watch Screen Protector earns its place as Amazon's Choice for Apple Watch screen protectors. The accessory attaches to your Apple Watch display and has an anti-bubble film so it doesn't detract from the experience of using your smartwatch. A military-grade self-healing feature means the screen should withstand scratches and other dings with ease. AquaShield promises no difference in the way the Apple Watch's screen reacts to your touch inputs.
Amazon rating: 4.5 stars
Fakespot rating: B
Credit: AquaShield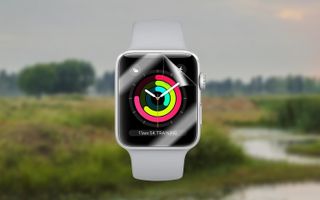 DeltaShield Apple Watch Screen Protector
DeltaShield's Apple Watch Screen Protector features "self-healing" tech that promises to make scratches and scuffs disappear. It comes with an anti-bubble film to ensure there's no distortion when you're looking at your Apple Watch screen. According to DeltaShield, its screen protector offers 99.9-percent clarity, and because the military-grade film is UV light resistant, it shouldn't yellow even in direct sunlight.
Amazon rating: 4.5 stars
Fakespot grade: B
Credit: DeltaShield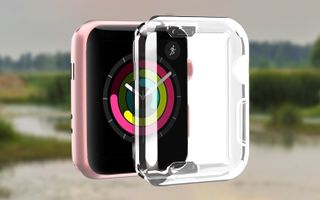 Luka Tech Apple Watch 2 or 3 Case
Luka Tech's Apple Watch case is designed for Series 2 and Series 3 models. It comes with a case made of TPU material and is clear, so you can still see the Apple design when you're using the accessory. The case fits around the screen and has cutouts that provide easy access to buttons and ports. According to Luka Tech, the case has 99.9-percent clarity and should offer "full protection" from drops, bumps and scratches.
Amazon rating: 4.5 stars
Fakespot grade: B
Credit: Luka Tech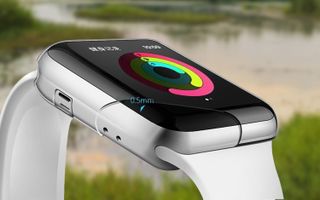 Wolait Apple Watch Case
Wolait's Apple Watch Case has a clear finish, so it doesn't radically change the way your Apple Watch looks and feels. The case, which comes in a two-pack for $7.89, has holes for easy access to the Apple Watch's buttons and ports. However, at 0.5 millimeters thick, the Wolait isn't as thin as some other options. It uses a TPU material to keep your Apple Watch safe and comes with a "frosting humanized design" that ensures your Apple Watch screen remains responsive with the case on.
Amazon rating: 4.5 stars
Fakespot grade: B
Credit: Wolait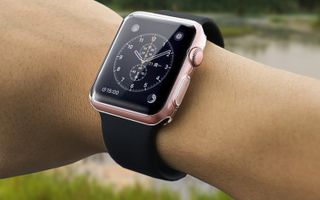 Julk Apple Watch 3 Case
Julk's Apple Watch 3 Case has a clear finish and is just 0.3 mm thick, which means it shouldn't get in the way of using your smartwatch. Because it totally envelops the Apple Watch's face, the case provides protection to both the screen and the sides. Julk notes, however, that sweat could get trapped between the case and the Apple Watch screen. The case is also available in Series 1 and Series 2 versions in both 38-mm and 42-mm sizes.
Amazon rating: 4 stars
Fakespot grade: B
Credit: Julk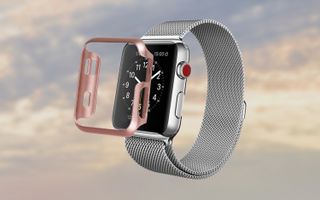 Fintie Apple Watch Case
If you're in the market for a cover for your Apple Watch Series 3, Series 2, Series 1, Sport or Edition model, Fintie offers a compelling option. The company sells a six-pack of bumper cases that wrap around your watch face. The bumper will safeguard the sides of your watch and should keep your screen safe. Best of all, the Fintie cases come in a variety of colors — including green, blue and pink — so you can modify your Apple Watch's look and feel depending on your mood.
Amazon rating: 4 stars
Fakespot grade: B
Credit: Fintie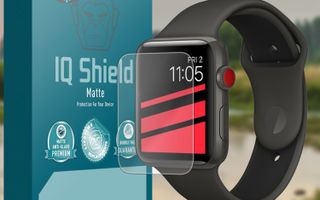 IQShield Apple Watch Screen Protector
The IQShield option has an anti-glare finish and features military-grade protection against scrapes, scratches and drops. According to the company, its protector is easy to install on your device and has bubble-free properties to reduce the chances of air gaps between the protector and your screen. Better yet, it'll reduce glare in direct sunlight. A pack of six IQShield screen protectors costs $7.85.
Amazon rating: 4 stars
Fakespot grade: B
Credit: IQShield