12 Reasons the Galaxy Note 8 Beats the iPhone X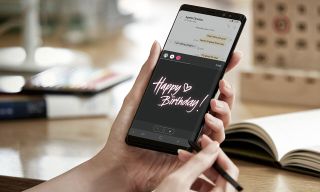 Apple's Best Phone Can't Match Samsung's
The iPhone X is probably the best phone that Apple has ever made, thanks to its gorgeous OLED display, powerful new A11 Bionic CPU and nearly bezel-free design. We haven't had a chance to test the iPhone X yet, but unfortunately for Apple fans, I can already say that the new handset is still miles behind the Galaxy Note 8. Although Apple's flagship beats the Note 8 in some ways, here are 12 reasons that the Galaxy Note 8 beats the iPhone X.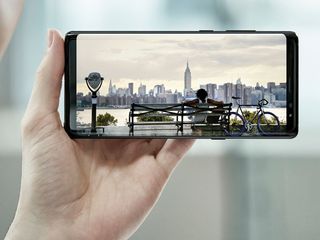 Bigger, Higher Resolution Screen
The Galaxy Note 8 has a 6.3-inch, 2960 x 1440 display, while the iPhone X's display is a mere 5.8 inches with 2436 x 1125 pixels. Considering that Samsung's mainstream Galaxy S8 phone is also 5.8 inches, I wouldn't even call the iPhone X a phablet.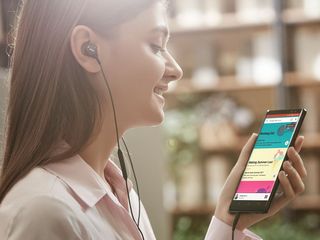 Headphone Jack
The Galaxy Note 8 has a standard 3.5mm audio jack so you can attach any headset you want, from the old Sony Walkman set you found in your attic to the $300 Bose you got for your birthday. However, with the iPhone X, you need to either buy a pair of wireless earbuds, get one of the few wired headphones with a lightning connector or carry an adapter with you. That's a lot of hassle, just to listen to music.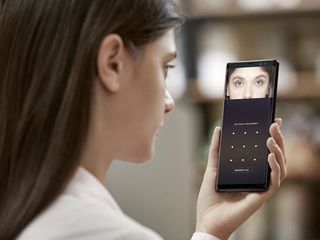 More Login Options
The iPhone X is the first Apple phone to offer facial recognition, but it lacks the TouchID fingerprint recognition you get on older iPhones. With the Note 8, you get a choice of face detection, iris scanning or fingerprint login.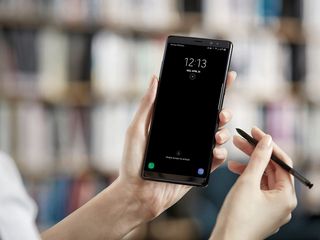 Automatic Unlocks Based on Location
Considering that people wake up their phones dozens or even hundreds of times a day, all the moments you spend unlocking your device really add up. The Galaxy Note 8, like every other Android 7-powered device, allows you to designate certain locations as Trusted places using the "Smart lock" feature. So you can make sure that, when it's in your house, you don't need to unlock the phone. You can't do that with the iPhone.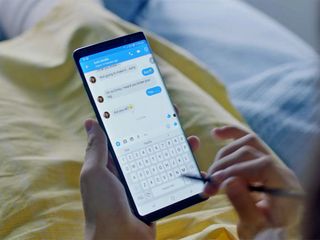 Haptic Feedback While Typing
Tapping virtual QWERTY buttons on a glass screen will never be as accurate as touch-typing on a mechanical keyboard. However, using a phone with haptic feedback, which emits a small vibration when you strike each key, gives you the tactile feeling you get from real keyboards. Like most Android phones, the Galaxy Note 8 offers optional haptic feedback for typists, while the iPhone X vibrates only when you use its 3D Touch feature, which doesn't work with the keyboard.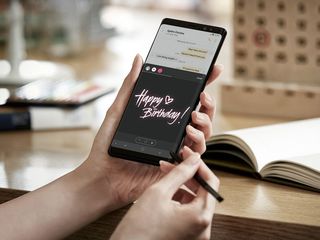 S Pen Makes Note-Taking, Drawing a Breeze
As its name implies, the Galaxy Note 8 is great for note-taking. The included S Pen stylus makes it easy to scribble reminders or write down ideas, even if the screen is powered off. The S Pen is also great for drawing, and it even translates foreign-language text you select. The iPhone X doesn't have any kind of pen support.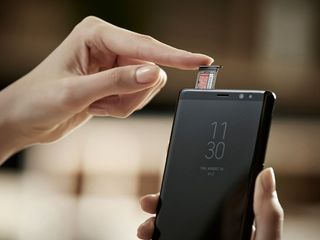 Expandable Storage
If you buy an iPhone X with 64GB of internal memory and then find out that you're taking a ton of high-res photos and videos, there's no way to expand your local storage. However, the Samsung Galaxy Note 8 comes with a microSD card slot that supports expansion cards as large as 256GB.You can buy a 128GB memory card for around $40, effectively tripling your storage, for $60 less than it costs to go from a 64GB to a 128GB iPhone.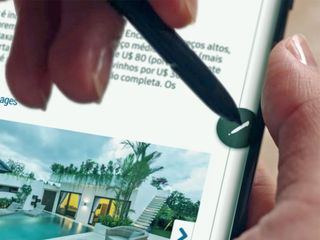 Curved Display with Edge Swipe
The Note 8's display has curved sides you can swipe on for special features. Swiping in from the right allows you to get quick access to your favorite apps (aka Apps Edge), contact the most important people in your life or take screen shots. You can even launch two apps at once in a split-screen review using the App Pair feature. The iPhone X has no such software.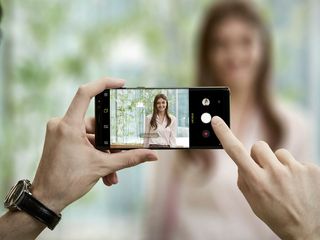 Easy Access to the Camera (Double Press the Power Button)
Children and pets move so fast that, by the time you've unlocked your phone and launched its camera app, they've probably stopped being cute. On the Note 8, you can double-press the power button to open your phone's camera mode, even when it's asleep. The iPhone X doesn't provide a way to get to its camera using hardware buttons.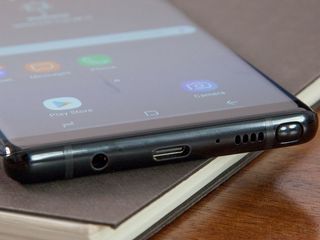 USB Type-C Port Instead of Lightning
Like many iPhones before it, Apple's new flagship phone uses the company's proprietary Lightning port for charging and data transfer. Although Lightning works just fine by itself, it's not a universal standard like USB Type-C, the connector on the Galaxy Note 8. Because USB Type-C is a standard that applies to newer phones and laptops, you can carry one charger (or power bank) and use it for your notebook, your handset and your tablet. Ironically, Apple's latest MacBooks charge over Type-C, so if you want to use them with the same adapter as your phone, you'll need a device that runs Android.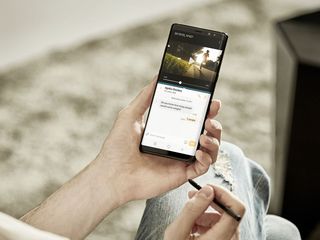 Split-Screen Apps
Nowadays, everyone multitasks on their phones. Perhaps you're looking up an article on the web and pasting its URL into an email, or maybe you're looking for the perfect crazy GIF to instant message to your friend. Whatever the case, it helps to be able to look at two application windows side by side, a feature that's readily available on the Note 8 and Apple's iPads, but not the iPhone X.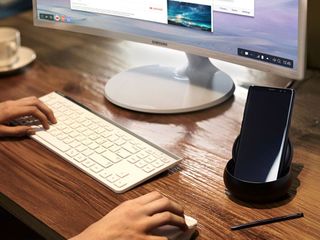 Real Access to Your File System
Your phone holds so much of your important data, including your personal photos, i documents for work or school, media files and contacts. When you plug the Note 8 into your computer, it appears as an external drive and lets you move files back and forth from your hard drive, just by dragging and dropping them. The iPhone X requires you to use its bulky iTunes application or sync with the cloud to get your data off the device.
Credit: Samsung