Best Reveals of Evo 2017: Street Fighter, Tekken and More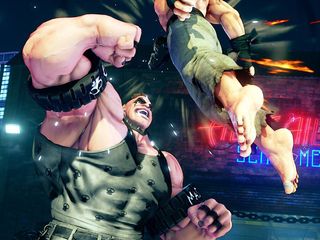 A Future of Fighting Games
The Evolution Championship Series (or Evo) is the world's premier fighting game tournament, showcasing the best talent in the globe in games like Street Fighter, Tekken and Super Smash Bros. But it also serves as a taste of what's to come next.
Evo 2017 was packed with huge announcements, including exciting new characters for some of our favorite brawlers as well as entire new games that sent fighting fans' hype levels into overdrive. From new challengers entering Street Fighter V and Tekken 7 to a dream tag-team mashup, here are 7 big reasons to be excited about fighting games in 2017 and beyond.
Image Credit: Capcom

Street Fighter V's Next Brawler is Abagail
Street Fighter V's newest challenger is Abagail, a hulking bad guy who looks like he's hit the gym quite a bit since he first debuted in Capcom's 1989 beat 'em up Final Fight. Abagail is shaping up to be one of the game's biggest bruisers yet, with devastating grapple attacks, furious flurry combos and plenty of ways to chain the two together. Look for him on July 25th.
Street Fighter V Abagail Trailer

Geese Howard Slams Into Tekken 7
Tekken 7 already has Street Fighter's Akuma, so why not throw some more guests into the mix? In one of the biggest bombshells of Evo, Bandai Namco revealed that iconic Fatal Fury villain Geese Howard will be throwing down with the likes of Heihachi, Kazuya and Jin by Winter 2017. Like Akuma before him, Geese looks to bring the fireballs and crazy counter moves of his 2D iteration into Tekken's 3D arenas. Tekken 7 is quickly becoming a mashup of some of the coolest bad dudes in fighting games, and we're here for it.
Tekken 7

Jedah Joins Marvel vs. Capcom Infinite
A live demonstration of Marvel vs. Capcom: Infinite gave us our first look at Darkstalkers villain Jedah, who looks every bit as menacing as he did in his original games. We also saw the gameplay debut of Guardians of the Galaxy heroine Gamora, whose mix of stylish swordplay and long-range gun attacks should make her a fan favorite in the upcoming crossover brawler. You can play them both when Marvel vs. Capcom: Infinite arrives Sept. 19.
Marvel vs. Capcom Infinite

DragonBall FighterZ Gets New Fighter, Closed Beta
DragonBall FighterZ has quickly become one of the most anticipated brawlers in years, and the game's explosive new trailer for futuristic fighter Trunks only makes the wait until early 2018 feel even longer. The good news? You'll get to play it yourself during a closed beta that kicks off later this summer. You can sign up starting July 26.
DragonBall Fighter Z

BlazBlue Cross Tag Battle is the Stuff of Anime Dreams
What do you get when you combine some of the most beloved anime fighting games of all time? Something that looks a lot like BlazBlue Cross Tag Battle. This wild 2-on-2 tag brawler lets you mix and match characters from BlazBlue, Under Night in Birth, Persona 4 Arena and even the anime RWBY, which should result in some ridiculous crossover fights that could give Marvel vs. Capcom a run for its money. Look out for it in 2018.
BlazBlue Cross Tag Battle

Street Fighter EX's Spiritual Successor Looks Great
If you loved the quirky 3D action of the Street Fighter EX games, know that a spiritual successor is on the way from original developer Arika. The company's currently untitled fighting game looks like a beautiful reimagining of what made the EX titles special, and it'll even bring back some of those games' most beloved characters. The fact that Skullomania is in a new fighting game in 2017 is a beautiful thing.
Arika Fighting Game

Dissidia Final Fantasy NT Will Be Playable This Summer
If you've been itching to engage in crazy, over-the-top brawls with your favorite Final Fantasy characters, we've got good news for you. Dissidia Final Fantasy NT is getting a closed beta this summer, allowing you to clash swords and spells with the likes of Cloud, Titus and Sephiroth before the final game hits in early 2018. You can sign up for the beta right now.
Dissidia Final Fantasy