The 25 Best Star Wars Games of All Time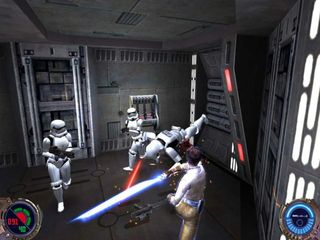 Fight in the Star Wars
From the pixelated polygons of the original 1983 Star Wars arcade game to the photorealistic action of EA's Battlefront titles, the Star Wars universe has spawned decades' worth of video games big and small. Some, like Knights of the Old Republic and Rogue Squadron, are among the best games ever made. Others, such as Masters of Teras Kasi and Star Wars: Obi Wan, are better off being crushed in a trash compactor.
With that in mind, we've dug through the debris and ranked 25 of the best interactive takes on the Star Wars universe, whether you want to relive famous space battles or build your own Jedi legend.
Credit: LucasArts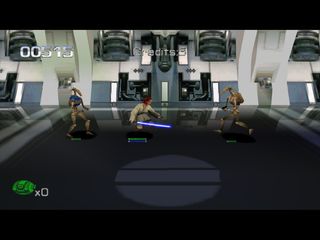 Star Wars Episode I: Jedi Power Battles (2000; PSX, GBA, Dreamcast)
Jedi Power Battles is far from the most refined Star Wars game, but if you want to kick back and mindlessly slice your way through hordes of Battle Droids, it'll scratch that itch. This beat-em-up game lets you control the likes of Obi-Wan Kenobi, Qui-Gon Jinn, Mace Windu and Plo Koon as you fight through a story that vaguely follows the plot of The Phantom Menace. The deluge of Episode I-inspired games was certainly a mixed bag, but Jedi Power Battles was a high point that's good for an afternoon of dumb fun.
Credit: LucasArts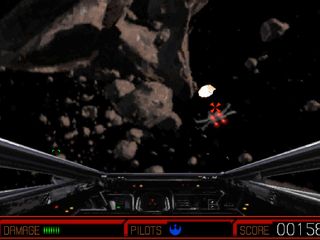 Star Wars: Rebel Assault II (1995; PC, Mac)
Part action game, part interactive movie, Rebel Assault II is a fascinating experiment that mixed live actors with traditional dogfights and shooting gameplay. The game is arguably worth playing just for its endearingly cheesy cutscenes, which explore the adventures of a Rebel pilot tasked with taking down a dangerous new group of "Phantom" TIE fighters. It might not hold up incredibly well, but Rebel Assault II was an admirable storytelling mishmash that inadvertently served as a taste of the photorealistic games we have today.
Credit: LucasArts Entertainment Company LLC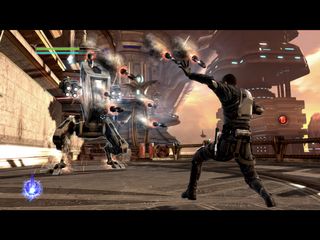 Star Wars: The Force Unleashed II (2010; PC, PS3, Xbox 360, Wii)
The Force Unleashed II didn't quite make the
Credit: LucasArts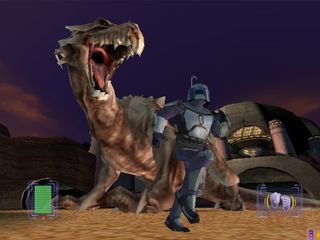 Star Wars: Bounty Hunter (2002; PS4, PS3, PS2, GameCube)
Plenty of Star Wars games let you fight with
Credit: LucasArts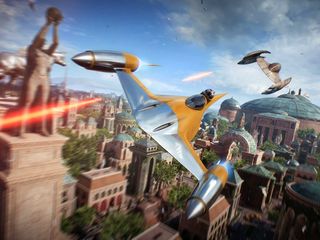 Star Wars Battlefront II (2017; PC, PS4, Xbox One)
Despite being shrouded in loot box controversy, Star Wars Battlefront II
Credit: EA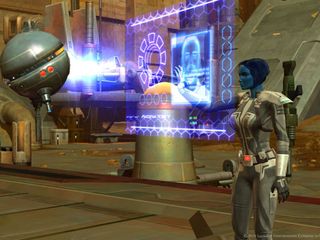 Star Wars: The Old Republic (2011; PC)
The Old Republic is a massively multiplayer online role-playing game that blends traditional MMO gameplay with the rich, choice-driven narrative that BioWare's Knights of the Old Republic was known for. Despite being a multiplayer game, SWTOR is still highly cinematic, filled with gorgeous cutscenes and plenty of opportunities to truly forge your own path as a Jedi, Sith, smuggler, bounty hunter and more. With plenty of special events, raids and expansions, you'll be hard-pressed to run out of things to do in The Old Republic -- and there's no reason not to give it a shot for free.
Credit: BioWare Austin LLC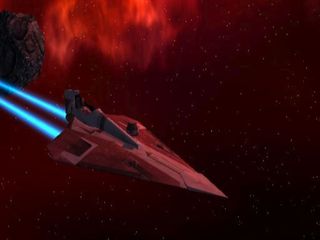 Star Wars: Jedi Starfighter (2002; PS2, PS3, PS4, Xbox)
There are plenty of great Star Wars dogfighting games, but Jedi Starfighter is the only one that lets you use The Force. Retaining the tight controls of Star Wars: Starfighter, Jedi Starfighter lets you battle it out in a variety of expansive, detailed battlefields while blasting through an Attack of the Clones-era story as Jedi Master Adi Gallia. There's also some fun two-player co-op to be enjoyed, as well as a variety of iconic Star Wars ships to unlock.
Credit: LucasArts Entertainment Company LLC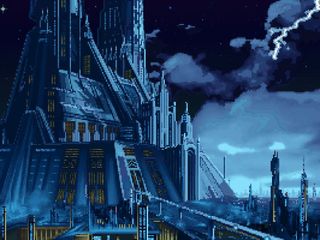 Star Wars: TIE Fighter (1994; PC, Mac)
TIE Fighter is built on the foundation laid by Star Wars: X-Wing, this time letting you fly for the Empire. This flight-simulator sequel introduced improved graphics and targeting mechanics, as well as a host of different TIE Fighters for you to soar around in. The game took a unique approach to story, fleshing out the events between The Empire Strikes Back and Return of the Jedi and portraying the Empire as heroic peacekeepers.
Credit: LucasArts Entertainment Company LLC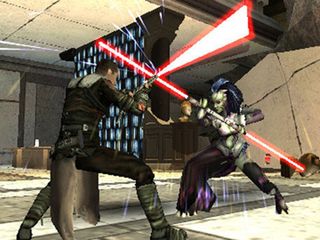 Star Wars: The Force Unleashed (2008; PC, PS3, Xbox 360, Wii)
Star Wars: The Force Unleashed offers the purest power trip of any game on this list, allowing you to slice up waves of Stormtroopers and Force-toss every object in your sight with reckless abandon. Cast as Starkiller, Darth Vader's secret apprentice, you'll explore a twisted story full of wild, totally-not-canon betrayals that take place between Episodes III and IV. The Force Unleashed has some rough edges, but few other games make you feel like such a Force-wielding badass. I mean, where else can you literally bring down a Star Destroyer using just your mind?
Credit: Krome Studios Pty LTD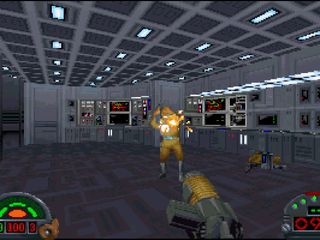 Star Wars: Dark Forces (1995; PC, Mac, PS1, PSP, PS3)
Star Wars: Dark Forces is essentially Doom with a Star Wars skin, and it still holds up well today. Starring Rebel mercenary Kyle Katarn, this pixelated '90s shooter has you infiltrate the Empire to discover its darkest secrets (you even get to pull a Rogue One and steal the Death Star plans!). On top of being a great game in its own right, Dark Forces spawned the Jedi Knight series that would go on to cement Katarn as one of the most beloved characters in Star Wars' now-canned Expanded Universe.
Credit: LucasArts Entertainment Company LLC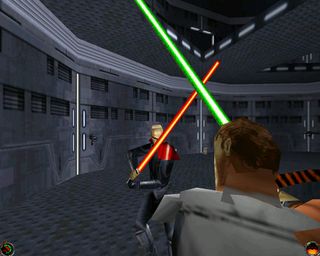 Star Wars Jedi Knight: Dark Forces II (1997; PC)
As its name implies, Dark Forces II: Jedi Knight combines the Doom-inspired shooting of the first game with the ability to wield a lightsaber and use awesome Force powers. You step back into the shoes of mercenary-turned-Jedi Kyle Katarn, who must stop a secret order of Dark Jedi in a post-Episode VI world. Jedi Knight's many innovations included live-action cutscenes, RPG-style power customization, and a branching story that lets you follow either the light or dark side of the Force.
Credit: LucasArts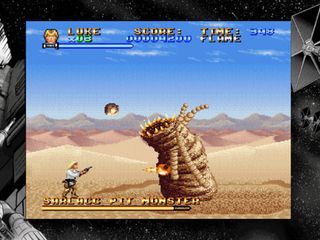 Super Star Wars (1992; SNES, PS4)
Super Star Wars doesn't always make much sense ─ this wacky video game adaptation of A New Hope begins with Luke mowing down sand creatures in the deserts of Tatooine, and only gets weirder from there. Still, that disregard for the Star Wars canon only adds to the charm of this iconic 16-bit side-scroller, which mixes classic run-and-gun platforming with a few quasi-3D vehicular levels that were incredibly novel for the time. Super Star Wars' fun and challenging gameplay still holds up today -- and you won't have to search the Dune Sea for the original Super Nintendo cartridge to play it. A remastered version of the game is available for just $10 on both PS4 and PS Vita, and buying one version gives you the other for free.
Credit: Sculptured-Software-Inc.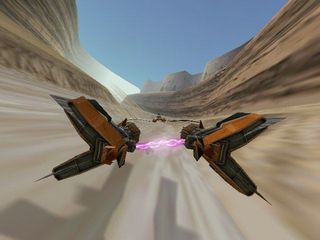 Star Wars Episode 1: Racer (1999; N64, PC)
Say what you will about The Phantom Menace as a whole, but the high-speed pod-racing sequence that the movie spawned was a joy to watch. LucasArts spun that single scene into an entire racing game devoted to these unique, superfast vehicles, and the result is one of the most fun titles in the entire genre. This game's exhilarating sense of speed puts it right up there with classics like F-Zero and Wipeout, and it lets you blast through exotic locales that you won't see in any of the movies.
Credit: LucasArts Entertainment Company LLC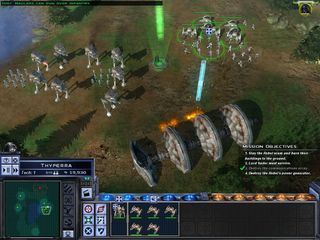 Star Wars: Empire at War (2006, PC, Mac)
Star Wars' sweeping, multifleet battles are a natural fit for the real-time-strategy genre, so it's no surprise that Empire at War was such a success. This epic RTS turns the series' battlegrounds into your personal chessboard, allowing you to command large groups of iconic ships from either the Rebel Alliance or the Galactic Empire until one side is wiped away. Battles can take place over land or in space, and you can take control of hero characters such as Darth Vader and Obi-Wan Kenobi in order to turn the tide. Empire at War offers skirmishes for those who just want a quick fight, while more dedicated strategists can battle over multiple planets in Galactic Conquest mode.
Credit: Petroglyph-Games-Inc.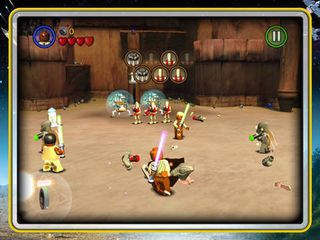 Lego Star Wars: The Complete Saga (2007; PC, Mac, PS3, Xbox 360, mobile)
Lego Star Wars is one of the most kid-friendly Star Wars titles available, but that doesn't stop it from being one of the best. This adorable action romp lets you control Lego versions of virtually any Star Wars character you can think of, and kick enemy bricks across inventive stages that span the entire film saga. With co-op play, troves of unlockables and hilariously charming cutscenes, Lego Star Wars is a joy, regardless of which film trilogy you grew up with. Aside from being a great Star Wars game, Lego Star Wars kicked off an entire genre of licensed kids' titles that Lego-ized everything from Marvel comics to the Lord of the Rings.
Credit: Travellers Tales LTD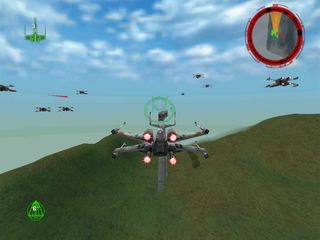 Star Wars: Rogue Squadron (1998; N64, PC)
While LucasArts' X-Wing flight sim series was all about realism, Rogue Squadron was an arcade dogfighter focused purely on the thrill of getting to fly around in your own Star Wars ship. With a story set between A New Hope and The Empire Strikes Back, Rogue Squadron lets you play as Luke Skywalker and pilot X-Wings, Y-Wings, A-Wings and more as you battle across iconic locations such as Tatooine and Yavin IV. On top of offering tight, accessible aerial combat, Rogue Squadron was one of the finest technical showpieces of the Nintendo 64 -- and is still a blast to play on PC today.
Credit: LucasArts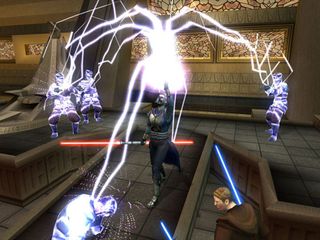 Star Wars: Knights of the Old Republic II (2004; PC, Mac, Xbox)
Knights of the Old Republic II is often overshadowed by its legendary predecessor, but some would argue that it's an even better game. With developer Obsidian stepping in for BioWare, KoToR II earned major praise for telling a more complex story that focused on the gray area between Jedi and Sith. You'll still make key story choices, build a squad and ultimately choose to fight for good or evil like in the first game, but you might find yourself a whole lot morally conflicted once it's all over.
Credit: Obsidian Entertainment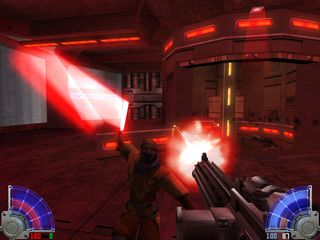 Star Wars Jedi Knight: Jedi Academy (2003; PC, Xbox)
The final game in the Jedi Knight
Credit: Activision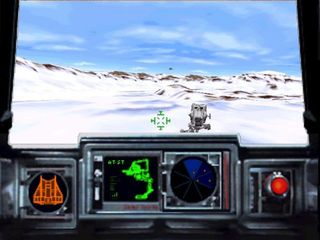 Star Wars: Shadows of the Empire (1996; PC, N64)
One of the Nintendo 64's most beloved games, Shadows of the Empire was part of an ambitious multimedia project that fleshed out the story between The Empire Strikes Back and Return of the Jedi. Starring the scruffy smuggler Dash Rendar, Shadows' mix of vehicular combat and third-person shooting allows you to live out a variety of your Star Wars fantasies. Few games let you take down AT-ATs on Hoth, engage in space battles and have a shootout with Boba Fett, all within a few hours. That variety, combined with the game's stunning sound design for the time, make Shadows an absolute classic that's still worth checking out today.
Credit: LucasArts Entertainment Company LLC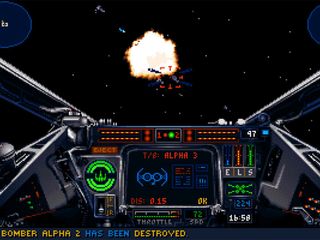 Star Wars: X-Wing (1993; PC, Mac)
It might be over 20 years old, but Star Wars: X-Wing remains one of the greatest ways to experience the sensation of being in the cockpit of your very own starfighter. X-Wing is a genuine flight simulator, meaning you'll have to worry about things such as allocating power and changing firing modes as you wade through waves of TIE Fighters. Best of all, you won't have to find an old floppy disk to play it -- X-Wing is available on Steam and GOG for just a few bucks, complete with all expansions and support for newer controllers.
Credit: LucasArts Entertainment Company LLC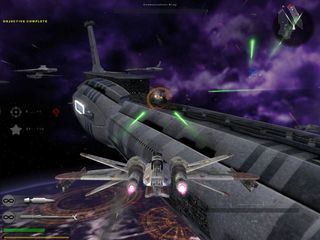 Star Wars Battlefront II (2005; PC, PS2, PSP, Xbox)
Star Wars Battlefront II (not to be confused with 2017's Star Wars Battlefront II) is the video-game equivalent of an endlessly deep chest of Star Wars action figures. This sandbox multiplayer shooter lets you re-create some of Star Wars' best-known battles, from the snowy showdowns of Hoth to the Clone Wars that sprawled over the shiny plains of Naboo. Battlefront II brought space combat to the franchise and introduced a solo campaign that follows the Galactic Republic's transformation into the evil Empire. The series has come a long way with EA's gorgeous reboots for current-gen consoles, but the original Battlefront II set a new standard for what was possible within a Star Wars multiplayer game.
Credit: Pandemic Studios LLC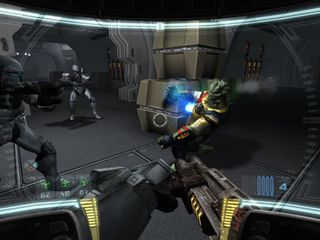 Star Wars: Republic Commando (2005; PC, Xbox)
You might not consider Star Wars the ideal backdrop for a murky, squad-based first-person shooter, but Republic Commando is proof that the combination works wonderfully. Unlike the many lone-wolf shooters of its era, Republic Commando provides you with three AI teammates that you can give orders to, whether you need them to tackle an objective, take cover or come revive you when you've fallen. The game lets you see a darker side of the Clone Wars, as you and your Clone companions will explore dangerous enemy strongholds and take down slavers on some of the prequel trilogy's most iconic planets.
Credit: LucasArts Entertainment Company LLC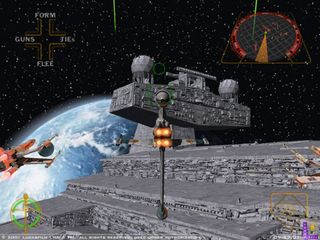 Star Wars Rogue Squadron II: Rogue Leader (2001; GameCube)
It's nearly impossible to watch the original Star Wars film and not want to pilot an X-Wing, and Rogue Leader scratches that itch as no other game can. This gorgeous dogfighting simulator thrusts you into the biggest spaceship scuffles from the original trilogy. You'll trip up AT-ATs on Hoth, take out TIE fighters above Endor and even land the final blow to the Death Star via a proton torpedo. With stunning visuals and tight combat controls that still hold up a decade later, Rogue Leader is absolutely worth digging out your old GameCube for.
Credit: Factor 5 GmbH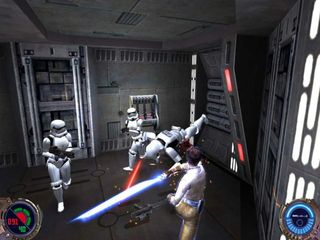 Star Wars Jedi Knight II: Jedi Outcast (2002; PC, Mac, Xbox, GameCube)
Part Jedi, part mercenary, Kyle Katarn of the Jedi Knight series is one of the most beloved Star Wars characters not on the silver screen. Katarn's games let you have it all, allowing you to channel your inner Han Solo with a wealth of firearms before whipping out your lightsaber and unleashing Force powers on your foes. Jedi Outcast is Katarn's pinnacle adventure, offering refined lightsaber combat with multiple styles, an arsenal of iconic blasters and an epic story campaign that blends original characters with familiar faces from the films. Jedi Outcast's multiplayer is as blissfully chaotic as Star Wars games get, as you can opt to engage in free-for-all battles in which every character is armed with a lightsaber.
Credit: Raven Software Corporation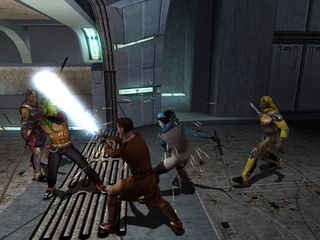 Star Wars: Knights of the Old Republic (2003; PC, Mac, Xbox, Mobile)
Considered by many to be the defining Star Wars game, BioWare's Knights of the Old Republic is an epic role-playing adventure that lets you tread the line between Jedi and Sith. Set thousands of years before the dawn of the Empire, Knights of the Old Republic lets you explore iconic series locales, team up with a colorful crew of characters and unleash powerful attack combinations via a satisfyingly tactical combat system. The legend you forge in KoToR is truly yours — every in-game decision you make brings you one step closer to the light or dark side of The Force, and the title's big story twist is one of the biggest surprises in any game, period.
Credit: BioWare Corporation