During CES 2016, the tech writers of the world shouldn't be the only ones having all the fun picking winners — we want to hear from you! Which of these new gadgets do you think holds the most potential? You have between now and Monday, Jan. 11, 2016, at 9 a.m. EST to cast your vote, below.
Razer Blade Stealth
The $999 Razer Blade Stealth not only looks gorgeous but also has killer specs for the price. Swathed in obsidian aluminum accented by the glowing-green tri-snake emblem on its lid, this Ultrabook measures just 0.5 inches thick and weighs 2.75 pounds. Beneath that black aluminum lid is a 12.5-inch 4K (3840 x 2160-pixel) touch display, a 2.5-GHz Intel Core i7-6500 CPU, 8GB of RAM, a 128GB PCIe SSD and an Intel HD Graphics 520 GPU. A graphics amp is optional.
HTC Vive Pre
Watch your back, Oculus. HTC has made a ton of improvements to its exciting virtual-reality headset ahead of its April launch, starting with a front camera that lets you see real-world objects. Developers will have a field day with this. Other enhancements include better visuals, a lighter design and more ergonomic controllers with haptic feedback and dual-stage triggers.
Samsung KS9500 SUHD TV
Samsung's striking curved SUHD TV is a 4K set that boasts a bezel-less design that really makes content pop. This HDR-capable TV also features new Ultra Black tech to cut down on light reflection. Its Tizen operating system provides faster access to content via the new Smart Hub feature, and you can even control your smart home gadgets through the TV.
Parrot Disco
Parrot's new Disco drone features a sleek fixed-wing design, and it will fly at a remarkable 50+ mph. The company promises that the Disco will get a very long 45 minutes of flight time. To get the Disco flying, you simply toss it in the air — but before you do that, you'll need to register it with the FAA. Its price and availability haven't been revealed yet.
Honor 5X
How much phone can you get for just $200? With the $199 Honor 5X, you'll be getting a 5.5-inch full-HD display, a snappy fingerprint sensor, generous battery life and a 13-megapixel camera in a solid metal body. Plus, the phone's EMUI 3.1 software overlay on top of Android 5 Lollipop gives you a host of security features to protect your sensitive information from prying eyes.
Lenovo ThinkPad X1 Yoga
OLED displays, like the one on the Lenovo ThinkPad X1 Yoga, offer deep blacks and ultrarich colors that used to be exclusive to smartphones and TVs. Starting at $1,449, this laptop is going on sale this month with its sharp WQHD LCD display, but if you wait until April, you'll be able to get this 2-in-1 with an eye-popping OLED panel. That upgrade brings the price to $1,649, but based on our hands-on time here at CES 2016, the premium appears to be well worth it.
Digitsole Smartshoe
Tightening your sneakers with your smartphone — yup, that's a thing now. The Digitsole Smartshoes also have a built-in heating element to warm your footsies. The shoes will track your steps and pressure, and tell you when it's time to buy a new pair. You'll get all those smarts for $450, and they will go on sale this fall.
Fitbit Blaze
The Fitbit Blaze blurs the line between a fitness tracker and a smartwatch. This $199 device combines a color touch screen, a heart rate monitor, smartphone notifications and interchangeable wristbands. It will be available beginning in March. It can track steps, distance and calories burned. It can even keep tabs on how well you're sleeping.
Asus ROG XG2 Graphics Amplifier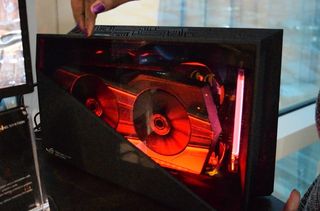 The XG2 could be the sexiest laptop accessory ever created. This external graphics station accepts AMD and Nvidia GPUs to turn Ultrabooks like the Asus UX305 into gaming beasts. But the best part is the design, which features a see-through window and a glass tube that pulses with electricity.
Ziro Robot
The Ziro robotics kit uses a motion-sensing glove to control up to four motorized modules that can be used in a car, spider, bird or whatever other vehicle you choose. There's also an Android or iOS app that works with Ziro. It will be available through crowdfunding site Indiegogo in two different versions later this month. It will cost $149 for the base package with two modules, and a $199 kit with four modules.
Nikon KeyMission 360
Nikon's answer to the GoPro, the KeyMission 360, is the company's first action cam. It shoots full 360-degree video in 4K. It's also built tough, designed to withstand drops of 6.6 feet and protect against water damage down to 100 feet. The full specs and pricing will remain under wraps until it goes on sale sometime this spring.
Samsung Family Hub Refrigerator
The Samsung Family Hub Refrigerator is the smartest fridge yet. It features a huge, 21.5-inch touch screen, and can send and receive messages and sync calendars via the family's smartphones. It also works with Alexa, which is Amazon's personal assistant, to help you order groceries. Built-in speakers can stream music or video from your TV.