The Couch to 5k app is a great way to get you into running. You're able to choose your coach, set your own goals and take breaks when it gets too challenging. It offers a very gradual build up to the full 5K distance, too – most of the early runs consist of equal parts walking and jogging.
Before each run, you'll be able to see the structure of the session, so you know what to expect. You'll also be able to track your progress, as there's a run log built into the app. There are some challenges in the programme, as the intensity increases week by week. But you'll find that you can achieve something one week that you thought was impossible the week before.
We think this is the best running app for beginner runners, especially those that have never ever run before. Its gradual, gentle approach makes it feel accessible to everyone. Read our Couch to 5k app review to find out more.
NHS couch to 5k review: Interface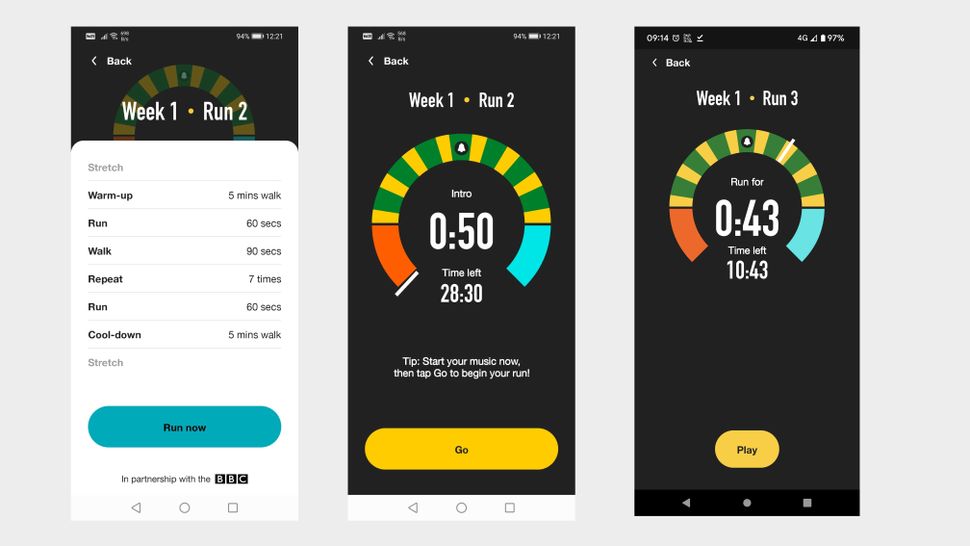 The Couch to 5k app is easy to use, with a simple design and layout. There are just four sections in the menu at the bottom: My Runs, Discover, Support and Settings. Setting up your account is also fairly uncomplicated. Once you've loaded the app, it asks what your goals are (allowing you to select more than one) and you can set up notifications or run reminders.
During a run, you're given a colourful visual graphic to indicate how much of each session you have left, and where the warm up and cool downs come. This is handy if you find looking at the remaining time dispiriting.
Before you use the app, we recommend changing your device settings to allow the app to stay open in the background. If you don't do this, the app will close when you're running and you won't be notified. This quirk has clearly frustrated some runners, as there are several negative reviews flagging this online.
NHS Couch to 5k app review: Features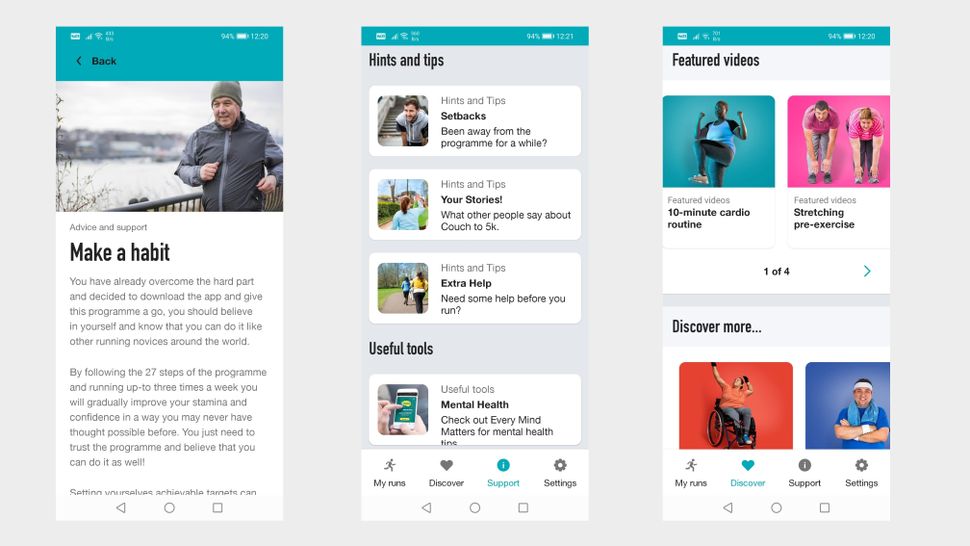 You can choose from a variety of trainers to keep you motivated on your runs – a nice touch that means that you aren't lumbered with a voice you don't resonate with. Not all of the coaches are athletes either, which is a breath of fresh air. Our favorite was Sarah Millican, a UK comedian who openly admits she'd rather be eating cake than running.
These coaches will guide you through each run, telling you when to stop and start – or when to switch from walking to running.
You can also select from motivational playlists on BBC Sounds via the Discover part of the app, which links you to BBC Music Mixes. However, doing this opens a webpage and not the BBC Sounds app – even if you have that installed on your device. It would be much better if the Couch to 5k app could become integrated with a music platform, such as Spotify or BBC Sounds. It's not a dealbreaker for us, but it makes the app feel outdated.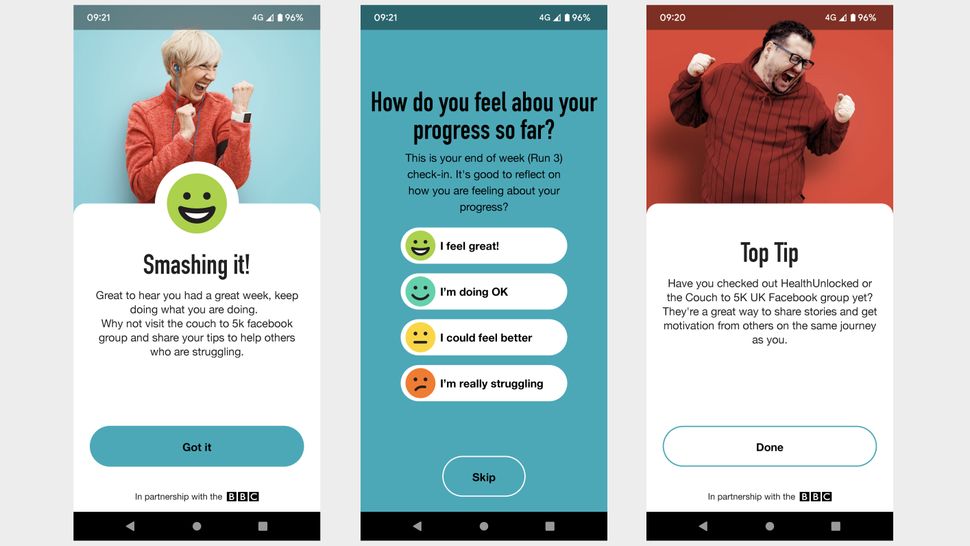 The Discover section links to more articles and videos to help you get healthy, and we love that the app isn't entirely focused on running but gives a more rounded approach to fitness. It's also fantastic that the app is more inclusive than most, and part of the Discover section is dedicated to those with disabilities.
We felt there were too many runs in the first training session for a complete beginner – but at least there's a pause button if you need it. While there are pointers to various videos within the app, teaching you how to stretch before and after a run, there's no mention of this from your coach, which feels like a bit of a missed opportunity.
When you're halfway through the session, a bell sounds, which was helpful as the runs got harder as they helped us to stay focused. We also liked the "top tip" before and after the runs, which helped with our technique.
NHS Couch to 5k app review: Groups and social
There isn't currently any community within the app itself. However, there's a lot of helpful information in the Support section. This points you in the direction of Every Mind Matters, an NHS initiative for mental health, and HealthUnlocked, an online community.
The Couch to 5k forum on HealthUnlocked is a bit clunky to use, but the principle is sound. There's also a Couch to 5k Facebook group, but again, it takes you out of the app – it would be better to place a community within the app itself.
There aren't any challenges you can take with friends in the Couch to 5k app, so there's no way of using your friendship group to stay motivated. You can't search for friends on this app and befriend them, as you can on other fitness apps.
NHS Couch to 5k app review: Verdict
Overall this app is simple, encouraging and easy to use. Its uncomplicated nature helps to take the fuss away from building a regular exercising habit, and makes running really accessible.
Giving users a choice of coaches is a superb idea and helps to keep your runs fresh. It's admirable that the app also puts some focus on diet, mental health and other ways to stay healthy.
Nevertheless we'd like to see music integration, plus the potential to connect with friends or a social community and join challenges.
The Couch to 5k app is definitely an app for beginner runners. For regular runners, Strava or Runkeeper would be better options.