Bowers & Wilkins Panorama 3 specs
Colors: Black
Ports: HDMI; Digital optical; Ethernet; USB-C (service only)
Speakers: 3x 3/4-inch tweeter; 6x 2-inch midrange; 2x 4-inch subwoofer; 2x 2-inch Atmos
Audio channels: 3.1.2
Audio formats: Dolby Atmos; Dolby TrueHD; Dolby Digital
Power output: 400W
Wireless: AirPlay 2; Bluetooth aptX Adaptive; Spotify Connect
Smart assistant: Alexa
Subwoofer: Integrated
Dimensions: 2.6 x 47.6 x 5.5 inches
Weight: 14.3 pounds
Wall mountable: Yes
By some distance, Bowers & Wilkins Panorama 3 is its most affordable soundbar to date and its first true Dolby Atmos model to boot. The market for chunky, multichannel soundbars has grown exponentially since the company's original Panorama launched in 2009, and there are plenty of soundbar alternatives to consider in our best Dolby Atmos soundbars, as well as budget soundbars and the best soundbars we've heard.
On paper, the Panorama 3 looks good. The numbers, both in terms of speaker drivers and amplification, are significant. The configuration, which includes physical Dolby Atmos speaker drivers rather than relying on digital sound processing to create an impression of spatial audio, is on the money. And as for that money, well, this soundbar is priced like a product that sets standards.
But 'on paper' will only carry you so far. What's the Panorama 3 like in practice?
Bowers & Wilkins Panorama 3 review: Price and availability
The Bowers & Wilkins Panorama 3 is on sale now priced at $999 (U.K. £899, Europe €999 and Australia AU$1599).
At this sort of money it's impossible to ignore the high-performance soundbar-shaped elephant in the room: the Sonos Arc. Bowers & Wilkins has specified Panorama 3 to basically go head-to-head with the Arc and priced it slightly in excess of what the Sonos will set you back. Whether this policy is ambitious, confident or foolhardy should be apparent by the end of this review.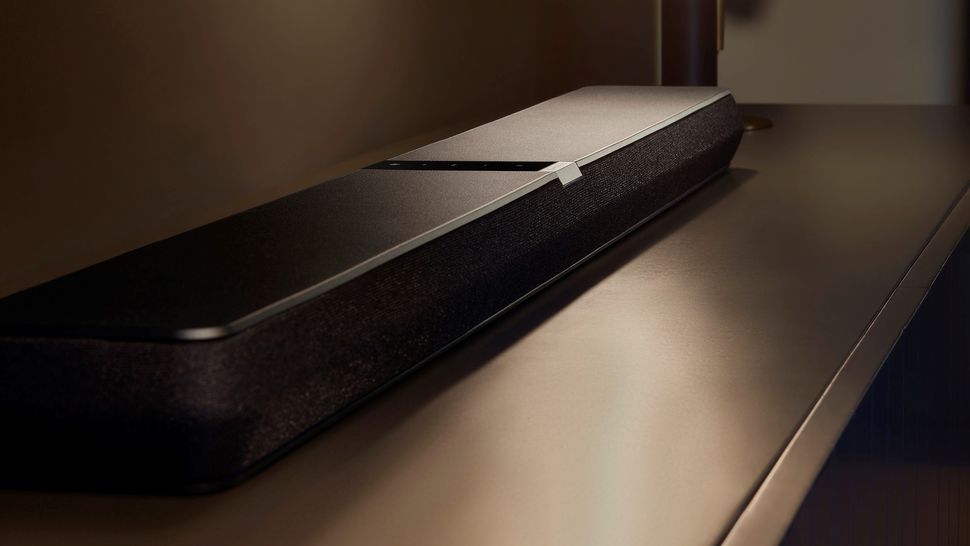 Bowers & Wilkins Panorama 3 review: Design
Low-profile design
Needs to be partnered with a big TV
Wall mountable
As far as the industrial design of Panorama 3 goes, the word 'soundbar' is what's important here. Although it's a pretty big cabinet (at 47.6in wide it needs a TV of at least 55in to sit beneath if it's not going to look a bit awkward in your home theatre setup), it has a fairly low (2.6in) profile — and the combination of perforated plastic and tactile acoustic cloth helps minimize the visual bulk too. But fundamentally, Panorama 3 is the shape and proportions of a soundbar.
That discreet height helps the Bowers & Wilkins sit happily beneath most TVs without fouling the bottom of the screen. And if you want to position your soundbar on the wall, it's supplied with a (minimal yet sturdy) bracket. But, of course, it's important to remember that — as with all Dolby Atmos soundbars that feature upward-firing drivers — positioning the Panorama 3 beneath a surface will inhibit its performance. So putting it on a mid shelf within a TV stand, for example, is a no-no.
Bowers & Wilkins Panorama 3 review: Connectivity
Recessed connection panel
No HDMI passthrough port
The rear of the cabinet features a recess in which the few physical inputs are positioned. An ethernet socket, digital optical input, HDMI and service-only USB-C socket sit alongside a figure-of-eight mains power input and a reset button. HDMI passthrough would benefit those who are short of available HDMI inputs on their TV, it's true — but then this is a feature the Sonos Arc goes without too.
Bowers & Wilkins Panorama 3 review: Configuration
Upward-firing drive units for Dolby Atmos
Integrated subwoofer
Claimed 400W total power output
No complaining is necessary when it comes to the way Bowers & Wilkins has specified the inside of the Panorama 3, though. It's arranged in a 3.1.2 configuration, with forward-firing left, right and center channels behind the acoustic cloth that wraps around the front and sides of the cabinet — each channel is made up of a decoupled 3/4-inch (19mm) titanium-dome tweeter and a pair of 2-inch (50mm) midrange drivers. Cinematic rumble and punch is provided by a couple of 4-inch (100mm) subwoofers positioned in an acoustic enclosure that accounts for the majority of the soundbar's internal volume. The line-up is completed by a couple of 2-inch (50mm) Dolby Atmos Elevation drive units, carefully angled for reflectivity and just about visible (along with the subwoofers) beneath the soundbar's perforated surface.
This prodigious line-up is powered by a total of 400 watts of Class D amplification. Each tweeter, subwoofer and Elevation unit receives 40 watts, while each pair of midrange drivers splits 40 watts between them.
Bowers & Wilkins Panorama 3 review: Controls
Control volume via TV remote
Wireless connectivity
Alexa voice control
The Panorama 3 doesn't come supplied with a remote control. But don't go thinking this means your control options are in any way limited.
Connect the soundbar to your television using one of the TV's ARC or eARC HDMI sockets and you can control volume using the screen's remote control. You can also ride the volume control using the Bowers & Wilkins 'Music' app — which is also where you can integrate your favorite music-streaming services, internet radio providers and what-have-you. Because yes, Bowers & Wilkins is quite bullish about Panorama 3's potency as a music speaker — which is why its wireless connectivity includes Apple AirPlay 2, aptX Adaptive Bluetooth and Spotify Connect. The control app is also where you'll be able to integrate the soundbar into a wider B&W-based multiroom system — this functionality is promised 'soon'.
The top surface of the soundbar also features proximity-sensing capacitive touch-controls that are hidden until they're woken. It's only the basics ('play/pause', 'volume up/down') but really, what else do you need? And there's always Amazon Alexa voice control is any of these other options are somehow insufficient.
Bowers & Wilkins Panorama 3 review: Sound quality
Tonally balanced
Handles dynamic movie shifts without breaking a sweat
Unified music performance
You won't be surprised to learn that the Panorama 3 clears the first soundbar hurdle and instantly improved the sound from my TV in fine style. But most soundbars costing barely three figures can do this — so the Bowers & Wilkins has a fair bit more to do if it's going to justify the asking price.
Where state-of-the-art Dolby Atmos content is concerned, Panorama 3 is an engrossing, engaging and generally quite convincing listen. Certainly the soundtrack to "Extraction" on Netflix is served up with plenty of confidence and no little style. Tonally, this soundbar is extremely well judged and coherent — the highs of the frequency range are crisp and substantial, with commendable levels of attack but decent control along with it; the midrange is expansive and detailed, with dialogue given plenty of space within the soundstage so that you can clearly hear what's being said; low frequencies are deep and potent enough to make an add-on subwoofer unnecessary, and are every bit as detailed and information-rich as the rest of the frequency range.
Despite the numerous speaker drivers, integration from the top end to the bottom is smooth and believable — no area of the frequency range is overplayed, no area is understated. And the amount of power that's on tap means Panorama 3 can deal with those big dynamic shifts so beloved of cinema the world over — the sudden switch from 'whispered exposition' to 'almighty explosion' — without breaking sweat.
Sound projects well beyond the confines of the speaker cabinet, and in all directions. There's real width to the soundstage the Bowers & Wilkins establishes, and there's a proper sensation of movement as effects pan from one side of the stage to the other. Even the lowest frequencies are swift and maneuverable, helped no end by their determination to punch rather than push (which is a common and unwelcome trait in any number of less capable soundbars).
Anyone who's heard a Dolby Atmos cinema system that features actual, physical overhead loudspeakers, or who's heard Sennheiser's Ambeo soundbar in action, may conceivably be a little underwhelmed by the Atmos element of the Panorama 3's performance. Oh, there's no denying or ignoring the impression of height this soundbar can bring to an appropriate soundtrack — it extends comfortably beyond the top of the screen you're watching. But Panorama 3 is no more adept at positioning sound above you than the celebrated Sonos Arc is — which means the Ambeo's status as the most convincing Dolby Atmos soundbar around is secure for a while yet. It's worth bearing in mind the Sennheiser is comfortably more than twice as expensive as this Bowers & Wilkins, mind you.
As befits a company with a global reputation for loudspeakers, Panorama 3 is an expressive and articulate performer where music is concerned. With a Tidal-derived stream of Can's "Live in Brighton 1975" playing, all the observations regarding tonality and unity of presentation apply just as surely to music as to movies. It's confidently expressive of rhythms, is lavishly detailed across the board, and is just as attentive to transient information passing across the stage as it is the broader strokes. Low-end presence remains prodigious, the midrange remains articulate, the top end remains bright but never hard. There's a very agreeable sense of 'performance' to the way the Bowers & Wilkins delivers music, a unity of presentation that's by no means a given in a speaker with so many individual drive units.
Bowers & Wilkins Panorama 3 review: Verdict
Really, you can look at this one of two ways. The 'glass half-full' position to take is that the Bowers & Wilkins Panorama 3 is a properly built, nicely finished and impeccably specified soundbar that's capable of putting an extremely high-fidelity rocket up your audio experience where television and movies are concerned. It's a big, authoritative listen, creates a passable degree of Dolby Atmos height to its presentation and does surprisingly coherent work with music too.
If you're more the 'glass half-empty' type, then Panorama 3 is a considerable amount of money for a soundbar with a minimal control app, no multi-room functionality (as yet), that's part of an ecosystem barely worthy of the name when compared with Sonos, and has a Dolby Atmos effect that's less assertive than might be hoped.
As far as we're concerned, though, the quality of the overall performance delivers makes it easy to overlook the rather subtle nature of its Atmos delivery and its lack of multi-room ability. If it's sound quality you prize, the Panorama 3 is worth every penny.