A great-sounding, low-cost 2.1 soundbar and subwoofer speaker package is all you need to bring a sonic boost to your TV setup, and Super Bowl 2023 is the perfect sporting event for showcasing your soundbar's full potential.
The 5 models listed below are all budget soundbar and subwoofer packages with an MSRP under $349 — and right now several models are discounted further still. Each 2.1 speaker pack will make a big impression on your TV viewing; boosting movies and drama with plenty of powerful bass energy, and bringing sporting action to life better than your TV's built-in speakers. Everything you need is packaged in the box.
All models have been thoroughly tested for their ability to deliver an engaging listening experience with medium-sized TV screens (between 40 and 55 inches), without bleeding your wallet dry.
The bad news? Although they're packed with an impressive array of features and sound options, none of the models listed have Dolby Atmos support. Having said that, several of the models listed below have special sound virtualizer modes to create a pseudo surround effect, and are effective at creating an immersive atmosphere with live sports and stadium events — like, say, Super Bowl LVII.
So what are you waiting for? Read on for my pick of the best budget soundbar and subwoofer packages you can buy right now.
What are the best cheap 2.1 soundbar and subwoofer packages for Super Bowl Sunday?
1. Creative Stage V2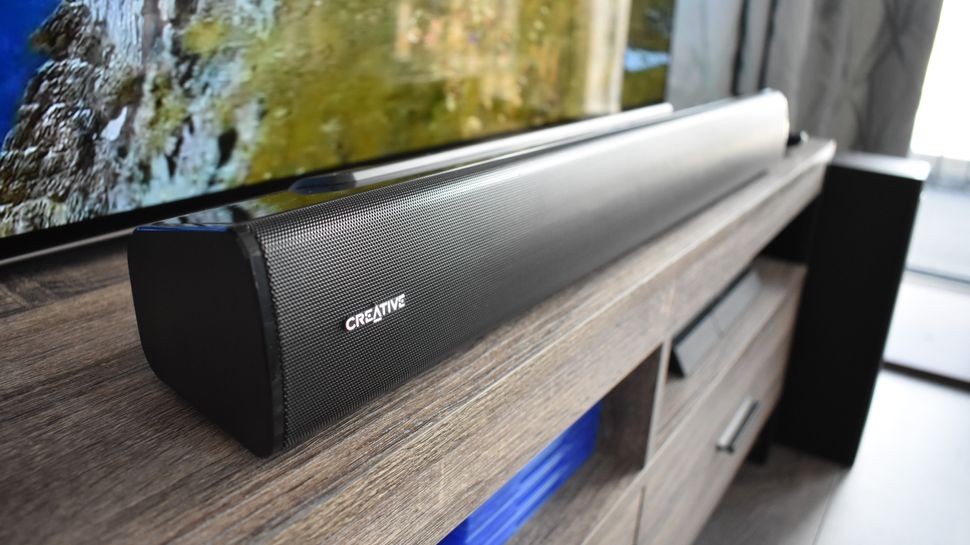 The Creative Stage V2 soundbar is incredible value for money, and ranks top in our best cheap soundbars. In addition to a sleek soundbar with a relative bounty of connectivity, including HDMI ARC and optical digital, the small outlay also gets you a dedicated subwoofer to help pump out impactful bass. OK, it may not be a wireless sub, but for this kind of money, you really can't grumble.
Sound quality is very good overall, and can be tweaked to match what you're watching via the supplied remote. For instance, you can choose to boost the bass or treble at any time, and there are "Dialog" and "Surround" to try out as well. The latter doesn't provide digital surround sound per se, but does widen the soundstage for more exciting action scenes.
Read our full Creative Stage V2 review.
2. Vizio V-Series 2.1 Home Theater Soundbar V21-H8
Vizio has a variety of soundbar and subwoofer bundles to choose from, but our continuing favorite is the V-Series 2.1 Home Theater Soundbar V21-H8. The speaker itself has a nondescript, minimalist design that blends nicely into any home theater setup. There are numerous inputs including HDMI input, optical digital audio, USB, and a standard 3.5mm auxiliary input.
Bundled with the combo is a highly functional remote to enable playback, volume, and even DTS Virtual:X and DTS TruVolume, which help produce bigger and more encompassing sound. Staying in standard mode will also reward your ears with clear voices and rich mid frequencies.
Bass fanatics might enjoy the emphasized low end that comes out of the small subwoofer, but those with ultra-critical listening will notice the lack in precision and muddiness on certain songs and soundtracks.
Read our full Vizio V-Series 2.1 Home Theater Soundbar V21-H8 review.
3. TCL Alto 6 Plus
The Alto 6 Plus is cheaper than the Creative Stage V2 (top), and it also has its own dedicated subwoofer — only this one is wireless. It's powerful, too, proving more than capable of filling out movie action scenes or music playback with deep, rumbling bass.
The downside is that this low-end isn't as tightly controlled as it is on pricier soundbar/sub combos, and your options for adjusting the sound profile are relatively limited. But we were still impressed with how forceful the Alto 6 Plus sounded in our testing, and its simplicity means that home theater beginners might actually appreciate how easy it is to complete setup.
Read our full TCL Alto 6 Plus review.
4. Yamaha YAS-209
Launched in 2019 and still going strong, the YAS-209 soundbars is aimed at delivering great features at an affordable price. This excellent package comes with a wireless subwoofer to boost low-end frequencies and Alexa integration onboard. The smart and versatile combo brings movie soundtracks to life with a rich and powerful sound, and has an impressively wide soundstage when 3D Surround mode is enabled. Movie dialog is easy to understand and has excellent depth and gravitas, and the Yamaha doubles as a great-sounding music system, too.
We just wish there was more than one HDMI port on the back, but even so, the YAS-209 has a lot to like.
Read our full Yamaha YAS-209 review.
5. Polk MagniFi Mini
No soundbar packs huge audio into a tiny package quite like the Polk MagniFi Mini does. This unassuming speaker will fit seamlessly into any setup, and delivers crisp dialogue and deep bass with the help of its included wireless subwoofer. Plus, with Google Cast support, the MagniFi Mini doubles as a great home music speaker.
The MagniFi Mini gets loud enough to fill most bedrooms and small apartments, and we found it reliable for getting immersed in movies and TV shows. Factor in a handy remote and an easy setup process, and you've got the best soundbar out there for folks short on space. And at $300, it won't set you back much, either.
Read our full Polk MagniFi Mini review.
As you're probably buying one of these soundbars to boost your viewing experience with Super Bowl LVII, make sure to test and familiarize yourself with all the controls before the game starts. You really don't want to be messing with the settings mid-game. Once you're all dialed in, pour the drinks, grab some snacks, sit back and relax.
Next: If money's no object, consider my favorite Dolby Atmos soundbar to make Super Bowl extra special.