Recently I got tired of paying for multiple streaming services, and decided to seek out alternative ways to entertain myself. No I haven't done anything illegal, I've become a disciple of the best free streaming services — particularly the Amazon-owned Freevee.
There's a lot of great stuff to watch on Freevee, and much of it seems to be available through the Prime Video app you might already have. The number of commercials isn't particularly high either. They're a little repetitive, but it's way better than what you get on broadcast TV.
And it doesn't cost you anything, which is always a plus.
If you've never used Freevee, and aren't sure where to begin, I've got a few recommendations for you. Here are my five favorite shows currently available on Freevee.
Mad Men
Set in the fictional New York ad agency, Sterling Cooper, back in the 1960s Mad Men follows the trials and tribulations of its staff — particularly enigmatic and mysterious executive Don Draper (Jon Hamm). It sounds dull when you put it like that, but Mad Men proved itself to be a very compelling drama.
Advertising is a dirty business in the world of Mad Men, with debauchery running rampant through the halls of Sterling Cooper. Being the 60s both sexism and racism rear their ugly head pretty frequently. Needless to say all the characters have their own secrets and dark pasts, and the exploration of that is enough to get anyone hooked.
Genre: Period drama
Original Run: 2007 - 2015
Season count: 7
Rotten Tomatoes score: 94%
Stars: Jon Hamm, John Slattery, Christina Hendricks, Elisabeth Moss, January Jones, Vincent Kartheiser
Schitt's Creek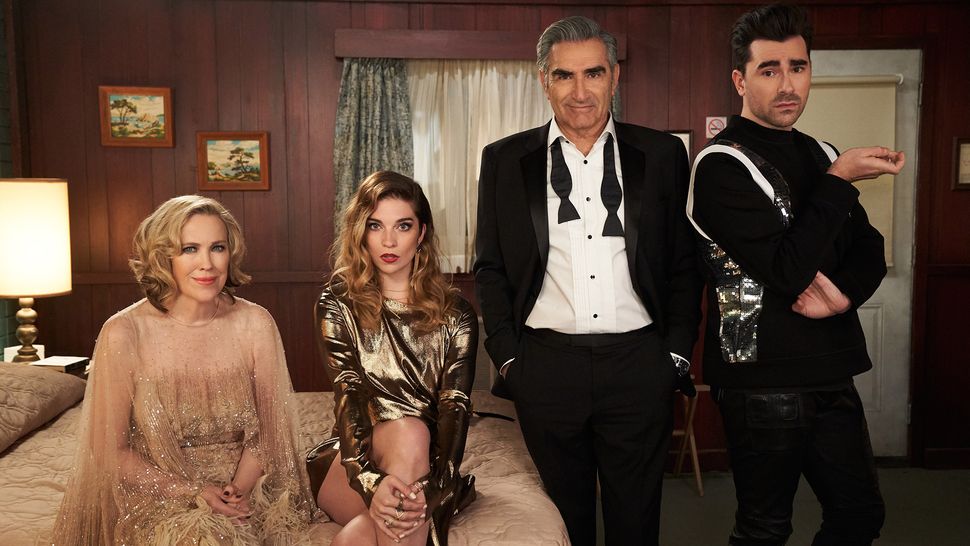 What happens when a wealthy, spoiled family loses everything in the blink of an eye? In the case of the Rose family, they find themselves up Schitt's Creek without a paddle. Thankfully they do have the deed to the town, which garners them a few meagre privileges with the locals. If you can call free rooms at the rundown local motel a privilege that is.
Schitt's Creek is a show that starts off slow, because there isn't much going on in this small rural town, and the characters all come across as extremely unlikable. Thankfully it doesn't stay that way for long, and the Rose family's various quirks and snobby attitudes quickly become some of their most endearing features.
Infinitely more wholesome by its end, but no less hilarious, Schitt's Creek is one show you can't miss. Especially since it's free to watch.
Genre: Sitcom
Original Run: 2015 - 2020
Season count: 6
Rotten Tomatoes score: 93%
Stars: Eugene Levy, Dan Levy, Catherine O'Hara, Annie Murphy
Black Books
Anyone who's ever worked in retail will see part of themselves in Bernard Black (Dylan Moran), the proprietor of independent London book store Black Books.
Black is a miserly, misanthropic, borderline alcoholic who has absolutely no time for his customers or their nonsense, and would much rather shut down than deal with them in any capacity.
Black is joined in his misadventures by assistant/accountant Manny (Bill Bailey), who is far more skilled and likeable than his boss, and the neurotic, cheerful neighbouring store-owner Fran (Tamsin Greig). Like many British sitcoms, the show features the trio in a series of hilarious and awkward misadventures, alongside a rolling selection of now-famous guest stars.
Just prepare yourself for a sudden ending, because they only ever made 18 episodes.
Genre: Sitcom
Original Run: 2000 - 2004
Season count: 3
Rotten Tomatoes score: 93%
Stars: Dylan Moran, Bill Bailey, Tamsin Greig
The Inbetweeners
The Inbetweeners is a show that's so British that trying to replicate it for American TV proved to be a colossal failure.
But there is something about the hilarity of awkward teenage misadventures that transcends international boundaries. Too unlikable to be part of the popular crowd, and too stupid to be nerds, these four boys are the titular Inbetweeners.
Being stuck in that limbo state can be troublesome during your last years of school, especially when your ranks consist of a perpetual liar (Jay), a proud idiot (Neil), a sycophantic suck-up (Will) and that one guy we all know who fancies himself the lead in a romantic comedy (Simon).
Needless to say they all end up in scrapes that would put Larry David to shame. It may be too cringeworthy for repeat watches, but the entire run is well worth viewing at least once.
Freevee currently has The Inbetweeners' full 3-season run, but not the two movies that round off the quartet's story. The first movie is on Tubi while the sequel is available via Hoopla's digital library platform.
Genre: Coming-of-age comedy
Original Run: 2008 - 2010
Season count: 3
Rotten Tomatoes score: 83%
Stars: Simon Bird, James Buckley, Blake Harrison, Joe Thomas, Greg Davies
Lost
If there's any show that really personified the pre-streaming, pre-binge watching era of TV, it was Lost.
Lost was the dictionary definition of a watercooler show, with masses of theories and speculation during its six season run. The finale might have struck the wrong chord with a lot of viewers, but Lost was, and still is, extremely captivating television.
In case you've been stuck on a desert island, Lost follows a group of characters stranded in the Pacific ocean after their plane crashes. Of course, they quickly discover this is no ordinary island and there are dangers and mysteries beyond anything they could have imagined.
Those mysteries are the basis of the show's hype, and will keep you guessing right until the very end of the series.
Genre: Sci-Fi drama
Original Run: 2004 - 2010
Season count: 6
Rotten Tomatoes score: 85%
Stars: Matthew Fox, Terry O'Quinn, Evangeline Lily, Josh Holloway, Jorge Garcia, Naveen Andrews, and others.
More from Tom's Guide