I found the Mandalorian Season 3 to be a bit of a mixed bag. Some episodes were properly dramatic and intriguing, while others fell flat and felt a bit like filler. And if I'm being honest, I'm done with Grogu, aka Baby Yoda. But I can't fault the spaceships of the season.
What We're Playing
Welcome! This column is part of a series in which members of the Tom's Guide staff share what they're playing and enjoying right now, with the goal of helping you find great games that you may have missed. Be sure to check out our previous entry where we also talk about The Legend of Zelda: Tears of the Kingdom and how it's a game all about breaking things.
Star Wars has always had good spacecraft, which while firmly in the science-fantasy rather than science-fiction genre, still presented iconic designs. From the hamburger-shaped Millennium Falcon to the brutalist triangle of the Empire's Star Destroyers, the ships of Star Wars have nearly always been scene-stealers. And this was true of the latest entry in The Mandalorian.
Not only did we get to see Bo-Katan Kryze's Gauntlet starfighter in action, but also a lot more of the excellent TIE Interceptor (an underappreciated TIE ship in my humble opinion) and the Fang fighter used by the Mandalorians. They look great on screen, so when I was offered a Lego set, made up of both the latter ships, courtesy of U.K. retailer Game, I snapped them up.
This is the way
Given adult Lego is most certainly a thing, I have no problem being a 36-year-old sifting through bricks and other parts to make a model. But I've never really been into Star Wars Lego. Nostalgia governs this viewpoint, with me getting misty-eyed over old and very much discontinued Castle and Space Lego sets; to me Star Wars Lego felt too rigid, conforming to licensed designs rather than offering something new and original.
Yet I found myself spending several two to three-hour sessions hunched over a table in my dimly-lit apartment piecing together the Fang fighter and TIE Interceptor. What I thought would be an overly modular experience reliant on custom parts, ended up being a more detailed and nuanced process. Everything from engines to panels on wings was built up and layered using parts that I recognize from my childhood in the early 1990s.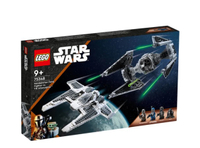 Lego Mandalorian Fang Fighter vs. TIE Interceptor: $99 at Amazon
The Mandalorian Fang Fighter vs. TIE Interceptor set contains two full-sized Lego models of starfighters featured in the Mandalorian Season 3. The set also includes four minifigures: The Mandalorian himself Din Djarin, a Mandalorian warrior, a TIE pilot, and an Imperial Remnant astromech. U.K. readers can get the Mandalorian Fang Fighter vs. TIE Interceptor set from Game or Amazon UK for £89.
There was an unexpected complexity to the whole building project, with a heck of a lot of detail given to parts of the ship that can't really be seen externally. I found myself wondering how on earth designers come up with such creations and filter them into easy-to-follow instructions; I'm sure they have all manner of CAD software and engineering or design degrees, but I was still left baffled.
All this focused the practical part of my mind, letting the rest of my thoughts wander, almost in a form of meditation. Again, I'm not really someone who indulges in adult Lego — I simply have too much other stuff already vying for my attention — but the timing of this Lego set's arrival ended up being a minor metal-health marvel.
Breaking up and building up
That's because I had broken up with my girlfriend. Even for a near-emotionally dead drone, I found this to be a sad thing. And as I live alone I could have wallowed in my sadness.
Sure I have many games and gadgets to distract me, from God of War Ragnarok to the PSVR 2. But I often need to be in the right frame of mind to dig into such stuff. So I needed a more mundane distraction that yielded something.
I can't sew, draw, or paint. My DIY skills are more destructive than constructive. And there's only so much one can cook in a day. So I turned to the Lego Star Wars set, emptied some bricks and bits on my table, and dived into the surprisingly thick instruction books.
The pseudo-meditative state let me process my feelings without too much self-pity, and at the end of it I had two rather neat-looking models with several minifigures — I do appreciate a good minifigure for desk and windowsill decoration. I'm no doctor or psychologist, but for moments when you need to process something tough, I do think you could do a lot worse than cracking open a box of Lego rather than a crate beer.
As for the Fang fighter and TIE Interceptor themselves, I have to say I'm impressed. There's a bounty of detail, especially on the Interceptor, with the Lego aesthetic really complementing the rugged, lived-in look of Star Wars' brand of sci-fi.
At $99/£89, the Mandalorian Fang Fighter vs. TIE Interceptor set is far from a throwaway purchase. But I reckon Star Wars fans will get a kick out of it. And it's worth looking out for various deals, as Star Wars Lego can often be discounted in sales events like Amazon Prime Day.
So while the column is about computer games that Tom's Guide has been and are playing, this week it's been different for me, and my next steps will be to find somewhere to nearly display these Lego starfighters. A younger Roland would have taken them apart again and built something new.
But I'm afraid those days of creativity are behind me, and my inspiration all comes out in the form of words for you dear reader, even if you might not agree with a good amount of them.
More from Tom's Guide