Steam Deck is an awesome portable PC, and one of the best handheld gaming consoles. But now that the new Steam Deck OLED is here it's dead to me. I tolerated (and was even pleasantly surprised) by its LCD panel at times, but I'm all about OLED, so upgrading to Valve's refreshed model is the biggest of no-brainers to me.
I've been obsessively testing a whole bunch of some of the best Steam games over the past few months since Mega Modz sent me a custom Deck, and many of these titles have performed far better than I was expecting them to. Thanks to Valve's handy frame rate limiters that let you lock in a stable 60, 40 or 30 fps with steady frame pacing depending on how demanding a game is, I actually sweat in-game performance on my Deck less than I do with my RTX 4090-powered mega rig.
To be clear, I've not gone hands-on with Steam Deck OLED yet, but my colleague Tony Polanco's Steam Deck OLED hands-on review points to a screen that ticks every box this organic light-emitting diode obsessive has been dreaming about.
With that said, I've put together a list of games I'm confident will look phenomenal on Steam Deck OLED's new 7.4-inch display. The titles below all perform well on the 2022 launch model, which is partly why this list is curated the way it is. Factor in the vastly improved contrast performance of the new handheld PC — coupled with the fact it's capable of hitting peak HDR brightness of 1,000 nits in supported titles — and it means the following collection of games should look jaw-droppingly vivid on Steam Deck OLED.
Cyberpunk 2077
Night City should come alive on Steam Deck OLED. While performance is a bit wobbly on the original Deck (and most likely will be on the new model too, seeing as they share the same APU), the sparkling lights emanating from that futuristic cityscape should contrast beautifully with the peerless blacks OLED screens provide. Cyberpunk 2077 has already gone through the ultimate redemption arc thanks to countless patches and the excellent Phantom Liberty expansion. I can't wait to lose myself to Night City's seedy pleasures all over again on Steam Deck OLED.
Resident Evil 4 (2023)
Resident Evil Remake is a great game regardless of platform, but it truly shines (pun intended) on the Steam Deck OLED. As a survival-horror game, Capcom's spooky title makes effective use of shadows and dark environments — both of which make good use of the Steam Deck's OLED display. In addition to its gorgeously horrific graphics, Resident Evil Remake is simply an overall enjoyable experience that honors the original. This is absolutely one of the best games of 2023.
Alien: Isolation
One of the best horror games ever made is a devoted (utterly terrifying) love letter to Ridley's Scott's seminal sci-fi scarefest. Alien: Isolation already looks and plays well on the original Deck, but there's no doubt it's going to shine so much more on the OLED model. I've played Isolation on the Nintendo Switch OLED, and this gripping first-person, perpetually gloomy survival horror absolutely sings on that awesome little screen. I can't wait to revisit Amanda Ripley's nerve-shredding hike-and-seek Xenomorph quest on Valve's latest handheld.
Batman Arkham trilogy
Technically this is a trio of games, so we're actually dealing with a list of 12 titles that should look amazing on Steam Deck OLED, not 9. Regardless, it was easier to lump this wonderful series into a single entry, as I reckon it's the most seamless video game trilogy of all time. The evolving relationship between Bats and Joker is impeccably handled throughout Arkham Asylum, Arkham City and the criminally underrated Batman: Arkham Knight. I've recently finished these Caped Crusader capers on my Deck, and they all run smoothly with minor settings tweaks — I managed to lock Asylum in at 60 fps, City at 40 fps and Knight at a reliable 30 frames per second. Each game looks good on my handheld's LCD screen, so I can only imagine how much more eerie and convincing Gotham will look bathed in OLED blacks.
Ori and the Will of the Wisps
Combining fluid platforming with Metroidvania elements, Ori and the Will of the Wisps is both challenging and charming. This soulful Xbox and PC exclusive looks stunning on the best OLED TVs, and few games have handled HDR with such startlingly vivid care. There aren't many titles that pop quite like this excellent sequel, so I'd be amazed if this doesn't look incredible on Steam Deck OLED's HDR screen. Thanks to the new handheld's 90Hz refresh rate, this should feel a whole lot smoother to play than on the vanilla Deck, too.
Metal Gear Solid 5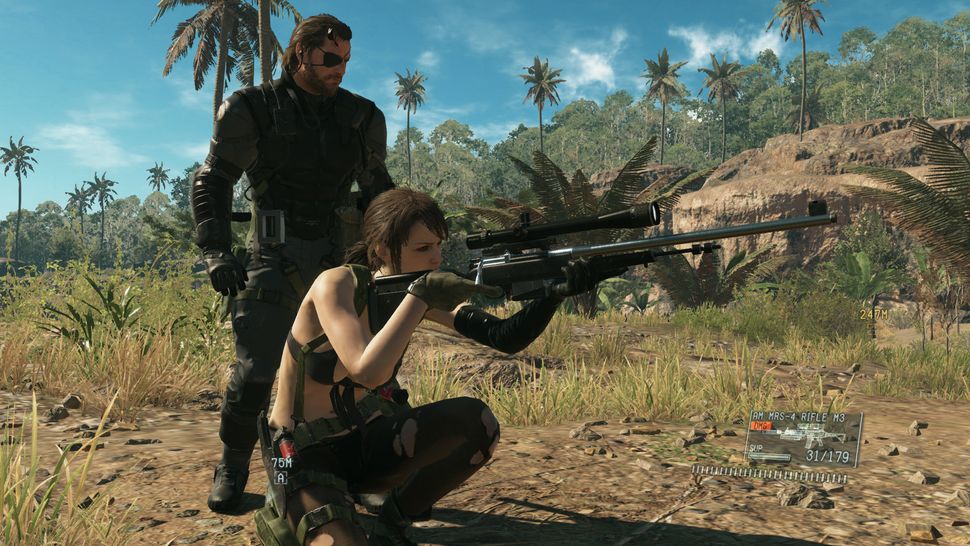 My third favorite video game of all time — Super Mario 64 and Grand Theft Auto 5 just edge past it, in case you're wondering — runs extremely well on Steam Deck. The Fox Engine was always a well optimized piece of tech, so it's no surprise you can play MGS5 at a locked 60 fps on the original Deck. The nighttime scenes that occur in this sensational sandbox do look washed out on its LCD panel, though, so Steam Deck OLED should make that memorable hospital prologue and those dread-inducing pitch black espionage missions on the Angola-Zaire border map look much richer.
Doom Eternal
iD Software's engine is so well optimized, I wouldn't be surprised if Doom Eternal takes full advantage of Steam Deck OLED's 90Hz display. Playing one of the smoothest (and most brutal) shooters around at a considerably higher frame rate than the LCD Deck's 60Hz screen is capable of should make an all-time great blaster that much better. OLED screens generally handle fast-moving action superbly, so I fully expect this incredibly gory first-person shooter will provide a stellar experience on Steam Deck OLED.
Inside
The spiritual successor to Limbo is another haunting examination of childhood trauma. It also looks the business on an OLED display. I've played through both the PC version on an LG C2 OLED and the well-handled port on Switch OLED, so believe me when I tell you this is a game that goes to another level when experienced on an OLED display. Inside is constantly soaked in noir-tinted shades of grey, and these dark environments — be they spooky forests or twisted factories — should squeeze the best out of Steam Deck OLED's screen.
Little Nightmares 2
You're noticing a pattern here, right? Yes, this is yet another spooky game recommendation, because shock horror: this genre loves dark levels. This inventive, other nerve-shredding sequel — wait until you get to the sequence with that school teacher — is almost always bathed in perpetual darkness. On a regular Deck, Little Nightmares 2 can look washed out and drab, but it should look so much more punchy and atmospheric with Steam Deck OLED's perfect black levels.
More from Tom's Guide