The Xbox Series X and PS5 will battle for the next-gen crown this fall, but the Xbox Series S could end up being Microsoft's secret weapon.
Microsoft has another next-gen console up its sleeve in the form of the Xbox Series S, which has gone under the Lockhart codename in recent leaks and rumors.  While the Xbox Series X will have the limelight, the Xbox Series S is a cheaper, all-digital alternative for people who are perhaps not keen on dropping some $500 on a dedicated gaming machine. 
Xbox Series S: What to know
• Xbox Series S release date: November 10
• Xbox Series S price: $299 , £249
• Xbox Series S specs: AMD CPU and GPU, 512GB SSD
• Key features: 1440p gaming at 120fps, ray-tracing, all-digital console
• Other features: Variable refresh rate, 4K upscaling and media playback
After a major leak, which revealed the design and price of the Xbox Series S, Microsoft had no choice but to make the console official. And it finally took the covers off the second next-gen Xbox on September 8. 
Xbox Series S latest news and leaks (update Sept. 22) 
👀 Let's make it official! Xbox Series S | Next-gen performance in the ˢᵐᵃˡˡᵉˢᵗ Xbox ever. $299 (ERP). Looking forward to sharing more! Soon. Promise. pic.twitter.com/8wIEpLPVEqSeptember 8, 2020
Xbox Series S price and preorders
Microsoft has finally revealed the price of the Xbox Series S and it'll be $299 in the U.S. and £250 in the U.K. 
That makes is far cheaper than the PS5 or Xbox Series X are expected to; both will sit around the $500 mark. 
And it can also be had for a mere $25 a month through Xbox All Access. This is the Microsoft's subscription-style system that lets you use a console without having to buy it outright, as well as give you access to Xbox Game Pass. 
Pre-orders for the Xbox Series S went live September 22. Here's where to buy the Xbox Series S in the U.S. And check out our handy Xbox Series S U.K. pre-order page. 
Xbox Series S release date
The Xbox Series S will launch on November 10, as confirmed by the official announcement video below: 
Xbox Series S🎮 All-digital next-gen console 🏃 Faster load times📈 Higher frame rates🌎 Richer, more dynamic worlds🔥 Next generation gaming performance 🔎 In our smallest Xbox ever#PowerYourDreams pic.twitter.com/5GxCBiSVtOSeptember 8, 2020
Xbox Series S specs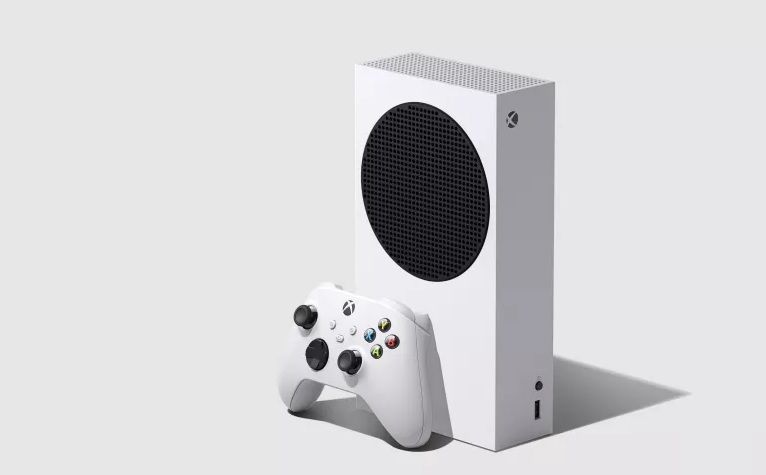 Microsoft hasn't revealed any specs for the Xbox Series X, but a leaker going by the name of WalkingCat on Twitter has spilled them. 
The leaker found the details in a leaked trailer for the Xbox Series X. While there was no confirmation on whether the Xbox Series S will have 4 teraflops as rumors have previously hinted at, other specs and capabilities were revealed. 
The most interesting bit is the Xbox Series S will be able to run games up the 1440p resolution at 120fps. That's quite impressive for a $299 console that's expected to be less powerful than an Xbox One X. 
It will also deliver variable rate shading and a variable refresh rate, handy for people with TVs that support refresh rates beyond 60Hz. And it should even deliver ray-tracing, though this appears to be a software-enabled take on the rendering, using DirectX rather than custom dedicated hardware; the same could be true of the Xbox Series X. 
4K media streaming and upscaling for games is also on the cards, which is another neat feature. 
One slightly disappointing spec is the Xbox Series S is set to have a 512GB SSD. Given that modern games can be tens of gigabytes in size, we'd be concerned that such an SSD would fill up very quickly. We'd really want a 1TB of storage space. 
Overall, the Xbox Series S is likely to be a console that targets 1080p to 1440p gaming, with upscaling meaning that it doesn't need to render an image at native 4K like the Xbox Series X. And for a price of $299 that's not a bad prospect. 
no point holding this back now I guess pic.twitter.com/SgOAjm3BuPSeptember 8, 2020
Xbox Series S gameplay 
Microsoft posted a video breaking down the Xbox Series S' capabilities, and detailing how it'll be a 1440p gaming machine the will run some tiles at a very fast 120 frames per second. 
And in the a video there were clips of upcoming games running on the Xbox Series S. Take a look at the video below to see them in action. 
Xbox Series S: All about services
The Xbox Series S in an all-digital console, so it has no disc drive. That's one of the reasons it's so small.
But we expect it to have a good amount of onboard storage to keep all the downloaded games in, though Microsoft hasn't mentioned storage options or capacity yet. 
The Xbox Series S is also expected to act as a dedicated streaming box for Microsoft's Project xCloud game streaming service. While xCloud is currently in a beta form, from what we've tried so far it works rather well, thanks to it syncing up with games on both the Xbox One and on Windows 10 PCs. 
While xCloud works well on smartphones and tablets, it makes sense to have a dedicated console that has some hardware to smooth out latency and provides people with an easy setup and the controllers needed to get into Xbox game streaming. You could think of the Xbox Series S as an Xbox equivalent to the Nvidia Shield console and streaming box. 
The Shield provides a slim console that can run some games locally but also connects to the GeForce Now game streaming service and allows games to be streamed from a PC with Steam. Microsoft could do something similar with the the Xbox Series S, not only enabling it to play less demanding games locally but also stream games from xCloud. It could also act as a secondary console from which games can be piped to from an Xbox Series X over a local network. 
So the Xbox Series S is a digital-only console with potentially a strong game streaming element. But it's also likely to be a console that specifically aimed at being used with Microsoft's Xbox services. 
While Xbox Live and Xbox Game Pass are nothing new to the Xbox platform, they could be the cornerstone of the Xbox Series S. By that we mean it could be designed specifically as a console to be used with Xbox Game Pass, potentially only being sold as part of a subscription service that incorporates the console, Xbox Game Pass, and Xbox Live in one.
We've already seen Microsoft do this with the Xbox One All-Digital Edition, so it wouldn't be a huge stretch to see it do the same with the Xbox Series S And such an approach could be a good 'gateway drug' into getting people who may be PlayStation fans or newly interested in console gaming to give the next-generation Xbox a go without needing to shell out some $400.
Xbox Series S outlook
If you want the very best in next-generation console power then the Xbox Series S isn't for you. You'll need an Xbox Series X. 
But for people who might not be diehard Xbox fans or strapped for cash, the Xbox Series S looks set to be a good budget option for next-gen gaming. We still need to know more about specs, but the console looks slick and could be an excellent partner to Xbox Game Pass. 
And it could even be for people who'll get a PS5 at lunch but then consider a cheap console to get access to Xbox exclusive games. 
In short, Xbox Series S is an exciting console in that it builds out Microsoft's lofty Xbox ambitions. And we can't wait to try it.