The summer of games deals continues with the new Stream Stealth Fest, which is offering some incredible titles for basically spare change.
My attention was immediately drawn to the trio of original Thief games, which can be had for $1 each (or below 80 pence in the U.K.). These games may be old, but they offer a glimpse into how the stealth games we know today came to fruition, and they are still well worth checking out. zin fact, I plan on getting all three myself and wrangling my Steam Deck into running them.
For those of you who don't know, the original Thief series was centered around master thief Garret, who goes around pilfering valuables from unsavory characters in a medieval-meets-steampunk city. But as the story progresses Garret finds himself up against religious and supernatural factions.
While Garret can't survive long in a straight fight, abilities like moss arrows that coat a wooden floor with sound-deadening moss let him sneak past all manner of armed adversaries as if he was never there. All three games are pretty much a masterclass in pure stealth and paved the way for immersive sims like Dishonored.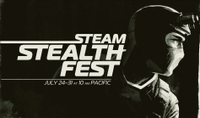 Steam Stealth Fest: excellent games from $1 / 69p
The Steam Stealth Fest deals kicked of July 24 and will run until July 31. In the sale you can score huge discounts on a range of games, including VR titles and ones that run well on the Steam Deck. For fans of games about snaking and hiding, this Steam sales is unmissable.
Speaking of which, the somewhat underappreciated (in my opinion) Deus Ex: Invisible War can also be had for $1 / 69p, which is a steal for a game that has an interesting story and some smart immersive sim elements.
For PC gamers who want something a little more modern, then I wholeheartedly recommend the Hitman World of Assassination trilogy; it's now 50% off, taking it down to $39 / £29. Not only are these Hitman games all about hiding in plain sight, they also offer a vast amount of replicability, one-off assassination missions, competitive modes and a whole lot more. I have lost, and could still lose, hours upon hours nailing the smartest assassinations in locations that wouldn't look out of place in a James Bond movie.
On top of all of that, the Steam Stealth Fest also has huge amounts sliced off a range of Assassin's Creed games, Watchdogs Legion, Sniper Elite 5, multiple Far Cry games, and more.
So if you're a fan of stealth games or just some of the best games in general, you really should check out the Steam Stealth Fest, which runs from today until July 31.
More from Tom's Guide