Last year Google made some tweaks to Gmail. Naturally, a whole load of longtime users instantly demanded an option to switch back to the old format, which was provided at the time. But Google has now confirmed the new Gmail is here to stay, and the ability to revert to the previous UI is set to be removed.
In a recent Google Workspace update the company announced the new interface "will become the standard experience for Gmail" and also confirmed that "no option to revert to the original" will be available going forward. This post also sets out Google's aim to have the fresh Gmail UI reach all users by the end of this week (Friday, February 3).
Gmail users won't have to do anything to upgrade their email accounts, the new interface will be added automatically via a mandatory update. And don't be surprised if you've actually been using the new UI this whole time without even realizing it. It's far from a dramatic redesign of the popular email client.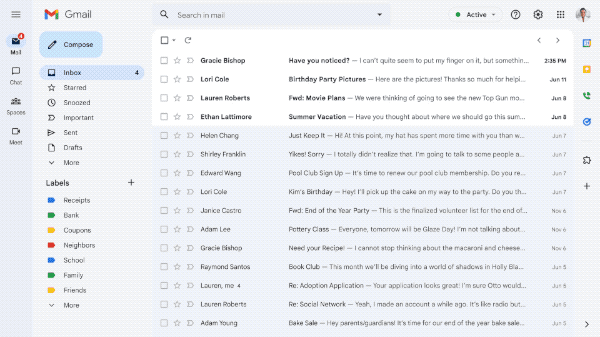 The new Gmail aims to streamline the process of navigating between emails and additional Google services such as Chats, Spaces and Meet. This is done primarily via a new quick-access panel located on the left side of the screen. But even with this new panel your email inbox still takes center stage when you arrive on Gmail. And, don't worry, jumping between inboxes and folders is still accessible via its own side panel that has been shifted slightly right.
A new collapsible right sidebar also comes in this update. This one offers shortcuts to additional Google services like Calendar, Tasks and Keep. But unlike the new left side panel which is permanently visible, this sidebar can be hidden at any time with a single button press. Plus, you may notice Gmail's color scheme has been tweaked with less focus on red and instead a more neutral blue takes the lead — empty white space have also been replaced with a light gray that's a little easy on early-morning eyes.
Overall, this update primarily makes jumping between Google services a lot quicker, which is helpful if you regularly find yourself using Gmail alongside the likes of Chat, Meet and Calendar. Of course, if you use Gmail strictly for email purposes, this update is likely to have less appeal to you. But either way, you're stuck with it as the option to revert to the previous UI is being sunsetted very shortly.